At a Glance
Expert's Rating
Pros
Very high clean air delivery rate (CADR)
Powerful fan
Ample filtration options, including UV light sterilization
Cons
Not at all attractive and very heavy
No smart features
Extremely loud when running at full tilt
Our Verdict
This industrial air purifier might be better suited to your garage than your living room.
Price When Reviewed
$799
Best Prices Today: EnviroKlenz Air System Plus
Let's get straight to the point: The EnviroKlenz Air System Plus is not going to fit in with your living room décor. The 38-pound monster measures 15 x 15.5 x 22 inches (WxDxH) and is clad entirely in thick sheet metal (your choice of black or white). It's set on casters to make for better mobility, although its weight will sink those wheels into padded carpeting. Its spare controls are mounted on the front of the device: A single knob that handles power and speed, plus a separate switch for its internal UV-C light bulbs (more on these later).
For heavy-duty purification needs, EnviroKlenz has you covered and then some. Two separate filters—a huge HEPA filter plus the slimmer EnviroKlenz Air Cartridge, a VOC and pathogen filter—are complemented by a pair of large ultraviolet bulbs designed to zap any germs that make it through the two mechanical filter units. Designed to cover up to 1,000 square feet, the unit's four speed modes let it process anywhere from 85 to 250 cubic feet of air per minute. (The company provides just a single CADR rating of 350, an impressively high clean air delivery rate.)
This review is part of TechHive's coverage of the best air purifiers, where you'll find reviews of the competition's offerings, plus a buyer's guide to the features you should consider when shopping for this type of product.
Unusually, air is drawn in through the upper parts of the device and is emitted from the front of the purifier only, via a grille cut into the base; that's the reverse of how most filtration systems work. The motor is definitely powerful, evidenced not only by the force of air that rushes from the device but also by the noise it makes. Specifications range from 54dB in "whisper mode" to 62dB on high. That might sound like a narrow range, but at full bore, the system is deafening.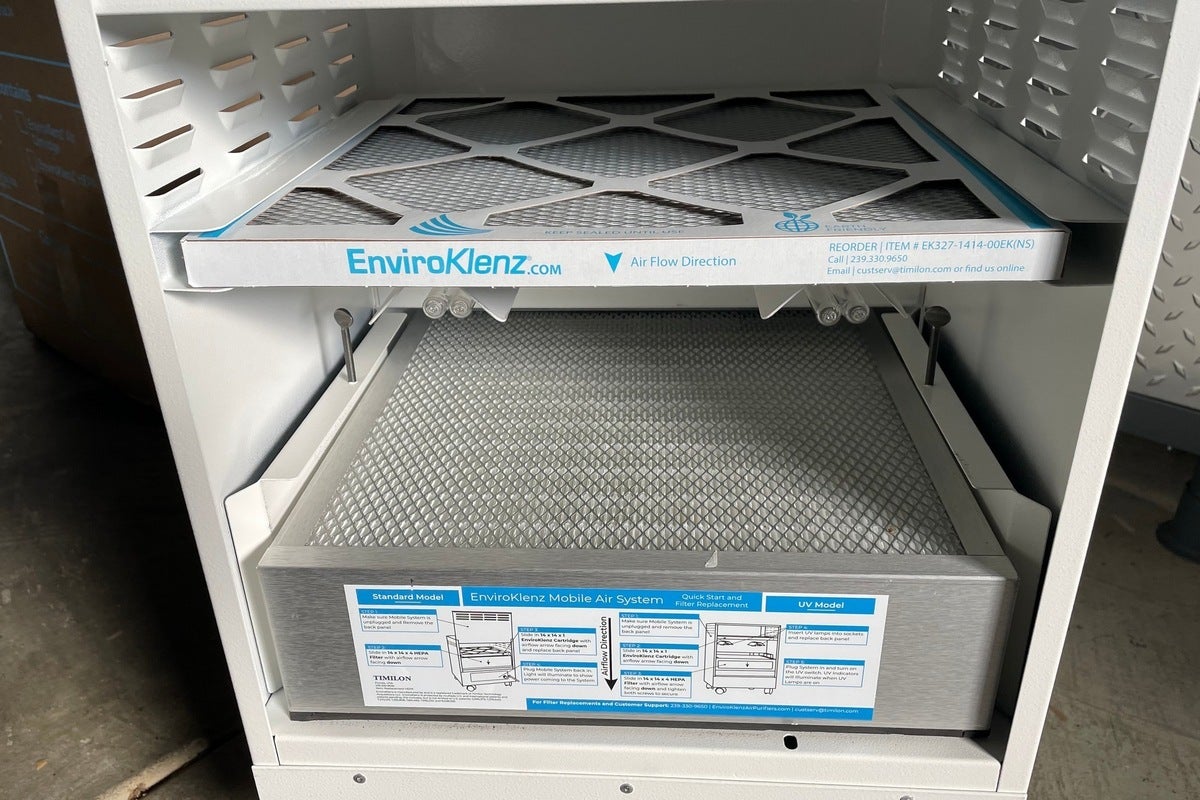 At $799, the EnviroKlenz Air System Plus is pricey, and replacement filters aren't cheap either. The HEPA filter is said to last two years, but a new one runs $150. The EnviroKlenz Air Cartridge costs $99 and lasts six months. A pair of UV bulbs are $40; these last about 18 months. The bottom line: Investing in the EnviroKlenz will be a serious outlay no matter how you cut it. (However, you can save $100 off the purchase price by opting for a model without the UV bulb system.)
And that's about all there is to the device. It has zero smart features. In fact, it doesn't even come with a manual, save for a small installation diagram that's affixed to the HEPA filter unit. The most high-tech feature on the device are two LEDs that let you know whether the UV bulbs need to be replaced. Other than that, you're paying for nothing but raw power. Emphasis on raw.
Best Prices Today: EnviroKlenz Air System Plus