At a Glance
Expert's Rating
Pros
Very inexpensive
Simple, easy-to-use app
Connects to your Wi-Fi network
Cons
No covers for unused sockets
Feels flimsy
Outlets cannot be controlled independently
Our Verdict
This budget-priced outdoor smart plug costs a few bucks less than its closest competitor, but the absence of socket covers leaves us wondering how long it will survive the elements.
Best Prices Today: UltraPro 2-Outlet Outdoor Wi-Fi Smart Plug
Our earlier coverage of the UltraPro indoor smart plug informed readers that the brand is the same product that Jasco sells under its Enbrighten name, only sold at a different retailer and in different packaging. UltraPro products are sold at Amazon. Enbrighten is typically sold at Lowe's and on Jasco's own website, though you'll find some models at Amazon, too.
The same rule applies to this UltraPro outdoor plug: There's an Enbrighten doppelganger as well, although there is one significant difference between the two, which I'll get to. At press time, the two devices were priced within $5 of each other; the UltraPro is slightly cheaper, which is really the only advantage it has.
This review is part of TechHive's coverage of the best smart plugs, where you'll find reviews of the competition's offerings, plus a buyer's guide to the features you should consider when shopping for this type of product.
Like its Enbrighten-branded sibling (and the indoor version of this smart plug), it's a decidedly budget affair. The plastic housing feels flimsy and cheaply made, its two sockets lacking rubber covers (the Enbrighten plug does include rubber outlet covers). Notably, the company offers no IP weatherization rating, and without outlet covers, I can't imagine what it would be (manufacturers attest to their own IP codes, but generally take the matter seriously enough not to inflate them. You can read more about IP codes in this other story.)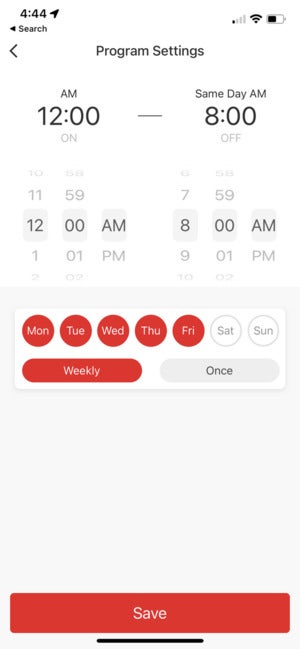 A single, LED-backlit power button on top controls both outlets simultaneously; there's no individual outlet control here. Two LEDs, one red and one blue, are used to indicate whether power is on and whether Wi-Fi is connected respectively. The former can be disabled in the app, but not the latter.
As with all Enbrighten and UltraPro products we've reviewed, the unit connects to 2.4GHz Wi-Fi networks only. Jasco doesn't specify a maximum power rating, but the Enbrighten's outlets are rated for a total draw of up to 1,875 watts of general purpose/resistive usage and a max of 1/3 horsepower for a motor. It's safe to assume the same limits apply here.
I had some setup trouble with the Enbrighten unit, but none with this, which connected to the UltraPro app quickly and without complaint. There's not much to the app: aside from a scheduling system and a countdown timer, the only frill is its set of three prebuilt schedules—Evening, Morning, and Dusk to Dawn—which give you quick access to commonly used scenes. Alexa and Google Assistant are both also supported, but there is no HomeKit support.
A $21 price tag puts this on the low end of the price band for this category, and that's one of the only real selling points the UltraPro outdoor smart plug offers. That said, even at this price, I'm just not sufficiently confident in the long-term usability of this product in a wet or dusty environment. I would advise shoppers to set their sights a little higher to find a more durable device, even if it costs a little more.
Best Prices Today: UltraPro 2-Outlet Outdoor Wi-Fi Smart Plug