At a Glance
Expert's Rating
Pros
Compellingly innovative technology
Simple and easy to set up
Well-designed app
Inexpensive optional professional monitoring service
Cons
Detects motion in your home—and that's it
No integration with other smart home devices or systems
Expensive for the utility that's delivered
Our Verdict
There's plenty of novel and compelling technology in Hex Security, and the optional professional monitoring service is one of the least expensive on the market. But there's more smart home potential here than real-world value.
Best Prices Today: Origin Wireless Hex Home Security Package
You're no doubt familiar with Wi-Fi as a data transmission medium. It's the most common means of connecting home devices to the internet, whether they be your smartphone, TV, or any number of smart home devices. Origin Wireless says it has identified an entirely new use for the wireless technology: motion detection so pinpoint accurate that it can monitor a person's respiration—even through walls.
Initially debuted as a feature in Linksys Velop mesh Wi-Fi systems, Origin now offers the technology in a DIY home security system called Hex Home (this review discusses the Hex Security Package specifically). Origin says Hex Home can replace a traditional system based on myriad sensors mounted to doors, windows, and walls with a single hub—the Hex Command module—and one or a few secondary devices it calls called Hex Sense. The company sent its mid-sized kit that has one Hex Command and two Hex Sense units for this review. The $220 kit is designed to monitor up to 1,500 square feet on a single level. Add-on Hex Sense units that increase the system's range cost $45 each.
This review is part of TechHive's coverage of the best smart home systems, where you'll find reviews of the competition's offerings, plus a buyer's guide to the features you should consider when shopping for this type of product.
Hex Home is not a Wi-Fi router—you'll need to provide that or use the router you already have. The system will, however, create a mesh Wi-Fi network with its Command and Sense units in your home, and it will monitor perturbations in those radio waves as people move around inside it. Origin says its AI can distinguish between people, pets, and moving objects, such as a robot vacuum cleaner.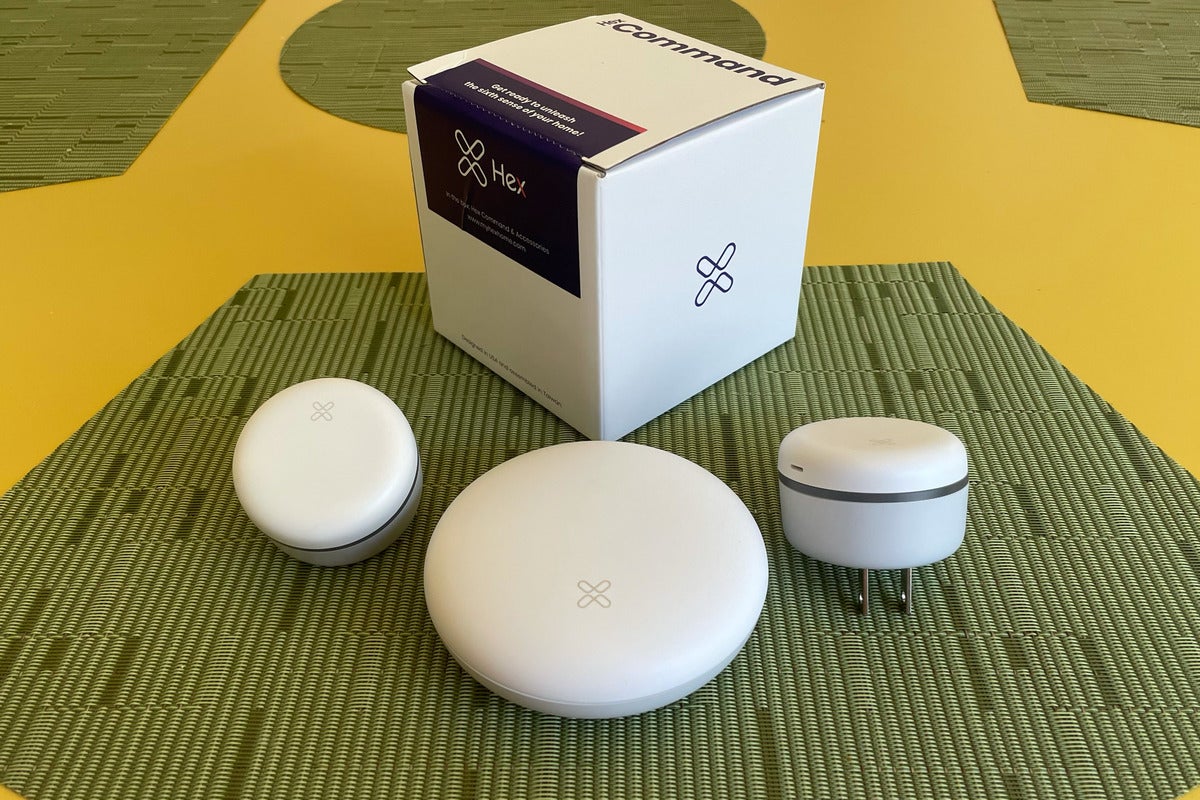 Hex Home components
The Hex Command resembles a partially deflated Google Nest Mini, while the Hex Sense—with a glowing ring of status LED around its middle—calls to mind a macaroon. The Hex Command is powered by a wall wart, and the Hex Sense plug directly into wall outlets. Origin recommends that each of these components be placed two to four feet above the floor. I was able to do that with the Command and one of the Senses, but the best elevation I could get for the other Sense was 16 inches, which is a relatively typical height for electrical outlets in most American homes. If there was a negative performance impact as a result, I didn't see it.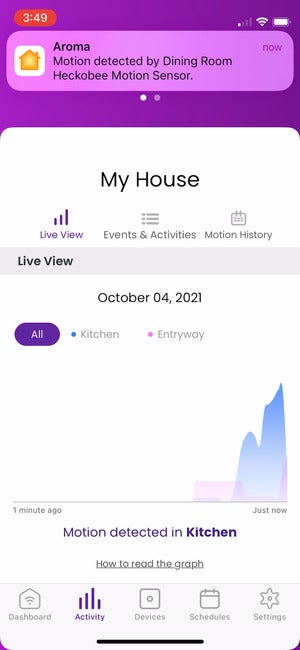 Setting the devices up involves getting the Hex Command connected to your network, and then adding each Sense to the Command's network. All of this is accomplished via the tidy and mostly easy-to-navigate app.
On my first try, however, I found setup to be frustratingly finicky. A later attempt—when testing system removal, factory reset, and reinitialization—went much faster, with only one failure to connect to my home network.
For the record, the factory reset procedure is pleasantly easy, simply involving a paperclip pushed into a pinhole on each device for 10 seconds.
Origin recommends deploying Sense modules on opposite sides of the Command module on the same floor, ensuring that there's either at least one room or 15 to 30 feet between each device, to prevent overlapping. In my case, placement generally led to the system reporting motion in the correct rooms, except when we were sitting at our dining room table, where I would regularly get notifications about motion in my living room.
Hex Home security modes
The Hex Security Package has three modes that you set in the app: Home, Guardian, and Away. In Home mode, as you'd expect, there are no notifications by default. Guardian mode is for times when you want to be notified of motion inside your home and where the motion occurred, but you don't want the siren to go off because you're expecting someone to be there—be it your kids getting home from school or your dogwalker arriving to take care of your pet. Origin says this mode can also be useful for caregivers monitoring a person from afar, such as adult children helping their parents age in place. The frequency of notifications in Guardian mode can be adjusted anywhere from every minute to every 60 minutes. Finally, Away mode notifies you of motion and sets off a local siren.
The app's Live View graph presents a visualization of the system sensing motion in real time, displaying how much motion is happening and where in your home it's being detected. I tested it by walking around my home and watching the graph change as I walked—it was wild to see just how accurate it was.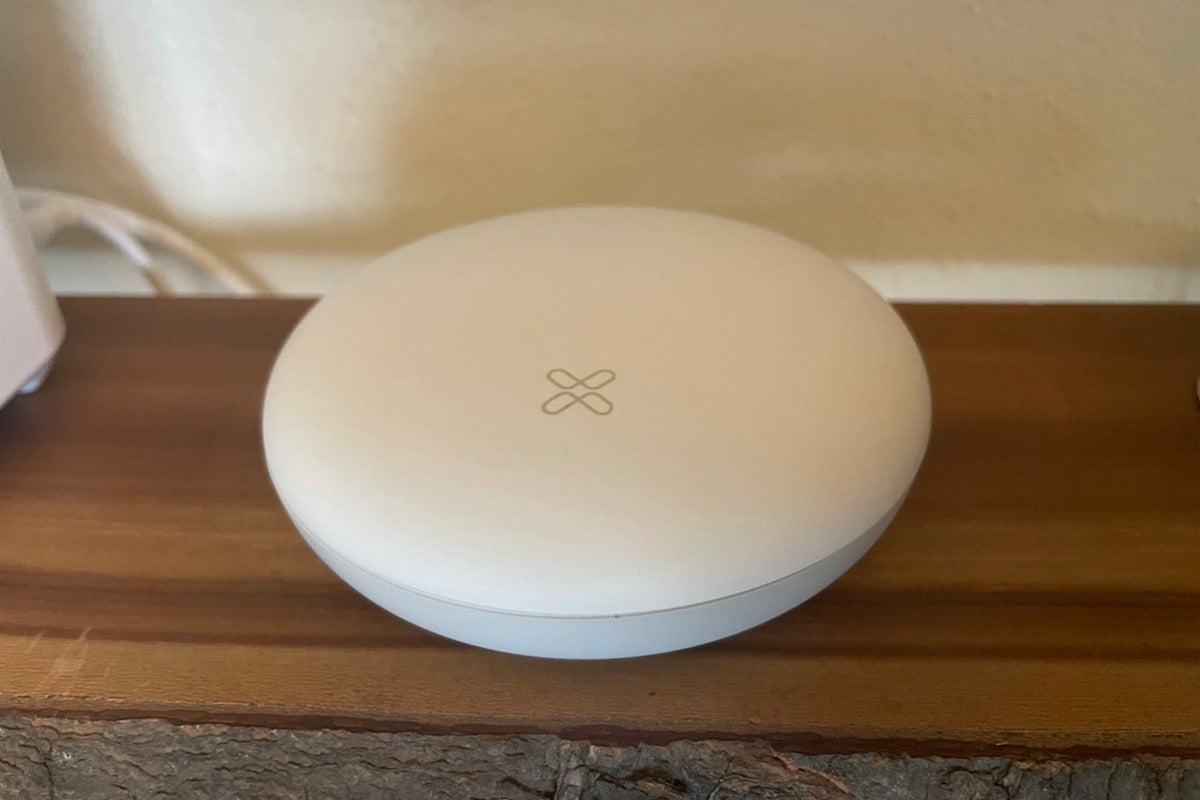 An Events & Activities tab, meanwhile, shows motion events recorded while the system is in either Away or Guardian mode. Motion History presents a static version of the Live View graph that you can view by the month, week, day, and even hour, with separate graphs for each device in your Hex Security system.
The Hex Security Package experience
I tested the system's Away mode the morning after I set it up, activating it as we left to take my daughter to school. The system has an exit delay that gives you 30 to 60 seconds to get out of the house before the system activates after being armed (there's also an entry delay that gives you time to disarm the system from Away mode when you return home). I didn't manage to get out the door during the countdown, which triggered a second countdown. I later discovered that the system will arm itself after a second countdown, but I decided to cancel the state change and set it to Guardian mode, instead.
Almost immediately after the first countdown ended, the Hex app notified me of motion near my front door—where my cat had been when I walked out. I disarmed the system, but as you would hope, you can attenuate the system's motion sensitivity to account for pets. I have two active small pets in my home, and the appropriate sensitivity value seemed somewhere between 3 and 5.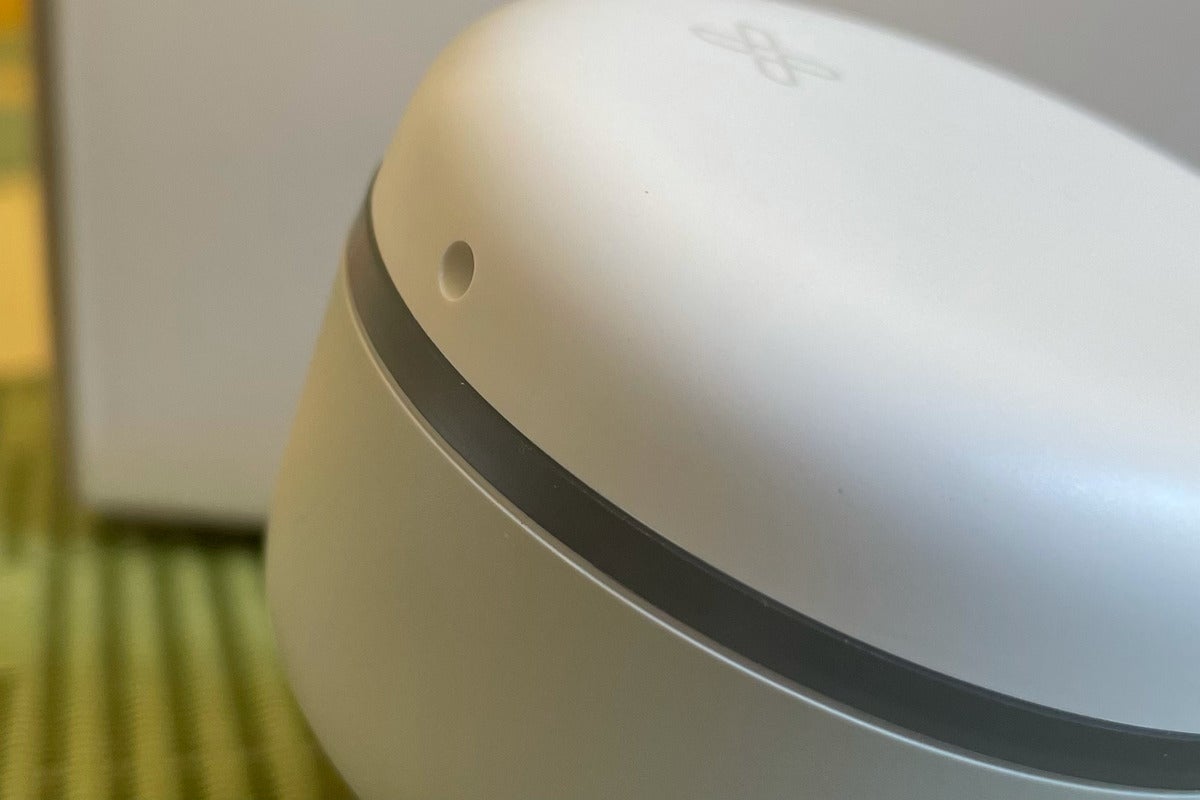 You can schedule automatic mode changes by choosing arm and disarm times on defined days of the week, but geofencing support is conspicuously absent. That feature would accomplish the same goal more conveniently, based on your location (perhaps more accurately, based your smartphone's location). Origin says it has plans to integrate its technology with broader smart home platforms down the road, so it's likely that geofencing will become part of the equation whenever that happens.
The professional monitoring option
You don't need a subscription to use the Hex Security package unless you want an optional professional monitoring service that will track it for you and dispatch an emergency response on your behalf. Origin Wireless contracts with Noonlight for this professional monitoring, a company that performs similar services for Wyze, Eufy, and several other home security brands. Noonlight will attempt to contact you if your Hex Home goes into an alarm state and will contact your local police department if an emergency response is warranted. If you can't be reached, the service will contact the police.
Noonlight's service costs $10 per month or $100 per year, and it's unusual in that it also offers protection for up to four members of your household beyond your home. Tap a Help button in the app and a screen will appear with a big white button displaying the message "Hold Until Safe or Tap for Help." A tap will start a 10-second countdown, after which a map will be displayed with your location pinned on it. A short time later, you'll be notified to expect a call from Noonlight to determine the nature of your emergency and what kind of help you need. You can skip the countdown to get an emergency response more quickly.
Bottom line—and future potential
The Hex Security Package is slick, but ultimately incomplete. For starters, the only thing it can tell you about what's happening in your home is that motion has been detected. It can't tell you if a door or a window has been opened, it can't show exactly what's happening in your home or take a picture of a perpetrator, and it can't provide police with forensic evidence they can use to investigate a break-in. And if you want to be warned of a fire or a flood, you'll need another product—and possibly another service—on top if this one.
On the other hand, the professional monitoring option is much less expensive than that offered by most competitors, and the Hex Security Package is much less invasive of your privacy than a security camera. And then there's the future potential of Origin's smart home technology in general. We covered some of that in this article from January 2020, and Origin says we should look for announcements to that effect starting in early 2022.
All that said, only the most aggressive of early adopters should jump on the Hex Home security bandwagon as it exists today.
Updated shortly after publication to clarify that the name of Origin Wireless's technology is Hex Home, and this particular offering is marketed as Hex Security Package.
Best Prices Today: Origin Wireless Hex Home Security Package