At a Glance
Expert's Rating
Pros
Rotating mopping pads remove deep and dried grime from hard floors
Self-cleans and dries mopping pads to prevent bacteria and odor
Mops and vacuums
Cons
Extra large charging base is tough to blend with household decor
Expensive
Our Verdict
Dreame Technology's W10 robot vac/mop hybrid cleans your floors and then cleans itself when the job is done.
Best Prices Today: Dreame Technology W10
The Dreame Bot W10 Self-Cleaning Robot Vacuum and Mop tackles some issues common to 2-in-1 floor cleaners. These appliances typically struggle to get deep or dried grime off hard floors because their mopping method—a dampened microfiber cloth attached to the bottom of the robot and dragged across the floor—doesn't provide the agitation needed to loosen and remove it.
They also require a fair amount of manual intervention, from emptying and refilling their small-capacity water tanks during cleaning to wringing and washing the mopping cloths to prevent mildew and bacteria growth, which undercuts the automated cleaning experience. The Dreame Bot W10 tackles these problems with a more rigorous and self-cleaning mopping system that's similar to the Narwal T10 we reviewed previously.
This review is part of TechHive's coverage of the best robot vacuums, where you'll find reviews of the competition's offerings, plus a buyer's guide to the features you should consider when shopping for this type of product.
The W10 robot itself is similar to other high-end robot vacuums save for a couple of significant design tweaks. It sports a not-often-seen D-shaped design—the front end is squared off allowing it to get into corners better than more traditional circle-shaped robots—and it uses a pair of rotating mopping pads rather than a microfiber cloth. These pads continuously apply clean water to the floor and scrub dirt loose for easier removal. When the mopping job is done, the W10 returns to its base where the pads are automatically cleaned and blow-dried to prevent bacteria and odor.
Mentioned in this article
Narwal T10 robot vac/mop hybrid
To accomplish this, the W10 uses an extra-large charging base that contains two 4-liter water tanks, one for clean water and one for dirty. Before each mopping job, you simply fill the "clean" tank with fresh water. As the robot mops, it returns to the base periodically to fetch fresh water from the clean tank and deposit used water into the dirty tank, then resumes cleaning until the job is done.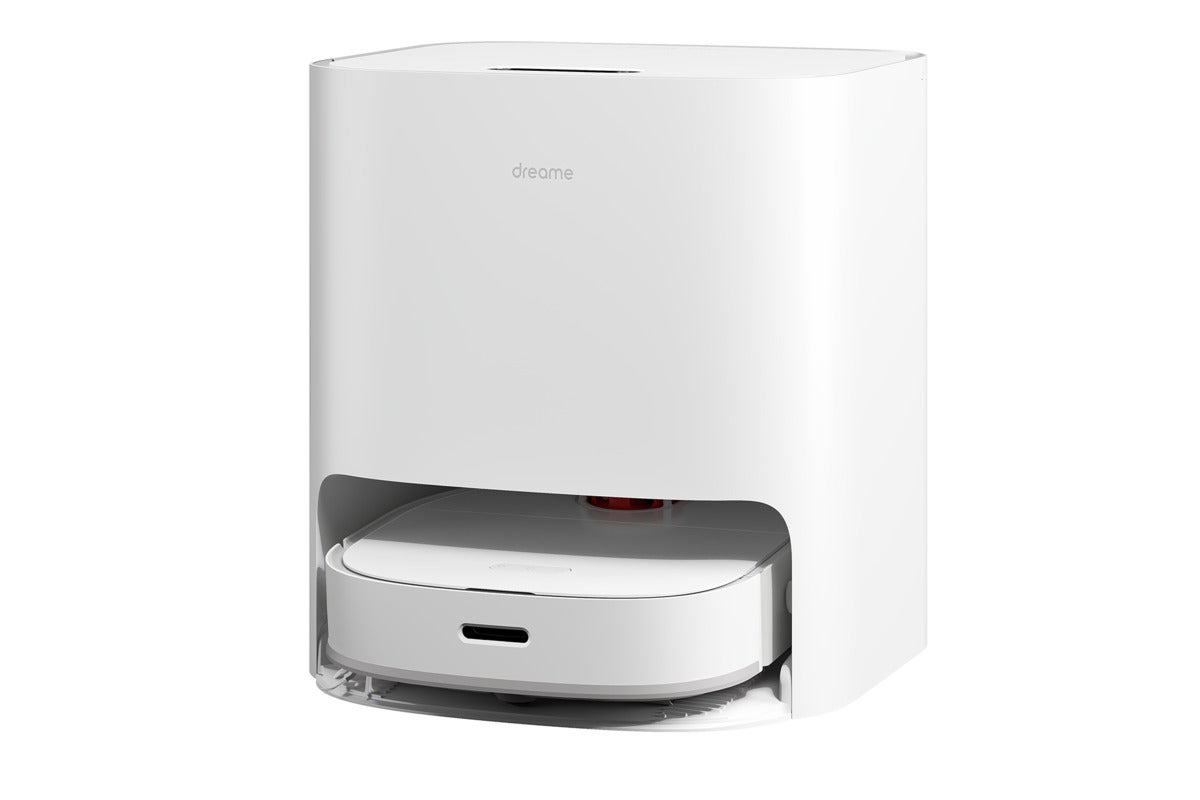 The W10 has a fast-mapping feature, selectable in the app, that allows it to explore the environment without cleaning and build a map in the Mi Home companion app for plotting efficient cleaning paths. You can edit this map by combining, splitting, and naming rooms, and setting virtual boundaries and "no go" zones, all of which allows you to customize how the W10 cleans. You can, for example, dispatch the W10 to clean a particular room rather than the entire downstairs level of your home. It can store up to three floorplans, making it a great option for multilevel dwellings.
You can choose from four cleaning modes vacuuming, mopping, and all-in-one cleaning. In vacuuming mode, the W10 cleans in an S-shaped pattern and will boost its suction when it detects carpeting. It mops in an up-and-down pattern, more akin to the way you'd use a stick mop. There's also a spot-cleaning mode you can activate when the W10 is paused that will clean a square-shaped area of 1.5-by.1.5 meters around the starting point.
The Mi Home app enables a lot of customization. You can specify which rooms to be cleaned with a corresponding cleaning frequency based on how dirty they get, schedule cleaning jobs, and adjust the self-cleaning frequency, to name just a few tasks. You can also adjust the vacuum's suction power and the mopping pad's dampness level and choose to have the W10 make one or two passes over the floor. The app also keeps a history of your cleaning jobs; tracks the usage of the W10's filter, brushes, and mopping pads; and provides a remote control and a "locate my robot" feature that triggers the W10's voice assistant to help you find the wayward device.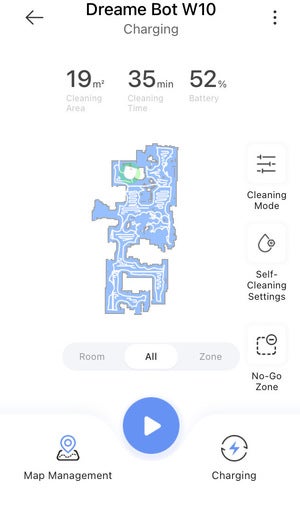 While the W10 goes a long way toward making cleaning your floors a fully automated experience, keeping the appliance itself clean and functioning still requires a fair amount of manual labor. The fresh-water tank's filter needs to be cleaned every three months and the dirty-water tank has to be removed and rinsed out after each use to prevent odors.
The washboard, on which the W10 sits when docked and which cleans and dries the mopping pads, also has to be removed and cleaned with a provided tool every couple of weeks, and the charging base wiped out with a clean cloth before the washboard is reinserted. Then there is the rudimentary cleaning of the vacuum's roller and side brushes whenever they get tangled with hair or carpet fibers.
None of this is to deter you from considering the Dreame Bot W10 if you have the need and means to take advantage of its advanced cleaning skills. It left my hard floors as clean as they've ever been outside of a good old-fashioned hand scrubbing and made that a considerably less loathsome chore.
Best Prices Today: Dreame Technology W10