At a Glance
Expert's Rating
Pros
A well-balanced performer that delivers the best with what you've got
USB audio connections for high-res digital audio
Fast, easy set-up
Cons
No Wi-Fi or multi-room audio support
Occasionally failed to wake up from sleep mode
Our Verdict
You bring the computer and/or high-res apps, the Q Acoustics M20 will fill out the soundscapes in sterling fashion at an attractive price.
Price When Reviewed
$599
Best Prices Today: Q Acoustics M20 HD Wireless Music System
Of course the Q Acoustics M20 HD Wireless Music System supports Bluetooth: Bluetooth 5.0 with support for aptX HD, as a matter of fact. But if you want to hear the best audio performances this high-end two-channel system can deliver, hook it up to your computer and use it as a USB audio device for listening to music, watching movies, or playing games.
The system is capable of streaming music with up to 24-bit resolution and sampling rates as high as 48kHz over Bluetooth, with support for the AAC, AAC+, and aptX HD codecs. But max sampling rates jump to 192kHz when you use a USB cable or a digital optical (Toslink) cable. Analog audio sources are supported via stereo RCA and 3.5mm analog audio inputs. What's missing? HDMI and Wi-Fi connectivity, the absence of which might account for the system's reasonable-for-what's-delivered $599 price tag. More on that in a bit.
This review is part of TechHive's in-depth coverage of the best Bluetooth speakers.
Tether the M20 to a Mac or a PC running Windows 10 or 11 with a USB-B cable and you get access to the lossless, jitter-free, low-noise data delivery platform that is USB 2.0 High Speed True HD Audio. If you're hanging onto a dinosaur rig, Q Acoustics provides downloadable drivers for operating systems as ancient as Windows 7 and even Windows XP. If you're paying for one of the high-res streaming services—Tidal HiFi, Qobuz, Amazon Music HD, Apple Music, etc.—you'll get the audio quality you're paying for.
Curiously, Q Acoustics doesn't provide the USB cable you'll need to accomplish this. Fortunately, said cables are very inexpensive—you might even already have one, since it's basically a printer cable. I purchased a 15-foot JSAUX-brand cable on Amazon for 11 bucksRemove non-product link. Incidentally, 5 meters (16 feet, 5 inches) is the maximum length you can use without deploying an "active" USB cable, such as this $14 Monoprice modelRemove non-product link (which I did not test).
Fresh out of the box, these speakers suffered from a harsh, irritating sonic edge that made me fear Q Acoustics had lost its mojo. With patience—and about 20 hours of burn-in—that stridency went away. Totally.
I also got pleasurable results from the M20 system when I connected it to high-def streaming music boxes, such as the Andover Audio Songbird and the Russound MBX-PRE, the latter of which, unlike the M20 itself, can unfold MQA tracks streamed from Tidal. I also auditioned it with a DirecTV tuner, a PlayStation 4 gaming console, and a Pioneer Universal Disc Player. As near-field speakers, the M20 system sings so sweet and bright that the follicles on my arms danced.
Q Acoustics M20 specs
The M20 is a tidy system consisting of two 10.98 x 6.7 x 11.65-inch (HxWxD) cabinets that can be set on a desktop or mounted to optional stands or wall brackets. Unlike some wireless speaker systems, the M20's two speakers must be wired together with conventional speaker cable (a 13-footer is provided); on the plus side, you can flip a switch to designate which speaker operates as the left and right channel. This arrangement makes it easier to place the speakers, since you need to worry less about where to find an available outlet for the powered unit.
A three-way switch on the powered speaker sets the systems EQ to compensate for the speakers' placement: The up position delivers the most bass output, for speakers placed away from walls or corners. The center position reduces bass boom when you have no choice but to set the speakers close to the wall. If the only spot you can find for the speakers is in the corners of your room, flip this switch to the bottom position and the EQ will reduce bass output even more. Finally, you can insert the provided foam bungs into the speakers' rear ports if there's still too much boom in your room.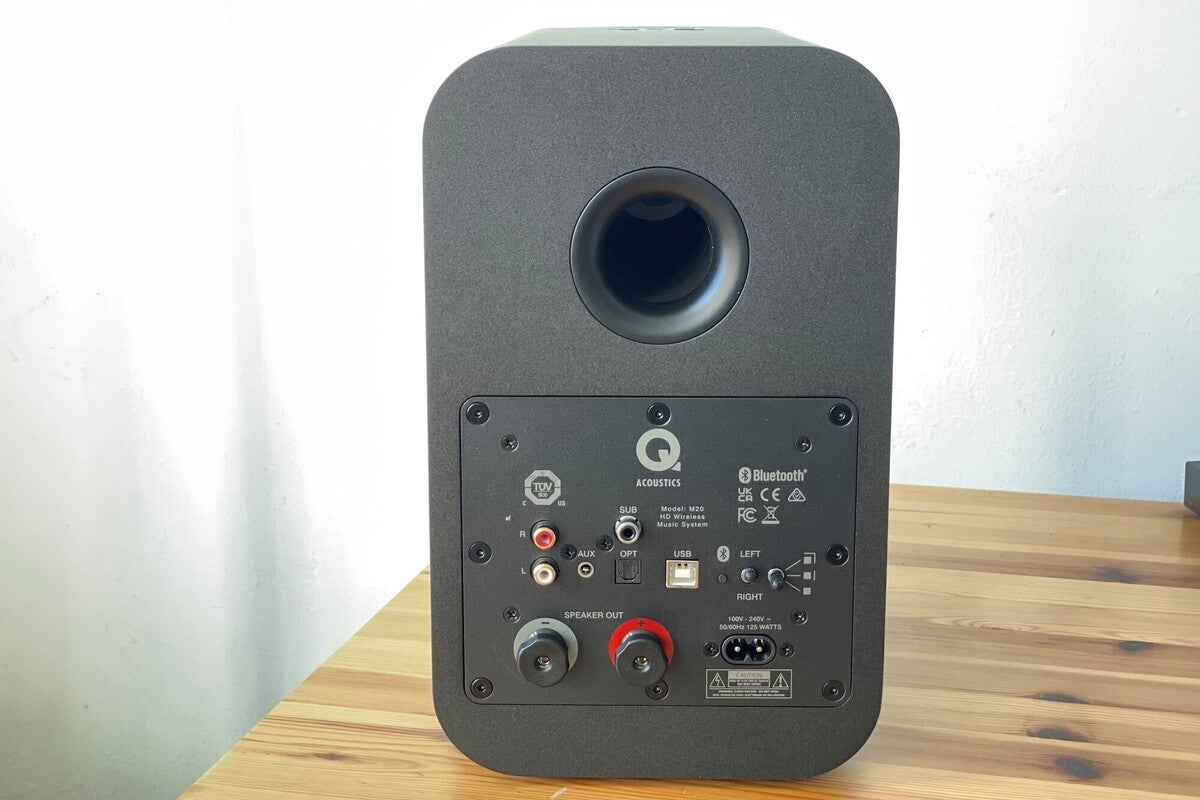 Q Acoustics M20 feature set
The self-powered speakers in the M20 system closely resemble Q Acoustics' 3020i passive bookshelf speakers. Each one has a 0.9-inch dome tweeter and a 5-inch woofer in a rounded, two-way, ported cabinet with significant amounts of resonance-absorbing bracing inside. The cloth grills are non-removable, ostensibly for cone protection on a crowded desk.
The 4-ohm speakers are driven by an amplifier in one of the units that delivers continuous power output of 32 watts per channel with less than 1 percent total harmonic distortion. That might not seem like much on paper, but the system kicks major butt in practice, fleshing out a full-bodied, even-tempered, and well-detailed sound at low, medium, and room-filling volumes.
Frequency response (with the onboard DSP set to flat) of 20Hz to 20kHz (+/- 0.5dB), and a signal-to-noise ratio of 81dB (aux, A-Wtd, max vol, ref 1W) delivered bass response so palpable I felt no need to connect a subwoofer. Any buyer who doesn't agree with that assessment can plug a powered sub into the M20's sub-out jack. I barely noticed the improvement when I did, except during major motion-picture ka-booms.
What you don't get with the Q Acoustics M20
The absence of Wi-Fi and HDMI connectivity means the Q Acoustics M20 isn't the best audio system for folks who want to connect these speakers to a TV, or control them with voice commands, a TV remote, or a mobile app (apart from the streaming services' own apps, that is). There's no support for Apple's AirPlay or Google's Chromecast ecosystems, either. The system does come with its own remote control, and there are volume-control buttons on the powered speaker.
On the upside, I've learned to love the larger screen presentation that a laptop or desktop computer makes possible. Menus are so much more detailed, lyrics are easier to read, and I can get lost in the excellent editorial content that's available, especially from the music essayists at Qobuz.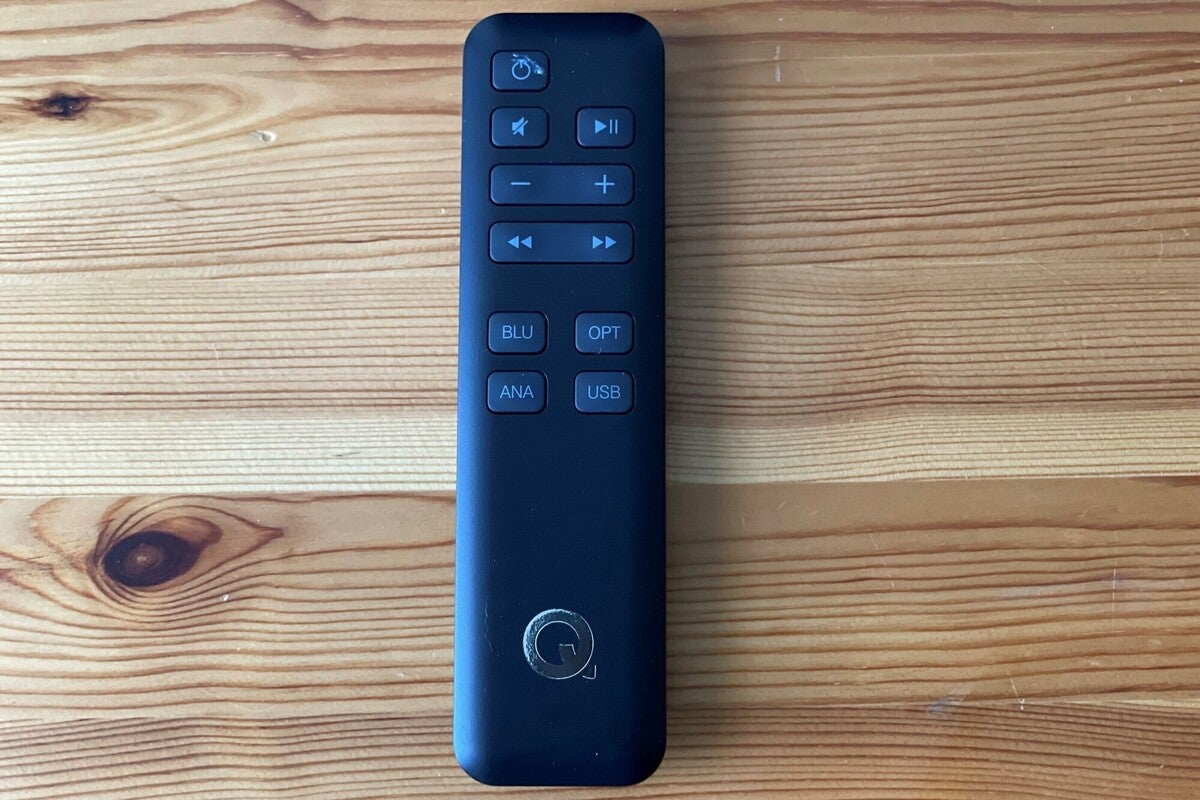 Complaints?
The M20 sometimes fails to negotiate a handshake with the computer it's connected to. In order to reduce their power consumption, the M20 shuts down after about 30 minutes of being in standby. A tap on its remote control or the control panel on the active speaker should wake it up—and it does, three times out of four. But on that fourth occasion, I've found it necessary to restart my sleeping computer (I tested the system with a two-year-old ThinkPad, a four-year-old MacBook, and a 10-year-old iMac I brought out of mothballs just for this review).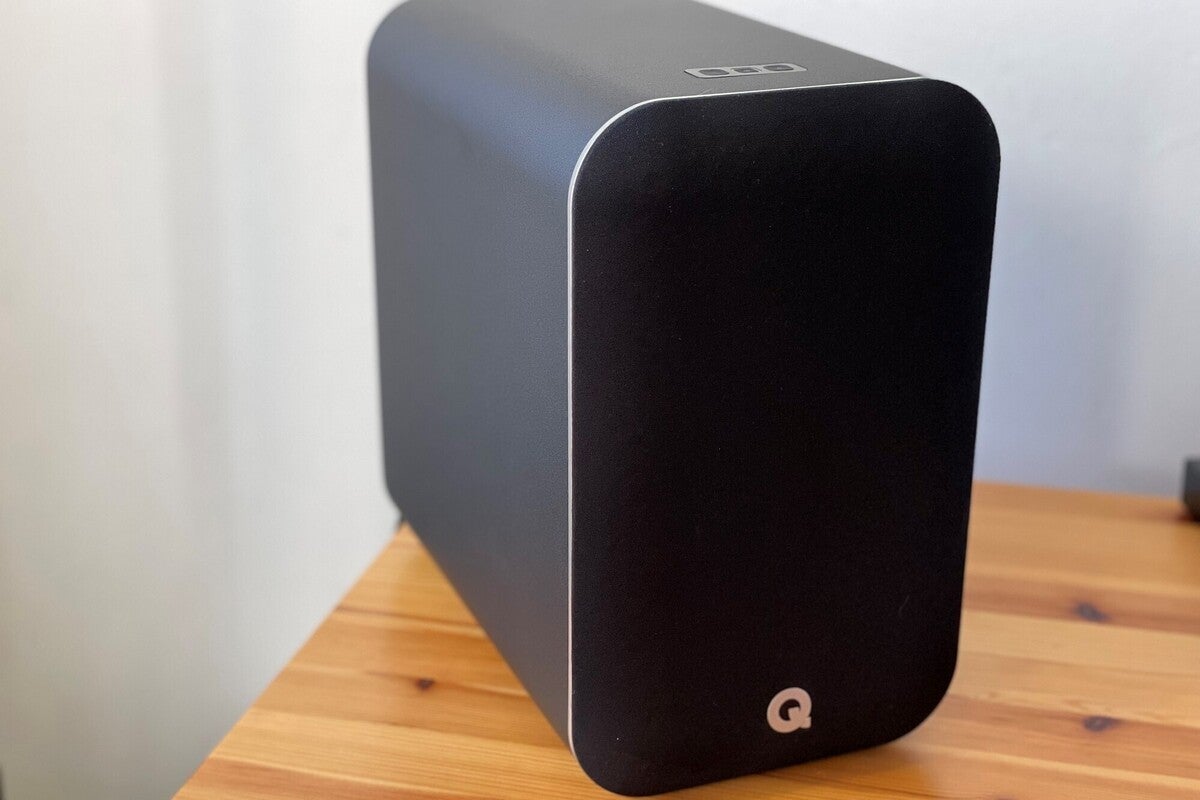 I had similar experiences with various music-streaming apps on mobile devices. The components would eventually recognize each other and reconnect. At worst, this was a 90-second distraction, but it was a distraction, nonetheless.
Also, be forewarned: If you have a MacBook with just one USB port—for power and everything else—you'll need to unplug the computer's power adapter to connect the M20 system. Routing the USB cable through a hub will just bollocks-up the works. I have to run my MacBook on battery power while it's connected to the M20 system.
Bottom line
That classic song from the Rolling Stones notwithstanding, sometimes you can get what you want and what you need. The Q Acoustics M20 HD Wireless Music System is a case in point. It delivers pleasing, high-resolution sound at an affordable price by relying on the internet-connected gear you already own.
Updated December 6 to remove the con related to the burn-in time needed to get the best performance from these speakers. This is a common situation with loudspeakers.