At a Glance
Expert's Rating
Pros
Bragi OS and Dirac HD tech add lots of value
Solid ANC performance and outstanding Noise Guard feature
Reliable Bluetooth performance
McLaren Edition includes wireless charging pad and lots of fun extras
Cons
Tight fit might lead to ear discomfort for some
Sound signature without Dirac HD is mediocre
Bragi Moves-powered gesture functions don't always feel natural
Our Verdict
With Bragi's OS, hands-free gesture control, solid ANC performance, Dirac HD and McLaren co-branding, Klipsch's T5 II McLaren Edition are fun ride.
Best Prices Today: Klipsch T5II McLaren Edition
Klipsch's T5 II true wireless headphones are the company's first to offer active noise canceling (ANC). But the Klipsch T5 II aren't a one-trick pony, they're the first to offer Dirac HD sound correction and Bragi's AI-enabled operating system for hands-free, gesture-based control. The T5 II come in two flavors: The $299 T5 II, and the $349 T5 II McLaren edition reviewed here.
Features
The second iteration of Klipsch's T5 true wireless earphones add three primary features: Active noise cancelling; Dirac HD sound correction; and gesture-based control, plus other AI-features made possible by Bragi OS. The T5 II has a Bluetooth 5 radio onboard, but its wireless codec support is limited to AAC, aptX, and SBC; there's no aptX HD, aptX Adaptive, or LDAC support.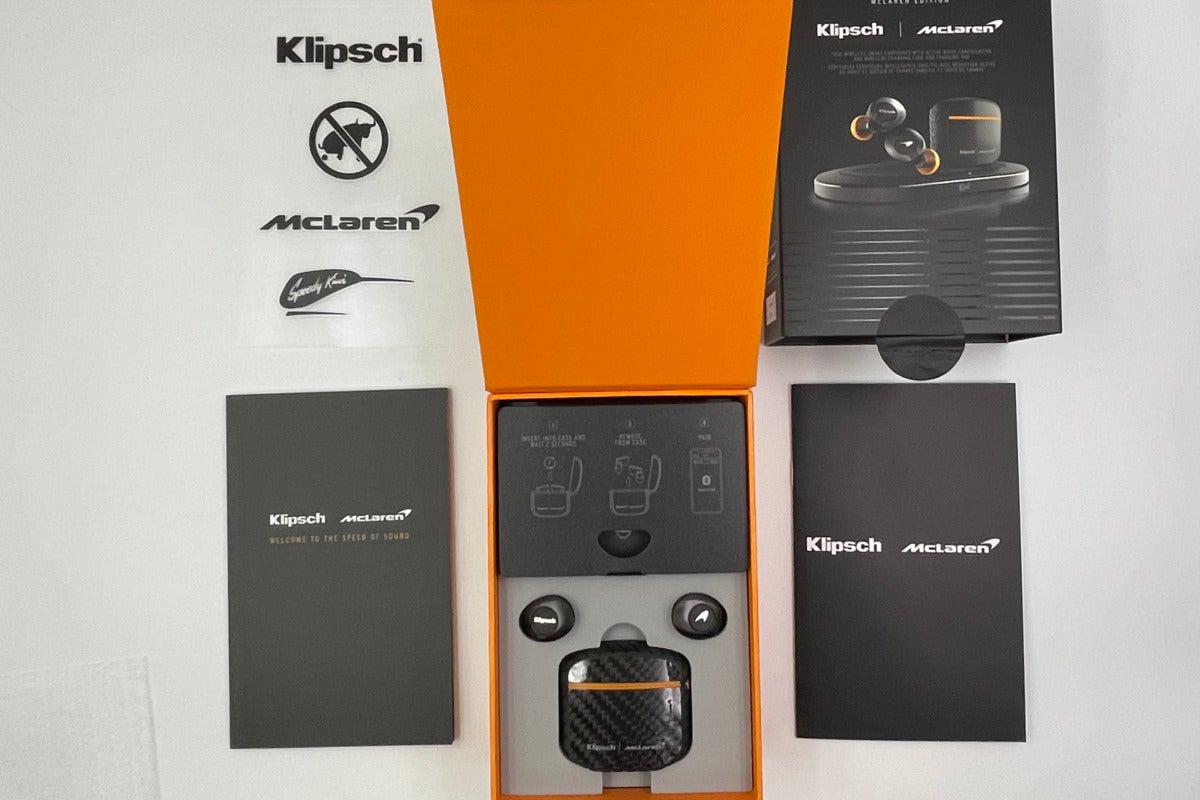 Open the box and you'll find the earbuds, six pairs of silicone tips, a charging case, a wireless charging pad, a USB-C to USB-C charging cable, and a USB-A to female USB-C converter. A la Apple, you'll find a sticker sheet with the Klipsch and McLaren logos.
This review is part of TechHive's coverage of the best noise-cancelling headphones, where you'll find reviews of the competition's offerings, plus a buyer's guide to the features you should consider when shopping for this type of product.
The heart of the T5 II is a 5.8m custom driver. Four of the Klipsch's six on-board microphones are dedicated to beam-forming for calls, while the remaining two handle noise cancellation. Klipsch's beam-forming microphones worked exceptionally well in all my indoor and outdoor tests, with people on the other end of the call telling me they could hear me clearly.
While you're on a call, the T5 II leverages a Bragi-enabled technology called "Voice Awareness" that functions like a transparency mode. It lets you hear your voice and your surroundings more clearly, so you aren't yelling unnecessarily while on the phone as you might with earbuds that block your voice. I found the effect to be very effective and natural.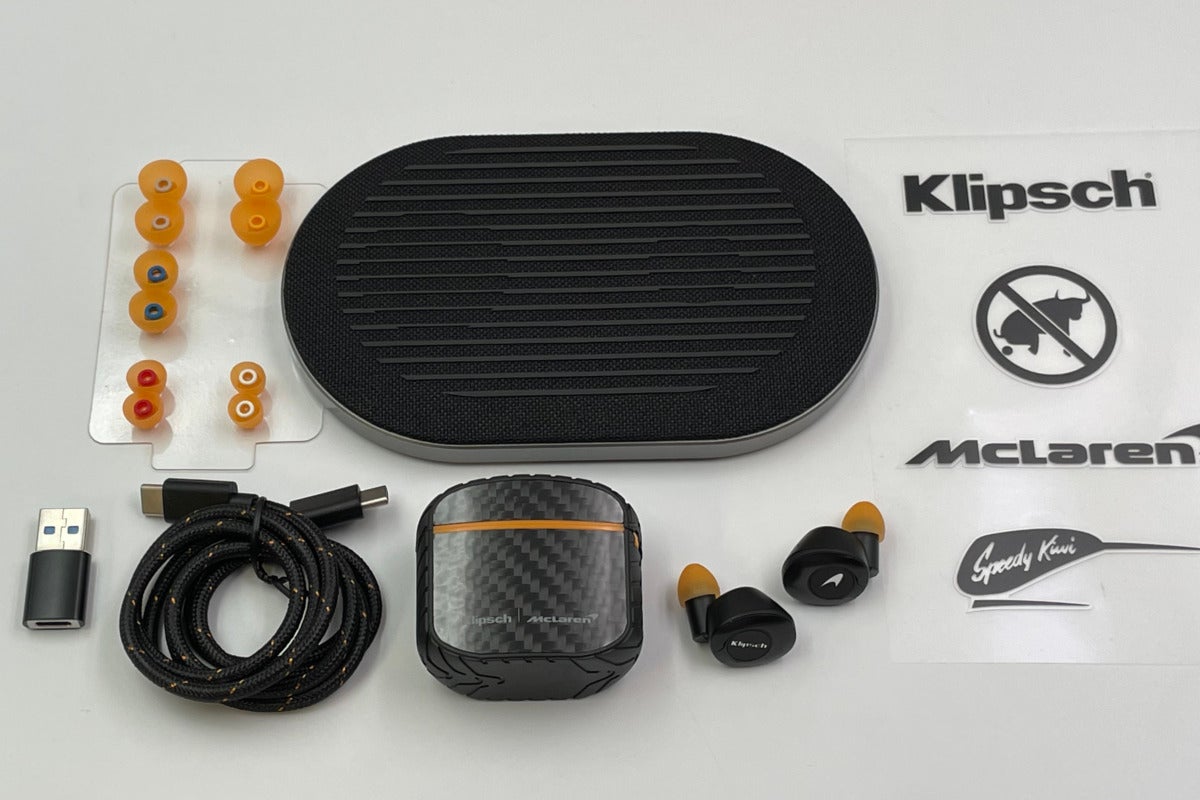 Solid active noise cancelling and transparency
ANC is a big selling point for the T5 II, which the company says can block up to 35dB of noise. The hybrid dual-microphone configuration places one microphone behind the headphone driver and the other in front. I found the T5 II's onboard ANC to be a solid performer.
Of course, the T5 II has a transparency mode. It's functional, but the Klipsch doesn't surpass the superlative performance and spaciousness of Apple's AirPods Pro, which continues to be my gold standard in that regard. As with many true wireless headphones, you can control the level of noise cancellation and transparency through the companion Klipsch Connect mobile app.
Bragi's Noise Shield is a winner
I totally fell in love with Klipsch's Noise Shield technology, another Bragi-powered technology intended to protect your hearing from loud sounds while using transparency mode. It works as advertised.
I tested the feature in a variety of environments, including the New York City Subway. If I had transparency enabled and a subway train was screeching into the station or an express train was whizzing loudly by on the express track, I'd notice the T5 II automatically engage—what feels like an ANC mode—to prevent an extremely loud sound from blowing out my eardrum. What's more, I perceived that Noise Shield worked independently in each earbud. So if I had my left ear turned towards the train, then the left earbud would engage Noise Shield exclusively or to a different degree than the right. If you frequently find yourself in noisy environments, you'll appreciate this high-tech feature.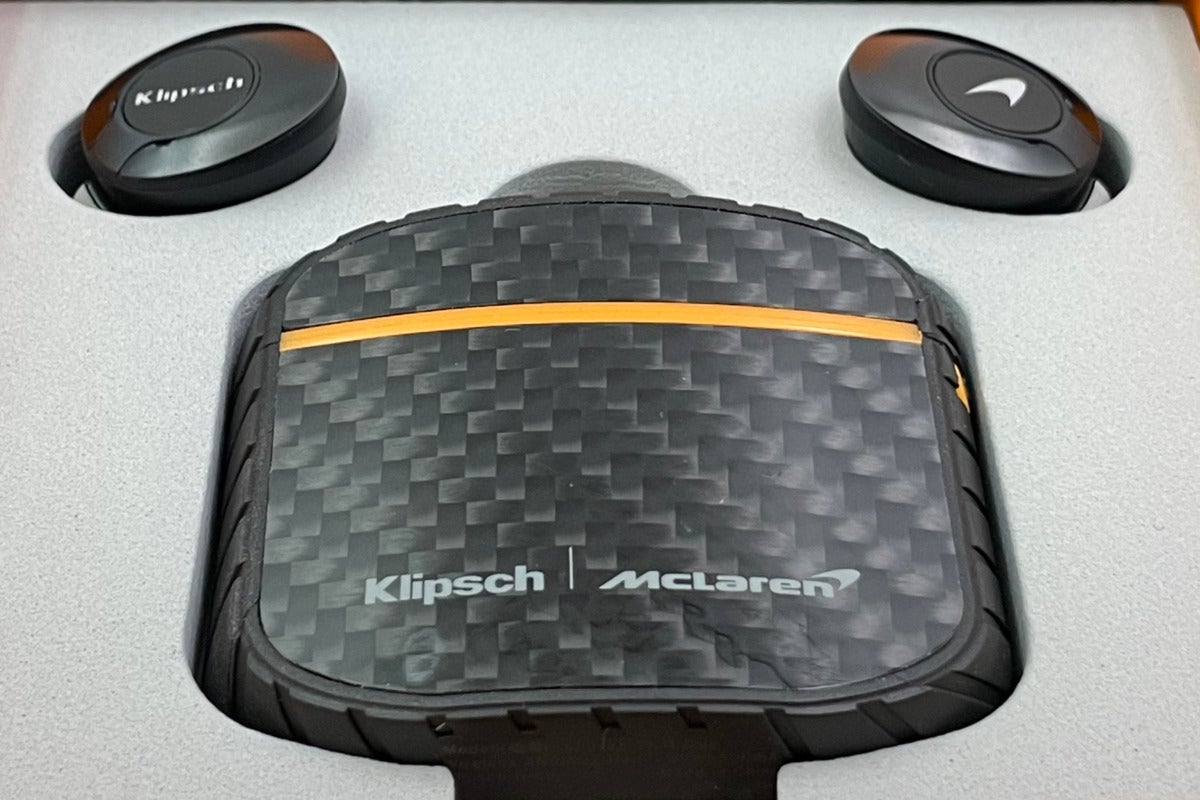 Bragi Moves delivers hands-free gesture control
Several other Bragi technologies allow you to configure the function of the left earpiece, enable smart actions, or enable a 6-band EQ. Bragi Moves is the most compelling of these, because it enables powerful gesture-based control. If you've been searching for a hands-free technology in true-wireless headphone, give the T5 II a serious look.
You'll calibrate the gesture control the first time you set up the headphone through the app. Nod your head three times and it will answer an incoming call on your linked smartphone. Turn your head three times to decline a call. If you're listening to music, turning your head three times will advance to the next song. Bragi's gesture-based technology is surprisingly good, but you can turn gestures off in the Klipsch Connect mobile app.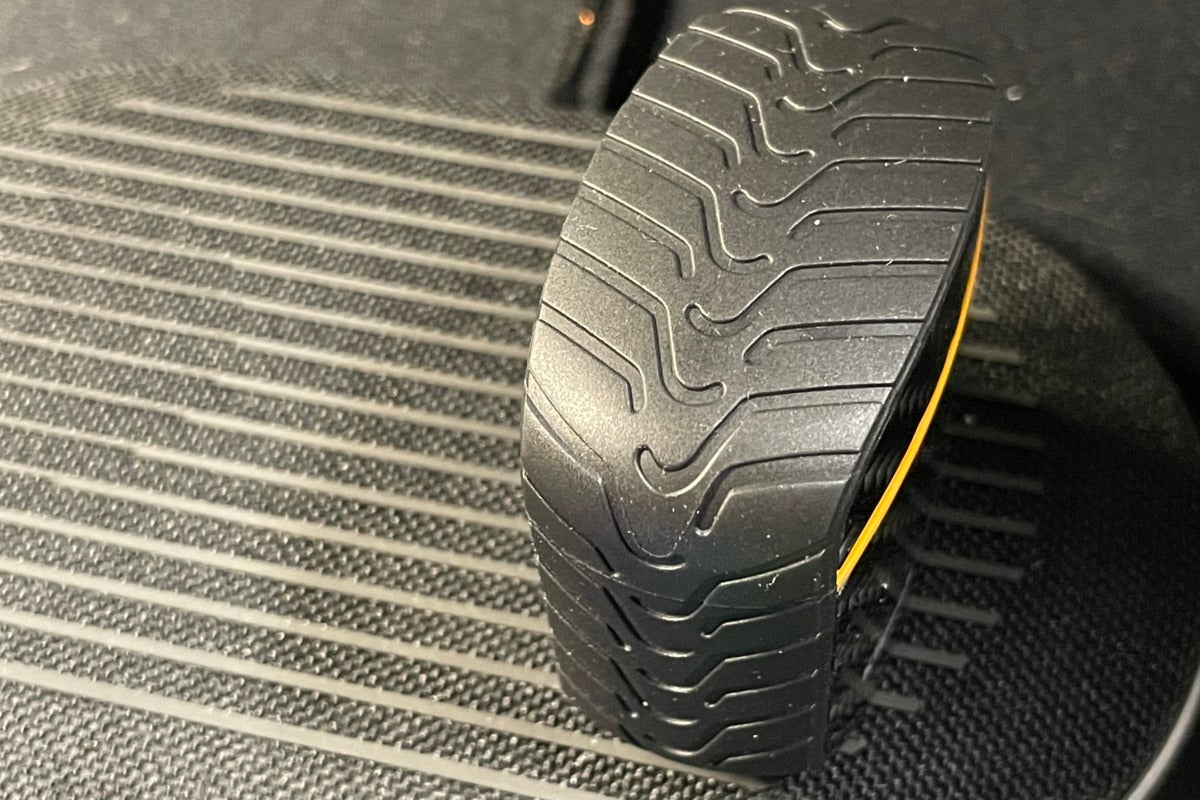 The problem I found with Bragi Moves wasn't necessarily in the technology; rather, it didn't immediately feel natural for me to adopt. Are you naturally inclined to nod or shake your head three times for headphone actions? Even after weeks of use, I had to consciously force myself to think about the Bragi gestures.
What you get with the McLaren edition
The McLaren edition delivers a cool, branded experience that is a completely different presentation than the regular T5 II. You'll pay a $50 premium for the McLaren Edition, but the upcharge is worth it.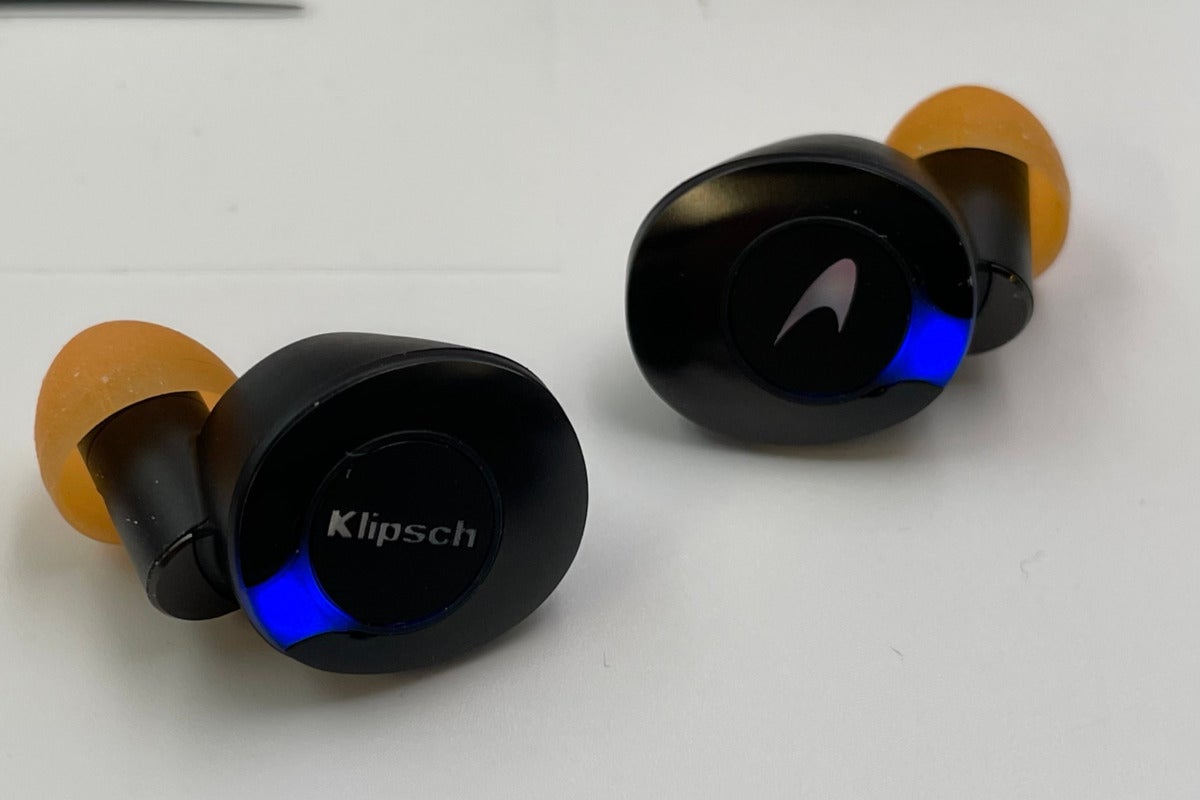 The McLaren edition includes a charging pad that will charge the T5 II on the right-hand side and your compatible smart device on the left. That bundle alone may be worth the upcharge for some consumers. The charging pad has a tire-track motif, but I found the slightly raised pattern wasn't just an aesthetic note, it provided a degree of grip that prevents the T5 II case or your smart device from sliding off. Independent LED lights inform you that your device is successfully charging.
A 12-page, illustrated booklet titled Welcome to the Speed of Sound is an homage to the two iconic brands and includes a timeline marked with each company's milestones. QR codes on some pages take you into deep dives into the product.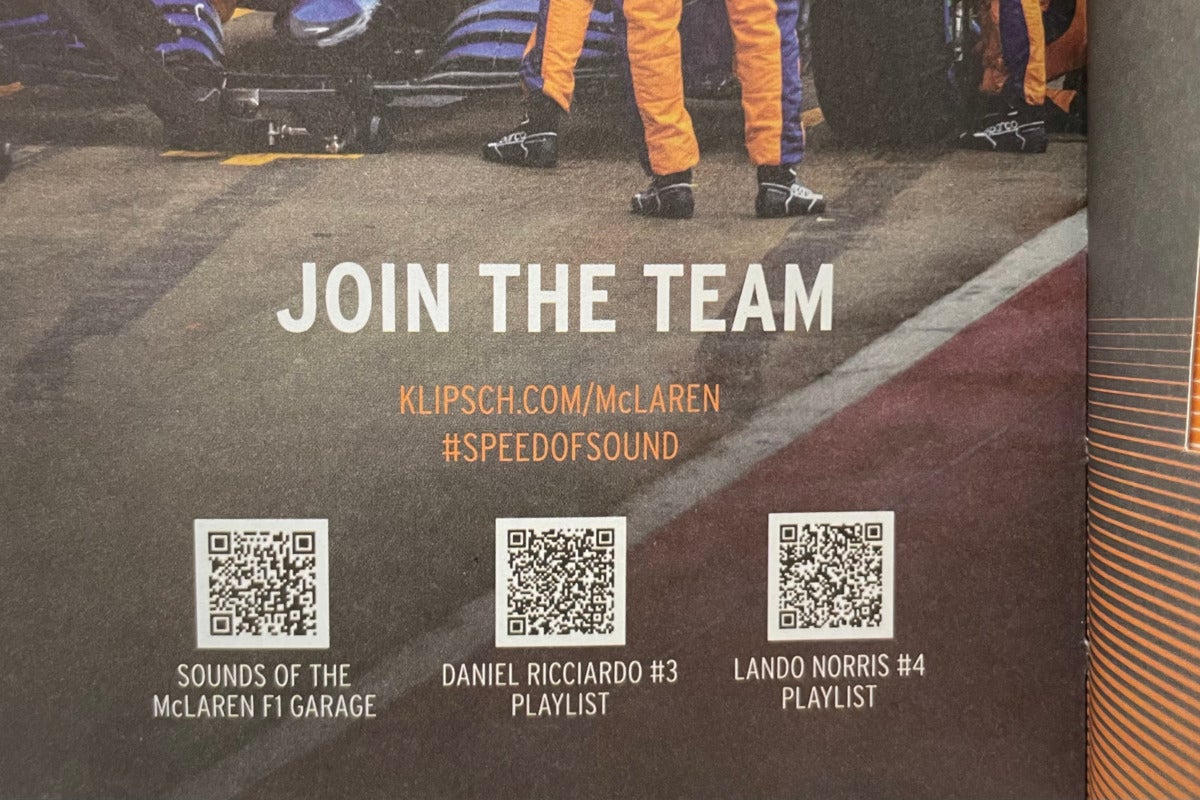 The booklet's back page has a "Welcome to the Speed of Sound" black metal commemorative card. The card is marked with the build date of your headphones, their serial number, and the laser-etched signatures of Bruce McLaren and Paul Klipsch over the respective companies' logos.
Finally, the battery case on the McLaren Edition is completely different. It's accented in McLaren's signature papaya color and the rubberized outer shell is branded to resemble the intermediate tread on McLaren's Formula 1 racecar tires. Unlike the slick, slippery feel of Apple's AirPods, I consistently had a solid, slip free grip hold on the McLaren Edition case. Klipsch says they used genuine carbon fiber on the front and back of the case.
When you place the ear buds in the battery case, they light up red like an automobile's tail lights to let you know they're charging.
Battery life
Speaking of battery, the T5 II's battery life is rated to last up to 7 hours on a single charge (five with ANC enabled), and up to 21 hours when used in conjunction with the included case. The case has a USB-C port on the back for wired charging when you don't have access to its wireless charging pad.
Generally speaking, I got anywhere from 4 to 6 hours of battery life in heavy to mixed use. It was a refreshing experience to use a true-wireless ANC headphone, drop it in my pocket for a few hours, and still have ample battery the next time I wanted to listen.
I did notice some occasional battery quirks where the T5 II would be in a low battery situation or completely drained—even if I had them in its case. I couldn't quite pin down a pattern to this largely infrequent occurrence. It could very well be I wasn't careful enough putting them into their case, so they were slightly dislodged and connected to the phone. Whatever the reason, it was a gremlin I felt I should note.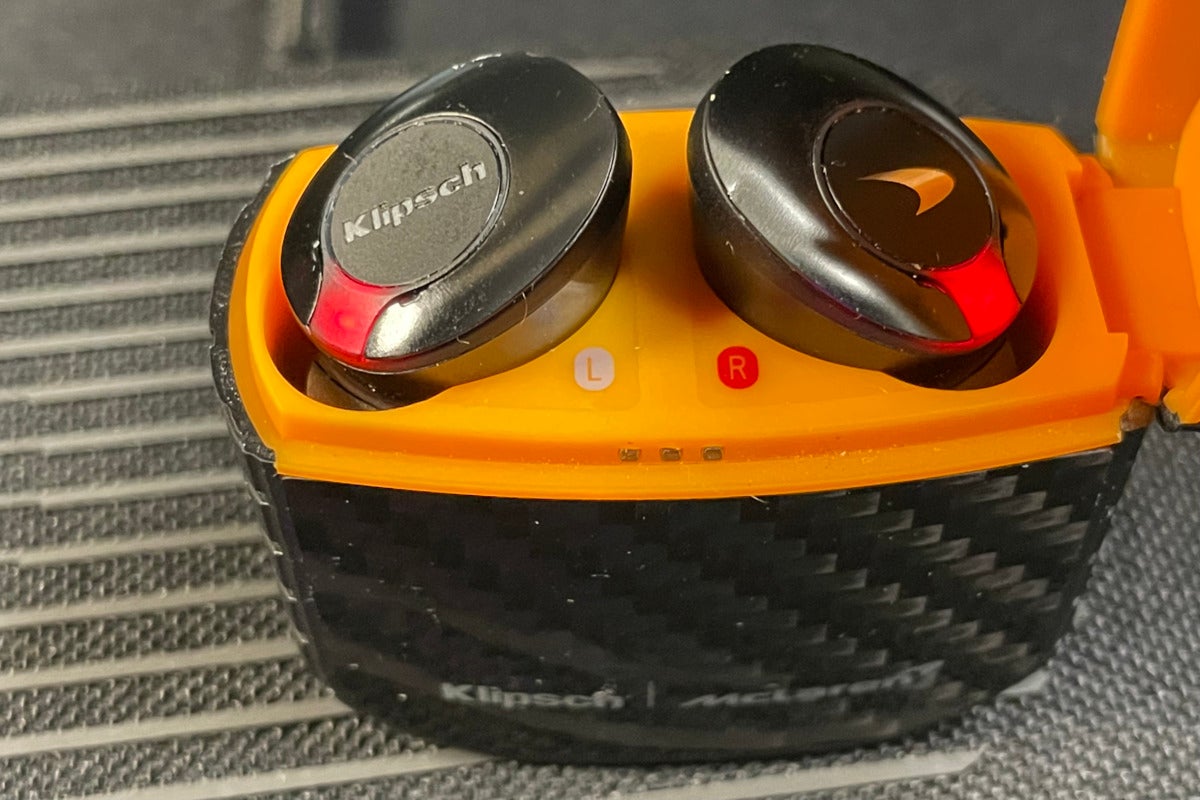 Listening and real-world use
Unlike some other ANC products I've used or reviewed, the T5 II's tech performed like a mature product. Bluetooth connections were generally solid and reliable. Callers could hear me clearly and reliably. Sometimes the basics matter most.
The T5 II controls never left me guessing what I was engaging. Each earbud's surface is a depressible button, and there are voice prompts at each function change. You'll get an audible battery-status prompt when you pull the earbuds out of the case and put them in, for example, and you'll hear a prompt when each earbud is successfully paired.
The T5 II is among the better-fitting true wireless headphones I've tried, although I have a hunch not every ear shape will agree with them—especially those with smaller ears. The T5 have a nice twist-and-lock feature that puts the earbud firmly in your ear; however, if I wanted to get the best twist-and-lock fit, they'd make my ears slightly irritated and uncomfortable.
I used the T5 II with my iPhone 12 Pro with Tidal and Apple Music. I also steamed music to the T5 II McLaren Edition via the Roon app on my iPhone from my Roon Nucleus server.
I strongly advise any user of the T5 II to read about the product's features. Take the time to do a deeper dive into listening to the headphones in their standard mode and with DIRAC HD sound turned on to see which sound signature you like. You can also dive into the app's available six-band EQ to fine-tune the sound to your preference.
I'll forewarn you that listening to the Klipsch T5 II in their default setting yields a warm, syrupy and somewhat flat, two-dimensional midrange. Turning on Dirac HD is quite jolting by contrast. Your immediate sensation may be that the midrange has suddenly thinned out.
Give it a few minutes and you'll notice that with Dirac HD enabled, vocals are emphasized and better defined. When I listened to Adele, for example, her vocals were clearly more three-dimensional, had better micro dynamics, and exhibited more detail with Dirac HD than when it was turned off.
I also perceived a bass boost with Dirac HD enabled, lower frequencies seemed more dynamic and alive. Even on songs I wouldn't naturally turn to as "demo songs," such as Natalie Merchant's "Carnival," percussion and bass lines popped.
Since we know our perception of bass through headphones changes without the physical feeling of bass in the rest of our body, we tend to perceive a slight boost in the bass as being more pleasing. I found that to be the case with Direc HD in this particular application. Dirac did a good job without making the bass overly boomy or unnatural.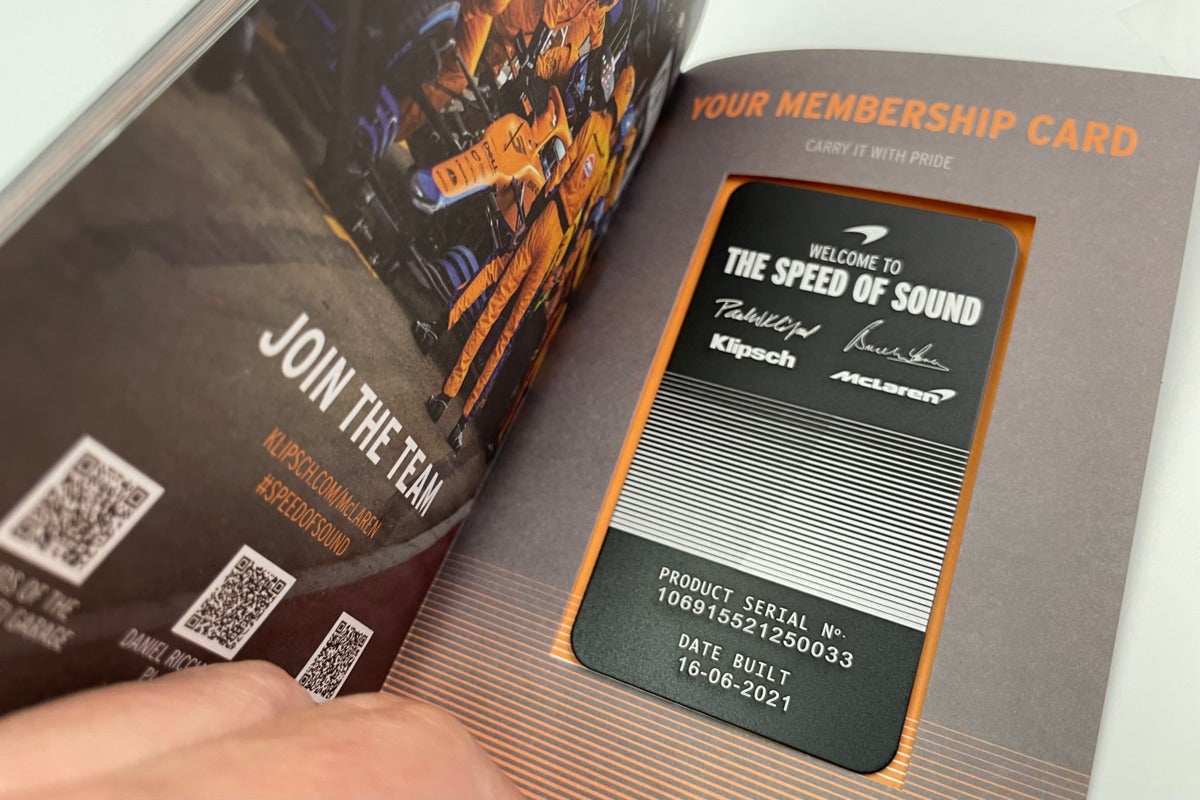 The Klipsch T5 II McLaren Edition are a fun ride
The Klipsch T5 II McLaren Edition deliver excellent audio performance, especially with Dirac HD enabled, and great active noise cancellation.The Bragi technologies onboard—particularly the Noise Shield feature in transparency mode—are very appealing. The gesture-based controls will be compelling for some as well.
These aren't the absolute best-sounding true wireless headphones I've reviewed, but they're certainly among the most fun. That goes double for fans of either Klipsch's audio heritage or McClaren's exploits in the automotive and racing worlds.
Best Prices Today: Klipsch T5II McLaren Edition