At a Glance
Expert's Rating
Pros
Sony's audio-mapping technology works exactly as promised
Remarkably flexible, adaptible to a wide variety of spaces
Guided setup is easy to follow
Cons
Depends on an added-cost subwoofer for the full experience
Depends on a strong and stable Wi-Fi connection
Expensive, especially when you add in the sub
Our Verdict
Sony's HT-A9 home theater system creates an impressively immersive experience with just four speakers and a lot of advanced audio-mapping technology.
Best Prices Today: Sony HT-A9 Home Theater System
Sony's $1,800 HT-A9 home theater system finds a satisfying middle ground between the ease-of-use offered by a soundbar and the immersive audio experience created by a true multi-speaker surround speaker array.
Sony uses a mapping technology it calls 360 Spatial Sound to analyze your room layout and create the illusion of 12 phantom speakers that will convince listeners that sound is coming from overhead and from virtual center and side speakers. Users can enjoy streaming and physical media that include either Dolby Atmos or DTS:X sound mixes.
Listeners who've experienced less-than-impressive results from soundbars promising a "virtual 5.1" surround-sound experience might have their doubts going in, but Sony has absolutely solved this challenge and delivered a system that effectively delivers an immersive experience that doesn't depend on as many speakers, wires, and in-ceiling installation hassles.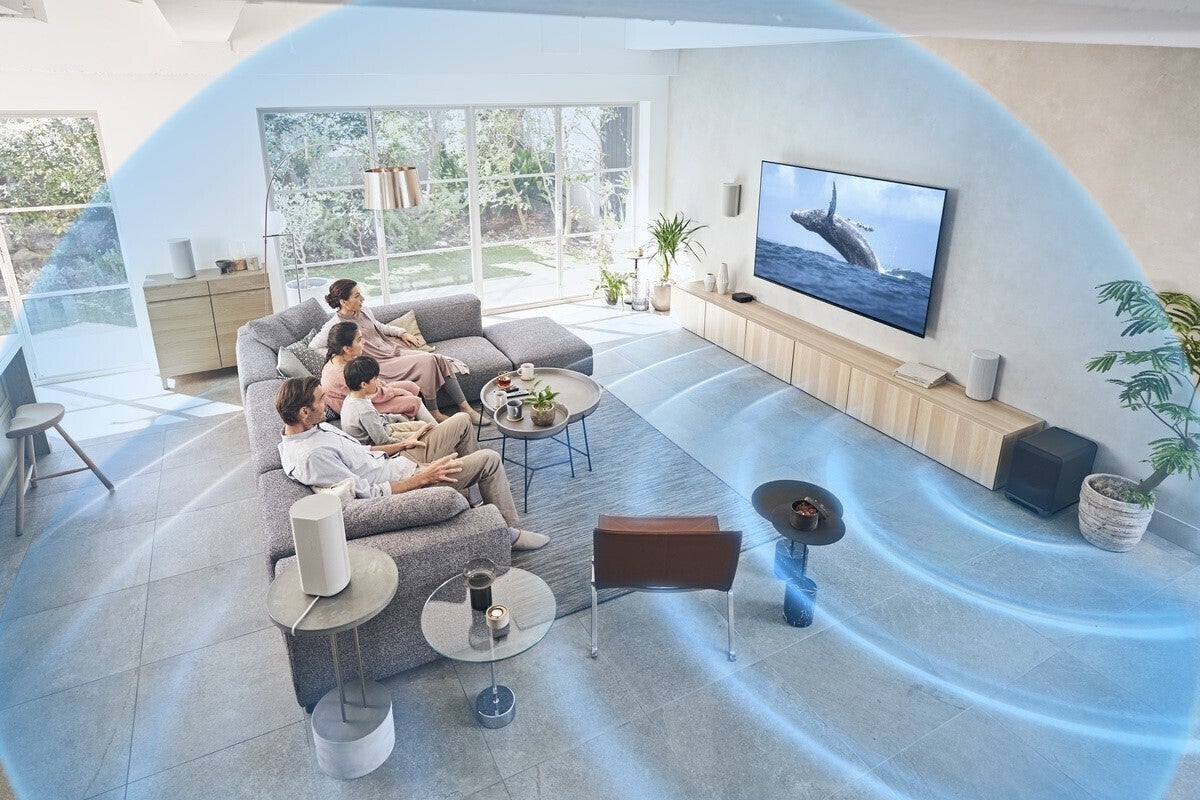 The HT-A9 features a transmitter box that connects to your television and four speakers that connect wirelessly to the transmitter via Wi-Fi. Sony offers an optional subwoofer—choose between Sony's $400 SA-SW3 200-watt or its $700 SA-SW5 300-watt models. We tested with and without the SA-SW5 and concluded that the subwoofer is an almost essential addition to the system.
After a week of using the HT-A9 system with the subwoofer, I switched back to a Focal Dimension soundbar and subwoofer just for some perspective. The Dimension is an outstanding soundbar but there's just no way it can match Sony's immersive listening and viewing experience.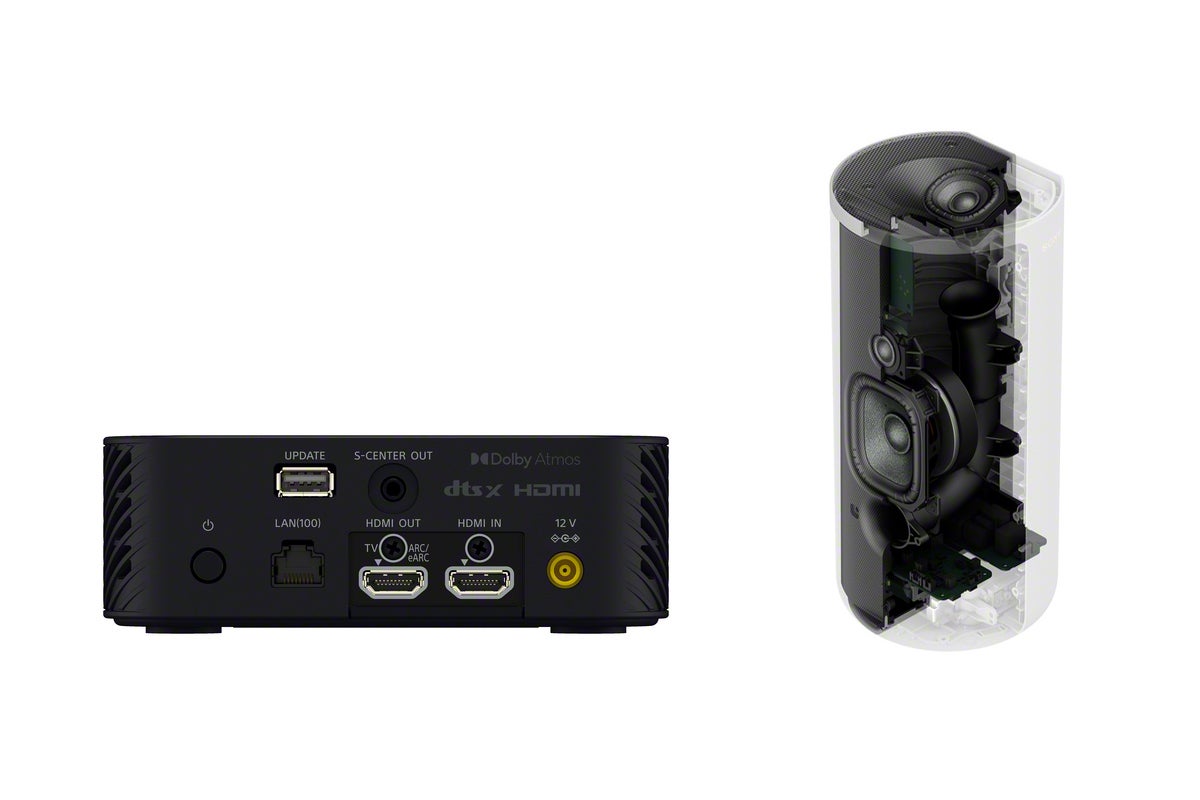 When you add in the cost of the subwoofer, Sony's asking for a $2,500 commitment for an optimal home theater experience. For that price, you get a flexible setup that can easily follow when you move house and an experience that's closer to the one offered by an elaborate speaker array than what you'll get from even the best soundbars.
Setting up the Sony HT-A9
One of the most impressive tricks in the HT-A9 bag is its ability to adapt to speaker placement. If you can arrange your speakers in a perfect rectangle with each speaker at an identical height, the mapping technology reads the room and tunes each speaker to its location. I set up the system with a couple of different rear speaker placements and overall performance didn't suffer when the rear speakers were at different heights and not aligned with the front speakers.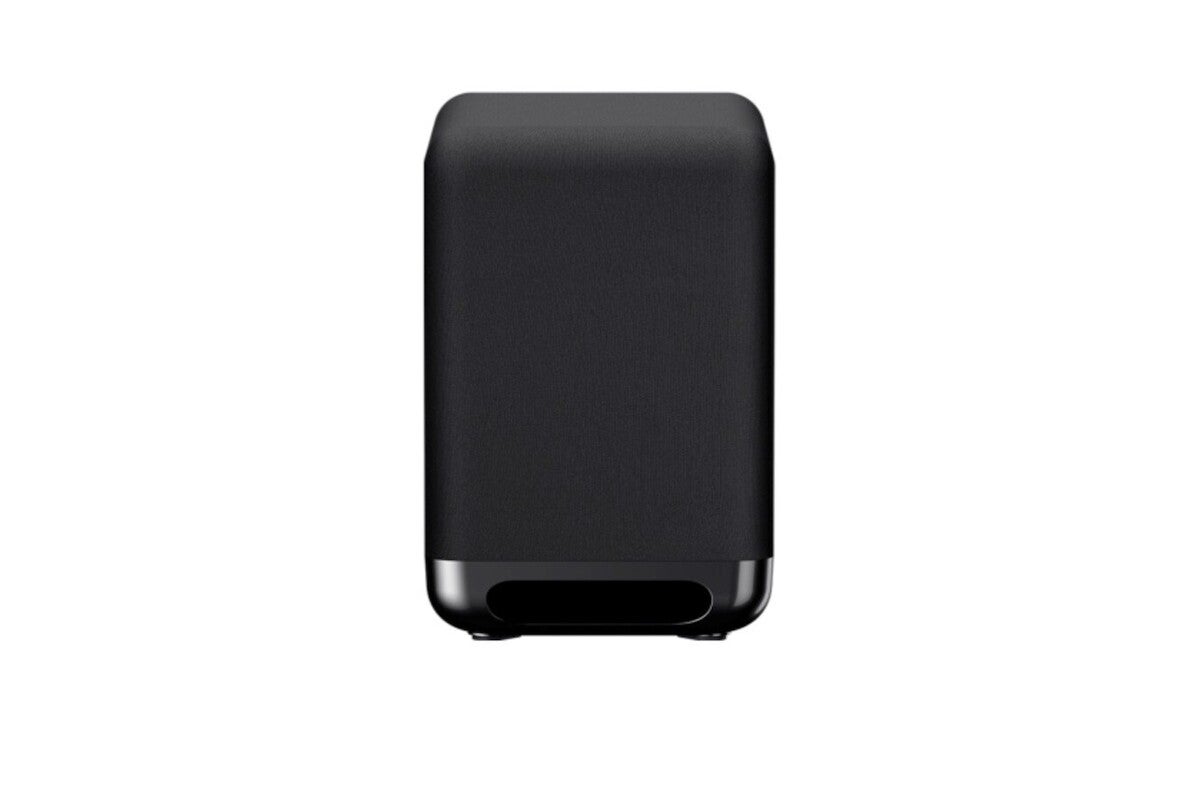 Each speaker is labeled left or right and front or rear for easy placement (RL, FL, RR, FR) and each requires its own power cord plugged into an outlet.
Arrange the speakers, plug in the transmitter box to an eARC or ARC HDMI port on your TV and followed the guided on-screen setup using the included remote. Setup for the four included speakers was seamless and the audio tuning process doubles as an impressive demo for the sound field created by the combination of real and phantom speakers.
The SW5 subwoofer didn't connect as automatically as the others but it was a simple process to go into the advanced settings and add the sub to the array. It's a minor issue, but if Sony tweaked the setup process to ask if a subwoofer is being used before having the HT-A9 scan for it as it simultaneously scans for the four included speakers would elevate the setup experience to near perfection.
Some users have reported issues with audio dropouts. I tested the HT-A9 with a Google WiFi Mesh Router system. During setup, all the individual Google router nodes appeared on the Sony setup screen, but each showed the identical SSID. There was no way to know which node was closest to the Sony transmitter. After experiencing dropouts, I checked the network settings and found that I was getting low signal strength and was likely connected to a router node in a different part of the house.
I repeated the network setup until the Sony connected with a node that delivered a 100-percent signal and then moved the node a few inches away from the HT-A9 speakers. All connection and dropout issues disappeared; the system has been rock-solid since.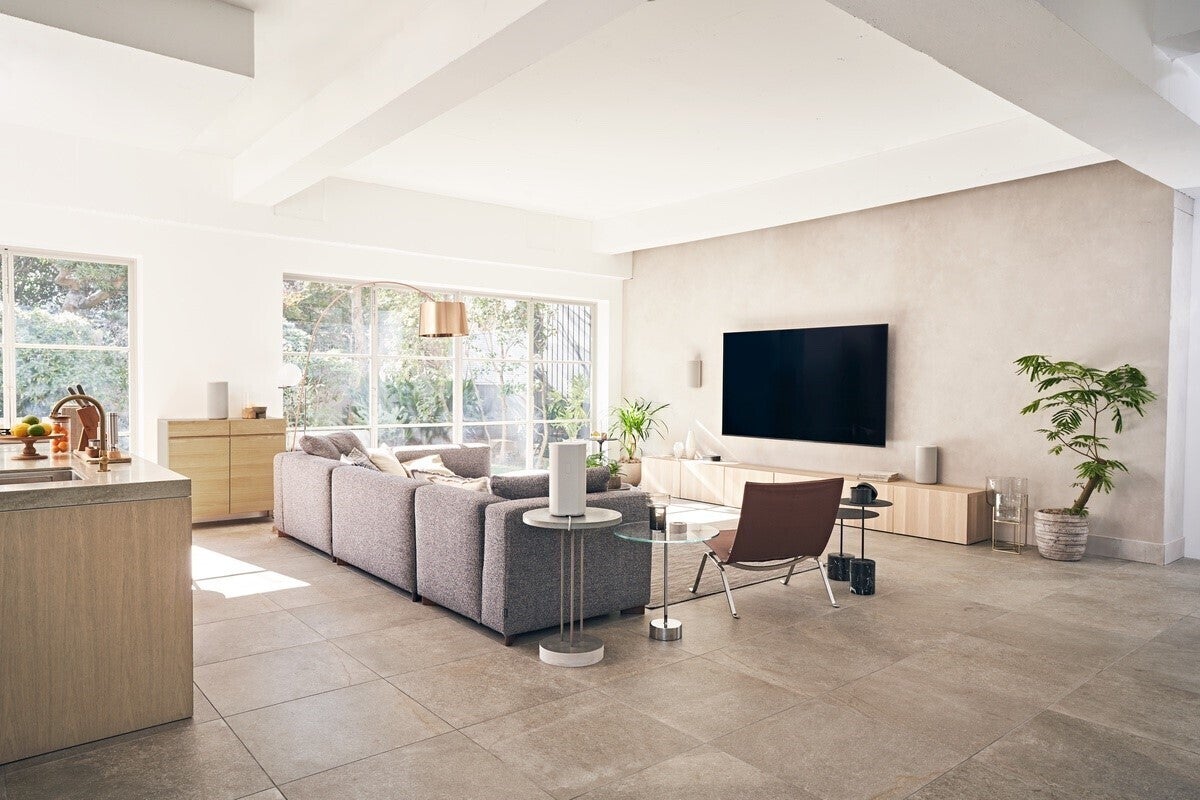 Sony HT-A9 speakers and transmitter
The individual speakers are designed so that they can go flat against a wall if you room layout requires that. Each features a 19mm front-facing tweeter with a full ranger-balanced driver. There's also an upfiring driver that bounces sound off the ceiling to create the full Dolby Atmos/DTS:X effect.
The HT-A9 transmitter is designed as a bridge, so it's easy to use with a 4K UHD player or a gaming system. Plug your device into the HDMI-in port on the back of the HT-A9 and use the same HDMI input on your television for both the HT-A9 menu and your movie or gaming content. In another nod to keeping the setup clear and simple, there's a sticker blocking the HDMI input on the transmitter, so users who aren't specifically looking to use this function don't get caught up wondering what they're supposed to plug into that port.
The system supports 8K HDR, 4K video at 120fps, and Dolby Vision, so this system should be ready to support home theater innovations for quite a few years to come.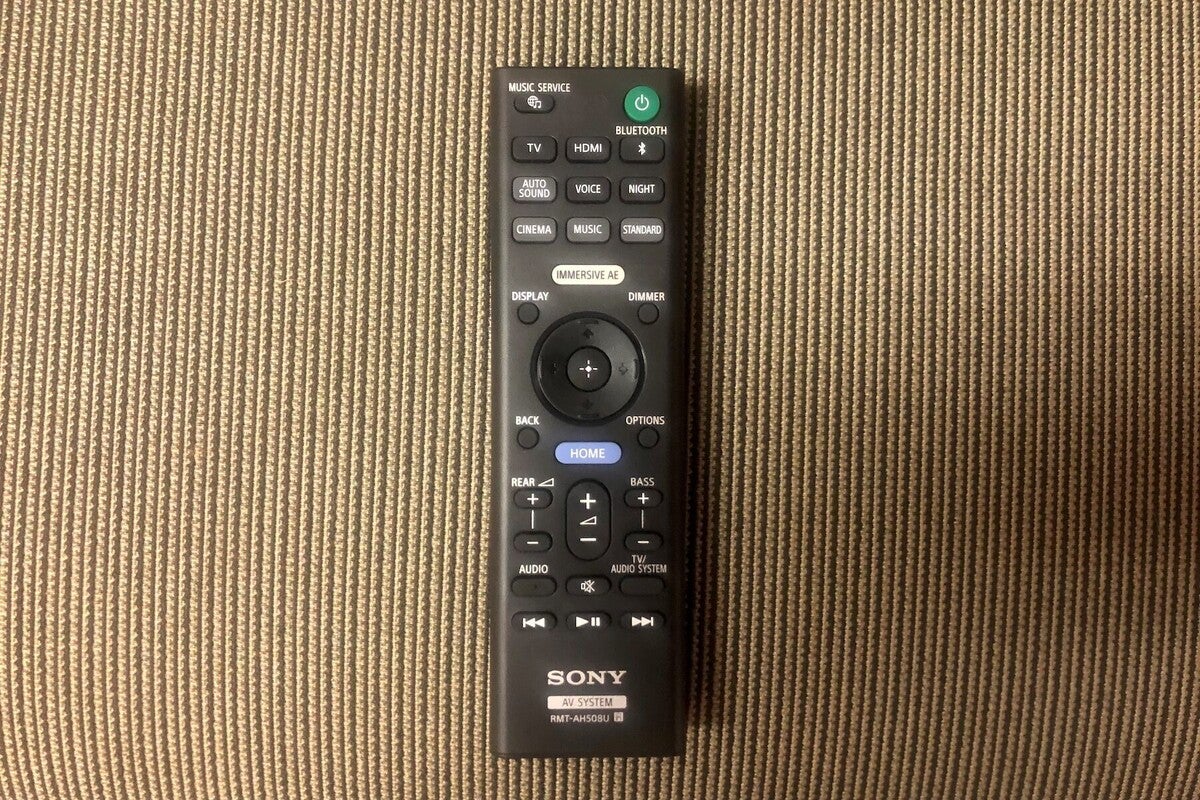 The movie and music experience with the Sony HT-A9
The system was incredibly impressive when viewing John Wick: Chapter 3 – Parabellum on 4K Ultra HD Blu-ray disc. Mixed in Dolby Atmos, the film's sound design is almost on a par with its best-in-class fight choreography. The Sony HT-A9 recreated the flying bullets, rain, wind, and whizzing knives in a remarkably immersive fashion, creating a better listening experience than you would have found in most of the theaters that showed the film upon release. Most soundbars just don't have the ability to generate an audio field that can compare to the height and depth created by the HT-A9.
Sony's 360 Reality Audio creates an immersive audio experience for users who play compatible tracks from Amazon Music HD, TIDAL, nugs.net, or Deezer. The effect is pronounced and your experience depends on how you feel about listening to music that may or may not have been recorded or conceived for a surround-sound format. If you're a fan of the process, Sony absolutely delivers the experience.
The HT-A9 system also includes the DSEE Extreme technology that promises to upscale lower-resolution audio files to something that more closely resembles high-res. It's the same tech featured in Sony's well-regarded WH-1000XM4 noise-canceling wireless headphones and, again, its effectiveness is tied to how you feel about algorithms filling in the blanks. For me, the process definitely works as advertised.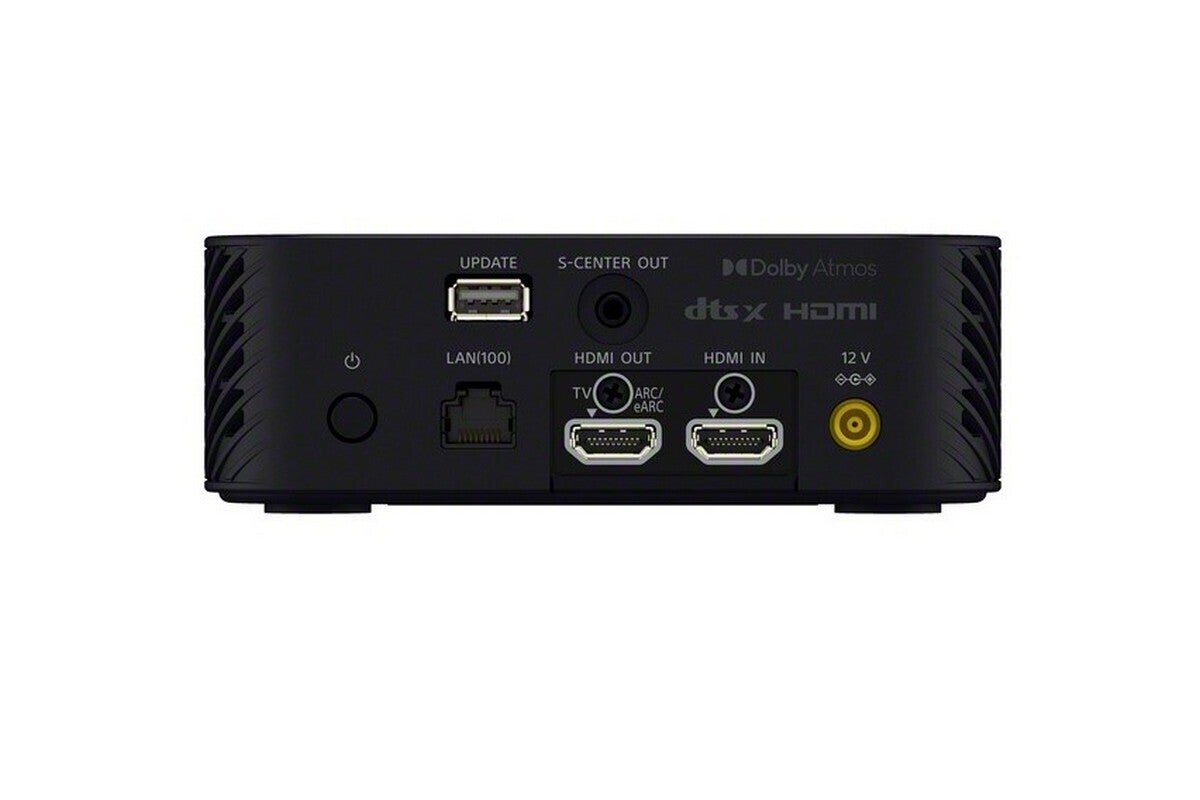 Users can stream any music service they prefer via Chromecast, Apple AirPlay 2, or Spotify Connect. It's also designed to work with both Google Assistant and Amazon Alexa if you're looking for a voice-command option.
If you own a compatible Sony Bravia television—I do not—the HT-A9 system comes with an audio cable that can be attached to the TV for what they call Acoustic Center Sync. This feature is designed to use the television's speakers to be used as a center channel. The system does such a good job of with center-channel audio on its own that it's hard to imagine the television speakers making a huge difference for users, but anyone with a compatible TV should at least check it out.
Bottom line on the Sony HT-A9: Amazing
The Sony HT-A9 home theater system currently occupies a unique slot somewhere between a high-end soundbar and a full surround speaker system. Experienced audio enthusiasts have all encountered devices that promised to launch exciting new technologies but failed to deliver an experience that worked for listeners as a practical, day-to-day option.
Sony has most definitely cracked the code. This audio system with virtual speaker technology has arrived as a fully mature product that's ready to compete with any home theater option currently on the market.
Best Prices Today: Sony HT-A9 Home Theater System