At a Glance
Expert's Rating
Pros
Very compact
Lots of configurability options
Very affordable
Cons
App has significant connectivity issues
Effective only in smaller spaces
Our Verdict
This purifier is a solid choice for small spaces, but the app has significant problems.
Price When Reviewed
$150
Best Prices Today: Levoit VeSync Core 300S Smart Air Purifier
Folks in need of an unobtrusive air purifier for a relatively small space could do worse than Levoit's VeSync Core 300S. A cylinder just 14 inches tall and 9 inches wide—and weighing a mere 6 pounds—this purifier can easily be stashed just about anywhere.
Rated with a single CADR rating of 141 cubic feet per minute (we prefer vendors to provide a CADR number for each of the three major airborne pollutants: smoke, pollen, and dust), the unit is designed to clean 219 square feet up to 5 times per hour, drawing air in from the base and emitting clean air upwards from the top of the device.
This review is part of TechHive's coverage of the best air purifiers, where you'll find reviews of the competition's offerings, plus a buyer's guide to the features you should consider when shopping for this type of product.
A single cylindrical filter loads into the device from the bottom. The default filter includes a simple pre-filter, an H13 HEPA filter, and a carbon filter, all in one unit. (Four different types of replacement filtersRemove non-product link, including ones specifically designed to handle smoke and pet allergens, are available at prices of $30 to $40.) Filters should last for 6 to 8 months of normal use.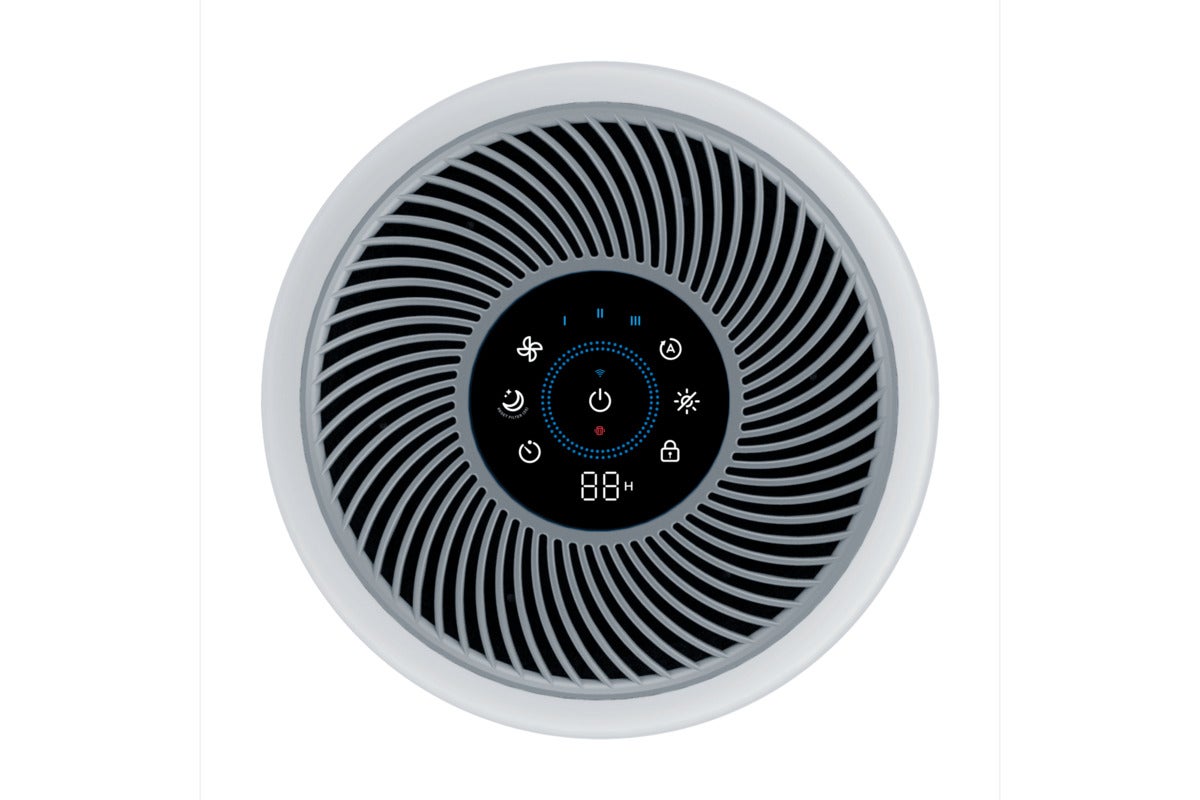 An extensive control system can be found on the top of the device, with touch-sensitive buttons for power, fan speed (three levels), auto mode, sleep mode (all lights off, very low speed), and a function that disables its LEDs. A color-changing ring indicates one of four general levels of ambient air quality, but you'll need the app if you want a higher level of detail. Lastly, a countdown timer is available which lets you set the Core 300S to shut off automatically, after anywhere from 1 to 12 hours. (The timer button simply cycles through one hour at a time.)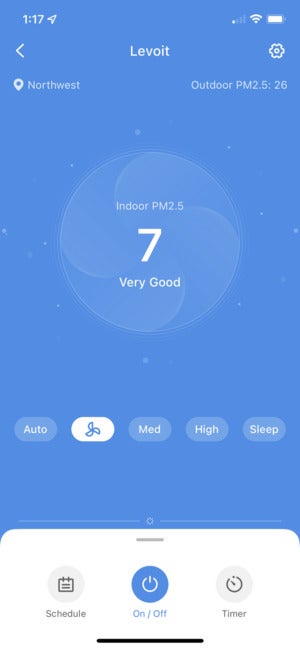 The unit is very quiet at lower speeds—especially in night mode, when it is virtually inaudible. At maximum power, the system is noisy as is typical for purifiers, but it's never overbearing in the way that larger purifiers can be.
You'll need to connect to a 2.4GHz Wi-Fi network and Levoit's VeSync app if you want mobile control. Doing so is a worthwhile addition, as it adds quite a few extra features to the mix. These include a detailed scheduling system, a timer, a display lock option that disables the onboard controls, and more advanced controls, such as settings that let you fine-tune the way the auto mode works.
The app includes a numerical indicator of PM2.5 levels, plus a database of historical pollutant data (inside and outside) and even a historical graph of the speeds the fan has run at. Both graphs are available by day or by week.
And this would all be great if the app wasn't so rocky. When it works, it's wonderful, but the app is prone to near-constant disconnections from the purifier, feeding the user a steady diet of "device offline" and "request timed out" errors. It took me a full day to get a firmware update to complete successfully—after which I had hoped the errors would resolve. Alas, they only got worse, often rendering the app unusable for hours at a time. Some features, like the timer system in the app, I never got to work successfully at all. Alexa and Google Home are both supported if you want voice control over the system, but given its connectivity issues, I wouldn't hold my breath in hopes of solid reliability.
The $150 Core 300S is quite well-priced, but shoppers are advised to take a look at the Core 300Remove non-product link, which runs just $100 and is otherwise the same unit but without any wireless features. Given how difficult it is to get the app to work reliably at present, I'd recommend saving the 50 bucks.