There's no better place to mount an outdoor security camera than right at your front door. And there's no better time than Black Friday to score a good deal on one. A video doorbell will let you keep tabs on that area and give your guests an easy way to let you know they've arrived. Most support two-way audio, so you can talk to unexpected visitors while you're away or tell delivery people where they should leave a package.
The biggest bargains tend to sell out quickly, however, so if you like one of the deals below, don't hesitate to snap it up before it disappears.
Black Friday video doorbell deals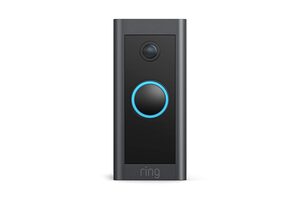 Blink Video Doorbell
From: Amazon Was: $50 Now: $35 ($15 off)
Amazon's Blink brand has a well-earned reputation for building value-price smart home products, and its Blink Video Doorbell is no exception. It can operate wired to low-voltage wiring or on battery power.
See the Blink Video Doorbell at AmazonRemove non-product link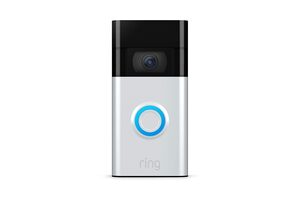 Ring Video Doorbell (2020 model)
From: Amazon Was: $100 Now: $80 ($20 off)
Ring pioneered the video doorbell market, and the company still makes some of the best products in this category.
While this is one of the company's least expensive models, it can operate on either battery power or—if you have existing low-voltage wiring—it can replace your conventional doorbell and use its chime. Either way, you'll get 1080p video resolution, alerts on your smartphone, privacy zones, and more.
See the Ring Video Doorbell at AmazonRemove non-product link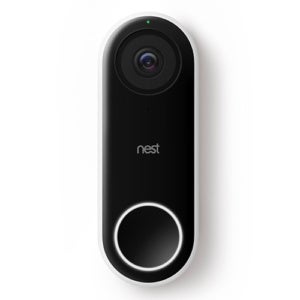 Nest Doorbell (wired)
From: Google Play Was: $229 Now: $149 ($80 off)
We awarded Nest's first video doorbell with an editors' choice award when it was first launched as the Nest Hello. As you can tell by its new name, this model must be hardwired to your home's electrical system, but you'll be rewarded with very high-resolution video (1600×1200), well-balanced color, and best-in-class night vision.
See the Nest Doorbell (wired) at the Google Play storeRemove non-product link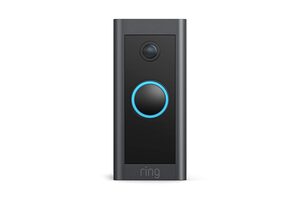 Ring Video Doorbell Wired
From: Amazon Was: $60 Now: $42 ($18 off)
Ring packs a lot of value into this budget-priced video doorbell, and this Black Friday deal makes it even more compelling for people replacing their dumb wired doorbell. You'll still get 1080p video and excellent night vision, and it will integrate tightly with the rest of Ring's broad and robust smart home ecosystem.
See the Ring Video Doorbell Wired at AmazonRemove non-product link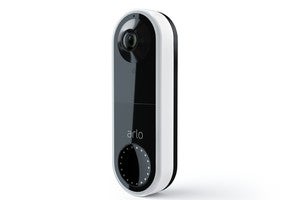 Arlo Essential Wired Video Doorbell
From: Amazon Was: $150 Now: $80 ($70 off)
This video doorbell wowed us with its ability to differentiate between people at our porch and cats and other animals wandering by. It's the natural choice for anyone who has already set up any of Arlo's great home security cameras. This is a wired model, however, so you won't be able to install it unless you have low-voltage wiring already in place. If you need a battery-operated model, check out the Arlo Essential Wireless Video DoorbellRemove non-product link, which is also on sale, discounted from $200 to $150 ($50 off).
See the Arlo Essential Wired Video Doorbell at AmazonRemove non-product link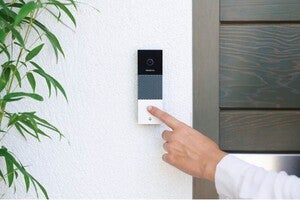 Netatmo Smart Video Doorbell
From: Netatmo Was: $300 Now: $225 ($75 off)
Netatmo is one of the few vendors to offer a video doorbell that's compatible with Apple's HomeKit ecosystem. Netatmo's industrial design has a distinctly European flair, but the company's dedication to privacy is another big selling point. The camera records video to onboard storage, so nothing is uploaded to the cloud. It does depend on low-voltage wiring, though, so it's best suited to installations where you're replacing an existing doorbell. This deal also nets you free shipping and a 5-year extended factory warranty.
See the Netatmo Smart Video Doorbell at NetatmoRemove non-product link
When is Black Friday 2021?
Black Friday traditionally comes the day after Thanksgiving, marking the beginning of the holiday shopping season. This year, Black Friday falls on Friday, November 26. But retailers have been launching Black Friday deals even weeks earlier in recent years, trying to beat the competition to the punch.
Black Friday buying tips
When shopping for a video doorbell, the first decision you'll want to make is choosing between a model that requires low-voltage wiring, or one that can operate on battery power. After that, as with security cameras in general, resolution is one of the most important feature. These days, 1080p video is considered the floor and you'll find it in doorbells costing as little as $42 on Black Friday.
Add features such as higher resolution; person, pet, and package detection; HomeKit compatibility, and the like, and prices will steadily rise.
If you've already invested in a home security camera and/or a comprehensive smart home or home-security system, you'll want to stay in that same ecosystem, buying a video doorbell that uses the same app. It's a pain to juggle multiple apps, and most products in this category—Netatmo being a notable exception—require you to sign up for a subscription to store you recordings in the cloud. If you have a Ring Alarm or Ring security cam, you'll want to stick with Ring cameras. If you have Nest security cams, you'll want one of that brand's doorbells.
Who has Black Friday video doorbell deals?
All the big players—Amazon, Google, Best Buy, Walmart et al—are offering plenty of Black Friday deals, with Amazon having the most diverse offerings. The other big box stores will likely focus on more mainstream categories, while the Google Play Store mostly sells only Nest devices. Follow these links to see what's available:
Updated periodically with new pricing details and additional products.