At a Glance
Expert's Rating
Pros
Supports contact and motion sensors as well as cameras
Two HD video cameras included
Local video storage (microSD or SSD)
Cons
Doesn't support third-party cameras or sensors
Doesn't support other types of smart home devices (lighting, etc.)
No option for professional monitoring
Our Verdict
The Lorex Smart Home Security Center supports a variety of the company's own HD cameras and sensors to can keep an eye on your home without any subscription fees, but there's no option for professional monitoring.
Best Prices Today: Lorex Smart Home Security Center (model HC64A)
The budget-priced Lorex Smart Home Security Center (model HC64A) consists of a touchscreen console, two indoor/outdoor cameras, and a Wi-Fi range extender. The system can be expanded with up to six additional cameras, as well as motion and door/window sensors and a video doorbell—provided they're all manufactured by Lorex. But you'll need to monitor this security system yourself, as there is no option to pay for professionals to do it for you.
Lorex offers this console in nine other kits with different combinations of cameras and sensors, ranging in price from $350 (two outdoor cameras, but no range extender) to almost $800 (four cameras, a floodlight cam, and a video doorbell). For this review, I augmented the HC64A kit with a USB-powered camera, a doorbell camera, and a motion detector.
Measuring 7.1 x 7.5 x 3.3-inches (HxWxD), the console will easily fit on any desk, kitchen counter, or even a bookshelf. Its fold-up antennas help bring in weak Wi-Fi signals, but they add 2.3 inches to its height. The center of attention is its angled 7-inch, 720p display that can show up to four video streams simultaneously.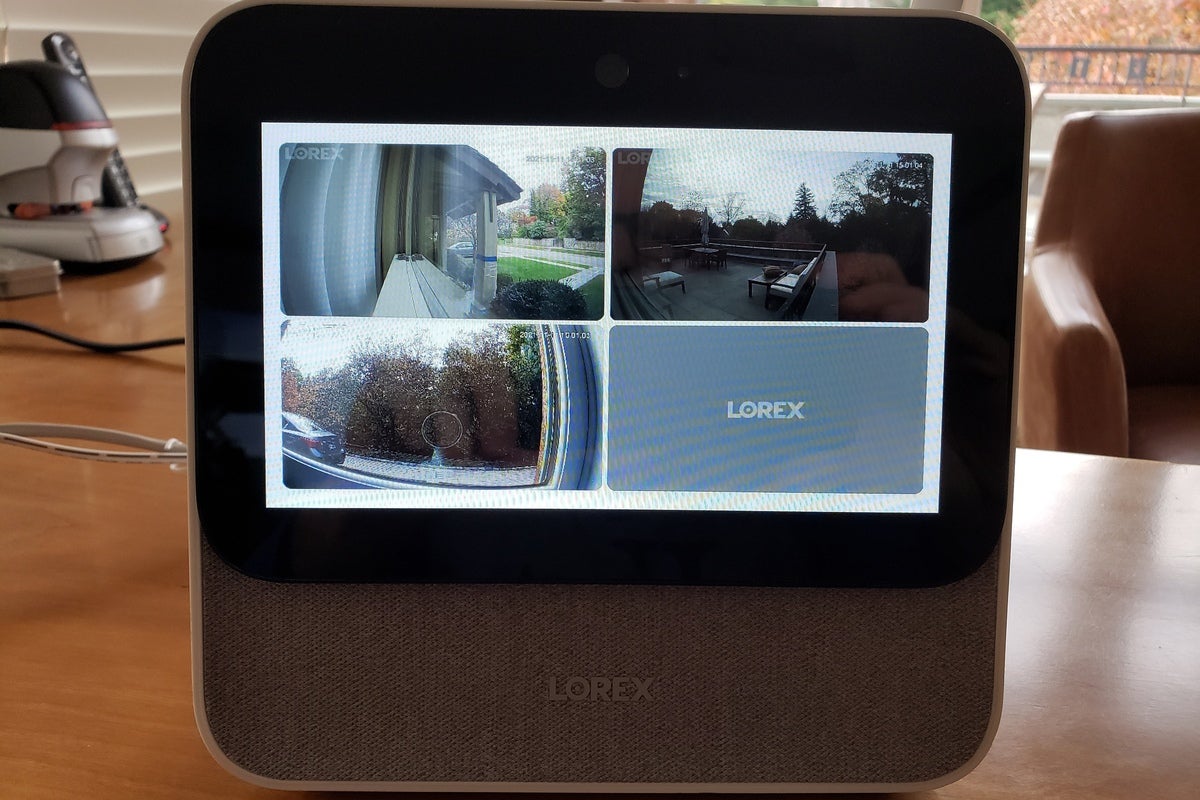 The system has a dual-band (2.4- and 5GHz) Wi-Fi adapter onboard, as well as a Bluetooth LE radio. It supports a variety of indoor and outdoor Lorex home security cameras, including a camera/floodlight combo. The company doesn't sell door locks, thermostats, smoke detectors, or air-quality sensors, and the hub can't connect to generic smart home devices that use the Zigbee or Z-Wave protocols. As such, it's a better security camera system than it is an entire smart home system.
This Lorex hardware does work with Amazon Alexa and Google Home Assistant, but it can't stream video directly to an Amazon Echo or Google Nest smart display. You can stream the camera feeds to a TV that has an Amazon Fire TV or Chromecast plugged into it. It isn't compatible with Apple's HomeKit ecosystem, and Lorex is not part of the Connectivity Standards Alliance's Matter initiative to standardize smart home hardware and software.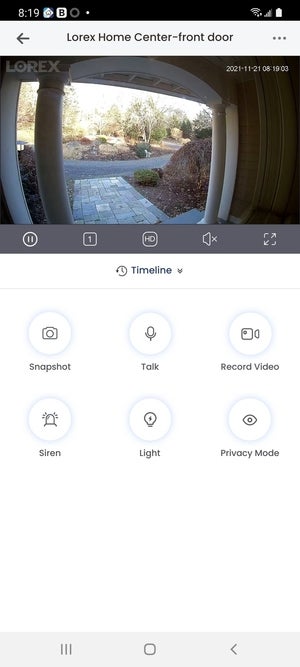 The console has onboard storage in the form of a microSD card slot, but the system has no built-in redundancy. The battery-operated cameras will continue to operate during a power outage, but the Home Center screen will go dead (unless you plug it into an uninterruptible power supply). Likewise, the console cannot connect to a LTE mobile data network during a broadband outage.
Inside the Lorex Smart Home Security Center
Based in Canada, Lorex has a long history in video-monitoring devices and it sells a line of digital video recorders and industrial security cameras. The Home Center screen can link with up to eight cameras and 32 sensors, while its screen can show four simultaneous video streams. It displays a battery gauge in the upper right of each stream to show the charge level of wire-free cameras.
Below the surface, the Home Center uses Android 8.0 software, 2GB of RAM, 8GB of ROM, and it includes a 64GB micro SD card (it's compatible with up to 256GB cards). If that's not enough storage for your needs, it's easy to add up to a terabyte of data by installing an M.2 SSD drive in the console's back.
Because the video is stored locally, there are no monthly fees for online storage, which can save you hundreds of dollars a year. The video itself is saved as a .dav file that many popular video players won't recognize, although Lorex has a free player and Amcrest's Smart Play software worked well.
Lorex stands by the product for a year, although three years of extended coverage is available for $50 for the kit I looked at. The tech support is deep, with a variety of DIY videos available on YouTube and instructions for doing things like adding an SSD to the console. The tech crew is available by phone Monday through Saturday from 10:00 a.m. to 9:00 p.m. (Eastern time), but there's no way to send them an email.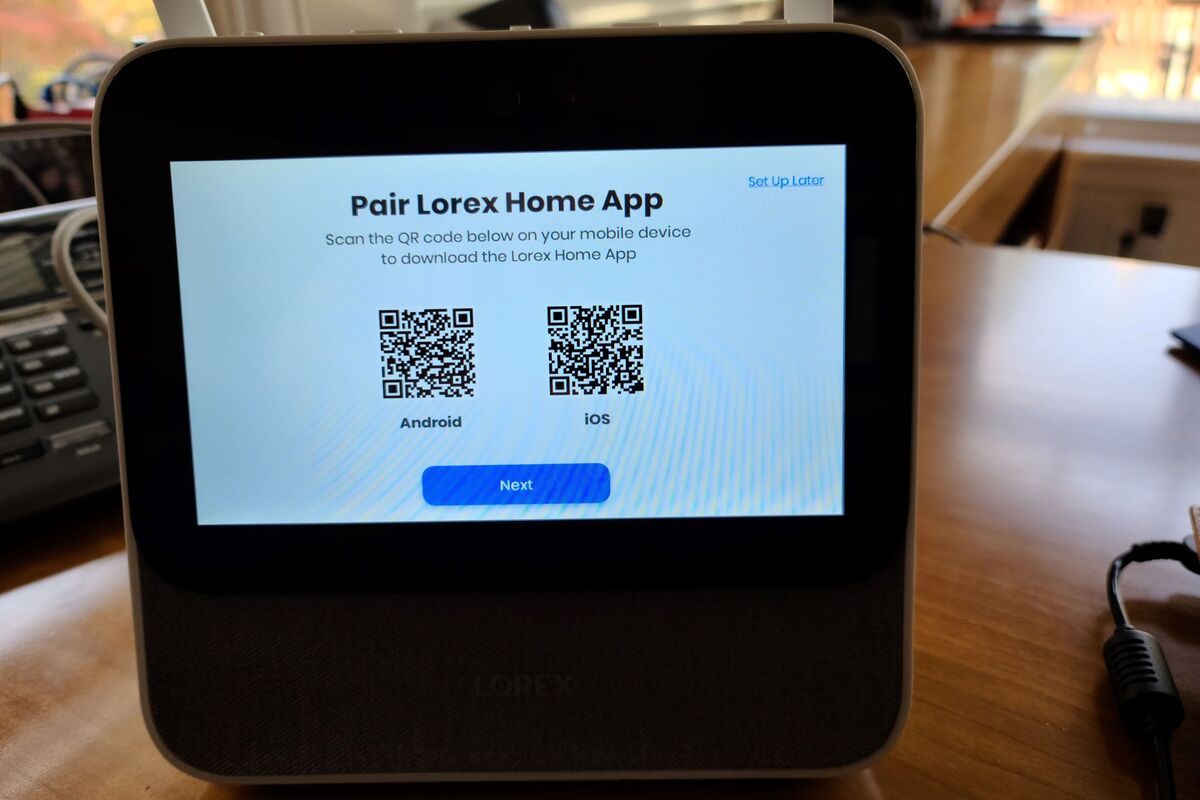 Set up the Lorex Smart Home Security Center
All the Lorex gear comes with excellent start-up guides and "24 Hour Surveillance" window stickers to hopefully scare away burglars. Setup begins with getting the Lorex Home app. There are versions for iPhones, iPads, and Android systems, but there's no way to use a connected browser or a Windows 10 app.
After signing up for an account, I plugged the console's AC adapter in and posed for a snapshot to use its Face Unlock software. This allowed me to avoid manually entering my password.
Next up, I needed to choose between Wi-Fi and hardwired ethernet for an internet connection. I chose the latter but it worked well with Wi-Fi.
To connect the first camera, I inserted the battery and pressed the restart button underneath. It made a synthesized sound, the cam's green LED lit up, and the console quickly found it. I gave it a name and its stream showed up on the touchscreen.
I followed this up by installing the Wi-Fi range extender in the middle of the house. Unfortunately, each Home Center console can connect with only one extender, so very large homes are probably off-limits.
I then added a second wire-free camera, a doorbell camera, a USB-powered camera, and a motion detector. All told, it took about 30 minutes to put together a rudimentary video surveillance system in my home.
Using the Lorex Home app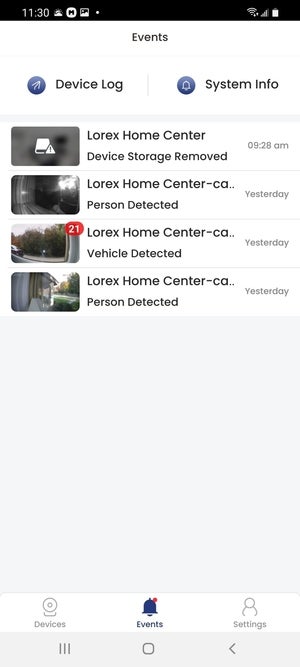 In addition to the Home Center console, I used the Lorex Home app on my Samsung Galaxy S20 phone to view the video and make changes to the system. There's no way to see all streams at once on a mobile device, and it can take a few seconds for the video to load.
The app allows facial and fingerprint recognition to unlock it. For the security minded, it can use two-factor authentication.
Whenever it registered motion, the app pinged me. These notifications can be turned off for easier sleeping. Happily, its Events page consolidates the most important happenings in one place. I went through a list of times the cameras were triggered and watched the pertinent video.
Lorex Smart Home Security Center in the real world
Over two weeks of use, the Home Smart Security Center streamed high-quality video to the touchscreen and my phone. It recorded numerous time-stamped clips triggered by movement in its field of view.
It caught the unexpected arrival of a guest parking their car but was tripped up by leaves falling on a windy day, although the sensitivity can be adjusted. Privacy mode turns the cameras off.
Each camera has its own siren. The cameras had a real-world range of about 90 feet, making them perfect for most homes. The extender included in my kit helped fill my 3,500-square-foot home with security cameras.
The Lorex hardware is cheap to use, with the console consuming 8.8 watts of power when in use and 5.6 watts when idle. That adds up to an annual electricity bill of $7.65 if it's capturing video for 20 percent of the time and you pay the national average of 14 cents per kilowatt hour of electricity.
Think of the Lorex Smart Home Security Center as the ultimate in set-and-forget video monitoring that's always there, ready to wake when something stirs it. In other words, it can watch over your domain and alert you when needed.
Best Prices Today: Lorex Smart Home Security Center (model HC64A)