One of the easier ways to bring the movie theater home is to invest in a soundbar, and there's no better time to score steep soundbar discounts than on Black Friday. But even if you missed the big day, there are still plenty of Cyber Monday soundbar deals to be had.
Most of the biggest soundbar manufacturers are offering great deals for Cyber Monday 2021, including LG, Polk Audio, Samsung, and Vizio, and encompassing everything from budget all-in-one models to immersive 5.1.4 and up speakers with all the trimmings, including Dolby Atmos, DTS:X, and built-in Alexa and/or Google Assistant.
Keep in mind that the best Cyber Monday discounts will sell out quickly, so if you see an irresistible soundbar deal below, don't wait too long.
Cyber Monday/Black Friday soundbar deals

LG 5.1.2-channel SP9YA
From: Best Buy Was: $999.99 Now: $649.99 ($350 off)
This 5.1.2-channel soundbar delivers its surround effects courtesy of side-firing drivers that bounce sound off your walls, while up-firing drivers provide the Dolby Atmos and DTS:X height effects, and a beefy wireless subwoofer brings the boom. Both AirPlay 2 and Chromecast audio casting are supported, as well as eARC for lossless audio formats and even AI-powered room correction.
See the LG 5.1.2-channel SP9YA at Best BuyRemove non-product link

LG 3.1.2-channel SP8YA
From: Best Buy Was: $799.99 Now: $449.99 ($350 off)
LG's step-down model to the SP9YA boasts most of the same features as that pricier model, including Dolby Atmos and DTS:X support, a wireless subwoofer, and onboard AirPlay 2 and Chromecast audio. All you're really missing out on are the SP9YA's side-firing drivers for surround cues, which could make the SP8YA a good fit for a bedroom.
See the LG SP8YA at Best BuyRemove non-product link

Polk Audio React
From: Best Buy Was: $249.99 Now: $189.99 ($60 off)
One of Polk's newest and most affordable soundbars, the attractive, all-in-one React supports both Dolby Audio and DTS, and it comes with built-in Alexa, complete with the telltale blue light bar that lets you know when Alexa is listening in. If you even want to upgrade the React to a full-on 5.1-channel system, you can snap up Polk Audio's SR2 wireless surround kit and the React subwooferRemove non-product link, both of which are also on sale.
See the Polk Audio React at Best BuyRemove non-product link Remove non-product link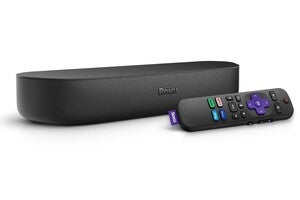 Roku Streambar
From: Amazon Was: $129.99 Now: $79.98 ($50.01 off)
If you'd rather not spend more than $100 on a soundbar, we've got a Cyber Monday deal for you. At its regular price, the all-in-one Roku Streambar is one of the best budget soundbars around, with impressive 2.0-channel audio, AirPlay 2 support, and a built-in Roku streaming player with 4K HDR compatibility. At a hair less than $80, however, the Streambar is an absolute steal.
See the Roku Streambar on Amazon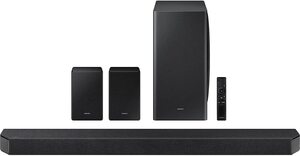 Samsung 11.1.4-channel HW-Q950A
From: Best Buy Was: $1,799.99 Now: $1,299.99 ($500 off)
Samsung's top-of-the-line soundbar is a doozy, complete with a total of 22 drivers that bounce sound up and around your living room, making for a Dolby Atmos and DTS:X experience like no other. The winner of our Editors' Choice award, the HW-Q950A also boasts built-in Alexa, AirPlay 2, and a pair of room-correction technologies, and it can even sync with the speakers on a supported Samsung Q-series QLED TV.
See the Samsung HW-Q950A at Best BuyRemove non-product link Remove non-product link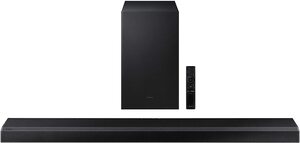 Samsung 3.1.2-channel HW-Q700A
From: Amazon Was: $699.99 Now: $397.99 ($302 off)
While it doesn't have the massive driver array of the HW-Q950A, this 3.1.2-channel soundbar can still crank out immersive Dolby Atmos and DTS:X sound, and you can always upgrade it with wireless surround speakers. As with the HW-Q950A, the HW-Q700A packs room correction and AirPlay 2 support, and it can also be paired with the built-in speakers of a Q-series Samsung TV.
See the Samsung HW-Q700A on AmazonRemove non-product link
Remove non-product link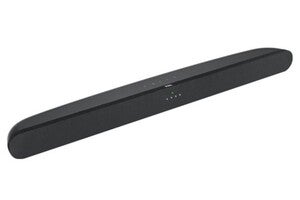 TCL 2.0-channel Alto 6
From: Walmart Was: $44 Now: $29 ($15 off)
Equipped with a pair of drivers, Dolby audio support, and a trio of sound modes, this budget-priced TCL soundbar is a perfect fit for that smaller TV in the guest bedroom. Even better, the TCL Alto 6 is a Roku-ready soundbar; just connect it to a Roku TV via HDMI-ARC, and the Roku TV interface will guide you through the setup process, and you'll also be able to control the soundbar with your Roku remote.
See the TCL 2.0-channel Alto 6 at WalmartRemove non-product link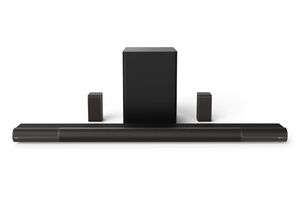 Vizio 5.1.4-channel Elevate
From: Amazon Was: $1,099.99 Now: $798 ($301.99 off)
One of our favorite premium soundbars, the Vizio Elevate comes with a killer feature: swiveling drivers that can rotate up for Dolby Atmos content, or forward for traditional 5.1 or stereo sound, meaning the soundbar is always making the most of its full driver array. The Elevate also comes with built-in Chromecast, plus a dedicated audio input for a smart speaker.
See the Vizio Elevate on AmazonRemove non-product link
Remove non-product link
Remove non-product link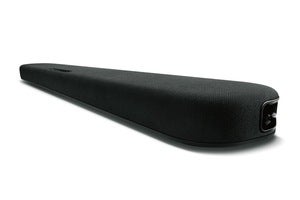 Yamaha 2.1-channel SR-B20A
From: Amazon Was: $199.95 Now: $149.95 ($50 off)
One of the least expensive HDMI-equipped soundbars you'll find with virtualized DTS:Virtual X audio, the Yamaha SR-B20A packs plenty of punch for a budget all-in-one model, thanks in no small part to its built-in subwoofer. The SR-B20A also boasts a dialog-enhancing Clear Voice mode, and installation couldn't be easier; just plug it into your TV's HDMI-ARC input and you're good to go.
See the Yamaha SR-B20A on Amazon
When is Black Friday/Cyber Monday 2021?
Traditionally, Black Friday is the day after Thanksgiving, and for 2021, that means Friday, November 26. But retailers have been serving up Black Friday deals much earlier in recent years. You might see some eye-popping deals on Thanksgiving day, for example, and some early Black Friday sales kicked off as early as late October this year. Meanwhile, Cyber Monday is the first Monday following Black Friday, and it falls on November 29 this year.
Black Friday/Cyber Monday soundbar buying tips
While the best—and priciest—soundbars generally come with immersive Dolby Atmos and DTS:X support, don't ignore traditional 5.1, 3.1, or 2.1 models that might sound swell in a bedroom or otherwise paired with a secondary TV. Indeed, we've already seen some great deals on budget-minded soundbars, although we've also seen some massive Black Friday discounts on premium models.
One speaker manufacturer that probably won't have any soundbar deals this year is Sonos, which has already raised prices earlier this year due to supply constraints. Just finding the Sonos Arc or the second-generation Beam in stock will likely be a challenge during the holidays.
Which retailers have Black Friday/Cyber Monday soundbar sales?
From Amazon to Walmart, all the major online retailers and big-box stores will have plenty of Black Friday and Cyber Monday soundbar deals on hand. Here's where to start looking once the big day hits:
Updated periodically with new deals and pricing updates.