At a Glance
Expert's Rating
Pros
Best-in-class stereo performance from a tabletop speaker
Impeccable industrial design
Streams high-res audio
Cons
Several important features still in development
Currently, Qobuz is the only source of high-res music streams
Alexa is the only supported digital assistant
Control buttons are difficult to see
Our Verdict
The Zeppelin is beautiful and sounds fantastic, but B&W shipped the speaker before finishing work on everything it's capable of.
Best Prices Today: Bowers & Wilkins Zeppelin
Bowers & Wilkins' Zeppelin tabletop stereo system, first introduced in 2007, has evolved from the world's best iPod dock to a wireless audio system for over-the-air music streaming. Its outward appearance—apart from losing that dock—hasn't changed much in that time, but it has gained at least one important new feature: Alexa is now onboard, rendering the latest Zeppelin a true smart speaker. The even better news is that it sounds every bit as excellent as the original and the two redesigns that preceded it.
Over four generations, B&W has also expanded its mainstream audio efforts beyond Apple's ecosystem to support Android users as well. The new Zeppelin inherits some of the proprietary wireless tech from B&W's higher-end Formation suite, but it still supports Apple's AirPlay 2. Multi-room audio support outside of AirPlay 2, however, won't be implemented until sometime in 2022. Once that happens, you'll be able to operate multiple Zeppelins and Formation-series speakers together, streaming 24-bit/48kHz audio at the outset, with a planned upgrade to 24-bit/96kHz. Even after the firmware update, however, you won't be able to operate two Zeppelins as a stereo pair; there is no in-room radio onboard to support such a scenario.
This review is part of TechHive's coverage of the best smart speakers, where you'll find reviews of the competition's offerings, plus a buyer's guide to the features you should consider when shopping for this type of product.
As with the earlier Zeppelin Air, this new model also has a Bluetooth radio (Bluetooth 5.0 in this case), but it supports the newer aptX Adaptive Bluetooth codec as well as AAC and SBC. Qualcomm's latest low-latency Bluetooth codec supports high-resolution compressed audio (up to 24-bit resolution with sampling rates up to 48kHz), with latency low enough to be imperceivable according to Qualcomm. The Zeppelin has an onboard DAC that handles audio resolutions up to 24/192kHz, and there's a 24-bit/96kHz DSP on board, too.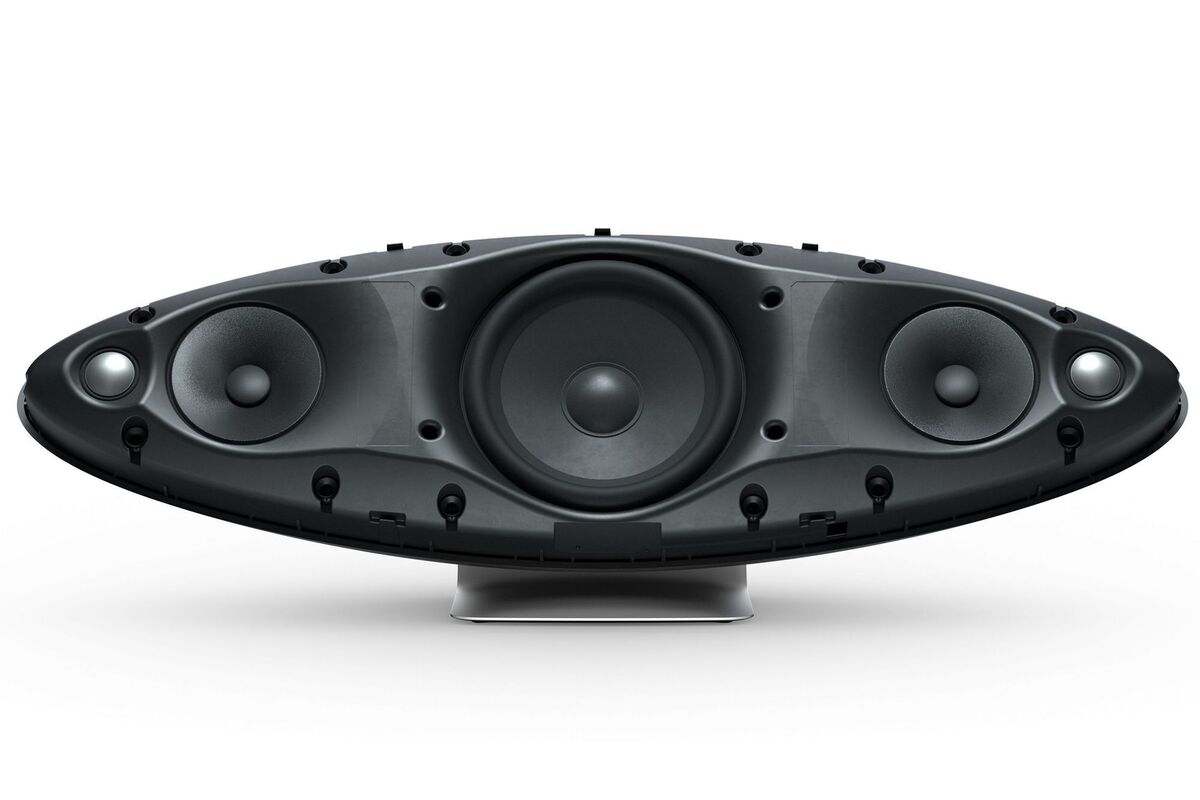 The new Zeppelin still looks like an airship
The Zeppelin looks as weird as it does for good reason. The three-way system's tapered left and right sides house the speaker's 1-inch double-dome tweeters (these are the same high-frequency drivers used in B&W's 600 Anniversary Series loudspeakers), where the tweeters are isolated from vibration from the larger drivers in the enclosure. A pair of 3.5-inch mid-range drivers featuring B&W's Fixed Suspension Transducer (FST) technology have been brought over the company's flagship 800 Series Diamond speakers. A large (6-inch) subwoofer rests in the center. The Zeppelin brings 240 watts of Class D amplification to the party, directing 40 watts to each tweeter, 40 watts to each mid-range, and 80 watts to the subwoofer. Stated frequency response is 35Hz to 24kHz (no tolerance given).
The front of the speaker is wrapped in cloth (the new Zeppelin is available in dark "midnight grey" or light "pearl grey" colorways), while the back half is a composite material of the same color with raised physical buttons for volume up/down, track-forward/back, play/pause, and for muting the onboard microphone array that summons Alexa. The buttons are easy to find by touch, which is a good thing because being the same color as the enclosure makes them very difficult to see. Apart from the mic-mute, however, I suspect most people will use B&W's app to control the speaker anyway. You can also use the app to boost or cut treble and bass response by up to 6dB in either direction, although I didn't fiddle with this during my evaluation.
The speaker rests on a metal pedestal that orients the drivers up at a slight angle. An LED strip casts a dimmable pool of ambient white light below the speaker, while a multi-colored LED above that turns blue when you summon Alexa and red when Alexa is muted. The back of the speaker has only a socket for its power cord, a USB-C port for firmware updates, and a factory-reset button (both of those last tasks can be accomplished with the app as well).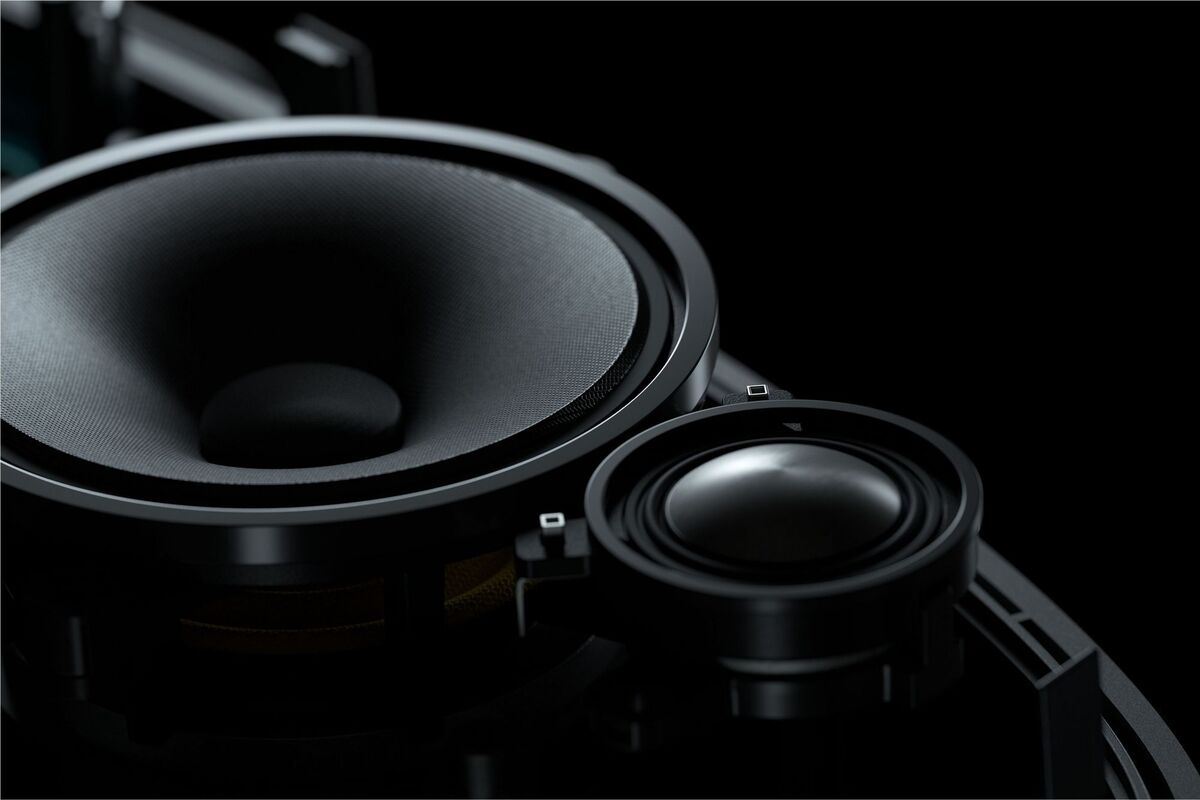 Using the Bowers & Wilkins music app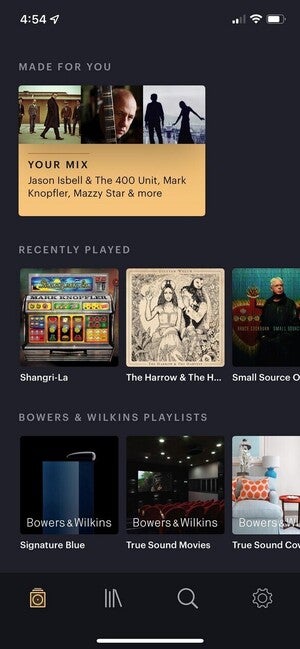 The best way to control the speaker is over Wi-Fi with B&W's own app—with connections to the Deezer, Last.fm, NTS, Qobuz, Soundcloud, and Tidal music-streaming services, as well as the TuneIn and Dash internet radio services. Spotify users might prefer to use the Spotify app, since the speaker supports Spotify Connect, and B&W says it intends to support Spotify HiFi as soon as it becomes available. The Zeppelin currently does not support MQA on Tidal, which leaves Qobuz as the only source of better-than-CD-quality audio streaming.
Two major features are missing: DLNA support that would enable you to stream music from network-attached storage, and support for Roon (B&W's Formation series speakers are compatible). Android users might also miss having Google Assistant and Chromecast support. B&W says it plans to support DLNA in the future, but it apparently has no plan to support Google's smart home or multi-room audio technologies.
The app's homepage has a large thumbnail image at the top. Tap it and it will start a playlist of the music you've been listening to lately. Below that, you'll find a row of thumbnails linked to the artists you've been listening to. A third row of thumbnails is linked to playlists that Bowers & Wilkins has put together. None of these playlists are customizable, but you can create your own elsewhere and import them—along with your favorite albums, tracks artists, podcasts, and radio stations—into your library. The music services you've linked to the B&W app appear beneath that last playlist, and a series of icons beneath that take you to your music library; allow you to search for albums, artists, song, and the like; and open the system's basic settings.
Listening to the 2021 Zeppelin
I started my listening tests with Dire Straits' "Lover Over Gold," from the band's best-of album, Private Investigations, streamed from Tidal HiFi. The Zeppelin delivered a crisp, clean performance with big bass response that never tipped over into boominess. The Zeppelin's width—it's nearly 26 inches from tip to tip—enables great separation between the drivers, but the design provides a significant additional benefit: terrific stereo separation that you rarely encounter with all-in-one speaker designs.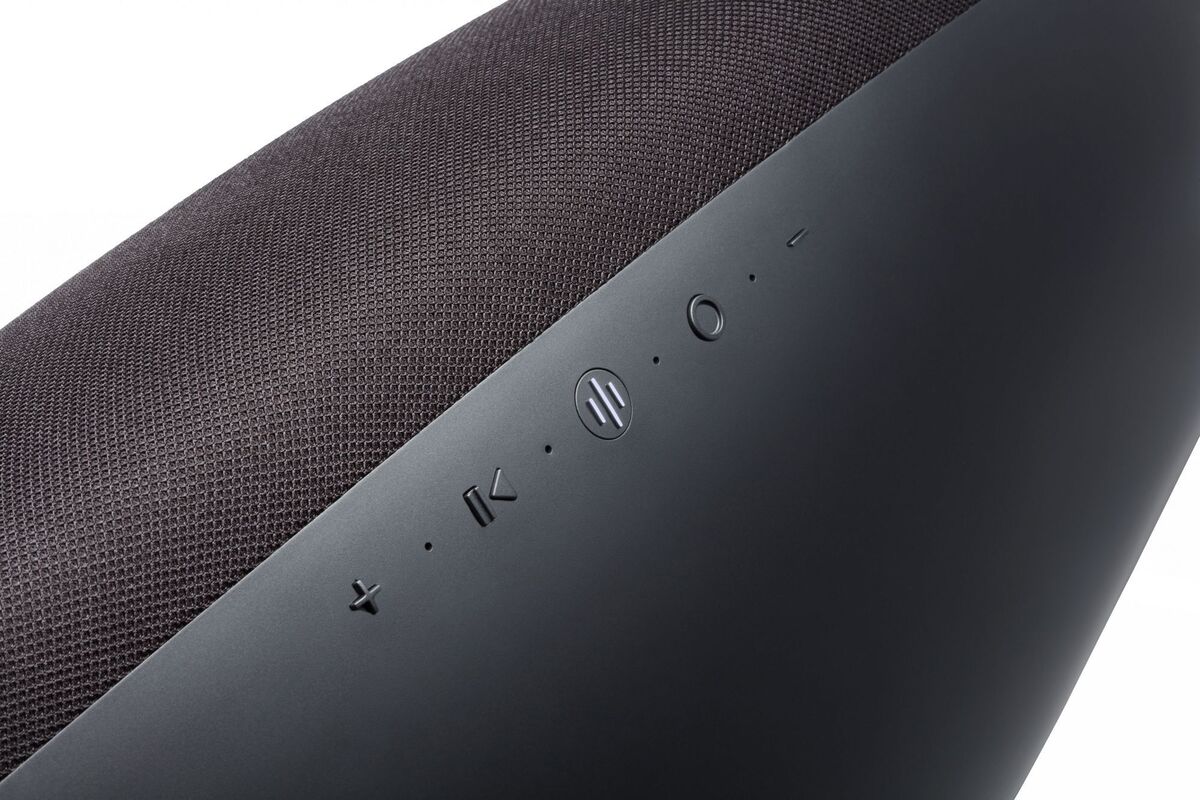 Next up was Steely Dan's "What a Shame About Me," from the group's Two Against Nature release. The reverberating cymbals that open the track were exceedingly well defined, sounding bright, crisp, and natural without being shrill. Taking an acoustic change of pace, I queued up the first track on Gillian Welch's The Harrow & The Harvest and played "Scarlet Town" and was exceedingly pleased with the way in which the Zeppelin reproduced David Rawlings' articulate acoustic guitar work. Welch and Rawlings play all the instruments and perform all the vocals on this album, giving the work a spare, simple sound that leaves the artists with nowhere to hide.
Things took a turn for the worse when I played Tower of Power's "Squib Cakes," this time from a 1997 remaster ("Direct Plus!") of the band's fantastic fourth album, 1974's Back to Oakland. The track sounded was so closed up it could have been poured into a bottle and corked. After listening to a few other tracks with the same experience, I began to wonder if the issue wasn't the speaker but the remaster. The problem disappeared when I played the original studio recording: There may be no better horn section than Tower of Power's, before or since, and the Zeppelin delivered it in all its glory. As for the remastered album, I guess newer isn't necessarily better.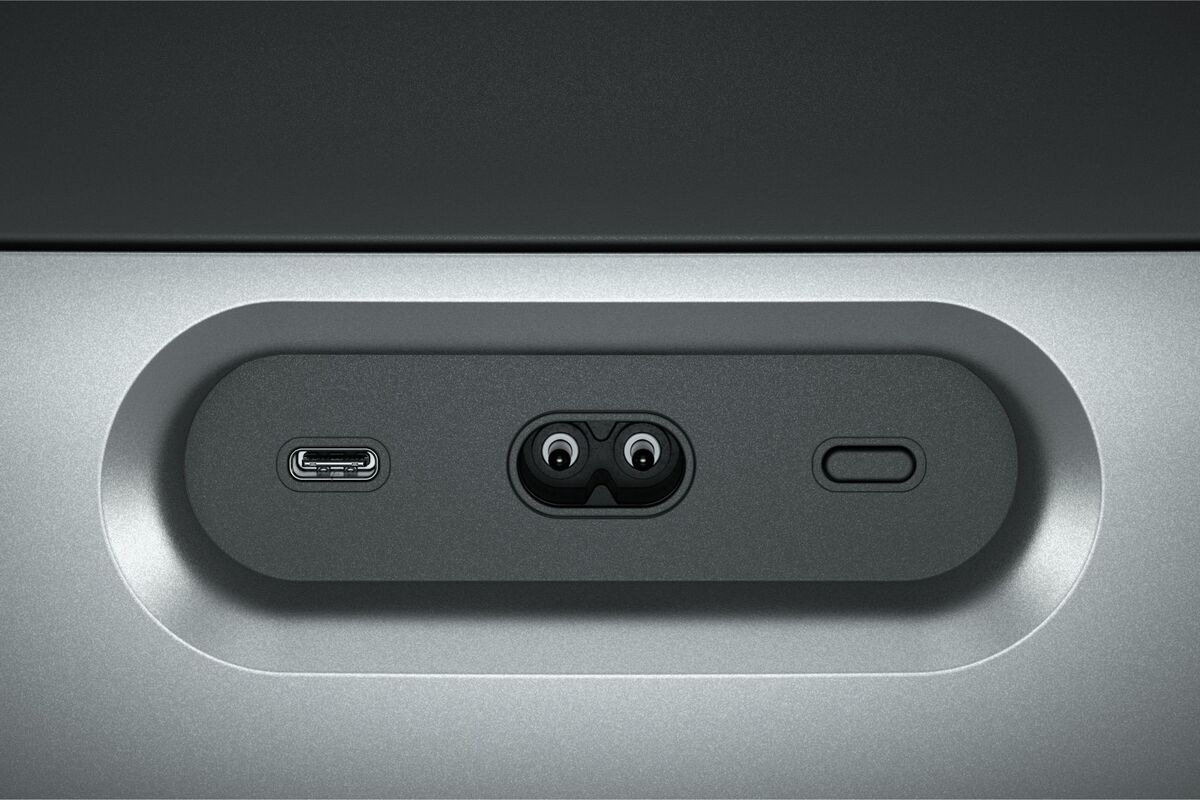 As for its performance as a smart speaker, the Zeppelin never had a problem hearing the Alexa wake word, even when I had the tunes cranked to full volume. Nor did the speaker ever distort under those conditions. But I did end up muting the Zeppelin's microphone array because I was using the speaker within a few feet of an Echo Show 10, and the two devices would fight over which would answer my commands. It's also worth mentioning that Alexa won't respond to spoken requests for specific songs or artists—at least not until Amazon Music support is added.
Should you buy a Zeppelin?
The Bowers & Wilkins Zeppelin looks as beautiful as it sounds. These days, however, there are lots of great tabletop speakers designed for the streaming age. Some models, such as the Sonos 5, support more streaming services, let you stream from your own server, have stronger apps, sound nearly as good, and cost less than the Zeppelin. On the other hand, you'll need a second Sonos 5 to get stereo, and it's not a smart speaker.
All that said, I can't think of any single-cabinet tabletop speaker that delivers a better stereo performance. And no one who buys a Zeppelin will be disappointed with either its looks or its sound—that goes double for anyone who has bought into B&W's Formation product range. But B&W still needs to deliver on a lot of promises.
Best Prices Today: Bowers & Wilkins Zeppelin