At a Glance
Expert's Rating
Pros
Aqara offers a broad array of Zigbee devices
Easy to install and add devices
Tiny, with minimal power requirements
Compatitlbe with Alexa, Google Assistant, and HomeKit ecosystems
Cons
Designed to cobntrol only Aqara Zigbee devices
Minimal documentation and tech support
Can connect only to 2.4GHz Wi-Fi networks
App can be quirky
Our Verdict
The Aqara Hub E1 has the power to integrate a house full of smart devices, but it lacks compatibility with generic Zigbee devices and operates only on the 2.4GHz Wi-Fi band.
Best Prices Today: Aqara Hub E1
Looking as if it were a plug-in USB Wi-Fi adapter for a notebook, the Aqara Hub E1 squeezes a lot of smart home functionality into its small case. At just 4.3 x 1.2 x 0.3 inches (LxWxH), it's about one-tenth the size of Aeotec's Smart Home Hub. One of the smallest smart home hubs ever, it's also very easy to hide.
Mentioned in this article
Aeotec Smart Home Hub
Price When Reviewed:
$135
Unlike other hubs that are square and have an AC adapter cable, the E1 is dominated by its integrated USB-A plug. Just plug it directly into a USB port or a USB AC adapter and the hub fires right up; there's no on/off switch. The E1 hub can swivel more than 180-degrees to aim its internal antennas, but it comes with neither a stand to sit upright nor—as is the case increasingly with smartphones—its own AC adapter.
This review is part of TechHive's coverage of the best smart home systems, where you'll find reviews of the competition's offerings, plus a buyer's guide to the features you should consider when shopping for this type of product.
It might be small, but the Hub E1 is powerful enough to consolidate a smart home's various devices, but with a twist. A compatibility island unto itself, the E1 works directly with dozens of Aqara Zigbee-based devices like lights, switches, cameras, locks and a variety of sensors. There are even devices for rolling and unrolling window shades.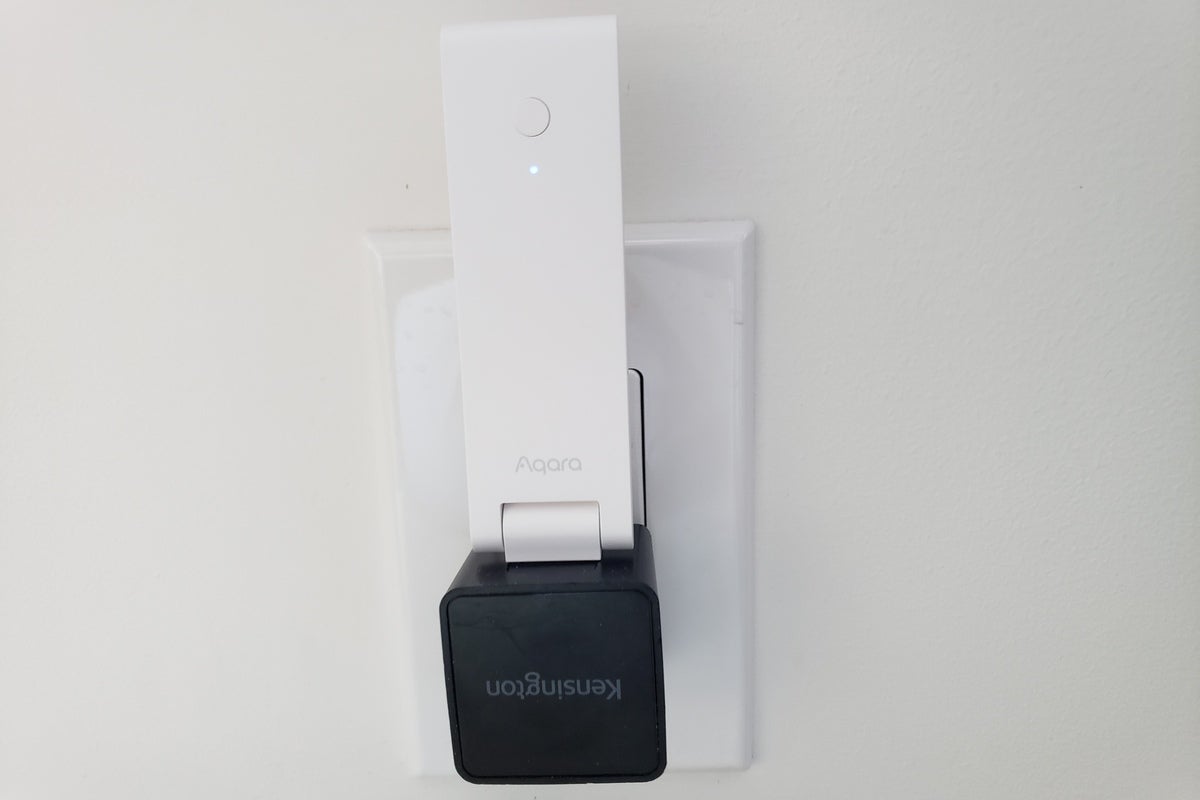 On the downside, the hub doesn't connect with generic smart home items. Instead, you need to set up an action using third-party software, like Amazon Alexa, Google Assistant, or Apple HomeKit, and then use the E1 hub to trigger that event. You can also create IFTTT applets. It's a little awkward but it works. The company is working with the Connectivity Standards Alliance's Matter initiative to re-invent smart home hardware and software as something more universal.
The E1 relies on Wi-Fi to connect with the internet and lacks the hardwired ethernet option that the Aeotec Smart Home Hub provides. This allows it to be set up in the middle of a home or apartment for best coverage, but the E1 operates only on with 2.4GHz networks, and having a dual-band router can cause problems. It also lacks battery back-up and an LTE radio that would keep it going during a broadband outage.
When everything's connected and working, the E1's small LED light is solid blue, but blinks when it doesn't have a live internet connection. When it's ready to be configured it blinks yellow.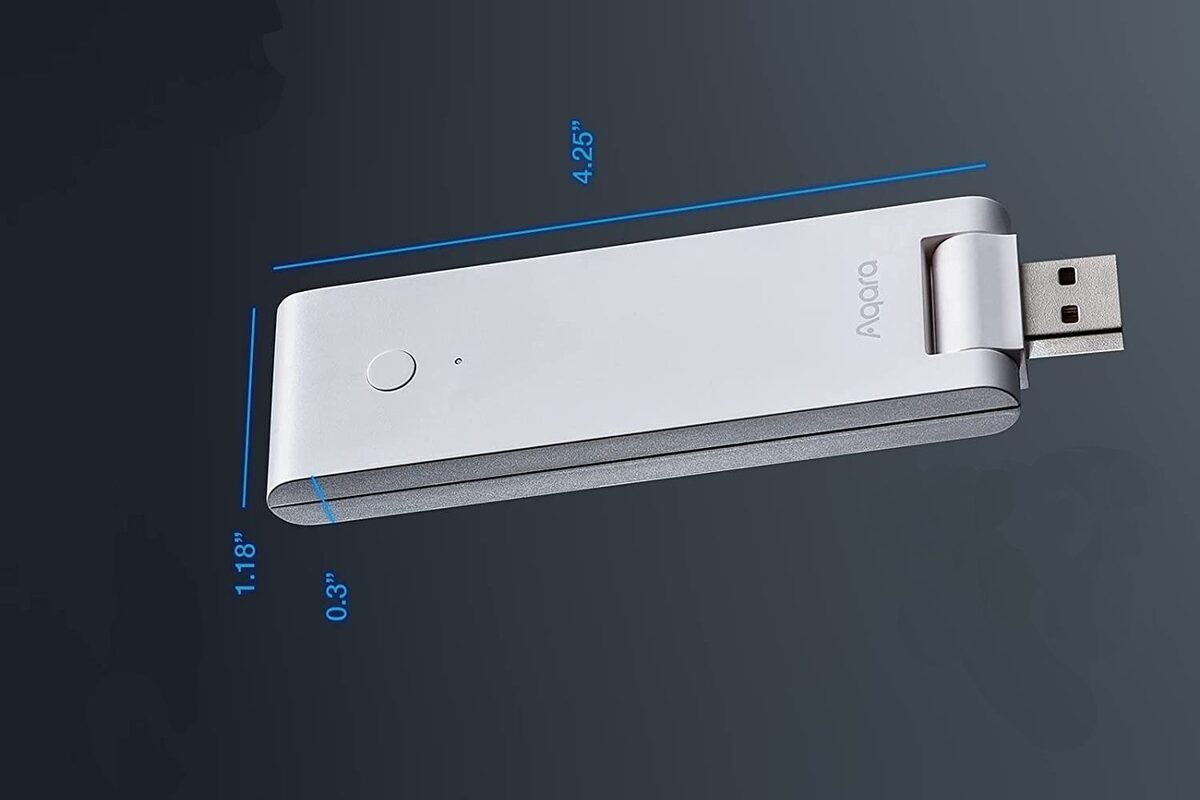 Inside the Aqara Hub E1
Made by Lumi United Technologies in Shenzhen, China, you'd be hard pressed to find a smaller smart home hub, yet it can control up to 128 Zigbee devices.
A word of advice: if you have a dual-band router, turn off the 5GHz band before you do anything else. The Hub E1 only works with 2.4GHz signals and is sensitive to stray 5GHz transmissions. When you've finished setting up the hub, you can turn the router's other radio back on.
At $30, the E1's price is just as small as the unit, itself. It's one-quarter the cost of either the $135 Aeotec Smart Home Hub or $130 Hubitat Elevation. It includes a one-year warranty and lifetime tech support, although—as is the case with Aeotec and Hubitat—there's no phone support available. A technician replied to my email in two days. The site's tech-support section has a downloadable user manual and a introductory video, but its FAQ section lacked any information specific to the E1 when I checked.
Setting up the Aqara Hub E1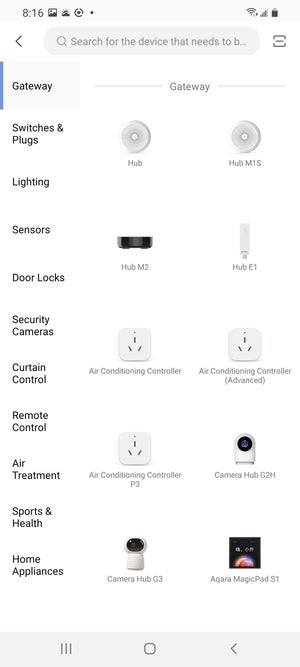 Getting the Hub E1 online is simple and easy but can be frustrating. If all goes well it takes a minute or two and starts with getting the Aqara Home app for Android or iOS. Unlike Hubitat or Aeotec, there's no way to use either a connected browser or Windows 10 app.
After creating an Aqara account and agreeing to its licensing terms, I needed to allow the app to use my location. Next, I plugged the E1 into a generic USB power adapter, and pressed the small button near the top for 10 seconds. The hub's LED changed from blinking blue to blinking yellow. Ready to be configured, I picked the hub from the app's list.
The app then found the hub and showed me the local Wi-Fi networks to connect with. I had trouble finding where to put the password, though. After a few tries, I figured out that the Chinese characters below the network name was where it went.
That was it, it took three minutes to set up the hub, even with the password kerfuffle. All I needed to do was give it a room to live in. Ready to add accessories, I started with an Agara Smart Plug. I picked it from the list on the screen and the set-up was done in about a minute. I followed this by installing a Mini Switch and TVOC Air Quality Monitor.
Using the Aqra Home app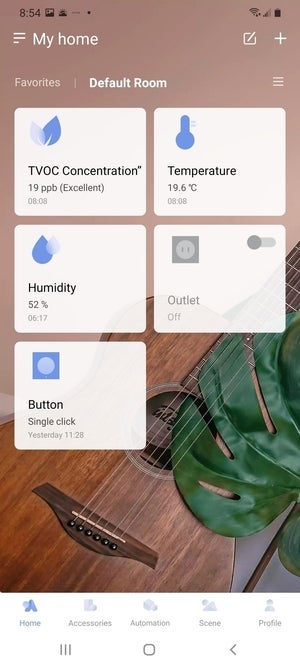 The Aqara Home app is the center of attention and its Home screen is organized by rooms. It put the environmental sensor's results (temperature, relative humidity, and volatile organic compound (VOC) levels on top. The rest were displayed on tiles arranged below that.
While the configuration screen for the smart outlet lacked the one-hour turn-off option that Aeotec offers, its countdown timer has 10-, 30- and 60-minute presets or you define any custom value. There's also a power meter that tracks electricity use for the day and month.
You'll also find set-up screens for automating events as well as for specific room scenes. The app can handle simple or intricate IFTTT programming and anything can be controlled with Alexa voice control, Apple's HomeKit or Google Assistant.
On the downside, after updating the E1's firmware, the unit wouldn't automatically reconnect to my accessories. After going through the set-up routine for the hub, everything was back in place. Fortunately, I didn't need to start over and reinstall all of the accessories.
The Aqara Hub E1 in the real world
The Aqara Hub E1 uses the Zigbee 3.0 protocol, but the company's documentation and marketing materials emphasize its compatibility only with Aqara Zigbee devices. On the other hand, it can be incorporated into the Alexa, Google Assistant, and Apple HomeKit ecosystems, you can then use voice commands spoken to those devices to control the Aqara products. It's also worth noting that the provided documentation for linking an Alexa skill is based on an older version of the Alexa app.
Despite its size, the Aqara Hub E1 blew most of the smart home hubs out of the water with a superb range of 95 feet. That's about 25 percent farther than either the Aeotec hub's 70-foot range or the Hubitat's 75-foot range. This makes it usable in all but the biggest mansions.
There's one more thing the E1 does: it can be a Wi-Fi- repeater to fill wireless data dead zones. It took about two minutes to set up but—as was the case with its smart home chores—this only works for the 2.4GHz band.
Even when it was controlling a room full of gear, the E1 consumed just 1.3 watts of power and stayed cool to the touch. If you pay the national average of 14 cents per kilowatt hour for electricity, it should cost an economical $1.60 a year to operate.
Inexpensive to get and use, the Hub E1 is quick and easy to set up while adding lots of extras that those who live in smart homes will appreciate. It's a great way to connect a lot of Aqara devices throughout the house. but would be even better if it could directly control the wide range of generic smart home devices out there.
Best Prices Today: Aqara Hub E1