At a Glance
Expert's Rating
Pros
Shines in up to 16 colors at once
Music, Sun Match, and Vacation modes
Works with Alexa and Google Assistant
Inexpensive
Cons
No animated light scenes (aside from Music mode)
Can't combine multiple light strips
Light scenes can't be triggered by Wyze rules or voice assistants
Our Verdict
An affordable, easy-to-use multicolor light strip, the Wyze Light Strip Pro offers a bevy of features but lacks some key functionality found in its pricier competitors.
Best Prices Today: Wyze Light Strip Pro
An affordable, easy-to-use color light strip, the Wyze Light Strip Pro offers a bevy of features but lacks some key functionality found in its pricier competitors. Capable of glowing in multiple colors at once, the Alexa- and Google Assistant-compatible Light Strip Pro supports up to 16 million colors and a wide range of color temperatures, and you can group it with other Wyze lights as well as use it in Wyze "rules" and smart routines. There's also a music mode that lets the Light Strip Pro sync up with your music, along with a vacation mode and the ability to match the color of the sun.
Mentioned in this article
Philips Hue Lightstrip Plus (2020)
Unfortunately, you can't combine multiple Light Strip Pros into a longer strip, as you can with the more expensive Philips Hue Lightstrip Plus, nor can you reuse any portions that you've trimmed. and while the animated Music mode is cool, there are no other animated and/or dynamic light modes. Finally, we wish that Wyze rules and smart routines could trigger lighting scenes rather than just basic colors and brightness settings.
This review is part of TechHive's coverage of the best smart light bulbs, where you'll find reviews of competing products, plus a buyer's guide to the features you should consider when shopping this category.
Specifications and design
The Wyze Light Strip Pro comes in two lengths: five meters (16.4 feet, $28) and 10 meters (32.8 feet, $41), with the 10-meter version consisting of two five-meter strips connected by a central controller. According to Wyze, however, you can't create a 10-meter Light Strip Pro yourself by purchasing two of the five-meter strips and trying to connect them together, nor can you connect additional light strips to the 10-meter model; in other words, it's either five meters or 10, and that's it. Competing light strips, such as the Philips Hue Lightstrip Plus, do let you add extensions to make the original one longer.
Besides the Light Strip Pro, Wyze also sells the less expensive Light Strip ($20 for the five-meter model, or $36 for 10 meters), a similar LED color light strip that lacks the Pro's ability to shine in multiple colors at once.
While you can't combine multiple Light Strip Pros by yourself, you can cut them to fit. As with the Hue Lightstrip Plus and its ilk, the Light Strip Pro can be snipped with a regular pair of scissors, provided you cut them at specific points roughly about a foot apart; cut the strip in the wrong spot, and you could damage its electronics. Unlike the Lightstrip Plus, which comes with connectors that let you reattach cut sections, any trimmings you cut from the Light Strip Pro can't be reused.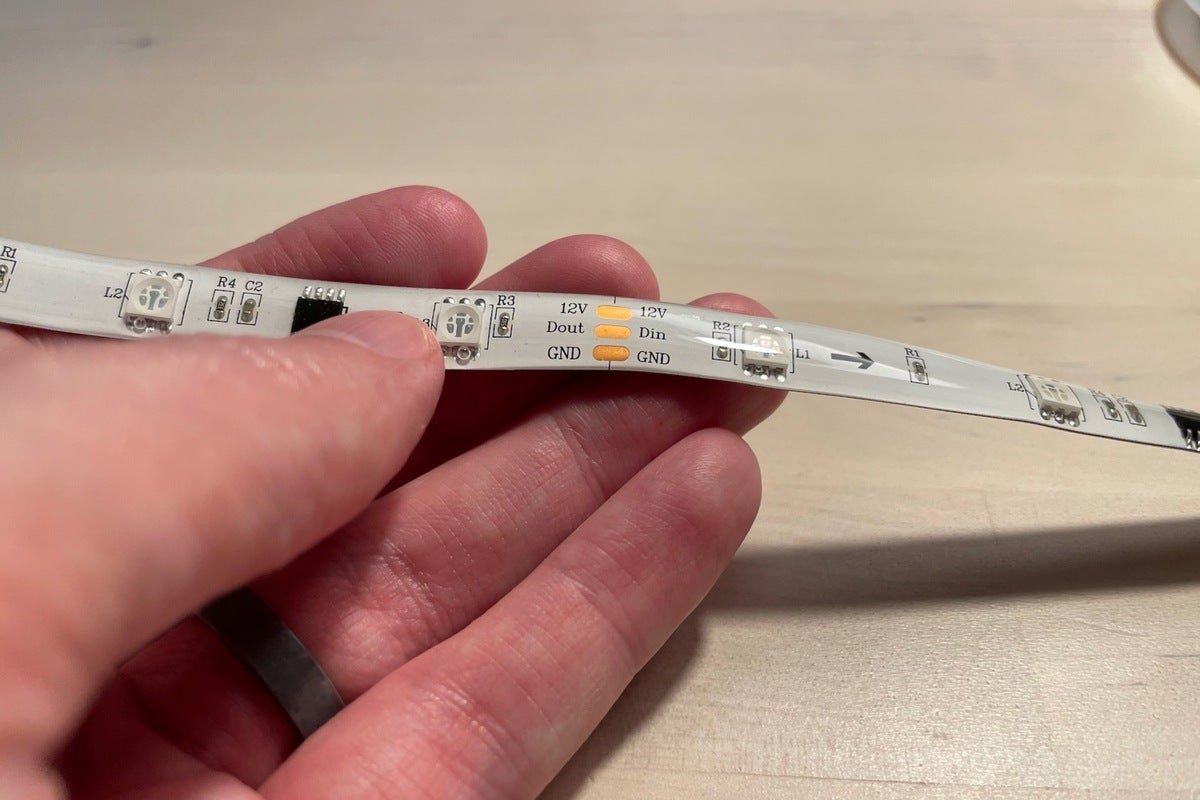 The LEDs on the Light Strip Pro can glow in up to 16 million colors and offer tunable white options, and unlike the step-down Wyze Light Strip, the Light Strip Pro comes with 16 customizable color zones that allow the trip to emit up to 16 different colors simultaneously. As I just mentioned, the Wyze Light Strip can only glow in one solid color.
As far as lumens go, Wyze's specs go into great detail how many lumens the blue, red, and green LEDs emit per meter. Rather than trying to break all that down, I'll just tell you that the Light Strip Pro is approximately as bright as competing light strips I've tested, which is to say that it's bright enough for mood lighting but not suitable for lighting up a workspace or illuminating a room on its own.
Similar to Wyze's other smart lights, the Light Strip Pro doesn't depend on a hub, but it can connect only to 2.4GHz Wi-Fi networks.
Installation and setup
As with most other LED light strips, the Wyze Light Strip Pro has a peel-and-stick adhesive backing, so you just peel off the plastic film, position the light strip where you want it to go, and then press it down firmly. In my case, I installed the light strip on the back of a horizontal bar on my daughter's bunk bed, and as the five-meter strip was a little too long, I snipped off a segment (cutting carefully along a marked section) using a pair of scissors. You can also secure the strip using the included plastic clips.
With the Light Strip Pro attached to a suitable surface, you then attach the controller to the end that has an attached connector cable (and ideally, you've planned ahead to make sure the cable end of the strip is facing the correct way). The boxy, single-button controller has its own peel-and-stick backing, and it in turn connects to a power cable with a 90 degree-angled wall wart.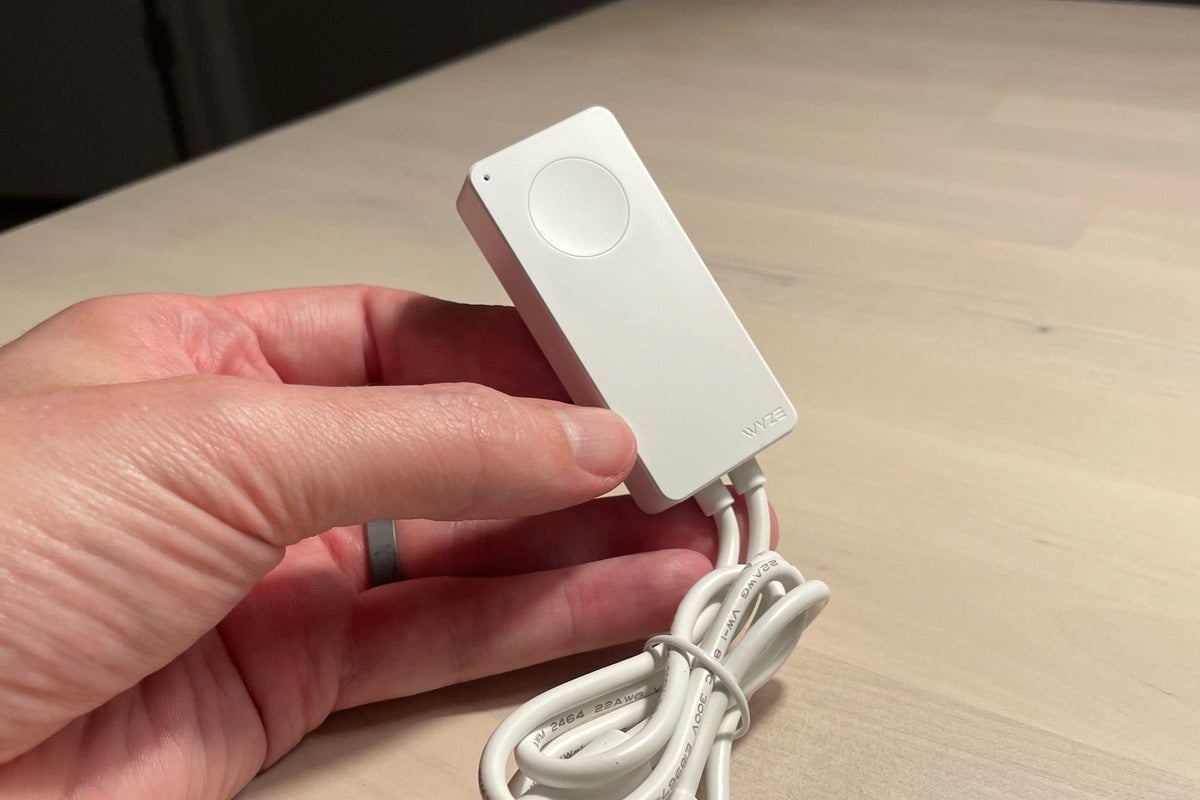 Once I had the Light Strip Pro in place and plugged in, the LEDs began to pulse blue, indicating that the strip was in pairing mode. The Wyze app found the Light Strip Pro in only a few moments, and the app managed to connect the strip to my Wi-Fi network on the first try. I then gave the strip a name and it was ready to go.
Features and functionality
The attractive Wyze interface for controlling the Light Strip Pro (and other Wyze lights, for that matter) consists of three tabs: Design, Scenes, and Music.
The Design tab offers your basic color wheel along with a white color temperature (which lets you adjust the color temperature from a very warm 1,800 Kelvin to a cool daylight 6,500K). Just below the color wheel is a series of one-tap color swatches, while a brightness slider sits near the top of the screen.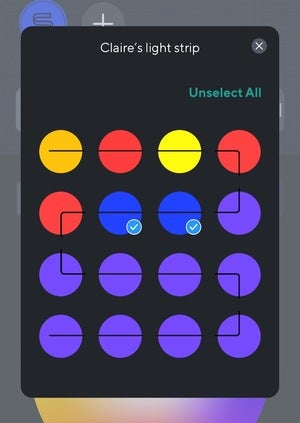 If you want to take advantage of the Light Strip Pro's multicolor abilities, you long-press the light strip's icon; doing so summons a grid representing the strip's 16 color zones. You then select one or more of the color zones (you'll need to be mindful if you've lost some of the color zones due to trimming the strip), dismiss the zone picker, adjust the color wheel, and then rinse and repeat for the other color zones until you're satisfied.
You can save a multicolor pattern in the Scenes tab, along with any other single-color scenes you've created. Besides custom scenes, there are four preset solid-color color scenes (Energy, Gaming, Movie, and Meditation) and color temperature scenes (Night Light, Cozy, Bright, and Energized). And because you can group the Light Strip Pro with other Wyze lights (including the Wyze Bulb Color and additional Wyze light strips), you can save lighting scenes that involve entire groups of lights, not just the single Wyze strip.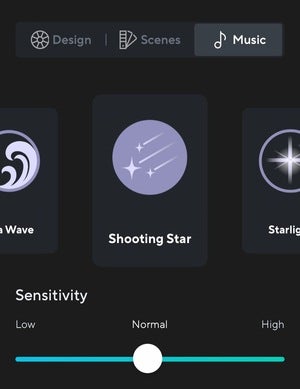 The Music tab is where the Light Strip Pro's multicolor features really shine, quite literally. Using the controller's integrated microphone, the light strip can pulse along with any tunes within earshot. There are 10 music modes available, including Shadow, Leap, Flicker, Marquee, Color Focus, Water, Sea Wave, Shooting Star, and Starlight, while a slider lets you adjust the sensitivity of the effects. Overall, Music mode does a nice job of creating groovy multicolor light shows that are synched with your music.
Unfortunately, the only way to turn on Music mode is from the Wyze app. You can't do it with Alexa or Google Assistant voice commands (Alexa just said "What do you mean?" when I tried), and the single-button controller only lets you cycle through a series of solid colors, while a long-press powers off the strip.
Also, it's worth noting that—for now at least—Music mode is as close as the Wyze Light Strip Pro gets to animated lighting scenes. There's no way to create a non music-driven light show with the strip, nor are there any preset animations. The good news is that Wyze is "working on this," according to a rep, who added that non-music color animations are slated for "early next year."
Other Light Strip Pro features include wake-up and bedtime routines that gradually brighten or dim the LEDs, a "Sun Match" mode that approximates the natural color temperature of the sun, and a vacation mode that turns the strip on and off at random times. You can also add the Light Strip Pro to a Wyze rule, which enables such clever features as turning on the strip or changing its color when, say, your Wyze Cam detects a person.
Unfortunately, Wyze rules can't trigger a lighting scene; instead, the only parameters within a rule for the Light Strip Pro are its power status, brightness, color, or white color temperature. That means that any custom light scenes you've created, including any elaborate multicolor scenes, can only be triggered manually in the Wyze app. The same limitation applies to Alexa and Google Assistant routines and voice commands, too; as it stands, voice assistants can only adjust the Light Strip Pro's power status, brightness, and color (using a basic color palette). Wyze tells me that it is "evaluating" allowing Wyze rules to trigger light scenes but that there's "no solid timeline for delivery yet."
Bottom line
There's a lot to like about the Wyze Light Strip Pro, provided you keep your expectations in check. We like its easy setup and installation, the Music mode is appropriately eye-popping, we're always fans of vacation and sun-matching modes, and Alexa and Google Assistant compatibility is always a plus. Keep in mind, however, that those cool multicolor animations are restricted to Music mode, and while you can trim the Light Strip Pro, you can't add more segments to make it longer or combine multiple strips into a single, longer one.
Best Prices Today: Wyze Light Strip Pro