At a Glance
Expert's Rating
Pros
Higher-end surge protection features in a very inexpensive power strip
Compact design
Anti-tangle braided cable
Shuts off when power protection fails
Cons
No LEDs to indicate grounded or protected status
Warranty claims must be made within 15 days
Our Verdict
With six polarized, grounded outlets; surge protection across line/neutral; and a tangle-resistant 4-foot power cord; Philips' model SPC3064WG/37 surge protector is an ideal power strip.
Best Prices Today: Philips 6-Outlet Surge Protector Power Strip (model SPC3064WG/37)
The Philips Home Power model SPC3064WE/37 wins top marks for including nearly all necessary surge-protection features at a very low price in a compact, highly useful package with almost no compromises. Yes, it has only a 4-foot cord, but models with 6- and 10-foot cords are also available (for $19 and $21 respectively at Amazon).
It even offers what I think is one of the most critical features to some people of a metal-oxide-varistor-based surge-protection circuit: no longer passing voltage when the protection feature has burned out from sudden or gradual use.
Take close note of its tweaky part number—SPC3064WE/37—because not Philips hasn't even updated its own website at this writing with the full specs. It lists only a slightly older model with significantly inferior features.
This review is part of TechHive's coverage of the best surge protectors, where you'll find reviews of the competition's offerings, plus a buyer's guide to the features you should consider when shopping for this type of product.
You shouldn't expect much from a $12.50 surge protector, but that's where this device surprises. This model trims the fat from features and form factor. It can handle up to 1800 watts across its six polarized three-prong grounded outlets. This allows plugging in a robust desktop computer with multiple monitors or a home-entertainment system, among other configurations. This maximum wattage is paired with 750 joules of protection, required to block incoming sudden jolts. That's a little low relative to the wattage, but not absurdly so.
Surge protection by varistor, a circuit that effectively burns away over time as it absorbs excessive voltage, is limited to 500 volts across just the line-neutral (L-N) leg. That leg is the most likely point of failure for a grounded outlet. This is a reasonable choice, particularly at this price. (The two other legs, line-ground and neutral-ground, are less important in a correctly grounded home or business.) As soon as this protection is no longer active, the power strip will stop functioning.
The power strip has an on/off switch that doubles as a reset button if a surge trips protection to block damage. Just turn it back on to clear the tripped state. The four-foot braided power cable resists tangling, an excellent plus for something that you're sure to wrestle with behind a cabinet or under a desk. Its three-prong wall plug offers a 90-degree medium-profile head instead of sticking straight out, another bonus for finding the right place for it.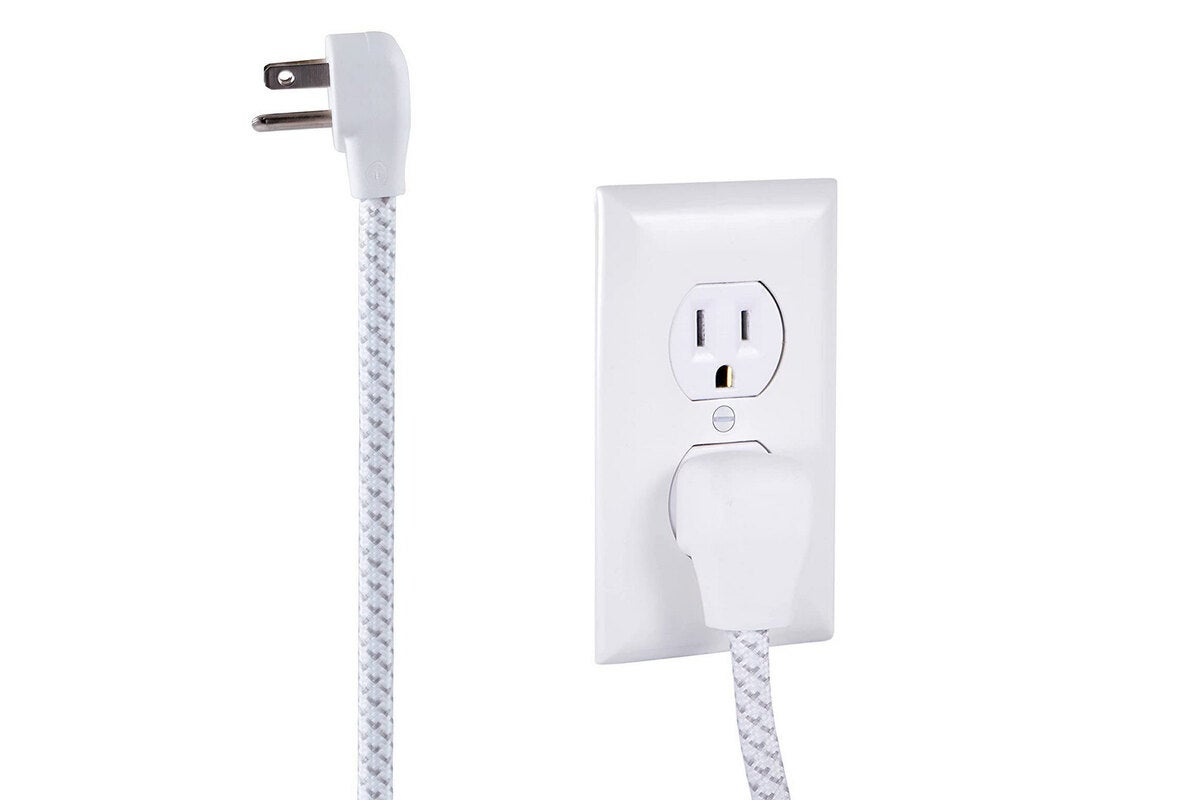 What's missing at this price? LEDs. There's no way to see when you plug the Philips surge protector in whether it registers the outlet as properly grounded. (If you have any concern about the outlets in your home, you could purchase a stand-alone ground-fault detector for $6 to $8.) It also has no "protected" light indicating it is still blocking surges—but given that it shuts down permanently if and when protection fails, that light would be superfluous.
Philips includes a warranty that replaces up to $75,000 of attached equipment, but I'd suggest you probably wouldn't want to plug in more than a few thousands of dollars of stuff. If you do, consider a more robust surge protector! To qualify, you must have call Philips' customer service to start a claim within 15 days of an incident. Philips not only includes a fold-out paper manual, but the type is blissfully large enough for most people to read.
This Philips surge protector is a phenomenal value
I wouldn't have thought this many superb features could be packed into the extremely compact 10.25 x 2 x 1.5–inch main body, but Philips has done it. For the street price of $12.50 and this carved-out set of minimal, precisely required features, it should be your choice when a power strip doesn't give you confidence and a larger surge protector with three-leg surge resistance is outside your needs.
Best Prices Today: Philips 6-Outlet Surge Protector Power Strip (model SPC3064WG/37)