Wish your Amazon Echo smart speaker could automatically turn on the lights whenever someone walked into the room? Thanks to ultrasound technology, newer Echo and Echo Dot speakers can now do exactly that.
Mentioned in this article
Amazon Echo Dot (4th Gen)
So-called "Occupancy Routines" are nothing new to camera-equipped Echo Show displays, including the third-generation Echo Show 10 and second-gen Echo Show 8 and 5 devices. But now, some Echo speakers can perform the same trick without the need of a camera.
As Amazon previously announced at its fall hardware event, the fourth-generation Echo and Echo Dot speakers (the fourth-gen Echo Dot with Clock seems to count, too) can now use ultrasound to detect whether people are nearby, which means you can set up Occupancy Routines for those two devices.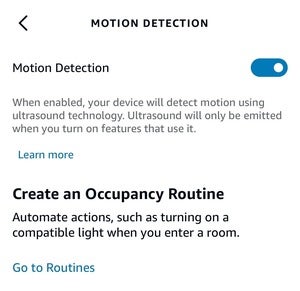 What are Occupancy Routines? In a nutshell, they're Alexa routines that are triggered by one of two things: either the presence of people or the lack thereof. For example, you could create an Occupancy Routine that makes Alexa turn on the lights in a room when your fourth-gen Echo Dot detects people walking in, while a second routine could turn the lights off when the speaker no longer detects movement.
Amazon notes that the ultrasound emitted by Echo speakers can't be heard by humans (I can attest to that), and that ultrasound-powered motion detection takes place entirely on the device. That said, once motion is detected, Alexa will ping the cloud to trigger any motion-enabled routines.
Want to give it a try? Here's how to get started.
How to create a motion-triggered routine on a fourth-gen Echo or Echo Dot
First, you'll want to make sure that motion detection is enabled on your compatible Echo speaker. Open the Alexa app, tap the Devices tab, tap Echo & Alexa, tap an Echo speaker, then tap the Settings icon in the top-right corner of the screen. You'll see a Motion Detection setting under the General heading if the speaker supports the feature. Tap it, then tap the toggle to enable.
Next, it's time to create a routine. Tap the More tab, then tap Routines, followed by the "+" button in the top-right corner.
Go ahead and name the new routine, then tap When this happens > Smart Home, then tap on an ultrasound-equipped Echo or Echo Dot. (You may see other motion-detecting devices on the list too, including supported Echo displays, motion sensors, and security cameras.) Select whether the routine will be triggered when people are detected or aren't detected, then tap Next.
By default, your new routine will run "Anytime." If you only want the routine to be triggered on certain days or at a given time of day (e.g., after dark), tap Change, then select specific days and/or times. You can also set Alexa to "suppress" the routine to keep it from being triggered again too soon (although, as I'll discuss in a moment, ultrasound-powered Occupancy Routines have a built-in cool-down period).
Add the actions you want triggered when your Echo speaker does (or doesn't) detect motion—anything from turning on lights or playing music to telling a joke or reading the latest headlines.
All finished? Tap Save.
Now, a couple of things to keep in mind about your new ultrasound-enabled Alexa routines.
For starters (and according to Amazon), ultrasound-powered motion detection is designed to detect "major" motion (such as people walking into a room), while more subtle motions (such as waving your hand) will likely go undetected.
Also, ultrasound-triggered Occupancy Routines seem to have a fairly lengthy cool-down period—about 30 minutes or so, according to my real-world tests. I've reached out to Amazon for more details.