At a Glance
Expert's Rating
Pros
Can control most smart home devices
Everything is stored and executed locally–internet access not required
Can be programmed via app or web browser
Cons
The hub requires a wired connection to your router
Lacks support for Wemo, Nest, and Apple HomeKit
Software is difficult to master
Our Verdict
The Hubitat Elevation doesn't depend on the cloud—all smart home programming and execution is performed locally. The biggest downside to this powerful system is that it is difficult to master.
Price When Reviewed
$130
Best Prices Today: Hubitat Elevation (Model C7)
Whether it's a door lock, a thermostat, or lights, the most frustrating aspect of setting up a smart home is the multitude of protocols, software, and radio frequencies used to make it all work. The latest model (C7) of Hubitat Elevation's smart home hub can untangle that ball of babel, but novices should be prepared for a steep learning curve.
Small and black with the company's logo printed in green, the 2.9 x 2.9 x 0.7-inch (WxDxH)—it's less than one-quarter the size of the SmartThings-based Aeotec Smart Home Hub—the Hubitat Elevation is easy to hide away. Perforations on the bottom of its enclosure eliminate the need for a fan to cool the system.
This review is part of TechHive's coverage of the best smart home systems, where you'll find reviews of the competition's offerings, plus a buyer's guide to the features you should consider when shopping for this type of product.
Powered by an included USB power adapter, the Hubitat Elevation has an ethernet connection for plugging into a home's router and a single LED upfront. When the light goes from blue to green, it's connected and ready to be set up. The Hubitat Elevation lacks an integrated Wi-Fi adapter that would make it more convenient for users whose routers are in an inconvenient location, like a closet or basement. There's also no backup battery, and the hub can't operate using power over ethernet (PoE).
Inside the Hubitat Elevation
Powered by a 1.5GHz quad-core ARM A53 processor that runs Linux software, the Hubitat Elevation has 1GB of RAM and a generous 8GB of flash storage space to hold its firmware, along with a smart home's worth of settings and commands. It not only allows connections to a wide variety of devices, but it stores all settings and commands locally. Unlike some competing hubs, including the aforementioned Aeotec product, which has a slower processor and less storage, the Elevation can continue to control your smart home during an internet outage so it—and your smart home—can survive an internet outage.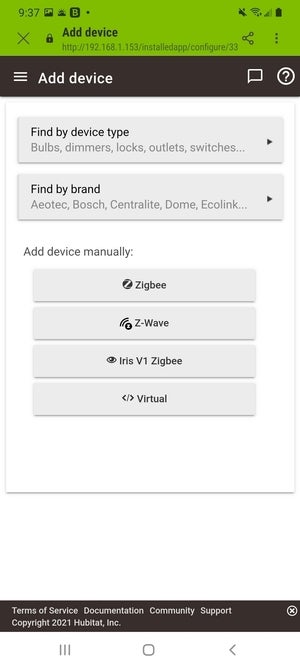 The Hubitat Elevation works with most of the major smart home platforms, from Zigbee and Z-Wave to just about any Wi-Fi device that can be operated by Alexa or Google Home Assistant voice control. The hub can control Lutron Caséta devices, too—provided you also have Lutron's Caséta Smart Bridge Pro on your network. It's also compatible with products in the discontinued Lowes Iris smart home family. Follow this link to see a complete list of Hubitat-compatible smart home devices.
On the downside, the Hubitat Elevation can't control Bluetooth devices, nor can it be integrated into the Apple Home Kit ecosystem. It's also subject to the 32-battery-powered-device limit that Zigbee imposes. You can get around that limitation by using an AC-powered Zigbee repeater or a Zigbee device runs on AC power.
While it works quite well without a subscription, Hubitat offers two premium service plans: A $3-per-month plan enables remote administration and rule writing from anywhere you have an internet connection. Hubitat will back-up your settings and automation routines online for $30 a year, or you can get both plans for $55 a year.
Setting up the Hubitat Elevation C7
After plugging in the Hubitat Elevation C7, I downloaded the Hubitat Mobile app onto my Samsung Galaxy S20 phone. Once installed, I tapped "New Hub Owner" on the app's opening page to start the configuration process.
Next up, I tried to create an account with Hubitat, but failed on the first try because my password needed to be at least eight characters long, a requirement that isn't mentioned anywhere. I succeeded on the second try and after confirming my identity with a verification email, I was ready to pick the device from the "Let's Get Started" screen.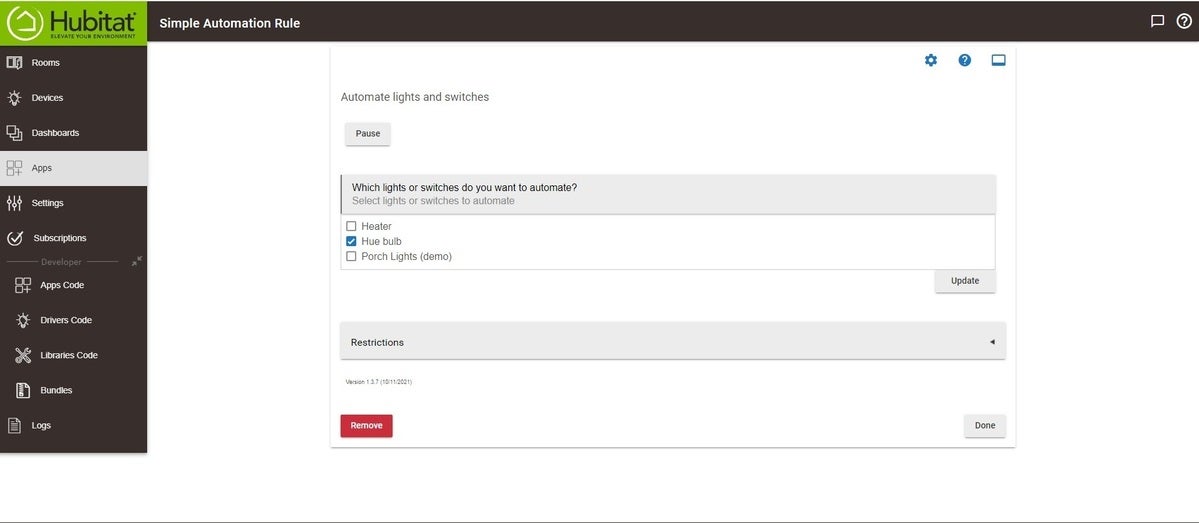 I selected a Philips Hue bulb as my first device, but could have used the list of device types or the type of connection or protocol used. It took a few seconds for the bulb to pair using the Zigbee protocol.
After I gave it a name, the Hubitat Elevation was in control and I could turn the bulb on or off and make it flash to show it was connected. Finally, I named the room it will live in (office) and the system was ready for Hubitat control.
Using Hubitat's software
Unfortunately, I still needed to install, configure, and name the app's Dashboard for monitoring and controlling my smart gear.
The muscle of Hubitat's ecosystem is its software. In addition to the Hubitat Mobile app, everything can be done through a connected browser; just type in the unit's IP address. With everything connected, I set my outdoor light to turn on at sunset and off at sunrise.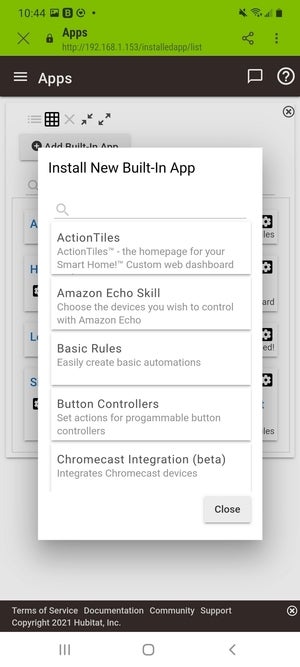 Next, I added a Centralite smart outlet that's connected to a space heater, but the software balked at adding my pair of Sylvania BR30 flood light bulbs for my front porch. It worked with a pair of inexpensive LinKind flood light bulbs, though. I finished up with a Leviton in-wall Z-Wave dimmer switch.
My final task was to use the Hubitat Elevation's ability to work with Alexa's voice control, but I needed to install a separate app to accomplish it. It all worked well, even when I shut off my internet connection but left my local network intact; well, apart from being able to ask Alexa to perform tasks. Amazon's voice assistant—like Google's and Apple's—depends on a connection to the cloud to operate.
Hubitat Elevation in the real world
Using a Centralite AC smart outlet, the Hubitat Elevation hub had a range of 75 feet with two intervening walls in a 100-year-old house. While it was operating, the Hubitat Elevation hub used a mere 1.1-watt of power. If it's left on to monitor and control a smart home, it will increase your household electricity bill by only $1.25 a year if you pay the national average of 13 cents per kilowatt hour of electricity. In that regard, the Hubitat Elevation could be one of the best bargains around in the smart home market.
The trade-off for the Hubitat software's tremendous power is a very steep learning curve for first-time users; it can be very confusing to master. I discovered that I needed to install extra apps even for such basic tasks as enabling Alexa voice control and writing simple automation rules. Fortunately, I needed to do this only once.
The system could use some attention to integration and streamlining its operations. Hubitat the company doesn't offer personalized phone support, which would make its software easier to get started with, it will answer your emails. There is an enthusiastic online community as well as a deep library of video tutorials and online documentation.
Still, the Hubitat Elevation has the power to control an entire smart home. While it took upwards of 45 minutes to set up my hub and four devices, it was well worth the effort. Its ability to consolidate a variety of protocols and software allowed me to stop using each device's individual app and combine routines.
In other words, the $130 Hubitat Elevation fulfills its promise to take control of your home so you can do more important things—if you have the patience to master it.
Best Prices Today: Hubitat Elevation (Model C7)