At a Glance
Expert's Rating
Pros
Headrest attachment is a smart way to position air filtration where it's needed
Simple manual controls can be managed easily while driving
Cons
Extremely loud
Smart features are virtually nonexistent
Quite expensive
Our Verdict
This pricey air purifier could be useful in small rooms or on the road, but it still feels like it's in beta.
Best Prices Today: Airbubbl
Air purification goes mobile—fitfully—with the AirLabs AirBubbl portable air purifier, a device that promises to bring industrial-level purification power to small spaces, including your automobile.
In many ways, a mobile purifier makes a lot of sense. If you drive a taxi or work as a ride-sharing operator, or even if you're on carpool duty picking up kids from school, the car provides a much tighter, more cramped environment than even the filthiest home or office. That guy hacking up a lung while sitting behind you? Well, that's why most Lyfts and Ubers installed Plexiglas screens when the pandemic started.
AirBubbl is a USB-powered device that can be strapped to the back of your headrest, putting purification power about as close to your face (and the face of any passenger sitting behind you) as you can get. It also makes bold claims about its capabilities, boasting that it is "the only air purifier independently tested and verified to be 99%+ effective at removing dangerous particles, airborne human coronavirus, and gas pollutants." I can't judge medical claims like this, but they're worth at least considering.
This review is part of TechHive's coverage of the best smart air purifiers, where you'll find reviews of the competition's offerings, plus a buyer's guide to the features you should consider when shopping for this type of product.
The device is built as a compact cylinder, 12 inches long, with a rubber strap that allows it to be clipped to your headrest. Its maximum airflow rate of 22 cubic feet per minute is small but fine for a tiny space like a car's interior cabin—especially considering that clean air is being blasted directly at your head. The unit can be disassembled for filter replacement ($50 each) after 1,000 hours of operation, and the external sleeve is washable. AirBubbl's filter isn't HEPA rated, but AirBubbl says its filter handles particles of 2.5 micrometers, as well as volatile gases—all of which are relevant in an automotive setting.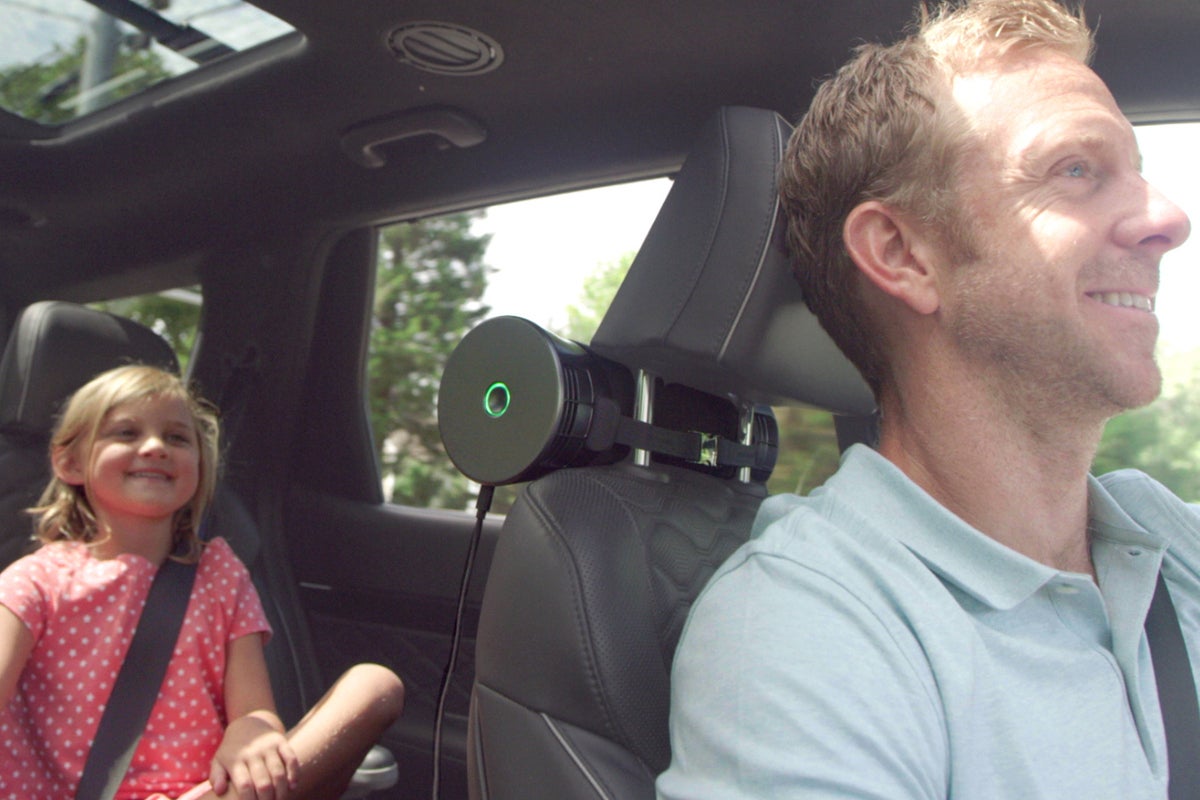 The unit can be controlled manually through a single button on one side that cycles through "boost," normal, and auto modes, the latter being a five-minute slug of boost followed by two hours of normal mode. If you connect the system via Bluetooth to its single-screen mobile app, you gain access to a somewhat more intuitive operational system, plus a filter monitor that alerts you when it's time to replace it.
First, you'll have to complete registration. A very primitive registration routine requires you to provide a collection of personal information, plus an email address and password—all of which seems like overkill for a device that can't even connect to Wi-Fi. You're promised a confirmation soon, but I had to wait a day before receiving an apology email from AirBubbl, a temporary password (which can't be changed), and the promise that a new app would make all of this better soon. That's good news, because as it stands, the registration process couldn't get any worse.
With that resolved, it was time to put the device to work. If you have handy USB ports in your car, you'll find it a lot easier to snake the wiring to where it needs to go; otherwise you'll need to use the included 12-volt (cigarette lighter) adapter to power it up. (The unit includes no battery, so it needs to stay plugged in any time you use it.)
The first thing you'll notice when you hit the road with the AirBubbl—aside from the gentle breeze blowing inside your car—is how loud it is. At a specified 44dB in normal mode and 48dB in boost mode, it's noisy and distracting no matter how loud you turn up the radio. Conversation with a person sitting directly behind you is very difficult, at least it was for me.
The smart features are decidedly limited; the app effectively offers nothing more than the ability to turn the device on and off and change the mode; there are no timers, no settings, and no indication of the actual air quality in the car. The unit can't be set to regulate itself based on ambient conditions, either. At one point, I received a push alert to my phone that I had earned a badge—presumably for simply using the device—although there's no mechanism in the app to view said badges, so I'm really just guessing. Perhaps that's something that's forthcoming in the new version of the app.
At $299, AirBubbl isn't a cheap endeavor, but presuming its claims are accurate, it does seem to offer a reasonably effective way to clean the air while you're on the go—and the new app will undoubtedly help in that regard. I would probably shy away from using the device while other people are in the car, though; it's simply too loud and too invasive. Once they've paid their fare and hit the curb, feel free to fire it up.
Best Prices Today: Airbubbl