At a Glance
Expert's Rating
Pros
Excellent sound and noise cancellation
Phone app for EQ and ANC tweaking
Super easy controls
Cons
Pricey
Not as comfortable for long listening sessions as they could be
Our Verdict
These are fantastic-sounding Bluetooth headphones with a distinctive look and top-notch, transparent active noise reduction. They'd be even better with deeper earcups and perhaps a lower price tag.
Best Prices Today: Marshall Monitor II ANC headphone
I was looking forward to this review as I'm a big fan of Marshall's Major IV on-ear headphones. The $320 Monitor II ANC (active noise cancellation) headphones reviewed here are over-ear types with more heft and larger drivers than the Major IV.
The Monitor II ANC's audio and noise cancellation performance rewarded my anticipation; however, I didn't find them particularly comfortable for prolonged listening.
Look and features
Being a musician of a certain vintage, I love the look of the Marshall Monitor II ANCs. They have the faux Tolex that harkens back to Marshall amplifiers. The tribute is not so noticeable, however, that it will put off users who aren't familiar. Basically, they're your typical dark headphones with a highlight of gold in the form of a joystick controller.
This review is part of TechHive's coverage of the best noise-cancelling headphones, where you'll find reviews of the competition's offerings, plus a buyer's guide to the features you should consider when shopping for this type of product.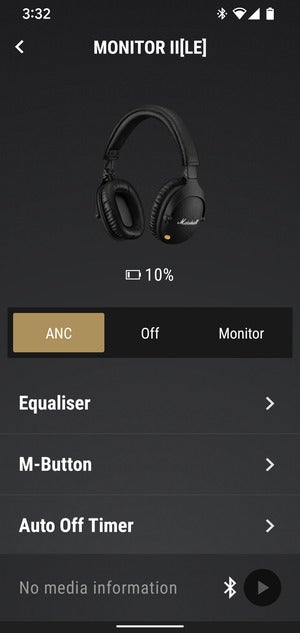 Said button/four-way rocker stick is a joy (yes, a pun) because it puts all the the most common functions (next track, previous track, volume up/down, pair, and power) in one place. There's no feeling about for separate controls and memorizing where they are.
There are two other buttons though, cleverly and strategically located on the back of the pivot joints for the cups: The ANC on/off and the M-Button, the latter of which can be configured to step through the three tailorable, 5-band EQ settings, or activate your phone's digital assistant.
There's also a Marshall Bluetooth app, which sadly required me to sign up to access. This is gauche, Marshall—and gauche was not really the word I wanted to use. Regardless, it's a useful app that facilitates M-Button configuration; setting the interval for the auto-off timer and the strength of the ANC; turn the startup, shutdown sounds on and off; and activate the ANC's Monitor mode (i.e., amplify outside noise).
Why the latter function isn't available via the ANC button I can't tell you. The M-Button handles three EQ modes, so… It was likely an oversight.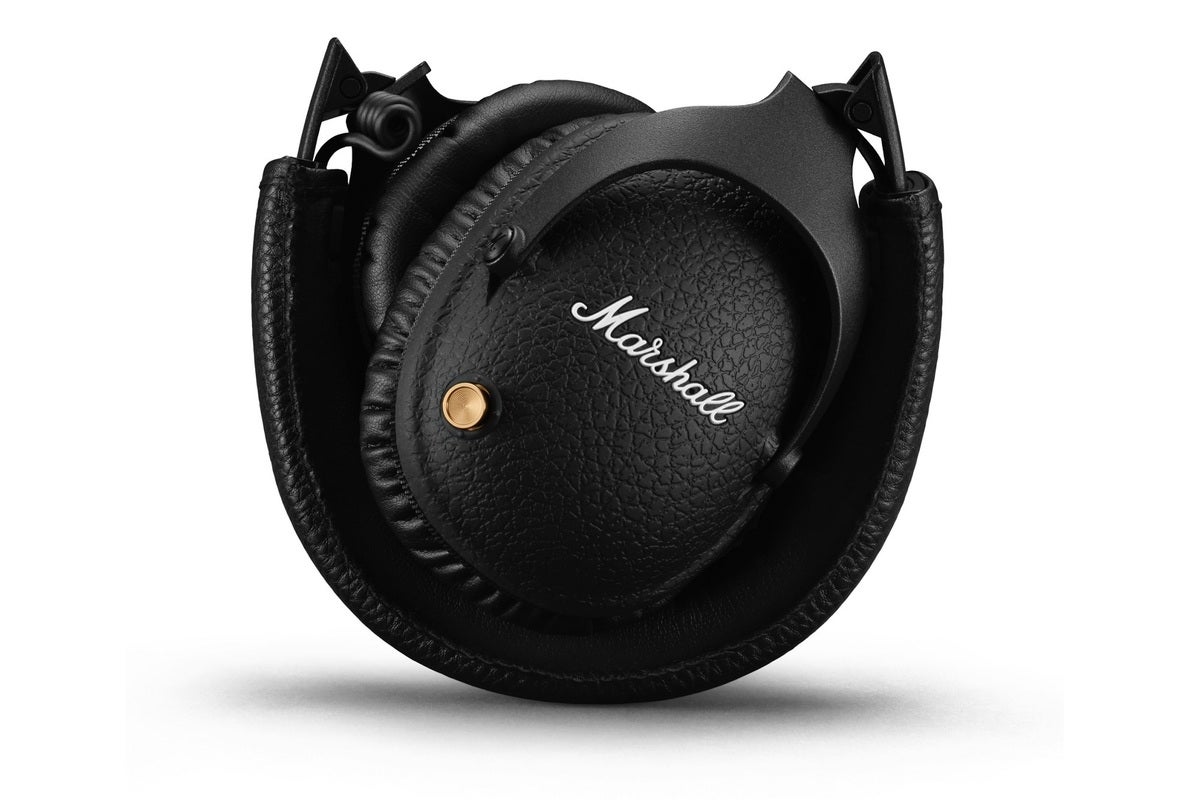 The Monitor II ANC feature 40mm drivers and present 32 ohms of impedance, so just about any mobile device should be capable of driving them. The Bluetooth is 5.0 and there's a microphone for use with your phone. A 3.5mm jack is on board for wired use, and Marshall provides a cable. Of course there's a USB-C port for charging and it's all wrapped up nicely in a Marshall gig bag. I added the "gig;" Marshall simply calls it a carrying bag.
Sound, battery, comfort
The Monitor II ANC's sound is clear, precise, and can be tailored to the occasion using the app. It's fantastic in my book, and quite well balanced throughout the frequencies when the settings are flat. There's enough bass for most users, though there's nothing to rival Sony's Extra Bass and its ilk.
The three default EQ modes were flat, a mid-scoop, and a mid-scoop with added bass/top-end for vocals. There are a number of others. If you don't like them—design your own.
The best part about the deal is that the active noise cancellation doesn't affect the sound to any great degree. There might've been an ever-so-tiny dip at the top-end, but I couldn't really pinpoint it or convince myself that it was truly there. Bottom line: Marshall's ANC ranks with the best I've experienced.
If you hear a difference, load up the app and render the ANC less aggressive than the 100 percent it defaults to. Or adjust the EQ slightly to compensate.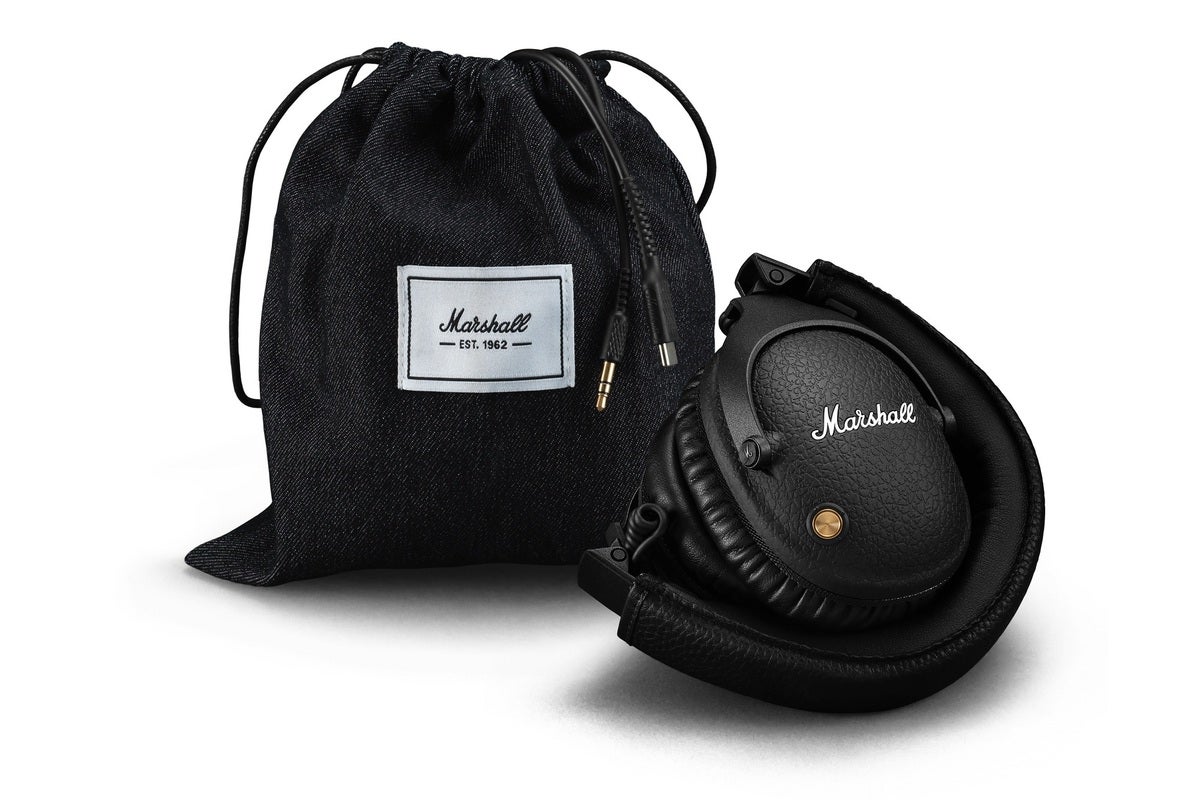 Battery life was decent at around 20 hours, a bit less than the 30 hours that Marshall claims. Close enough.
As to that comfort thing. While I can't ding them for short listening sessions, I mentioned that I didn't find the Monitor II ANC's physically kind to my ears over the long haul. It's not a huge deal, but the the lightly padded ear cups are under a fair amount of pressure and aren't quite deep enough to keep my auricle from touching the speaker grills. That, along with the headphone's somewhat hefty 12-ounce weight, made them irritating to wear over time.
Major caveat here: I find a lot of headphones long-haul uncomfortable for one or more of those very same reasons.
Excellent sonics
I love just about everything that the Monitor II ANC bring to the table, most especially the sound. If they were slightly more comfortable, I'd call them best of breed. I'm tempted to say that anyway, as most users likely won't be so picky about the fit. I still recommend them over a host of others, including some that cost considerably more. Another winner from Marshall.
Best Prices Today: Marshall Monitor II ANC headphone