At a Glance
Expert's Rating
Pros
Thrillingly immersive sound with deep but controlled bass
Dolby Atmos and DTS:X support
Built-in Alexa and AirPlay 2
SpaceFit and Auto EQ room calibration
Cons
Power cords for satellite speakers are annoyingly short
Alexa needs a discrete volume setting
SpaceFit and Q-Symphony features require a Samsung TV
Pricey
Our Verdict
It's pricey, but the 11.1.4-channel HW-Q950A delivers thrilling immersive sound, along with Alexa and AirPlay 2.
Best Prices Today: Samsung HW-Q950A
Samsung sure upped the ante with the HW-Q950A, a soundbar that arrives with a room-enveloping 11.1.4-channel configuration powered by a whopping 22 drivers. Not quite as big and hulking as you might expect, the HW-Q950A does Dolby Atmos and DTS:X, and it boasts built-in Alexa, AirPlay 2, and a pair of room-correction technologies. Naturally, it also comes with an eye-popping $1,800 list price, although it's frequently much cheaper on Amazon.
So, does the 11.1.4-channel Samsung HW-Q950A live up to the hype? Let's take a listen.
This review is part of TechHive's coverage of the best soundbars. Click that link to read reviews of competing products, along with a buyer's guide to the features you should consider when shopping.
Configuration
The HW-Q950A is a full-on 11.1.4-channel soundbar, but what does that mean exactly?
I'll start off with the typical left, right, and center channels, which are powered by a tweeter and two oval-shaped drivers for each of those front three channels. You also get a total of eight rear and surround channels, which are powered by four drivers in the main housing (two angled and two side-firing) plus four more drivers in the satellite speakers (one angled and one forward-firing for each speaker). All told, that's 11 channels, representing the "11" in the Q950A's "11.1.4" configuration. Next comes the subwoofer and its single driver, giving us the ".1" for low-frequency effects. Last but not least are the four height channels, supplied by two front up-firing drivers in the main soundbar unit and two rear up-firing drivers in the satellite speakers, giving us the final "4."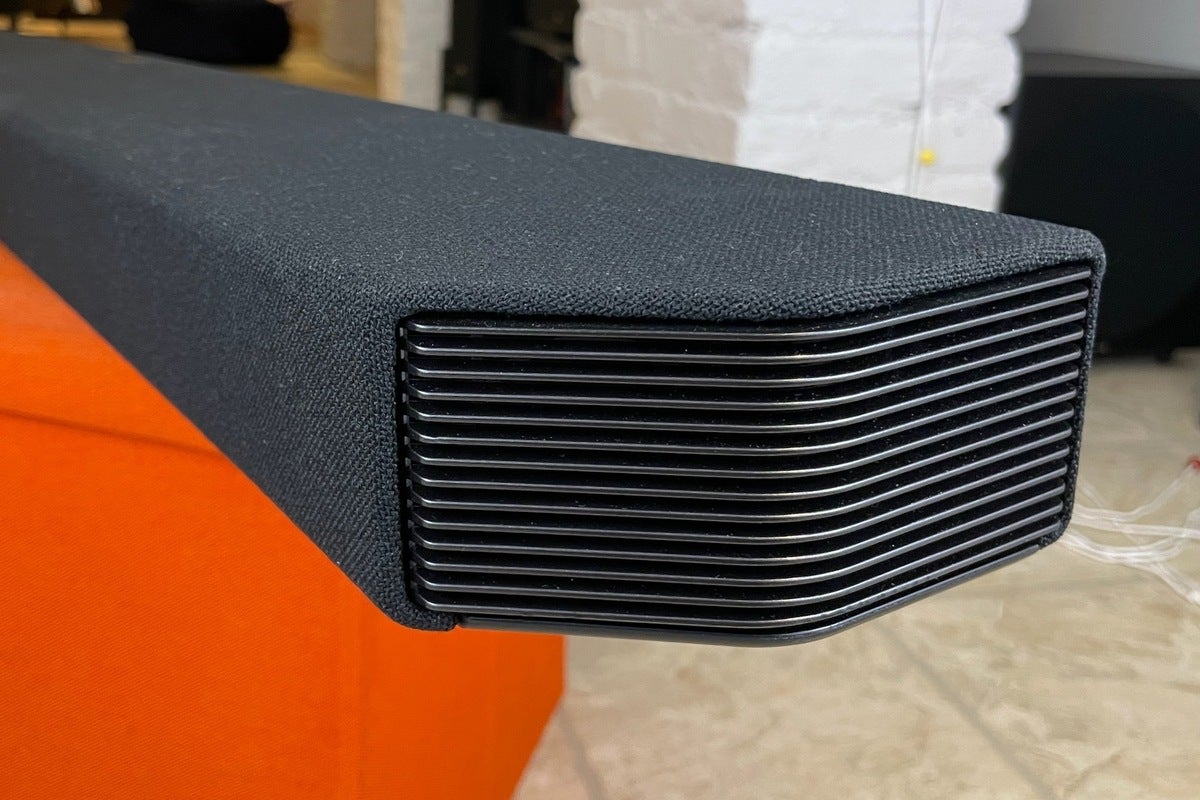 So yes, that's a lot of drivers—22 total, for those of you keeping track, which should leave your living room swirling in sound. Of course, the effectiveness of all those side- and up-firing drivers will depend in large part on the configuration of the room. The up-firing drivers supplying height effects for Dolby Atmos and DTS:X soundtracks require a flat—not angled or vaulted—ceiling that's ideally between 7.5 and 12 feet high, while the distance between your side walls will affect the performance of all those side-firing surround drivers. The HW-Q950A does boast a pair of room-correction features—SpaceFit and Auto EQ—that tweak the audio depending on the acoustics of the room, but SpaceFit (as I'll describe later) requires a supported Q-series Samsung TV.
The HW-Q950A also offers another feature that's exclusive to Samsung TVs: Q-Symphony, which syncs up with the built-in speakers on select Samsung 2020 and 2021 TVs to deliver "perfectly synchronized audio" for a "harmonious, cinematic experience." Sounds cool, but as with SpaceFit, you'll need a Samsung TV to use Q-Symphony, and since I don't own one, I wasn't able to test the feature.
Impressively, Samsung manages to cram the 15 drivers in the main soundbar unit into a 48.5 x 2.7 x 5.4-inch shell (WxHxD). That's roughly as wide as my 55-inch LG C9 OLED TV, but crucially, the soundbar's relatively low profile blocked only a sliver of the bottom edge of the LG's screen. In contrast, Samsung's previous high-end soundbars were considerably taller; for example, the 7.1.4-channel HW-Q90R from 2019 was 3.26 inches high, which is simply too tall for placing in front of a low-slug set like the LG C9.
Of course, another placement option for the HW-Q950A is mounting it on the wall under your TV, and Samsung helpfully supplies mounting brackets for that very purpose.
Inputs and outputs
The HW-Q950A has a total of three HDMI connectors: one HDMI-ARC interface, and two HDMI inputs. The soundbar's HDMI-eARC connector lets you connect a single cable to your TV's own HDMI-ARC port, assuming it has one (almost all newer TVs do). Once that's done, you can connect your video sources to the HDMI inputs on your TV, which in turn sends the audio down to the soundbar.
Besides HDMI-ARC, the HW-Q950A also supports eARC, an "enhanced" version of ARC that allows for lossless audio formats such as Dolby TrueHD and DTS-HD Master Audio (which are typically found on Blu-ray discs). But the Q950A's eARC support is moot unless your TV also supports eARC, and your TV might not unless it was made in the past two or three years.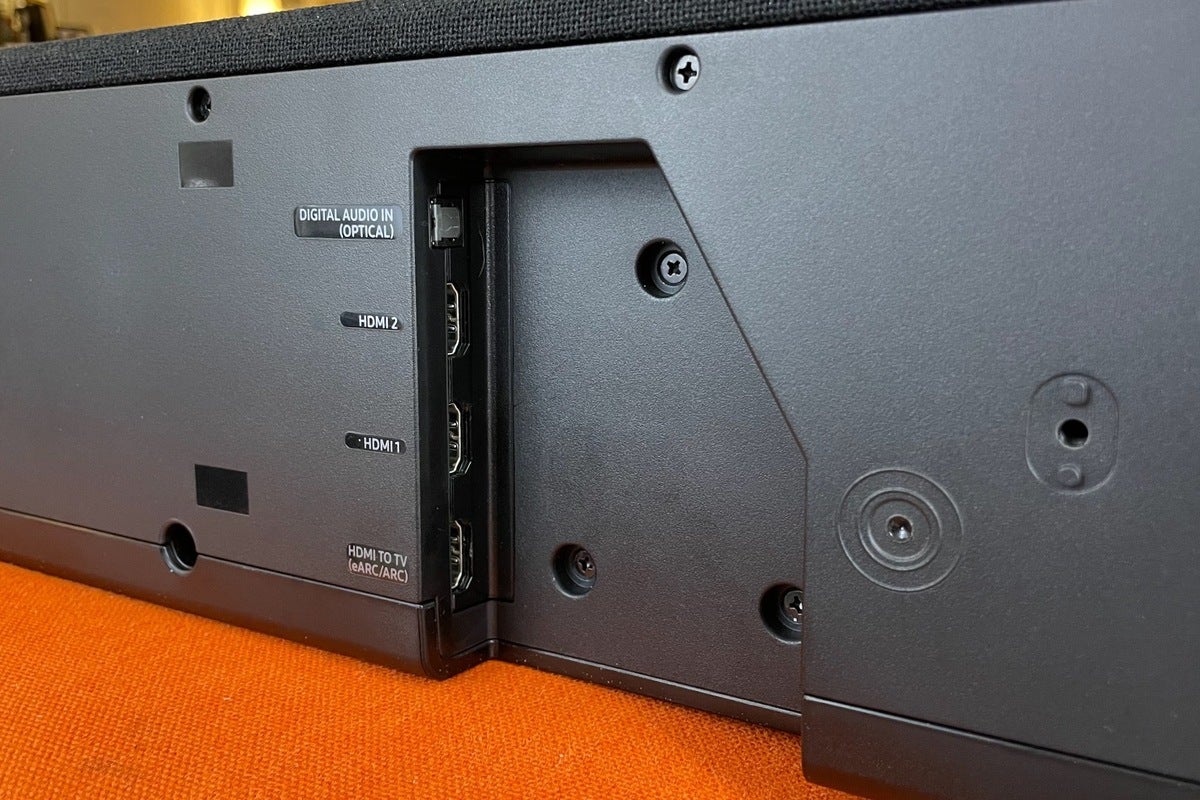 If you don't want to go the HDMI-ARC way, you could connect your video sources directly to the soundbar via the two HDMI inputs, thus bypassing the whole HDMI-eARC issue, and then connect the soundbar to one of the TV's HDMI inputs. There are two downsides to such a setup, however; one, you're restricted to just two HDMI inputs (which may be enough for most users), and two, while the HW-Q950A supports 4K HDR passthrough, it supports only HDR10 and HDR10+, not Dolby Vision. Again, if your TV doesn't support Dolby Vision (Samsung's TVs only support HDR10 and HDR10+), you might not care, but there it is.
For those with legacy TV sets, the HW-A950A has an optical (Toslink) input. A USB-A port is intended for firmware updates but isn't selectable as an input source, which means you won't be able to use it for external media playback.
Don't want to use wires at all? You can also connect the HW-Q950A to your TV via Wi-Fi or Bluetooth, but only if you have a supported Samsung TV.
Installation and setup
As I mentioned earlier, the HW-Q950A can sit in front of your TV, or you can mount it on the wall below your TV. Once you have the main soundbar unit situated, you can then place the wireless subwoofer and the two satellite speakers.
Now, I have a bone to pick with Samsung about the satellites. Each of the two satellite speakers (as well as the sub) comes with power cords (so no, the speakers aren't entirely wireless), and while the subwoofer's power cord is the usual five feet in length, the satellite speaker cords are also only five feet long. That doesn't give you a lot of freedom in terms of placement for the satellites, which (ideally) should sit behind your sofa at roughly ear height. In contrast, the satellite speakers that come with Vizio's soundbars are about 30 feet long, which should be more than enough. Of course, you could always use extension cords to add more length to the existing power cables, but that's a rather ungainly solution.
Complaints about the power cords aside, the pre-paired subwoofer and the satellite speakers connected to the main soundbar unit without any trouble; if there are any issues, the speakers can also be paired manually.
Connecting the HW-A950A to Wi-Fi was as seamless as the speaker pairing process. Using the Samsung SmartThings app, you make an initial connection to the soundbar via Bluetooth, allowing the app to send your Wi-Fi credentials to the unit. Once that's done and the soundbar is connected to wireless, you can name the unit and place it in a "room" in your SmartThings home.
Following the initial setup process, you can also run Samsung's SpaceFit feature to automatically adjust the HW-Q950A's according to the acoustics in your room, but only if you have a supported Samsung Q-series TV. That said, there is another room calibration feature on the soundbar that anyone can use, regardless of the make of your TV.
Auto EQ uses a microphone built into the subwoofer to detect your room's acoustics and iron out any low-frequency response peaks. The whole process only takes a couple of minutes, and you can re-run it if you subsequently move the subwoofer (or any of the soundbar components) to a new location.
Controls, indicators, and remote
On top of the HW-Q950A are four buttons: a multi-function button that toggles the soundbar's power and also switches input sources; volume up and down buttons, and a mic mute button.
Flanked by the buttons is a small display that shows you the current input as well as the soundbar's mode, but because the display sits on the top of the soundbar, you can't see it from the sofa. That means if you want to navigate the HW-Q950A's settings menus using the included remote, you'll have to get off the couch to see what you're doing. At least there are some LED lights on the front of the soundbar that light up when you adjust the volume, or when you summon Alexa (more on Alexa coming up).
Speaking of remotes, the remote that's bundled with the HW-Q950A is the same one that comes with Samsung's other recent soundbars. Ergonomic and easy to use, the remote has a simple layout, including a central four-way navigational keypad, easy-to-reach volume rockers (one for the main volume and another for the subwoofer), along with mute, setting, Bluetooth, input select, and power buttons. Of course, you could also opt to use your TV's remote to control the soundbar's volume, provided your set supports HDMI-CEC.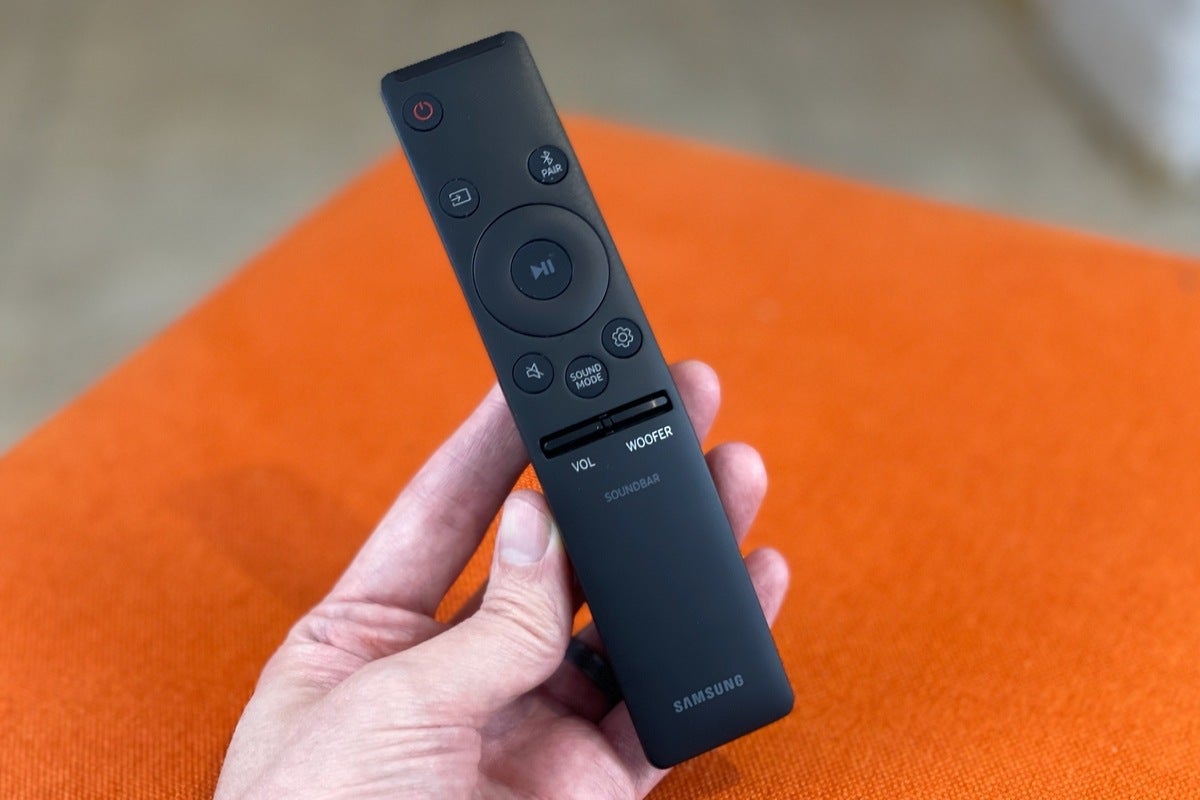 Digging into the soundbar settings with the remote, you can adjust the treble and bass, as well as trim the center, side, front top, rear, rear top, and rear side levels, as well as toggle a virtual surround mode if (for some reason) you decide not to use the HW-Q950A's physical satellite speakers.
From the Samsung SmartThings app, you can change sound modes (we'll delve into those in a moment), as well as fiddle with the soundbar's EQ settings and enable voice enhancement, bass enhancement, and night modes. To trim the speaker levels, however, you'll need to use the remote.
Alexa, AirPlay 2, Tap Sound, and Spotify Connect
The HW-Q950A comes with built-in Alexa, although you don't need to activate Alexa if you don't want to. If you do, all you need to do is sign in to your Amazon account using the SmartThings app. Once that's done, you'll be able to chat with Alexa just as you would with any of Amazon's Echo speakers.
For example, you can ask about the weather, get a news summary, set a reminder, start a timer, play music (supported services include Amazon Music, Spotify, Deezer, and Tidal), or control supported smart home devices. You can also ask Alexa to control the soundbar itself, although it's typically easier to use the voice remote rather than deal with the clunky voice commands (e.g., "Alexa, set volume to 3 on Samsung soundbar").
One ongoing gripe I have about Alexa on soundbars (Samsung isn't alone in this) is that her volume is tied to the main volume, which means if you've been watching a video at even a moderately loud volume, Alexa will shout at you. I'd much prefer that Alexa had her own discrete volume, and Samsung has told me that they're working on a solution around these lines.
Besides Alexa, the HW-Q950A supports AirPlay 2, which allows you to cast audio to the soundbar via an iPhone, iPad, a Mac, or any other supported Apple device. Not only can you cast audio from streaming music apps (such as Amazon Music, Spotify, Tidal, YouTube Music, or Apple Music), you can also add the HW-Q950A to AirPlay speaker groups, as well as include the soundbar in AirPlay 2 multi-room audio setups.
The HW-Q950A doesn't support Chromecast, but it does have a Tap Sound feature that lets you mirror the audio on a Samsung phone simply by tapping the handset on the soundbar. (I don't have a Samsung phone, so I was unable to test this feature.)
Finally, the HW-Q950A is a Spotify Connect device, which means you can stream Spotify tunes to the soundbar from the desktop and mobile versions of the Spotify app.
Sound modes
The HW-Q950A has four main sound modes: Standard, Surround, Game Pro, and Adaptive Sound. The latter three modes upmix all sound sources to 11.1.4-channel audio, including 5.1 and stereo sources. Standard, on the other hand, doesn't perform any upmixing, so that's the choice you'll want to make if you want to hear stereo music streams as they were intended to be heard (save for the enhancement of bass via the subwoofer).
While Surround mode is designed to boost the soundstage of movies and Game Pro helps gamers pinpoint the footsteps of opponents, Adaptive Sound aims to tailor the HW-Q950A's audio automatically depending on whatever you're listening to. I've found Adaptive Sound to be effective on other Samsung soundbars I've tested, and I ended up using it for the majority of my listening tests (music aside).
Performance
Cutting to the chase, the Samsung HW-Q950A is simply the best-sounding soundbar I've ever tested. It delivers crisp high-end detail, terrific low-frequency response that never gets too boomy, and audio cues that feel like they're coming from everywhere. Even without the benefit of Samsung's Q-Symphony feature that leverages the power of a Samsung TV's built-in speakers, the HW-Q950A still manages to dazzle.
Starting out with the 4K Blu-ray of Star Wars: The Empire Strikes Back and its remastered Dolby Atmos soundtrack, the HW-Q950A's 22-driver array made the Rebel snowspeeders during the frantic Battle of Hoth sound like they were whizzing all around my living room, while the Imperial Walkers stomped with big, ground-shaking booms that never sounded distorted. As one of the Walkers lifted its foot above Luke's head, the HW-Q950A delivered clear and precise height cues, and it did so again as Luke watched one of the towering machines implode and collapse. And when part of the ceiling collapsed on top of Han and Leia in the embattled Rebel base, the clattering rubble truly seemed to be coming from everywhere. Very well done.
Switching over to the UHD of Apollo 13 and its DTS:X audio, the gurgle of the fuel pumps just prior to launch sounded seemed like it was coming from behind my sofa, while the rumbling engines of the Saturn V sounded deep and powerful without any sense that the HW-Q950A's subwoofer was overdoing it. James Horner's soaring score sounded clear and crisp, and the separation of the Saturn V's various stages were all accompanied by nice, precise booms. I also liked that the dialog ("Houston, what's the story on engine five?") was never overpowered by the controlled cacophony.
Heading over to the famous opening sequence of 1978's Superman on iTunes, the swooshing main titles—now in Dolby Atmos—soared above and around my head in a manner unlike what I've heard on any competing soundbar; we're not just talking the vague sense of height effects, but palpable whooshes flying above and behind me. John Williams's rousing theme sounded sharp but never shrill, and the "clang" that punctuates Richard Donner's "directed by" credit was just right, both big and controlled. (Let's watch it again!)
For music, I started by casting "willow" from Taylor Swift's evermore from Tidal via AirPlay 2. Using the Standard music mode (which, remember, doesn't upmix stereo sources), "willow" sounded crisp, simple, unfussy, and refreshingly musical on the HW-Q950A. Switching to Adaptive mode for a full 11.1.4 experience, the song opened up with a wider, expansive soundstage without sounding artificial or phony.
I also sampled Billie Elish's "Oxytocin," which serves up some big and rather tricky beats in its opening moments that the HW-Q950A deftly handled, dishing out the bass without sounding boomy or overloaded. Meanwhile, Vlado Perlemuter's performance of Ravel's solo piano works (streamed from my Plex media library) sounded atmospheric and pleasingly, well, present, while the whispering cymbals, thunking bass, and (of course) bright trumpet in Chet Baker's "Solar" sounded thrillingly alive.
Bottom line
With its $1,800 list price, the Samsung HW-Q950A is one of the most expensive soundbars currently on the market, although at press time, Samsung was offering a pre-Black Friday $200 discount, and it's been spotted for as low as $1,150 on Amazon (it's hovering around $1,600 now). So while the HW-Q950 is certainly pricey, you may be able to find some pretty good deals, particularly around the holidays.
But as far as sound goes, the Samsung HW-Q950A's sonics are the best I've heard yet from a soundbar: immersive, detailed, balanced, deep, and controlled. The main soundbar unit is also slim enough to plop down in front of most TVs (although you can always mount it), and its Dolby Atmos and DTS:X support, subwoofer room-correction functionality, built-in Alexa, and AirPlay 2 casting support check most of the boxes we're looking for. And if you're a Samsung TV owner (provided you have a supported model), you'll get the added benefit of full-on SpaceFit room correction and Q-Symphony TV speaker syncing.
If you can afford it, the HW-Q950A is the soundbar to get.
Best Prices Today: Samsung HW-Q950A