At a Glance
Expert's Rating
Pros
You can control a broad array of smart home devices with small buttons
Each button can be programmed with three commands
Compatible with Alexa, HomeKit, Wi-Fik, Zigbee, and Z-Wave devices
Excellent range
Cons
Cannot trigger Google Assistant actions
Buttons limited to three actions (single press, double press, or single long press)
You must first define Alexa routines to control some devices
Our Verdict
Flic 2 Smart Buttons can help make any smart home just a little bit smarter.
Price When Reviewed
$159.99
Best Prices Today: Flic 2 Smart Button starter kit
Living in a smart home might let you control everything from a phone, but it can be a frustrating experience if your phone is not at hand. Shortcut Labs' Flic 2 smart buttons can help by automating a wide variety of smart home devices and routines with small buttons that can be stuck on the wall or even worn.
Cute as a button, the white Flic 2 devices are tiny. They measure 0.3-inches thick and 1.2-inches across; they weigh just 5 grams. Looking like a short stack of Necco wafers, the round Flic 2 buttons are half the size of the square Eve Systems' Eve button.
This review is part of TechHive's coverage of the best smart home systems, where you'll find reviews of the competition's offerings, plus a buyer's guide to the features you should consider when shopping for this type of product.
Each Flic 2 button has adhesive on the back so it can be stuck on a wall, under a kitchen counter or on a refrigerator door. The adhesive can be used a couple of times if you change your mind but a magnetic option would have been a good idea. There are even optional metal clips for wearing a Flic 2 button.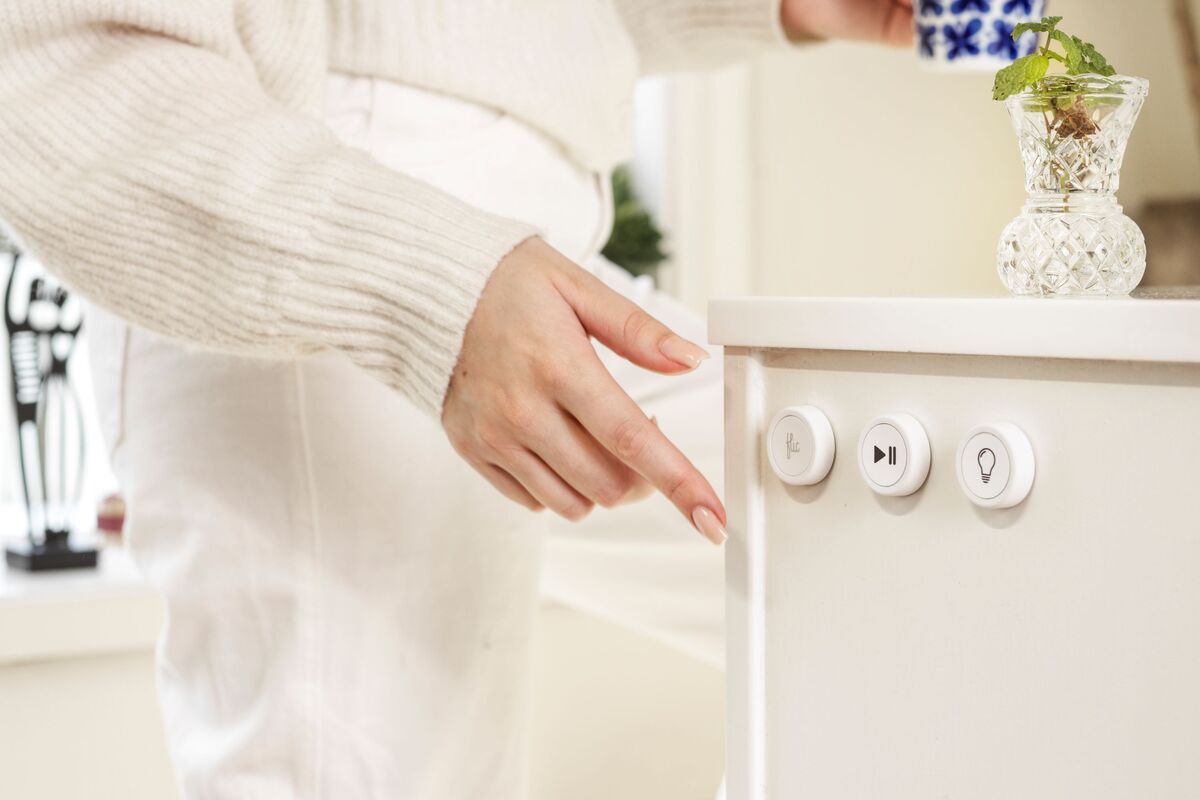 The Flic 2 buttons come in any color you want as long as it's white. They have an IPX4 rating, which means the buttons can be safely splashed with water, so they're OK near a sink or shower. The manufacturer does not publish a ingress protection rating for dust intrusion. You can read all about IP codes in this other story.
The buttons have a three-color LED and are powered by a CR-2032 battery that Shortcut Labs says should last for three years of moderate use. It took about a minute to change a cell and button up the Flic 2 switch.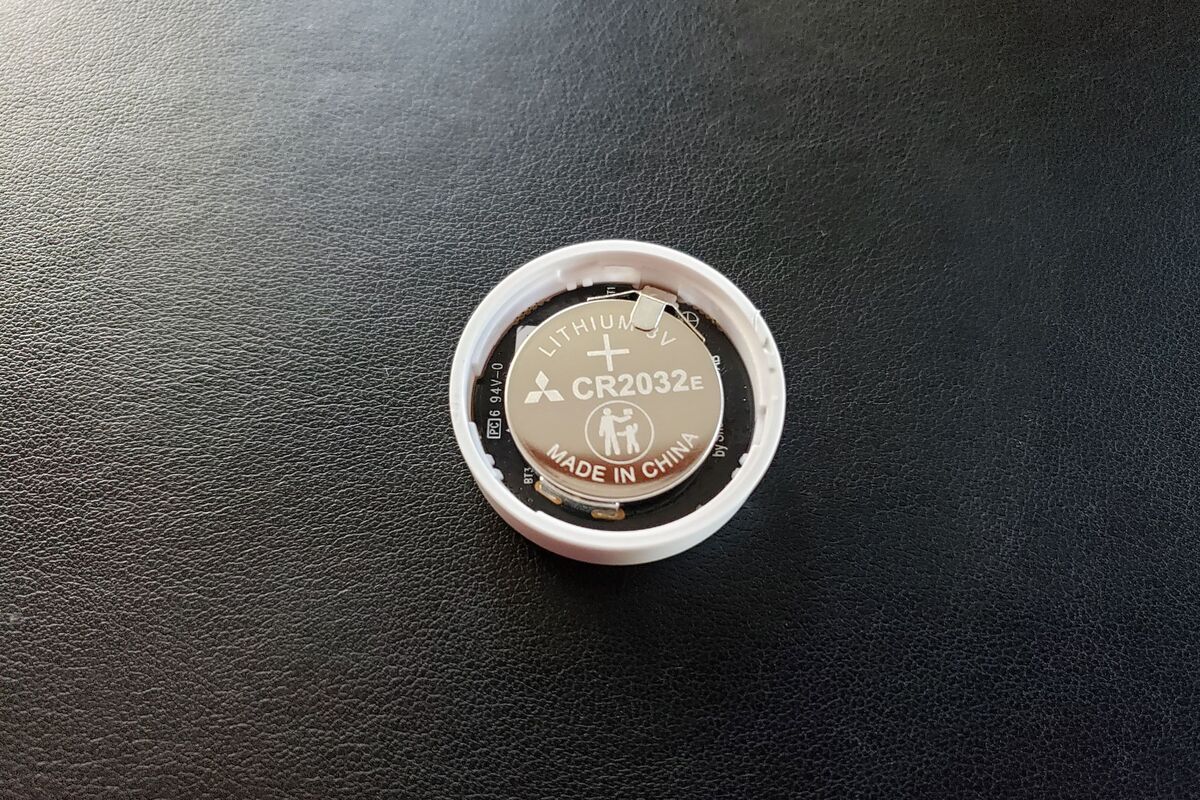 How Flic 2 works
The key to Flic 2's success is that its Hub LR acts as a clearinghouse for commands and wirelessly communicates with a home filled with buttons. It can handle connections to 63 buttons at once for a home full of smart devices.
Flic 2 covers the smart home bases by working with Bluetooth, Zigbee, Z-Wave, HomeKit, and Wi-Fi devices. By contrast, Eve only works with HomeKit gear. Flic 2 adds voice control via Alexa and Siri, but lacks compatibility with Google Assistant and can't link with either the Hubitat or Aeotec smart home hubs.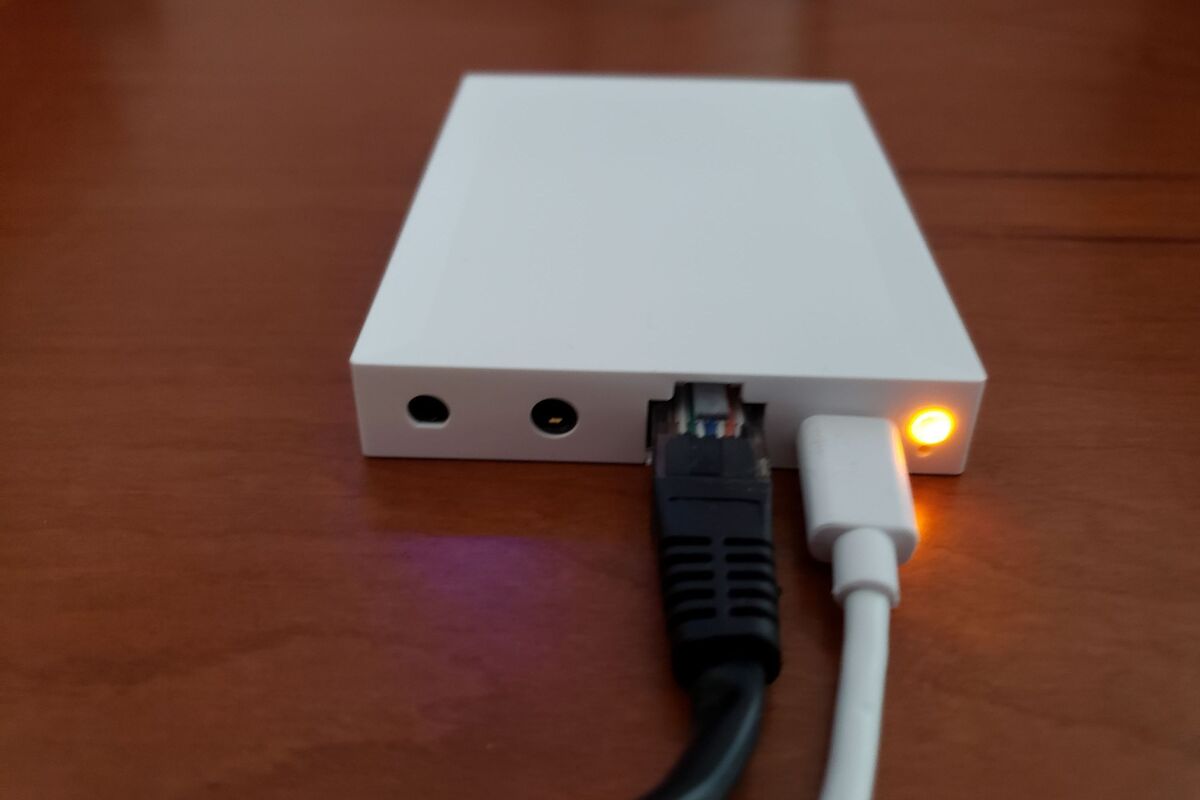 At 3.3 x 2.6 x 0.5 inches (LxWxH), the hub is easy to hide but requires electrical power from a USB adapter; it comes with four outlet plugs for use in different countries. In addition to a headphone jack for connecting Flic to speakers, the hub has a port for using an infrared transmitter to integrate a TV, stereo, or other device that uses an IR remote control.
Amazon Echo Dot (4th Gen) with Clock
While Eve buttons cost $50 each, the Flic 2 products are a bargain at three for $80 or six for $120. The $160 Starter Kit I looked at came with four buttons, the Hub LR, and a page of stickers to show what each button does; two extra sheets of identifying stickers cost $5. There's also a Pro Kit that includes six Flic 2 buttons for $220 and the high-end $400 Flic 2 Mega Kit that has 15 buttons, the hub, and an IR transmitter.
Setting up the Flic 2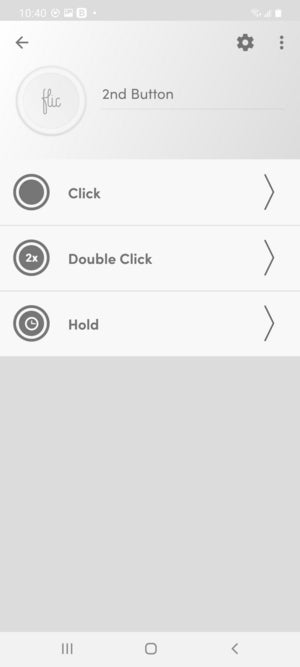 Getting the Flic buttons online is a two-step process: setting up the Hub LR and the buttons themselves. Fortunately, the Flic support site has a comprehensive online manual with how-to directions and advice as well as lots of videos for setting up specific things.
After getting, installing, and firing up the Flic app on my Samsung Galaxy S20 phone, I created an account. Then, I plugged the Flic Hub LR in using its included AC adapter. Its red LED dims to show it's ready to be discovered by the app.
With the preliminaries out of the way, I tapped "add Hub + " on the app and it found my hub in a few seconds. At this point, the LED changed to yellow, I named it and connected it to my home's Wi-Fi network.
Next, I tapped "Add Flic to Hub" and held the Flic 2's button until it showed up on the app's screen. After tapping to define the button on the app, I went through its setup routine for using a WeMo outlet. I set up a single press to turn it on and a double press to turn it off. The buttons also can accommodate a long press as a third option.
Using Flic 2 in the real world
All told, it took 14 minutes to set up a single device to be Flic controlled. Using the preset WeMo routine was one of the easiest things you can do with a Flic 2 button. Unfortunately, this process is limited to several smart home items, like SmartThings, Home Connect Plus, IKEA Tradfri, and Philips Hue devices. There's also an IFTT interface that is flexible enough for just about any contingency.
For the rest, I needed to use Alexa to paradoxically set up a voice command skill and then have the Flic 2 software trigger it. It's awkward and time consuming but works. To control my C by GE Sol lamp took another 15 minutes. I needed to create an Alexa skill and set up a routine to turn the light on and off, which took some back and forth between the Alexa and Flic apps that could likely have been avoided with some clever programming.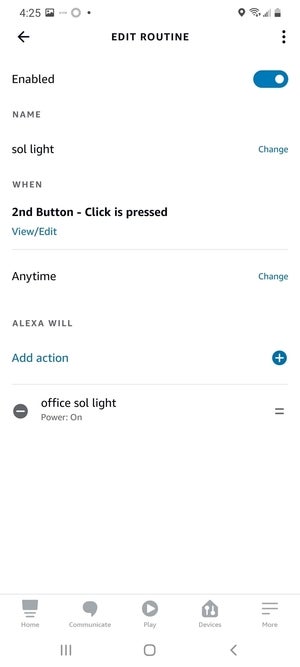 There's hope for the future because Shortcut Labs is heavily involved in establishing Matter and is providing the needed software to get this effort going. If it comes to pass, any Flic 2 button should be able to be programmed to directly control any supported smart home device with a lot more ease. Personally, I can't wait.
The Flic 2 buttons had excellent range with the ability to stay online up to 95-feet a two walls away from the hub. When operating, the Hub LR only used 1.2 watts of power and never got more than warm. It should cost an estimated $1.35 a year if you pay the national average of 13 cents per kilowatt hour of electricity.
At times, I was frustrated by the push-button aspect of Flic 2, but Shortcut Labs is working on an alternative. Called Twist, it will not only have a dial to adjust a variety of items, but will be able to apply a second action by pressing the central button while turning the dial. Slightly larger than today's Flic 2, tomorrow's Twist will work with the current hub to do things like adjust the volume of an audio stream and dim the lights from one location. Look for a smaller and cheaper hub as well.
In the here and now, Flic 2 can be a valuable addition to a smart home by letting you turn anything on or off at the touch of a button. Try to be careful, because the biggest danger of using the Flic 2 system is that it can be addictive for controlling a variety of smart home devices. Once you get started with individual lights, turning on Spotify and starting the water sprinkler, you run the risk of being hooked.