At a Glance
Expert's Rating
Pros
Clean, clear, open sound
USB input for computer source
High-quality headphone output on front
Excellent build quality
Cons
Bass is lacking without a subwoofer
Limited to 16-bit/44.1 or 48 kHz input; downsamples higher resolutions
Cable between the speakers is a bit short
Our Verdict
The HD3 is a fine-sounding desktop speaker system with excellent built quality. The bass is a bit weak, but that's to be expected from such a small speaker.
Price When Reviewed
$349
Best Prices Today: Audioengine HD3
When my wife needed new desktop speakers for her computer workstation, I did some research and quickly learned that Audioengine is one of the most well-respected names in that market. Even better, the Audioengine HD3 is small enough to fit in the tight spaces on either side of her computer. But would it sound good enough for her discerning ears? Happily, the answer is clearly "yes."
Features
The Audioengine HD3 is a self-powered system consisting of a pair of small speakers, each measuring a mere 7 x 4.25 x 5.5 inches (HxWxD), which is small enough to fit where they need to go on my wife's desk. Despite their diminutive size, they are fairly hefty—the left (powered) speaker weighs in at 4.0 pounds, while the right (passive) speaker is just a bit lighter at 3.4 pounds. The build quality is exceptional, with 0.7-inch-thick, high-resin MDF cabinets that include extensive internal bracing, heavy sound-damping material, and real walnut veneer. (They're also available in satin black and high-gloss white.)
This review is part of TechHive's coverage of the best Bluetooth speakers, where you'll find reviews of the competition's offerings, plus a buyer's guide to the features you should consider when shopping for this type of product.
Behind a removable magnetic grille, each speaker sports a 0.75-inch silk-dome tweeter with neodymium magnet and a 2.75-inch aramid-fiber woofer with a custom-designed voice coil. The bass-reflex cabinet has a front-mounted slot port, which was important in my case, since the speakers would be placed within a confined space. All told, the frequency response is specified to extend from 65Hz to 22kHz (±2 dB), which is quite respectable for such a small speaker.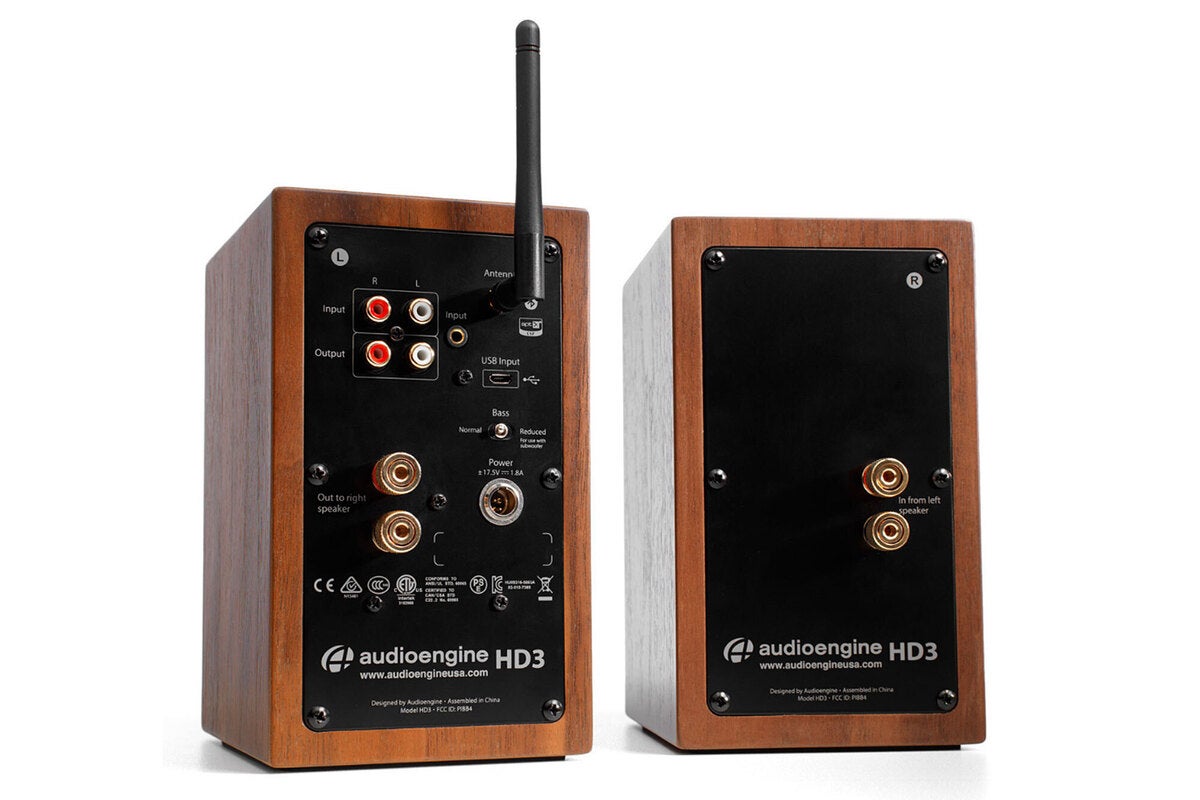 As with most such stereo-speaker systems, all the electronics are found in one speaker—in this case, the left one—which connects to the other speaker with a cable. The HD3 provides 15 watts RMS/30W peak per channel from an analog class-AB amp with a signal-to-noise ratio of >95 dBA, THD+N of
The HD3 offers several means to accept an audio signal. Being a computer-oriented system, there's a microUSB port on the back of the left speaker for direct wired connection to a computer. That port can accept digital audio at resolutions up to 192 kHz/24 bits, but the DAC (digital-to-analog converter) downsamples anything higher than 44.1 or 48 kHz to one of those sampling rates, whichever can be calculated with simple division (for example, 88.1 becomes 44.1, 96 becomes 48, etc.). Also, 24-bit files are downsampled to 16 bits. According to Audioengine, those 16 bits (and native 16-bit files) are then upsampled to 24 bits for internal processing "in order to achieve a higher signal-to-noise ratio and lower noise floor."
The DAC is a Texas Instruments PCM 5102A, which can accommodate resolutions up to 32 bits/384 kHz. When I asked why the HD3 is limited to 16 bits and 44.1 or 48 kHz, a company rep replied, "The primary focus of the HD3's design was the inclusion of Bluetooth aptX HD and keeping the high-quality sound that Audioengine is known for at a great price point. USB was also added for an additional way to connect, as well as analog 1/8-inch and RCA for lots of options, but there were some engineering limitations in the implementation. Being able to accept both 44.1 and 48 kHz can be important because a lot of audio is recorded at 44.1, but a lot of video is encoded at 48. Avoiding a change to the sample rate is good in these cases."
Why use such a high-resolution DAC? "While the USB input is 16-bit, 44.1/48 due to our Bluetooth module design, we chose the 32-bit PCM 5102A DAC so the Bluetooth aptX HD stream can come in at full resolution. We could have fed USB audio directly into the 5102A, bypassing the Bluetooth module, but that would have required an input-select switch, which might be confusing, since our other speakers have open inputs that don't require any switching. Our customers appreciate this feature."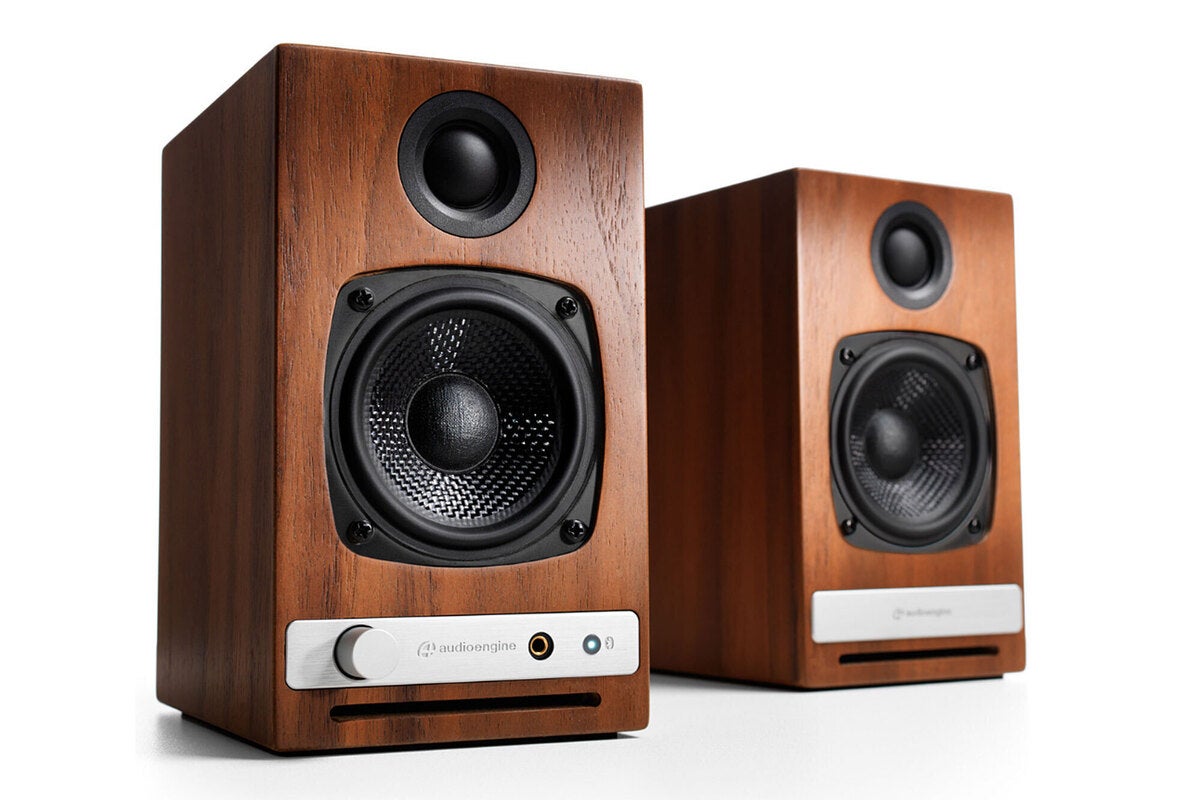 As the rep mentioned, other wired inputs on the back of the left speaker include stereo RCA and 1/8-inch mini-jack inputs. Outputs include a variable-level, full-range stereo pair of RCA jacks on the back, which lets you connect a subwoofer, other powered speakers, or a wireless adapter to stream music to other wireless speakers. In addition, there's an 1/8-inch headphone output on the front—very convenient! Of course, you could always use the computer's headphone jack, but its DAC is probably not as good as the HD3's.
These days, Bluetooth wireless connectivity is a must, and the HD3 implements version 5 with support for the aptX, aptX HD, AAC, and SBC codecs. The included antenna ensures maximum range, which is specified up to 100 feet, and the wireless latency is around 30 milliseconds.
User Interface and setup
As you might expect, the user interface is super simple. The volume/power knob on the front of the left speaker feels very solid and secure with highly damped movement. Also on the front of the left speaker is an illuminated Bluetooth-pairing button.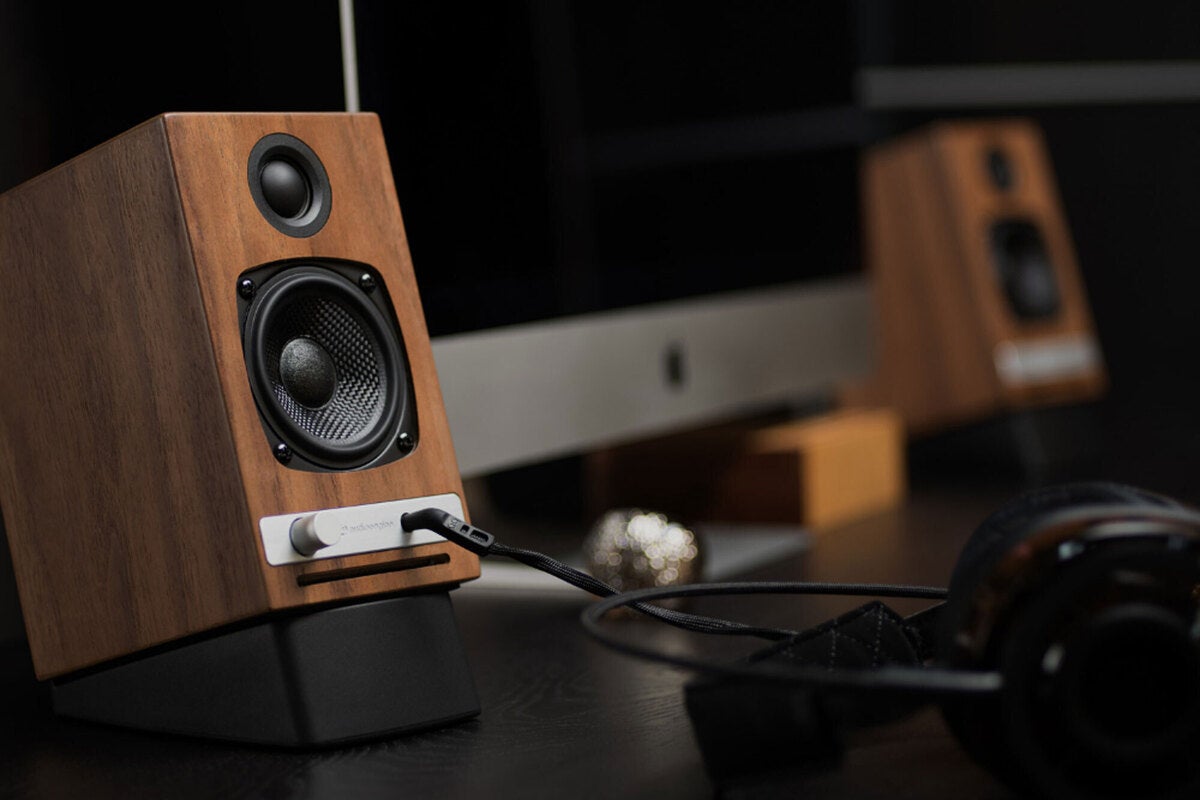 The only other control is on the back of the left speaker. It's a bass switch that lets you select Normal or Reduced, which you would select if you're using the speakers with a subwoofer. I didn't use a sub, so I kept it set to Normal.
The HD3 system comes with a hefty speaker cable to connect the two speakers. It measures only 2 meters (6.5 feet) long, which is a bit short; it just barely reached between the speakers in my evaluation setup and in my wife's computer area. The good news is that the cable has oversized, compressible banana connectors, and the speakers have sturdy 5-way binding posts for that cable.
I did most of my listening via Bluetooth in a free field rather than at my wife's computer workstation so I could evaluate them on the same playing field as other similar speakers. In fact, I compared the HD3's performance with the KEF LSX and Fluance Ai60 in the same space, which I'll discuss shortly. As usual, I played tunes from the Tidal Master library from my iPhone XS.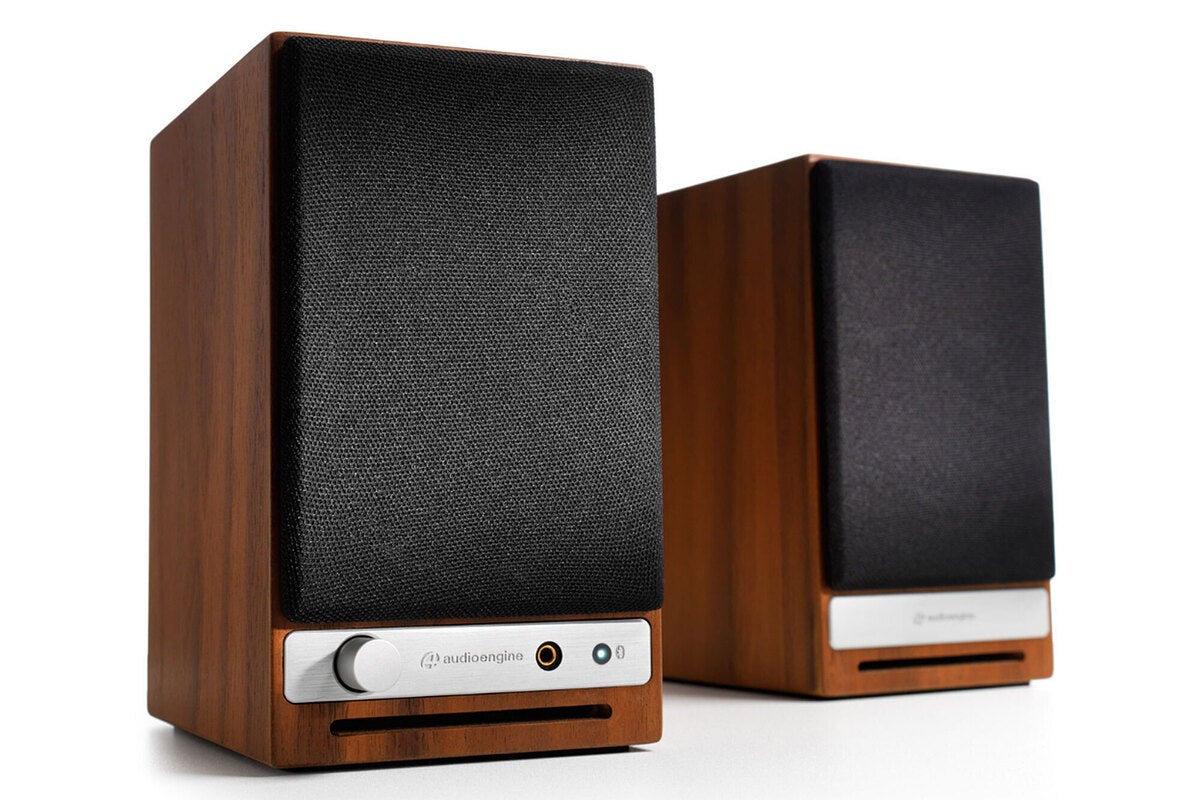 Performance
I started with "Every Little thing She Does is Magic" on Djesse Vol. 1 by Jacob Collier. The HD3 had a wonderfully clean, clear sound that was a bit thin and slightly weak in the bass, which isn't surprising given the size of the woofers.
My notes are almost exactly the same for "Beneath the Waves" from There is a Tide by Chris Potter. The jazz ensemble with clarinet, bass clarinet, tenor and soprano sax, and rhythm section sounded clean and natural, though the electric bass was a bit underwhelming.
Lee Ritenour's solo acoustic guitar in drop-D tuning sounded great on "Low & Slow" from his album Dreamcatcher. The low D, however, wasn't as full as I would like.
In college, I was a big fan of San Francisco funk band Cold Blood with lead singer Lydia Pense, whose voice is similar to Janis Joplin's, though I much prefer Lydia's singing and repertoire. I was amazed to find the band's eponymous first album from 1969 in Tidal's Master library, so I listened to "I Just Want to Make Love to You." As before, the HD3 had a clean, clear sound with excellent vocal rendering, but the bass was a bit weak.
For something more contemporary, I played "King Ghost" from The Future Bites by Steve Wilson. This track is primarily electronic with vocals, and it includes some deep bass, which the HD3 could not fully reproduce. But the vocals sounded nice and natural, and the percussive impulses were clean.
Moving on to country, I listened to "Gentle on My Mind" from Windy City by Allison Krauss. As I had come to expect, the overall sound was clean and clear with great vocal tonality, while the bass was slightly weak.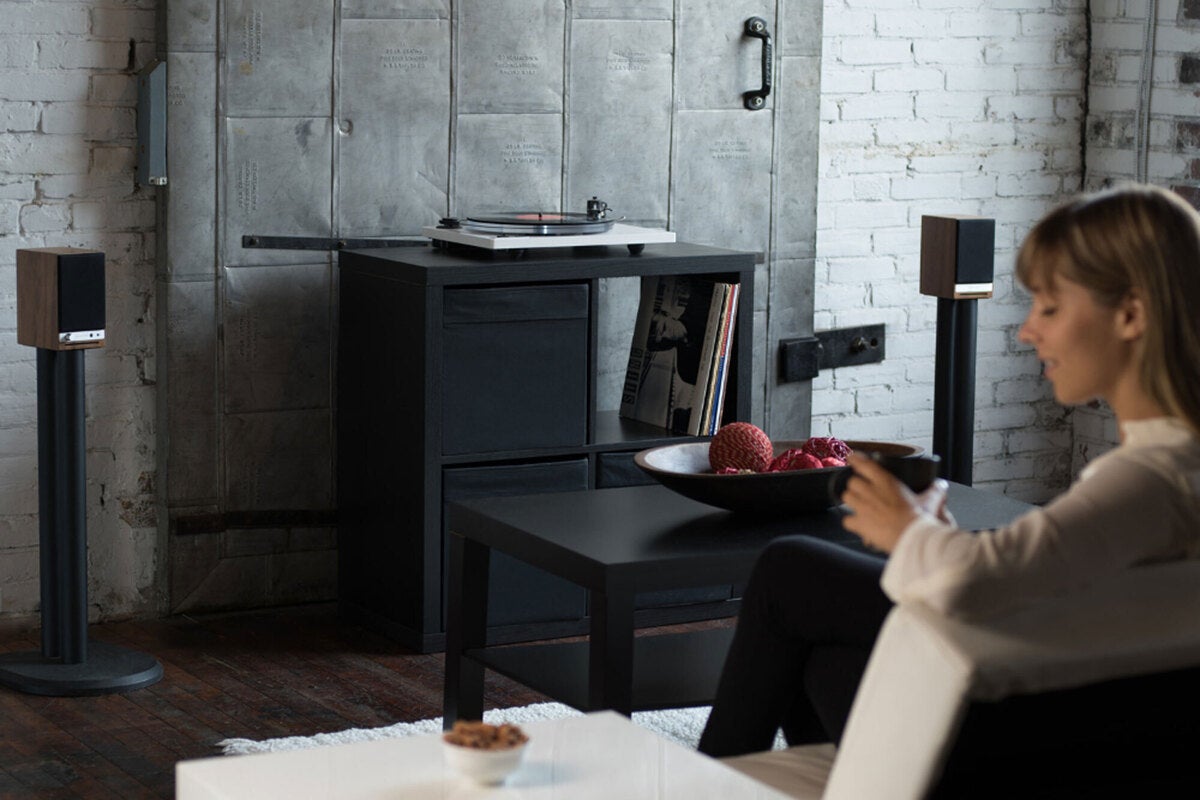 I ended up in the classical genre with the first movement of Beethoven's Piano Sonata No. 27 in E minor, Op. 90, as recorded by Daniel Barenboim. The HD3 had a clean, open, light sound with excellent piano tonality and no congestion, which I often hear on other speakers playing solo piano. Of course, the bass was somewhat anemic.
Turning to some big guns, I played the third movement of Sibelius' Symphony No. 3 in C Major, Op. 52, as recorded by the Hallé Orchestra under the direction of Sir John Barbirolli. Once again, the sound from the HD3 was clean and open with good imaging and soundstage, though a bit thin with underwhelming bass.
Once I installed the speakers in my wife's computer workstation, I spent a little time listening to them via USB from the Tidal Master library. Overall, the sound quality was much the same as I had heard via Bluetooth—clean, clear, and open with natural vocals and instruments, but perhaps a tad smoother with a skosh more air in the high end. The bass was still weak, though, which was not surprising.
Comparison with KEF LSX & Fluance Ai60
KEF LSX Wireless Music System
Price When Reviewed:
$1099.00
I had two similar speaker systems on hand during this review: the KEF LSX ($1,249.98) and the Fluance Ai60 (discontinued, $300 when available). The LSX is only slightly larger than the HD3 but more than three times as expensive, while the Ai60 is much larger but in the same price ballpark.
I listened to all tracks on all three speakers, and the differences between them were very consistent. In all cases, the LSX had a richer, thicker sound with stronger bass than the HD3. In fact, I found the sound to be a bit closed in and congested by comparison, especially in the midrange.

As you might expect, the Ai60 had much deeper bass than either of the smaller speakers, thanks to its 6.5-inch woofer. In fact, the bass was a bit too dominant in some cases. Overall, its sound was rich but clean and open. Also, it had the best imaging and soundstage of the three.
Neither the LSX nor the Ai60 would fit in my wife's computer workstation, which is why I didn't simply install either of them. Also, the LSX does not offer a USB input, though the Ai60 (and its replacement, the Ai61) does.
Bottom line
I really like the sound of the Audioengine HD3: clean, clear, and open with entirely natural-sounding vocals and other instruments. Also, a USB input for computer-sourced audio, front-mounted power/volume knob, and high-quality headphone output are very welcome features.
On the downside, I'm disappointed that the HD3's digital-audio resolution is limited to 16/44.1 or 16/48. The company claims that "engineering limitations" are to blame, but I find it hard to believe that it must downsample 24 bits to 16, only to upsample that back up to 24. It seems to me that keeping a 24-bit signal at 24 bits is simpler and not prone to any noise or level changes that might be added in the conversions. Still, the overall sound quality is excellent, and the primary use case is next to a computer that probably has a fan, so having a true 24-bit noise floor isn't all that important.
I wish I'd had a small subwoofer to use with the HD3 during this review. Without one, the bass is limited, as you would expect. I imagine the sound would be dramatically richer by adding something like Audioengine's own SB8 ($349).
Even without a subwoofer, the HD3 is a fine-sounding desktop speaker system. My wife loves it, and I can see and hear why. It fits where it needs to go in her workstation, and it sounds far better than what she had before. The price of $349 is a bit steep, but the physical and sonic quality are well worth it.
Updated November 15 with some additional information related to Audioengine's choice of DAC and its Bluetooth implementation.