At a Glance
Expert's Rating
Pros
Great sound with multiple EQ presets
Effective active noise cancellation
Highly configurable via the Marshall Bluetooth app
Cons
No user-defined EQ settings, only presets (a firmware update is promised)
Only three sizes of eartips are provided
A bit pricey
Our Verdict
The comfortable Marshall Motif ANC True Wireless Headphone sounds great, delivers effective active noise cancellation, and will last most of a cross-country flight on a single charge.
Best Prices Today: Marshall Motif ANC true wireless headphone
Every Marshall-branded home-audio product I've tested of late has been in the 95th percentile in terms of audio quality, style, and features. The $200 Marshall Motif ANC true wireless headphone reviewed here is the latest example.
Sweden's Zound Industries builds home audio products—speakers, headphones, and earbuds—under license from rock-music icon Marshall Amplification. Zound does a faithful job of conjuring the Marshall spirit by way of covering one element or another of its licensed products with Tolex, a rough-grain textile reminiscent of alligator skin. You'll find it here on the exterior of the Motif's charging case. If the vaguely reptilian appearance doesn't disturb you, you'll like the feel and the grip that Tolex imparts to the case.
The charging case holds enough juice to charge the earbuds for 20 hours of listening time with active noise cancelling (ANC) engaged, and 26 hours with noise cancelling turned off. The batteries in both the case and earbuds themselves (200mAh batteries in the latter) charge fully in three hours. A 15-minute charge of the earbuds will provide about an hour of listening time.
This review is part of TechHive's coverage of the best noise-cancelling headphones, where you'll find reviews of the competition's offerings, plus a buyer's guide to the features you should consider when shopping for this type of product.
Earbud battery life is necessarily a compromise. Batteries that would last all day would weigh far too much to be comfortable—or to remain securely in your ears. Zound promises 4.5 hours of continuous listening with the Motif's ANC enabled, and 6 hours without it.
The charging case features a battery/status indicator and USB-C charging port. Pressing and holding the button below the indicator initiates Bluetooth pairing with your audio sources (smartphone, tablet, digital audio player, etc. Up to three sources can be remembered.)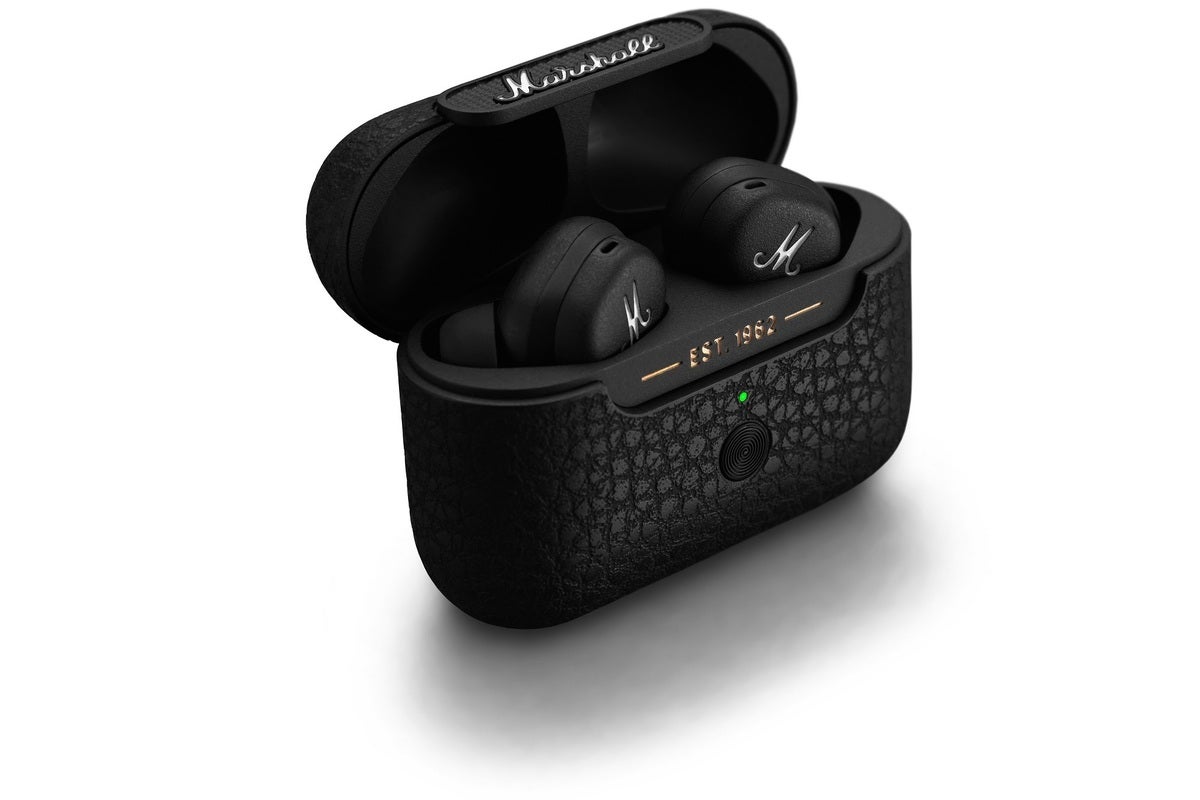 The Motif ANC is equipped with a Bluetooth 5.1 radio. It has three ANC modes: engaged, disengaged, and transparent. In transparent mode, the headphone's four microphones pass ambient sound through, so you can maintain situational awareness. I recommend the latter when strolling about—or not using headphones at all. Being a music mole isn't quite as safe here in San Francisco as it once was (well, it probably never was).
Touching the outside of the earbuds controls various functions (play/pause, next/previous, answer/hang up, etc.). You can change the long-touch functionality (ANC, EQ, etc.), change EQ modes, and change other settings in the Marshall app.
Zound says the 6mm, very low-impedance (16-ohm) drivers deliver frequency response from 20Hz to 20,000Hz. I believe it. Which brings me to sound quality.
Sound
The Motif ANC sound great. Next question.
OK, they won't pay me if I stick with a three-word opinion, even if it pretty much sums up the situation. I found the Motif ANC perfectly tuned for my tastes right out of the box. There was boom when there should be, bass where there should be, and high-end shimmer where there should be.
I noticed no difference in the audio whether ANC was engaged or not. That's a very good thing.
That said, I wouldn't call the Motif ANC's sound reference-quality, as the placement and separation of various instruments in the sound field wasn't as easy to distinguish as with some mastering-quality headsets. But for pure enjoyment, the sonics are top-notch.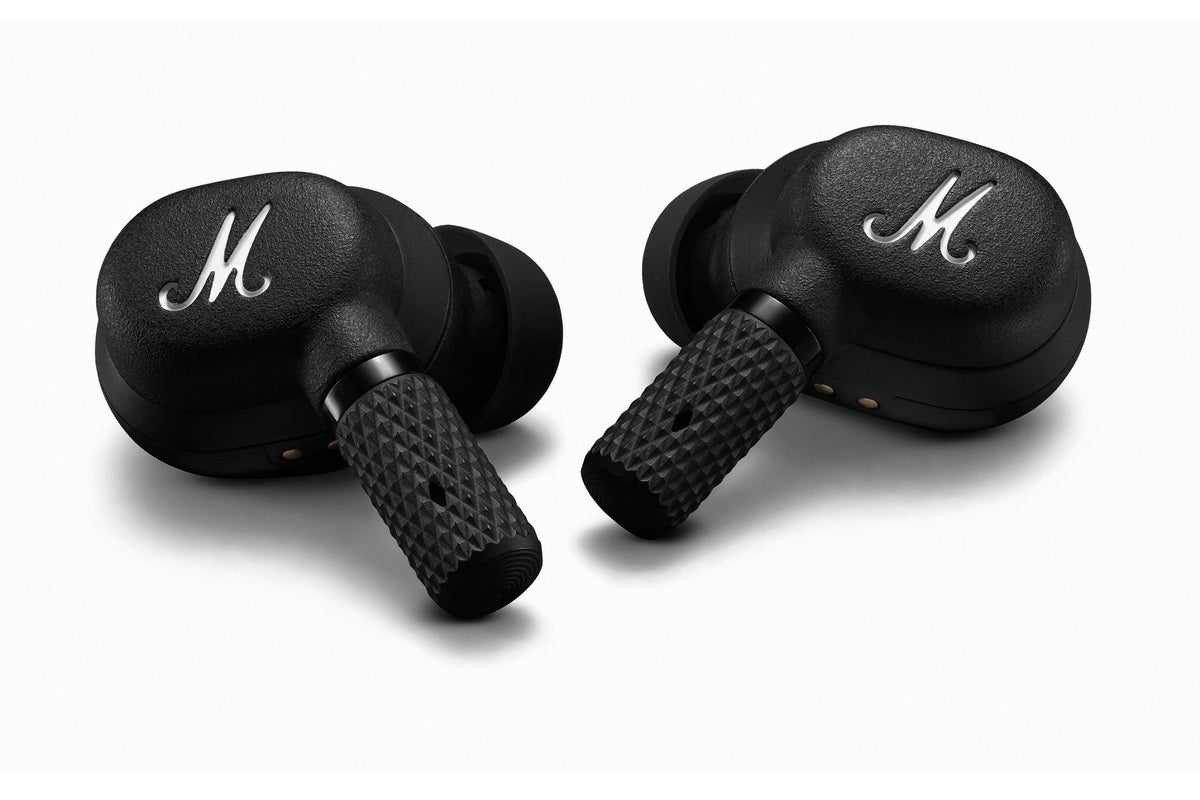 Even better, the manufacturer tells me an upcoming firmwate update will give users the ability to tweak the Motif ANC's EQ settings via the Marshall app. As of my hands-on, there was no way to create a user EQ preset as with the recently reviewed Monitor II over-ear headphone that uses the same app. All that aside, the current Marshall EQ presets—flat, spoken, hip-hop, rock, and so on—should cover just about any taste.
I'm not overly fond of in-ear headphones in general—I simply don't like things in my ear canal—but the Motif ANC felt considerably more comfortable than most I've tried (I used the smallest of the three eartips that came in the box). I wore them for quite a while with no real irritation.
I experienced a bit more listening time than the 4.5 hours the Marshall literature promises; however, there was a considerable amount of down time during my testing. Even so, I'd call the company's claim largely accurate.
Pricey, but great
I more than enjoyed my time with the Marshall Motif ANC. They sound great, they're extremely comfortable, highly configurable, and easy to use. They also look good and cost $50 less than the AirPods Pro they compete with (when Apple's product isn't on sale, that is). A very, very good product.
Best Prices Today: Marshall Motif ANC true wireless headphone