While free video-streaming services are easier on the bank account (don't miss our 30 free picks in this earlier story), the subscription services you pay for—Netflix, Criterion Channel, Shudder, and others—have their advantages. Your movie won't be interrupted by commercials, for starters. You'll also get curated libraries of films that will live, more or less permanently, on these services, so you watch them at any time. (A notable exception is the fine selection of classic Universal horror films available on the Criterion Channel, especially for October.)
Mentioned in this article
Disney+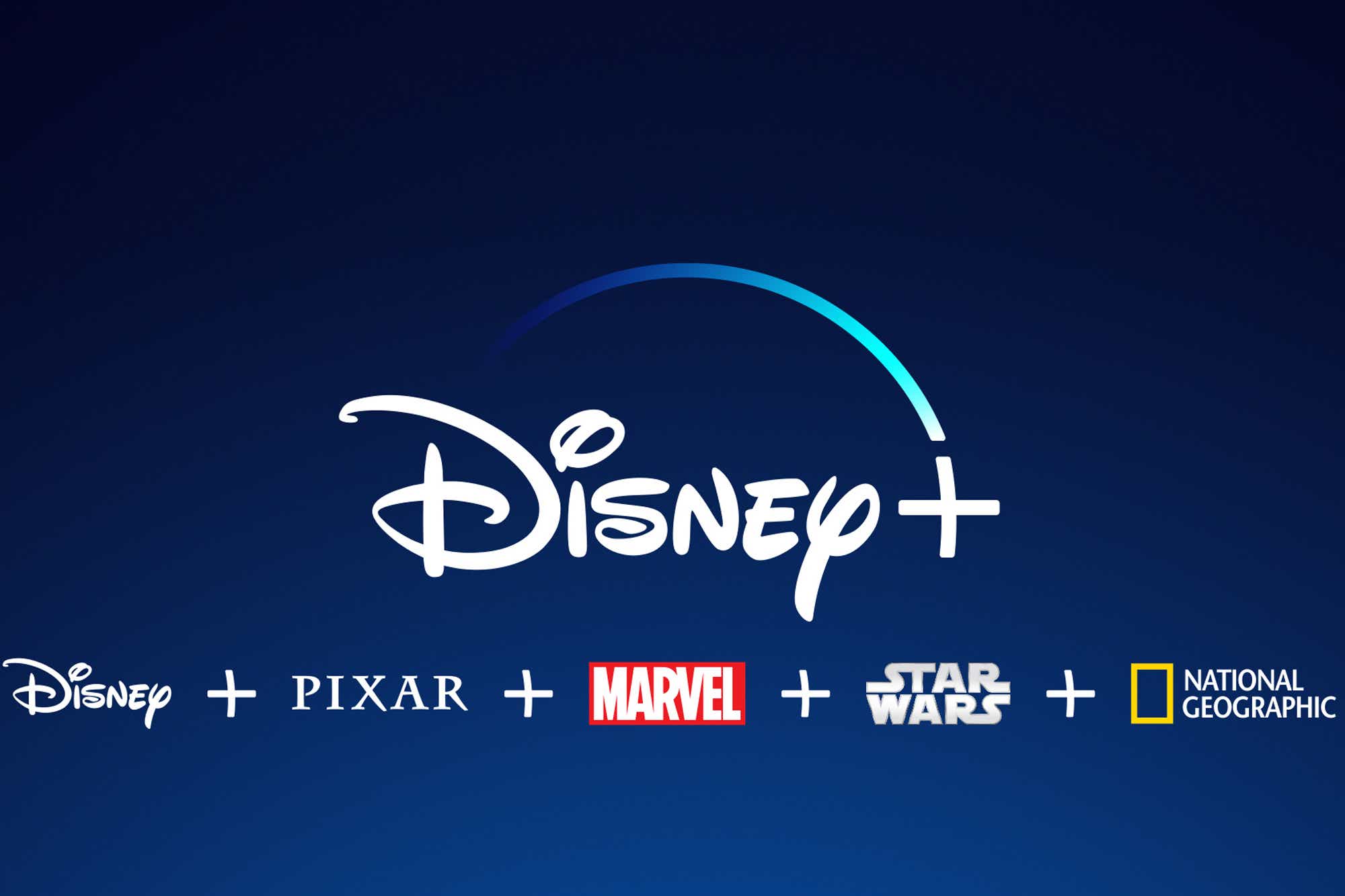 MSRP:
$7.99 per month or $79.99 annually
As COVID isn't quite over, and many of us will remain inside our homes on the spookiest of holidays, we offer a selection of 26 chilling movies, some brand-new, to while away the time. Perhaps the screams will keep the malevolent spirits away, until November comes.
And don't miss the bonus "Ghoul Log," presented annually on Shudder, to help with the holiday mood!
The Babysitter
Stream it on Netflix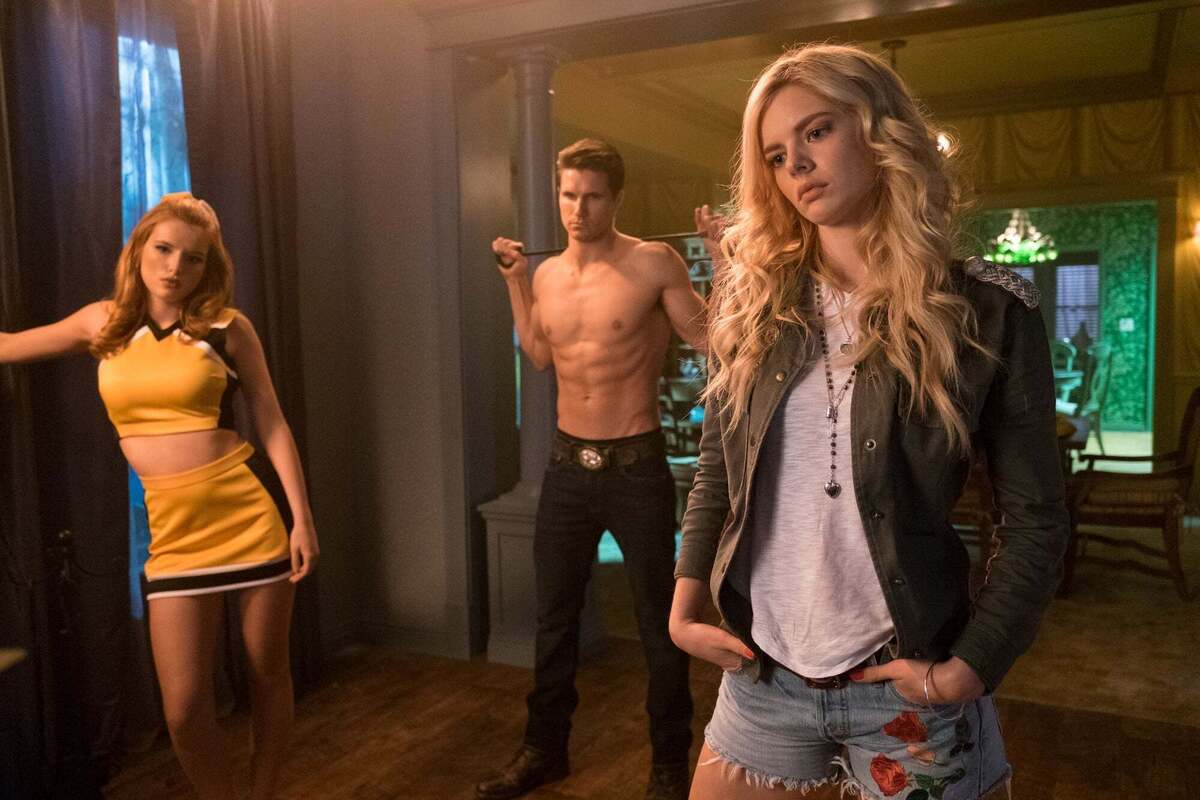 Director McG perfectly applies his slick, gumball-machine style to the Netflix original The Babysitter (2017), a popcorn horror story about a 12-year-old boy, Cole (Judah Lewis), whose parents still hire a babysitter for him. Gorgeous blonde Bee (Samara Weaving) adores Cole and even protects him from bullies. But after he is supposed to be in bed, Cole sneaks out to spy on Bee and her friends and discovers some unsettling truths.
The rest of the cast are hilarious "types;" i.e., the sexy cheerleader (Bella Thorne), the goth girl (Hana Mae Lee), the Black dude (Andrew Bachelor), and the shirtless hot guy (Robbie Amell). The Babysitter is essentially a chase movie, but zippy, sexy, darkly funny, and constantly creative, with a fluid sense of space and movement, as well as lots of blood. Leslie Bibb and Ken Marino play Cole's parents.
The Black Cat
Stream it on Criterion Channel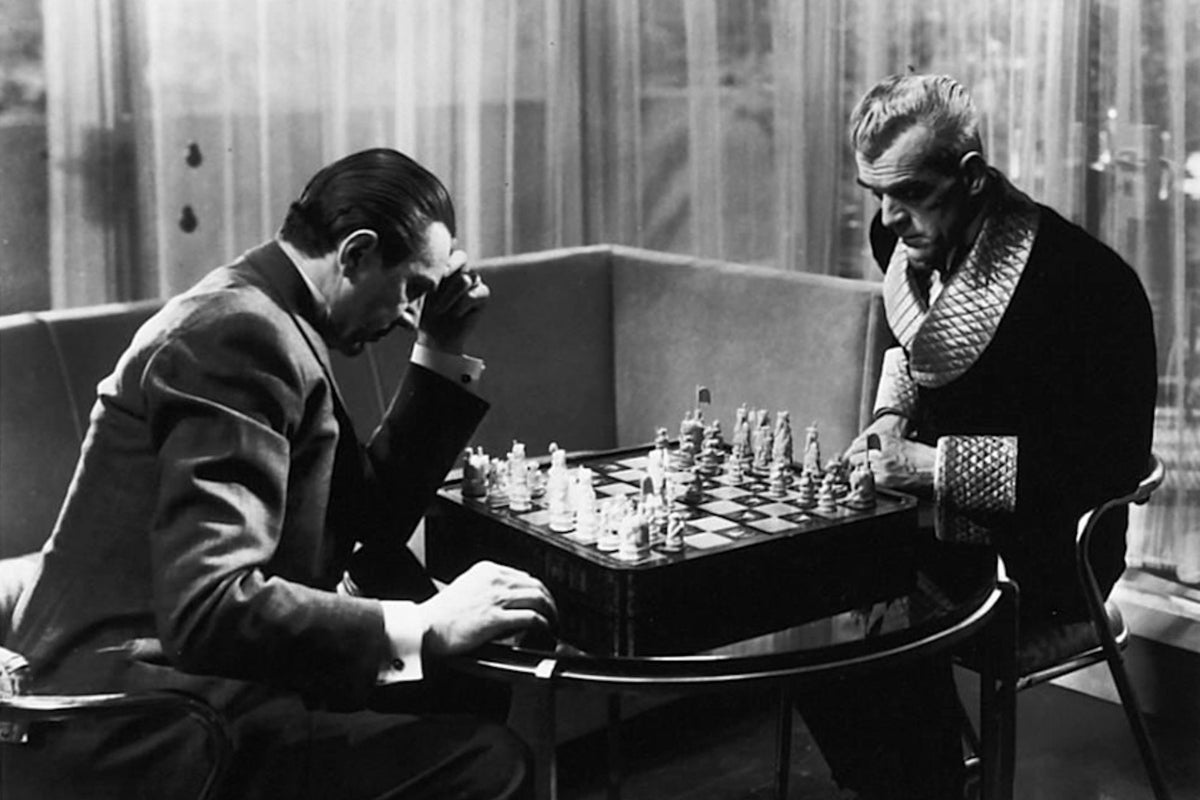 Director Edgar G. Ulmer, who had been a set designer in Germany on films like Metropolis and Sunrise, brought a taste of Expressionism to the utterly bizarre The Black Cat (1934), the first official teaming of superstars Boris Karloff and Bela Lugosi. Following an accident, a young couple on their honeymoon and their traveling companion Dr. Vitus Werdegast (Lugosi) are forced to spend the night in the nearby house of Hjalmar Poelzig (Karloff). It turns out that Werdegast and Poelzig are old-time rivals, having something to do with Werdegast's wife and child.
The visitors happen to arrive on the eve of a planned Satanic ritual, to take place in the sinister lower levels of the house. This amazing, surprising movie gets away with some pretty vicious stuff, including a character tied up and flayed, but its best features are the incredible set design, ultra-modern and yet coldly metallic. Karloff and Lugosi are at their best as well, both devouring the screen, even in quiet moments, such as a chess game to the death.
Bride of Frankenstein
Stream it on Criterion Channel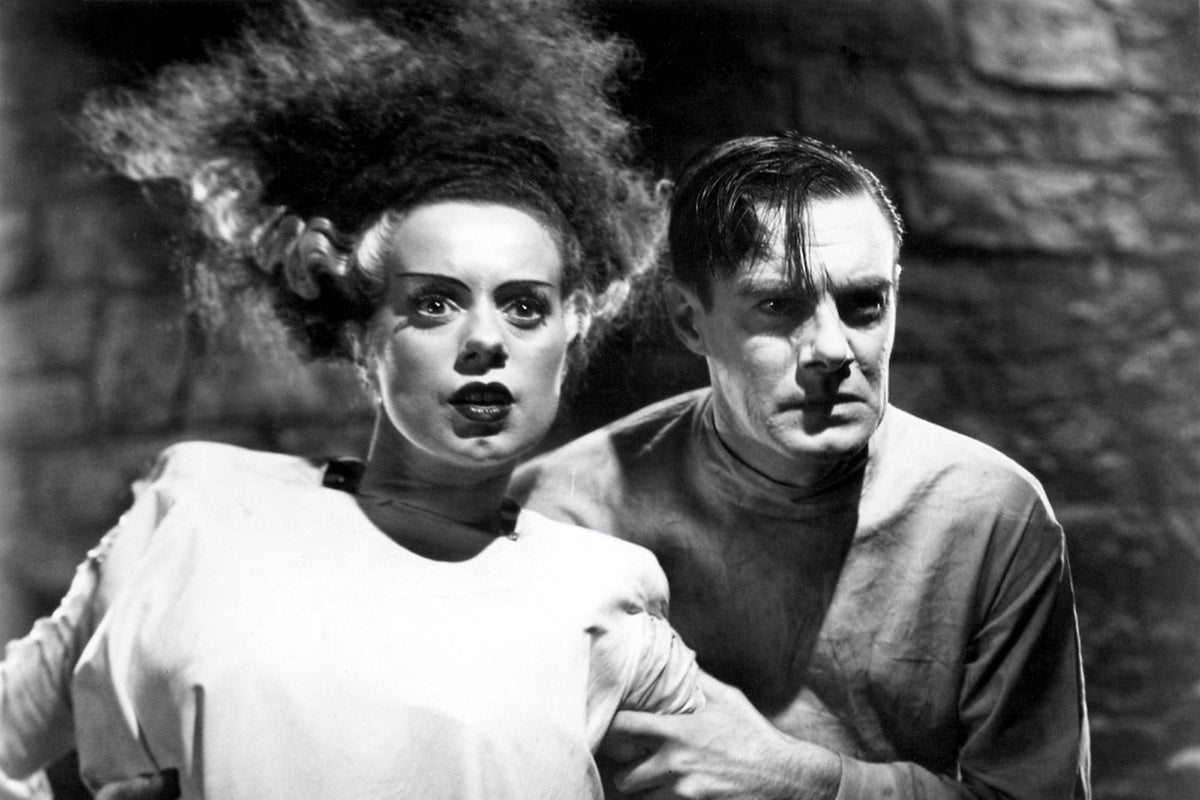 James Whale's Bride of Frankenstein (1935) is arguably the best of all the horror movies made at Universal Studios in the 1930s and 1940s. After the enormous success of his Frankenstein (1931), Whale was given freedom to do whatever he wanted, and he threw every zany, campy, crazy, preposterous, monstrous idea he had into the sequel. Boris Karloff (credited only with his last name) returns as the monster, having miraculously survived the first film.
Mentioned in this article
The Criterion Channel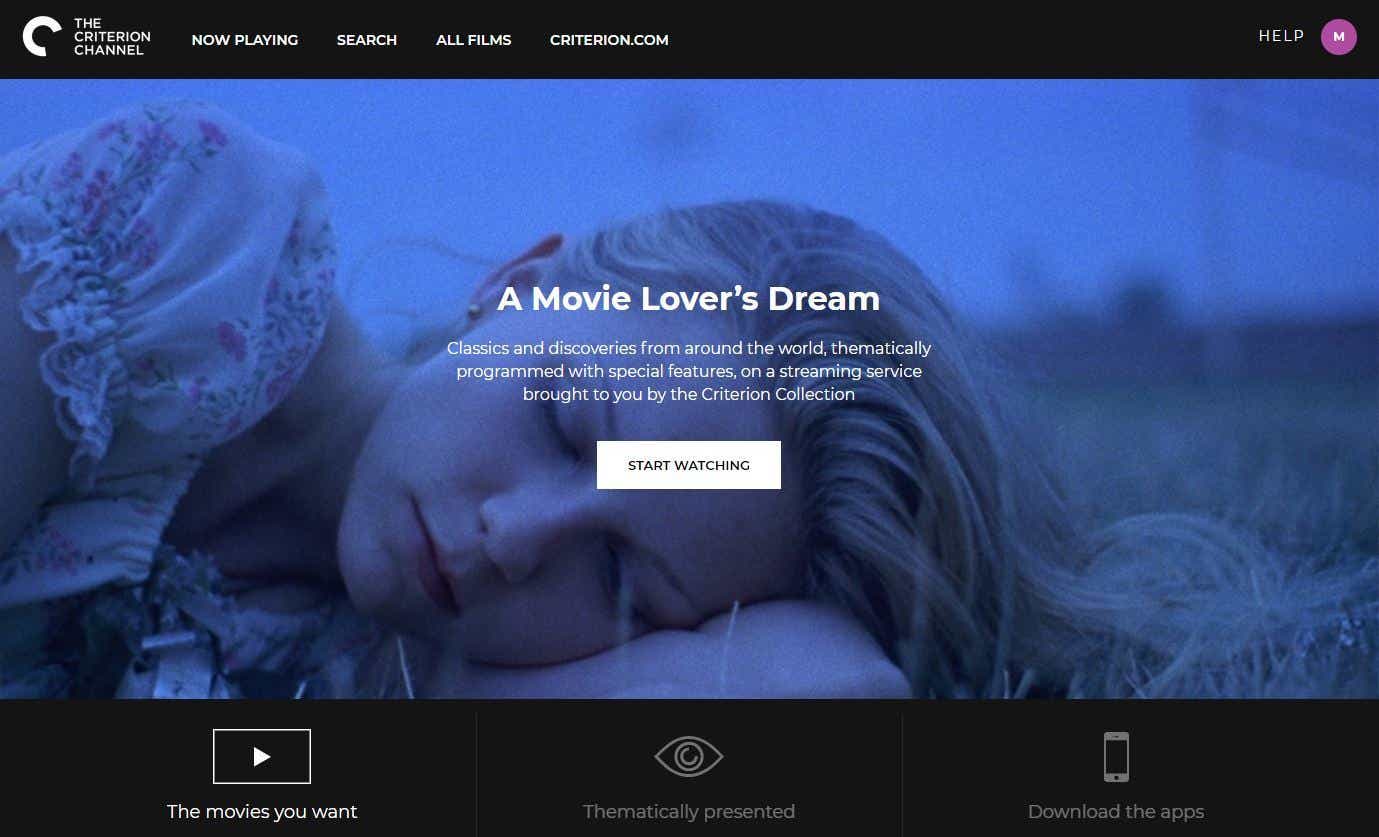 MSRP:
$10.99 per month or $99.99 per year (14-day free trial available)
Elsa Lanchester plays the bride, as well as author Mary Shelley in the film's inspired prologue. Ernest Thesiger is the very campy Doctor Pretorius, who finds Doctor Frankenstein (Colin Clive) and blackmails him into creating another monster. There are creepy little people in glass jars, a snack on top of a ransacked grave, and the monster's famous meeting with the blind man. Una O'Connor steals several scenes as the town busybody. Look fast for John Carradine in an early role.
Cam
Stream it on Netflix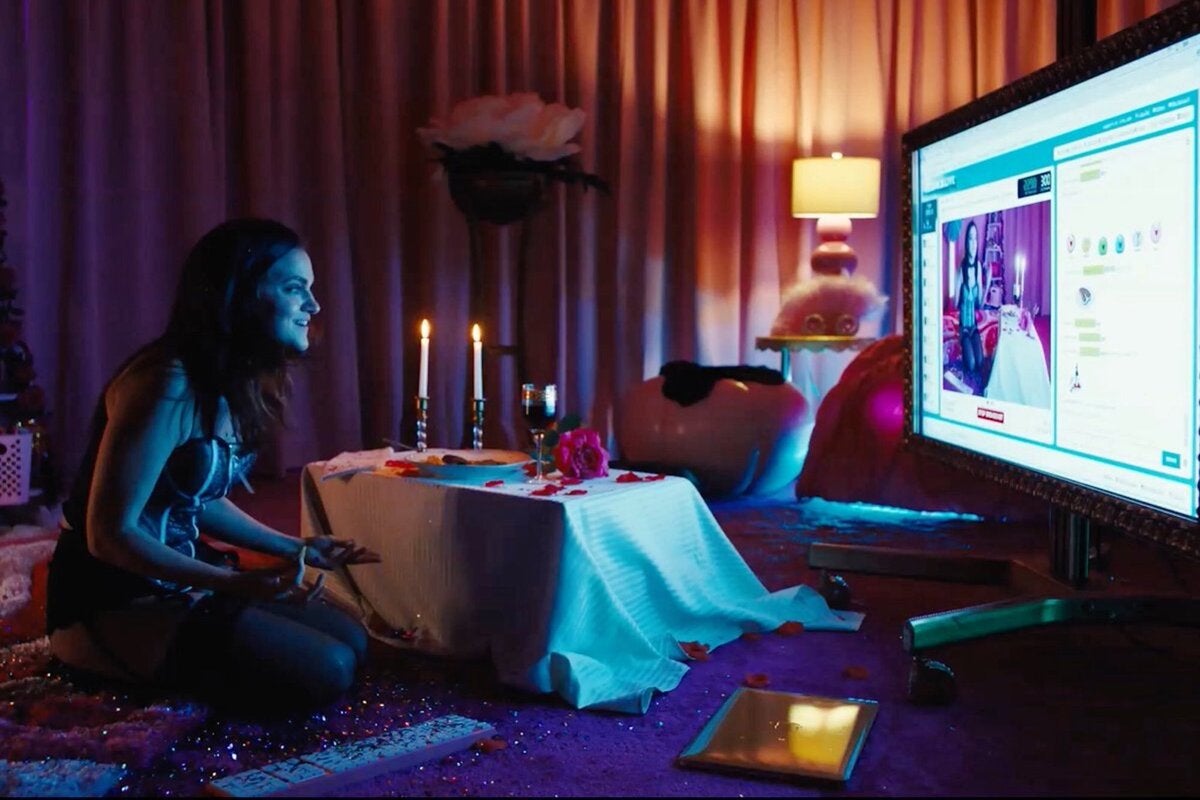 Written by Isa Mazzei and directed by Daniel Goldhaber (from a story by both of them and Isabelle Link-Levy), Cam (2018) is a clever horror movie steeped in primal, everyday kinds of fears. Madeline Brewer gives an amazing performance as Alice, a webcam model who, under the name "Lola_Lola," performs stripteases and other sexual acts for paying customers to watch. She's obsessed with making the top 50 on her site and tries to dream up more and more outrageous ways to get attention. One day, she discovers that "Lola" is online and doing a performance, when Alice herself is clearly not. The doppelganger's shows turn increasingly violent, with fake suicides, etc., while Alice frantically tries to contact the site's owners, or anyone who can help her, but her story begins to sound stranger and stranger.
The movie's nightmarish quest for Alice to assert and establish her true identity is the stuff of all our darknesses, but the digital design and the focus on alluring sex workers gives it an odd, unique spin. If everything is digital, how is anything real? Fortunately, Cam is smart enough to make Alice human enough to lure us in. Melora Walters (Magnolia) co-stars as Alice's mom.
Color Out of Space
Stream it on Shudder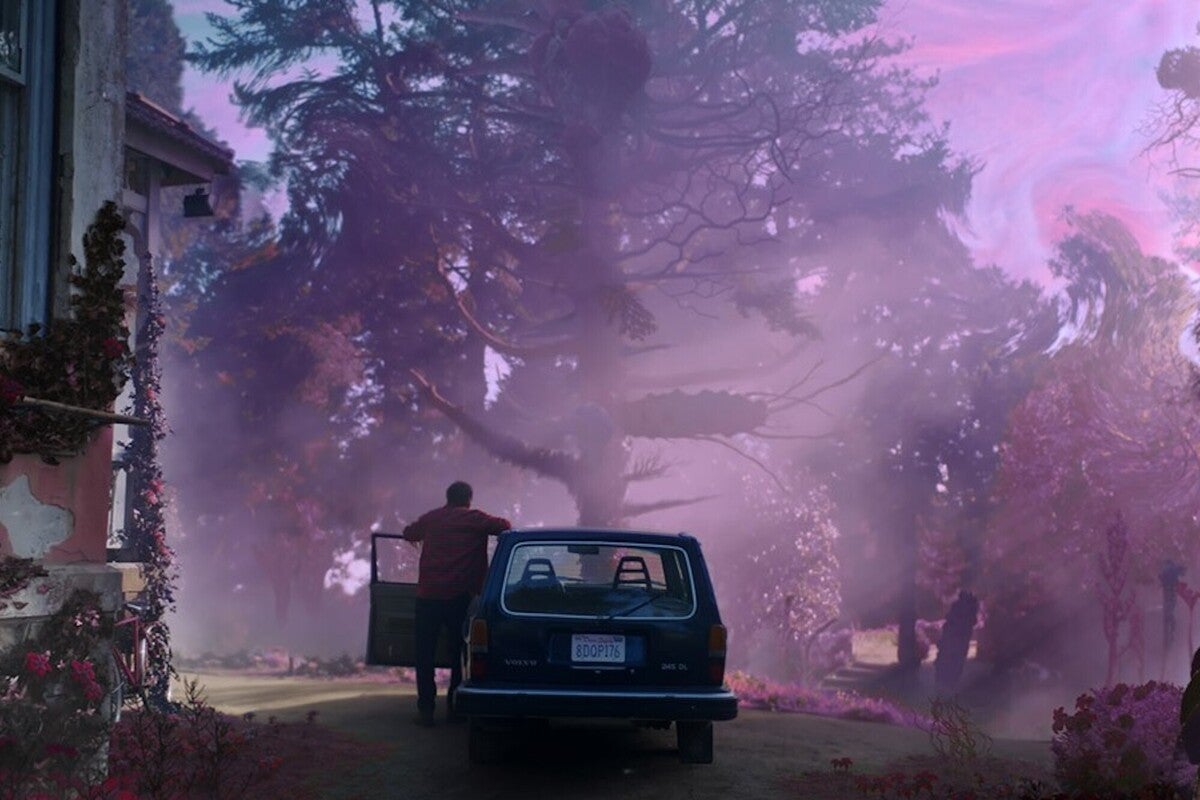 This brilliant adaptation of a 1927 H.P. Lovecraft story has been updated to the present day, and yet still manages to hang onto the story's sense of unnamable dread. Nathan Gardner (Nicolas Cage), his wife Theresa (Joely Richardson), their daughter Lavinia (Madeleine Arthur), elder son Benny (Brendan Meyer), and youngest son Jack (Julian Hilliard), have given up life in the city to work Nathan's father's farm, near Arkham, raising alpacas. A glowing meteor crashes into the front yard, causing everything to go crazy. Jack becomes ill, the animals begin to mutate, and oversized, inedible fruits and vegetables begin to grow. Weird patterns of color also begin to shimmer in the air, as everyone begins acting crazier and crazier.
Aided by an incredible music score by Colin Stetson (Hereditary), Color Out of Space (2020) is constantly unsettling, and intriguing. Director Richard Stanley—who made the 1990 cult classic Hardware, and who is the subject of the documentary Lost Soul, also on Shudder—co-wrote the screenplay with Scarlett Amaris. Q'orianka Kilcher (The New World) and Tommy Chong co-star.
Dead Shack
Stream it on Shudder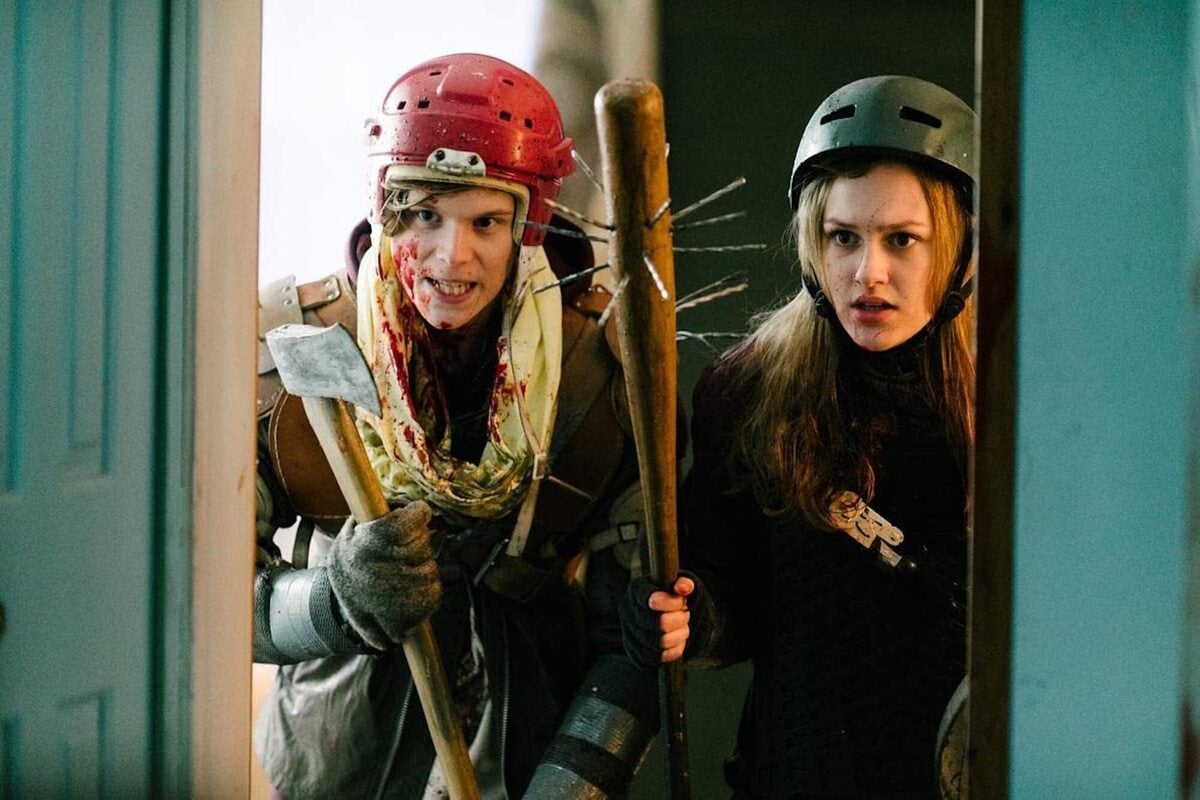 While not particularly original or scary, the spirited, silly horror movie Dead Shack (2018)—with its memorable, grindhouse-like title—has enough charm to be worthy of a viewing by genre fans. Shy, awkward Jason (Matthew Nelson-Mahood) is invited by his best friend, the abrasive, insulting twit Colin (Gabriel LaBelle) to join Colin's family on a little vacation in a cabin in the woods. Jason has a little crush on Colin's acerbic sister, Summer (Lizzie Boys), and his attempts to be kind to her are met with jokes. Colin and Summer's father Roger (Donavon Stinson) is a middle-aged goofball who only wants to get drunk with his new girlfriend, Lisa (Valeria Tian).
Mentioned in this article
Shudder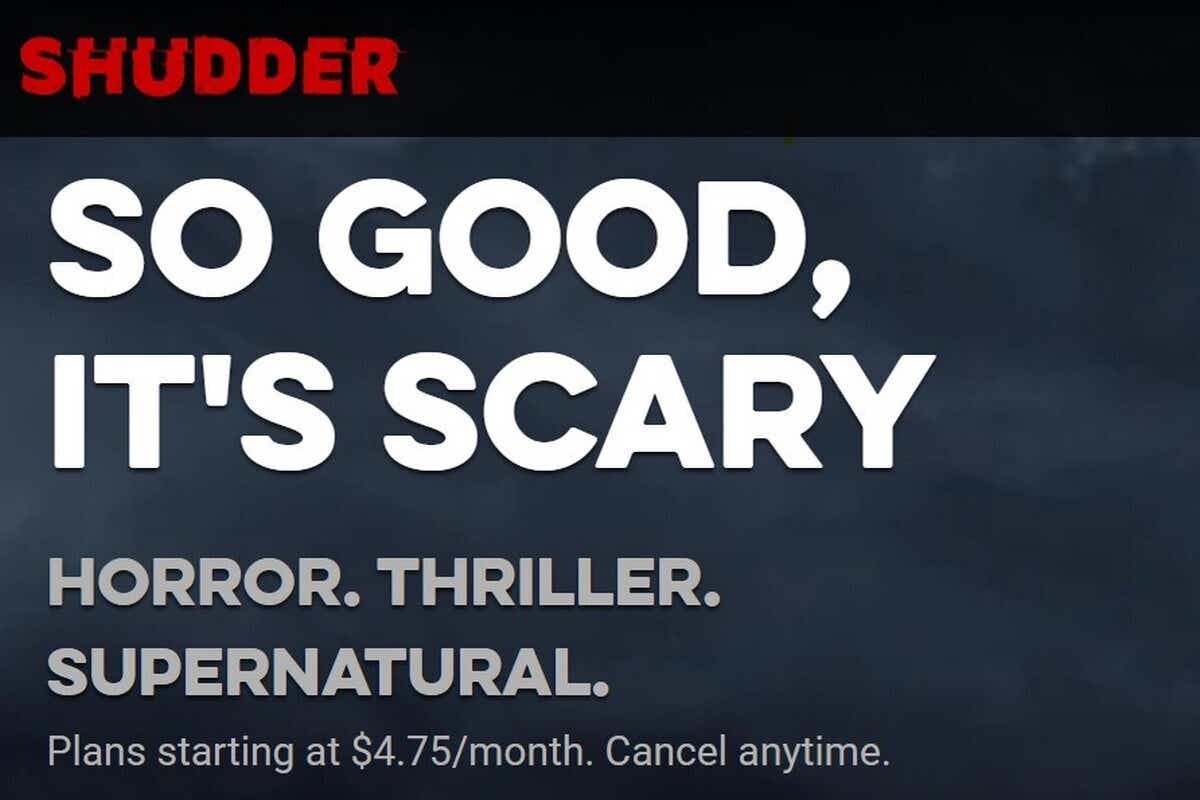 The three teens go exploring and come upon another cabin, where the sexy neighbor (Lauren Holly)—usually clad in tight-fitting black armor—cares for a horde of zombies by luring men there, drugging them, and turning them into zombie food. Aside from the three teens constantly blabbing and insulting each other, the rest of the story involves the usual investigating, screaming, gearing up, zombie-fighting, and splatters of gore, though certainly with a few fun surprises and genuine laughs.
Dracula (Spanish Version)
Stream it on Criterion Channel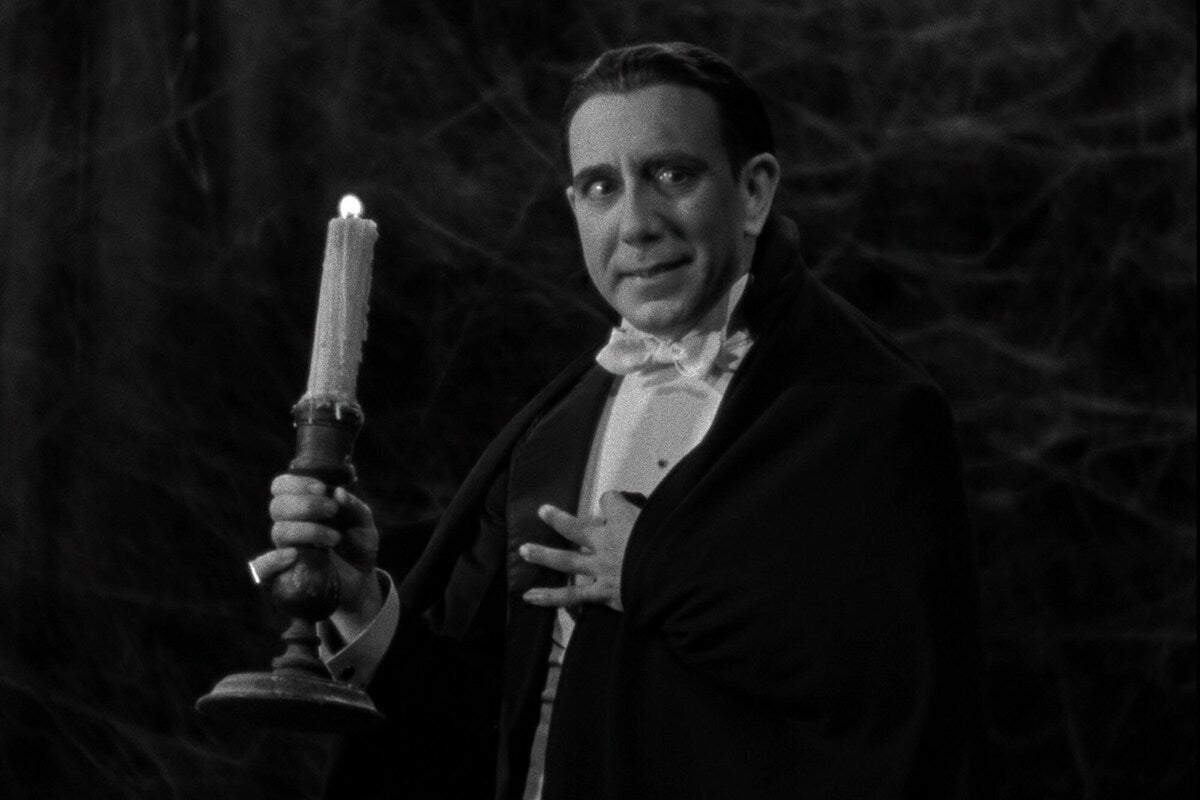 When director Tod Browning shot the 1931 Dracula with Bela Lugosi, the cast and crew would go home at the end of the day, and then a Spanish-speaking crew, led by director George Melford, would report for work, using the same sets and even the same marks, and working all through the night on an alternate version of the movie. Many consider this Spanish-language Dracula (1931) superior to the original, although both have their good points.
The Spanish Dracula, Carlos Villarías, whose round eyes and face resemble a panda, cannot hold a candle to Lugosi's charming, sinister character. And the running time, 104 minutes, is quite a bit longer than the English version's 75 minutes; some scenes feel more fleshed-out, but others feel very pokey. On the plus side, the Spanish version is also a bit sexier than the buttoned-up American version. It's worth seeing this one alongside its better-known companion for a more complete picture. (With English subtitles.)
Fear Street Trilogy
Stream it on Netflix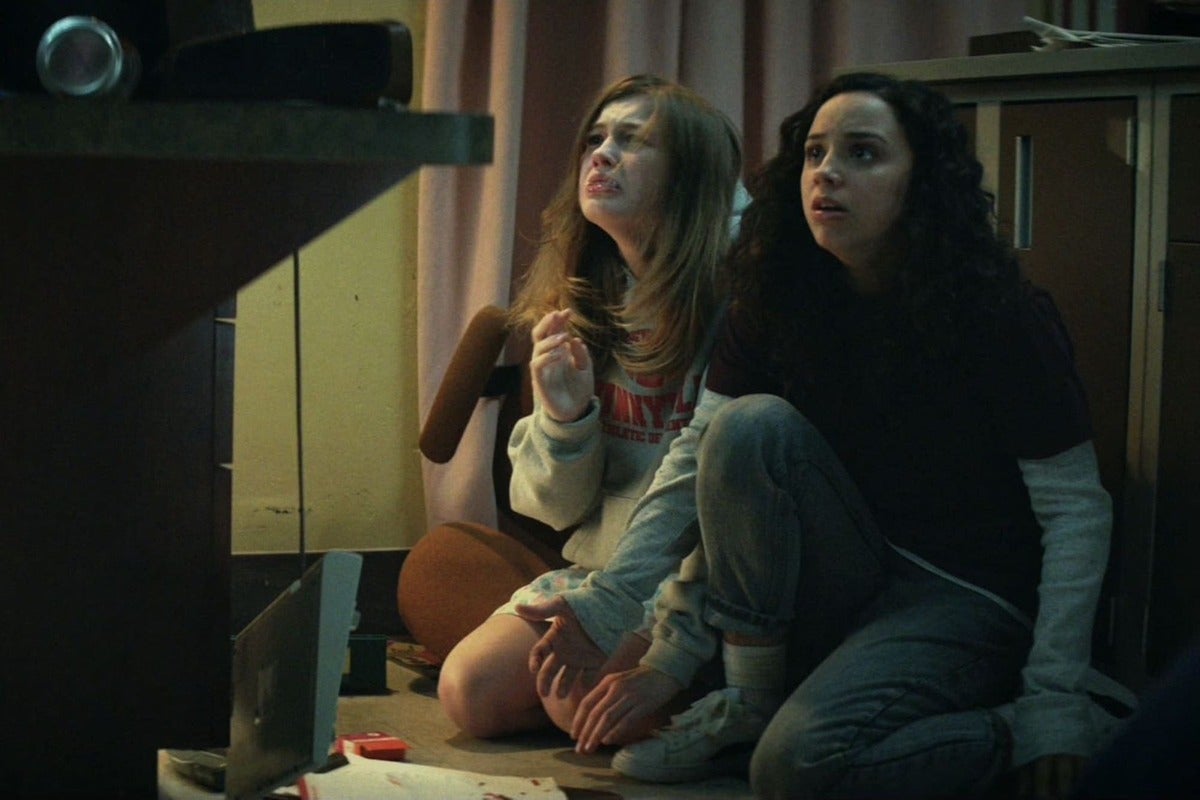 Based on a series of Young Adult novels by R.L. Stine and directed by Leigh Janiak (Honeymoon), the three Fear Street movies achieve the neat trick of feeling like YA stories, but include grown-up gore to please more sophisticated horror fans. Fear Street: Part One – 1994 sets up the tale about a centuries-old witch, "Sarah Fier," who possesses the bodies of teens and goes on murderous rampages (accompanied by some cool, vintage alt-rock tunes). Fear Street: Part Two – 1978 is a summer-camp movie with high socks (think Meatballs meets Friday the 13th). And Fear Street: Part Three – 1666 transports all the actors back in time, playing earlier incarnations of themselves, and ingeniously wrapping things up.
There's lots of carnage and gore, but Janiak's bright, robust tone keeps it from feeling too intense. Sadie Sink (Stranger Things), Gillian Jacobs, Kiana Madeira, and Benjamin Flores Jr. play just a few of the many characters.
Gerald's Game
Stream it on Netflix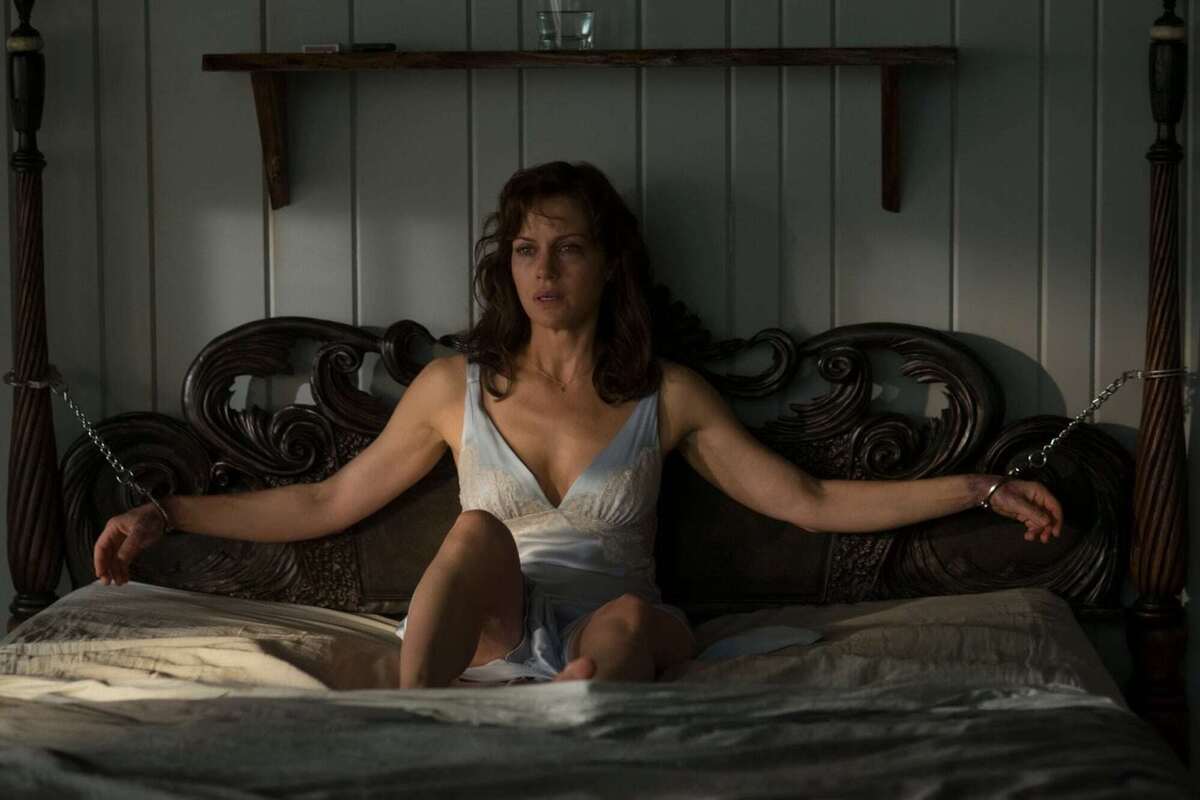 Directed by the king of Netflix horror, Mike Flanagan, Gerald's Game (2017) is surely one of the best Stephen King adaptations of recent years. Set almost entirely inside a bedroom, it echoes Misery, but tells its own incredible story, with its own psychologically powerful twists. Jessie (Carla Gugino) and her husband Gerald (Bruce Greenwood) head to a remote lake house for a weekend of sex, but just as Gerald begins to get uncomfortably kinky, he dies of a heart attack, leaving Jessie handcuffed to the bed.
A stray dog comes into the picture (shades of Cujo), and she begins speaking to apparitions of herself and her husband, and experiencing memories of her childhood that somehow pertain to her current situation. Worse, she begins to see a monster, a tall thing carrying a box of bones, in the dark corner. Many horror movies drop the ball before the end, but Flanagan sees this one out to a logical, humanistic, and satisfying conclusion.
His House
Stream it on Netflix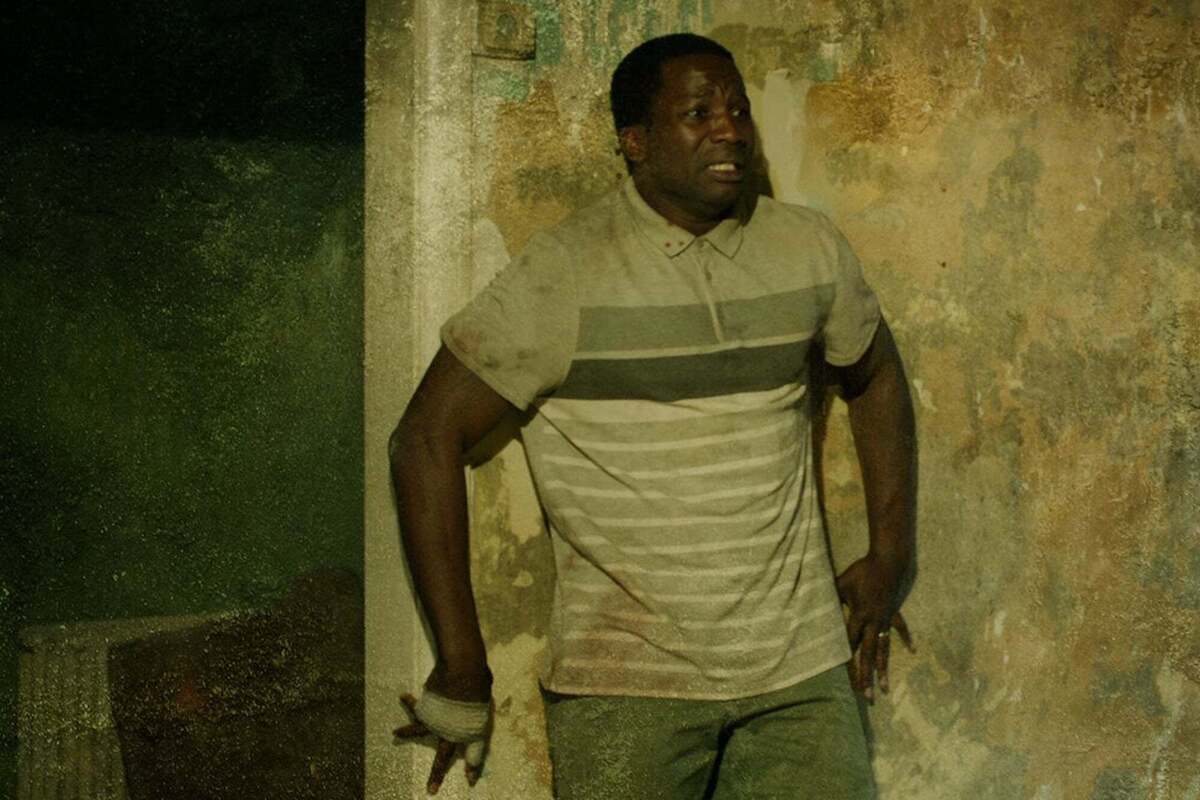 This devastating horror film, directed by Remi Weekes, tells the story of a couple, Bol (Sope Dirisu) and Rial (Wunmi Mosaku), who flee South Sudan for a new life in England. They lose their daughter along the way, we learn, and they are placed in a wretched house, where they must live by several strict rules or be deported. Bol tries to fit in, while Rial continues to embrace her Sudanese traditions.
But soon, scary spirits appear in the house, and before long, Bol is tearing at the wallpaper and bashing in the drywall to stop the torment. Filled with strange visions, powerful depictions of cultural divides, and impeccable storytelling, His House (2020) has a confident flow, placing us right there with this suffering couple, as it slowly unfolds their real story, and the real reason an apeth (night witch) has followed them. And it's plenty scary, too.
Hocus Pocus
Stream it on Disney+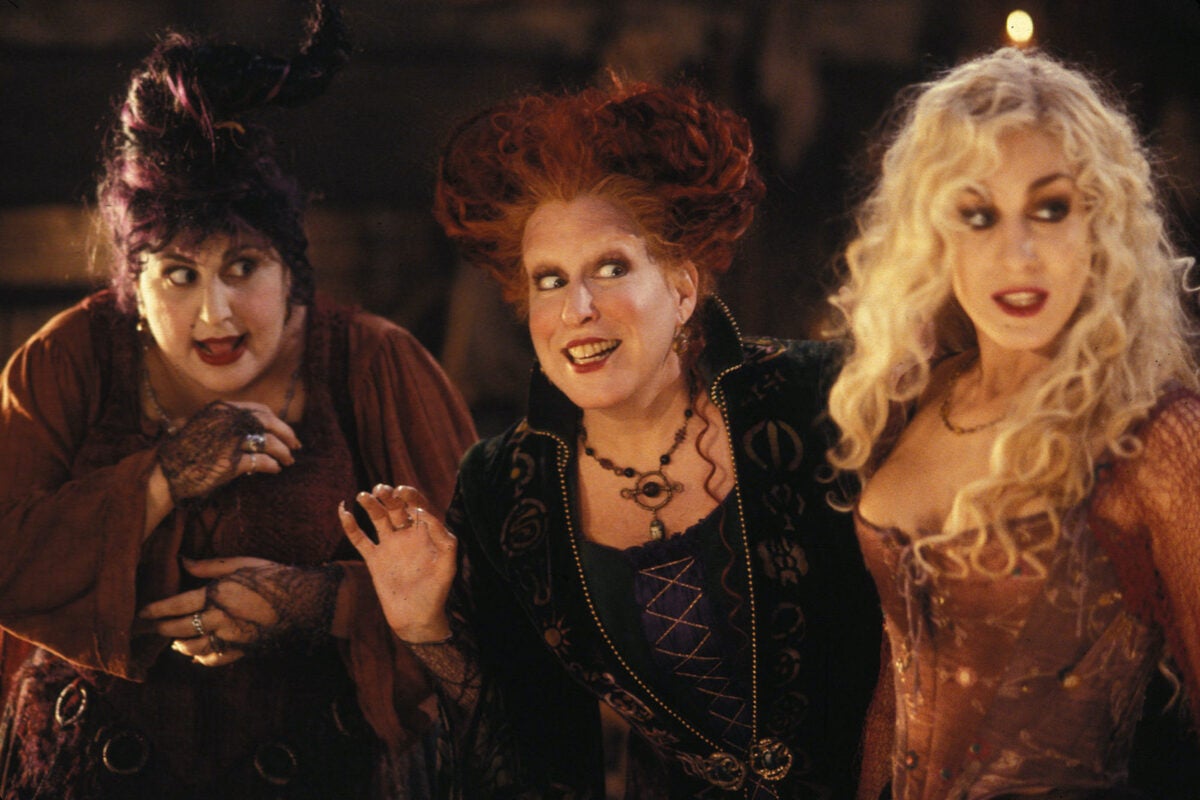 Released in the summer of 1993, Hocus Pocus received chilly reviews and didn't exactly break the box office, but as is the case with many supposed duds, it enjoyed a second life on television and cable, especially around Halloween time. It has since become a perennial cult favorite for a group of rabid fans.
In Salem, Massachusetts, two teens, Max Dennison (Omri Katz) and Allison (Vinessa Shaw), inadvertently release three centuries-old witches—Winnie (Bette Midler), Sarah (Sarah Jessica Parker), and Mary (Kathy Najimy)—who must suck the lifeforce from children in order to retain their youth and stay alive. There's a talking cat, a goofy zombie, and plenty of high-pitched humor, without much subtlety. But it has a check-your-brain-at-the-door kind of charm, and it's easy to see the movie's enduring appeal.
Host
Stream it on Shudder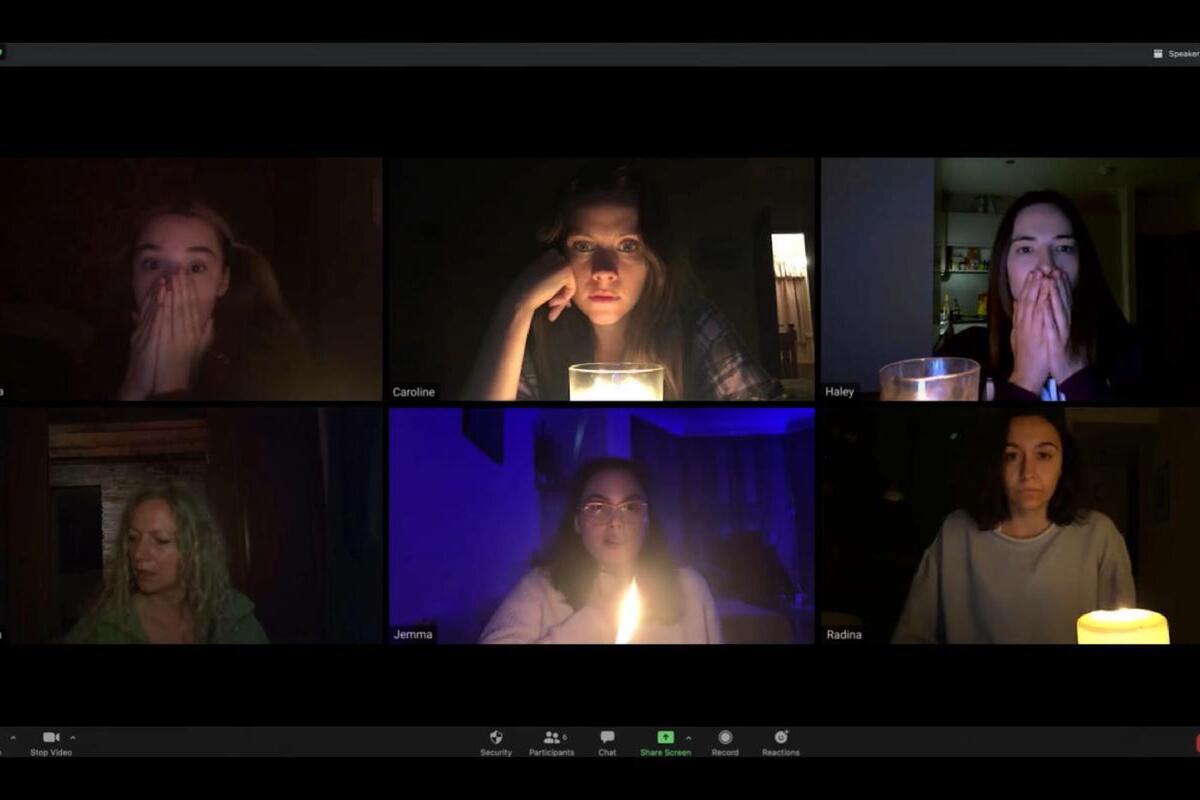 Perhaps the official movie of the pandemic, Host (2020) was shot and released during COVID-19, entirely using what appears to be Zoom. It involves six friends who hold weekly chats. This week Haley (Haley Bishop) wishes to hold a séance, and has included a medium in their call. But the other friends don't take things seriously, and a malevolent spirit is accidentally summoned.
Written by Gemma Hurley, Rob Savage, and Jed Shepherd, and directed by Savage, the movie's constrained camerawork is surprisingly shocking, using the concepts of offscreen spaces, backgrounds, and distances to generate movement and suspense, and the acting is of a decent caliber. Host runs only 57 minutes and makes perfect use of Zoom's limitations for its horrific ends.
The Invisible Man (1933)
Stream it on Criterion Channel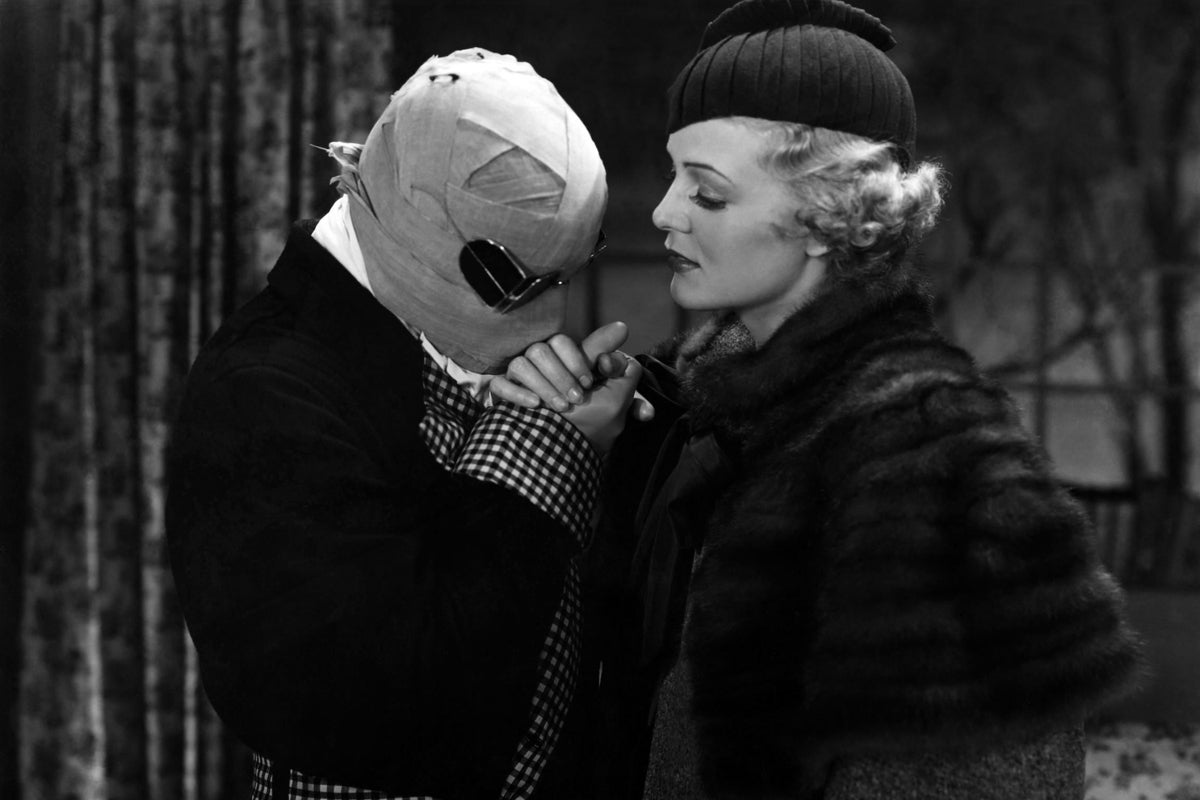 The sly, sophisticated director James Whale made 20 films during his career, and, regardless of how good they were, he will forever be known for just four of them, all horror pictures. After Frankenstein (1931) and The Old Dark House (1932), and before Bride of Frankenstein (1935), he made The Invisible Man (1933), a truly astonishing, strange, and sometimes goofy chiller.
Claude Rains makes his acting debut as Dr. Jack Griffin, the inventor of the invisible serum, although (except for one shot) his face is never seen. (His voice gives a terrific performance.) He first appears, covered in bandages, barging into an inn and taking a room. He's agitated, bosses everyone around, and wishes to not be disturbed, as he works on his formula. Eventually he winds up taking an old colleague hostage and planning murders; the serum is literally driving him insane. Whale approaches the story with genuine curiosity and compassion, finding all that's human about it. Gloria Stuart, future Oscar-nominee for Titanic, co-stars.
The Invisible Man (2020)
Stream it on HBO Max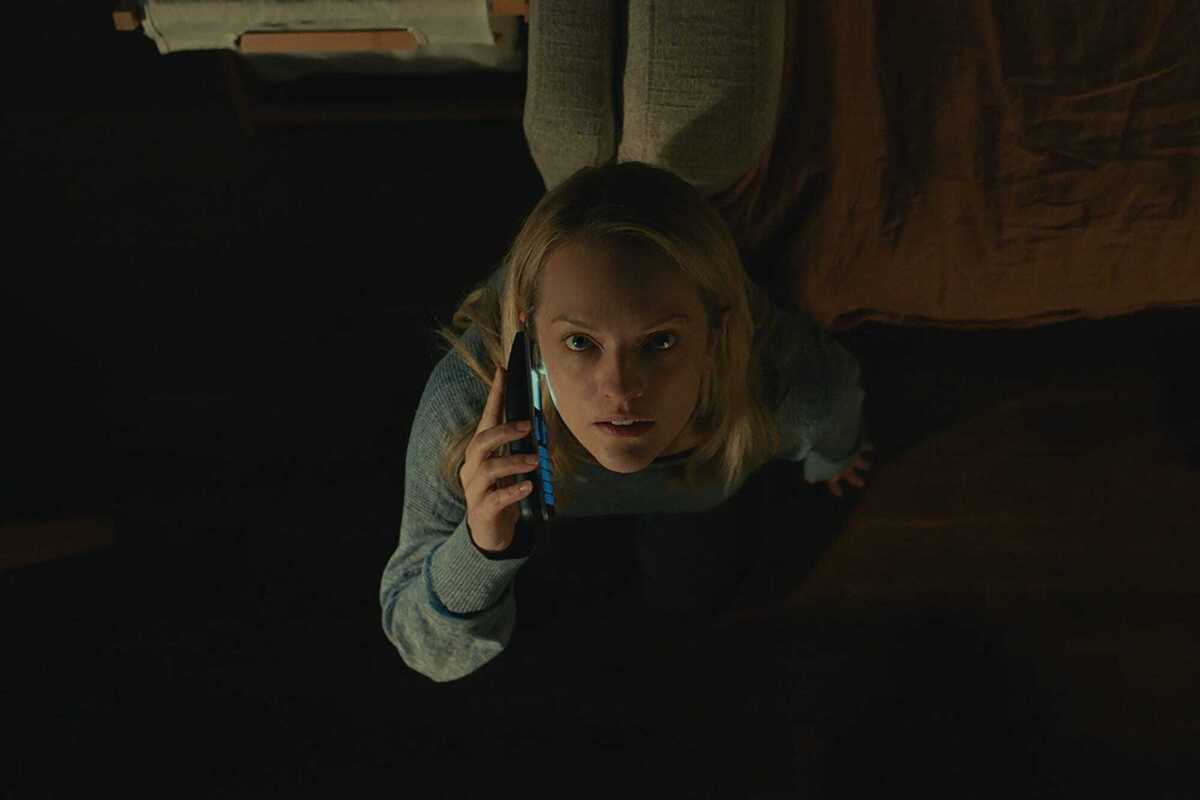 After two disastrous attempts (Dracula Untold and The Mummy) by Universal to turn its 1930s-40s monster movie series into a modern-day franchise, Leigh Whannell's whip-smart, steely The Invisible Man (2020) nailed it. Whannell wisely turned the story on its side with a female protagonist and created a role strong enough for Elisabeth Moss to do her best stuff. She plays Cecilia, a woman who only barely manages to escape from her controlling, abusive husband. After, the husband is reported dead, having taken his own life, but strange things begin to happen. Cecilia develops a preposterous theory: he's still alive, but now he's invisible, and he's tormenting her. But who will believe her, especially when the evidence behind a brutal murder points toward her?
With an eerie, scraping score by Benjamin Wallfisch, and superb visual and sound FX, Whannell creates a strong sense of both paranoia and horror, using the widescreen frame and empty spaces to hide potential scares.
La Llorona
Stream it on Shudder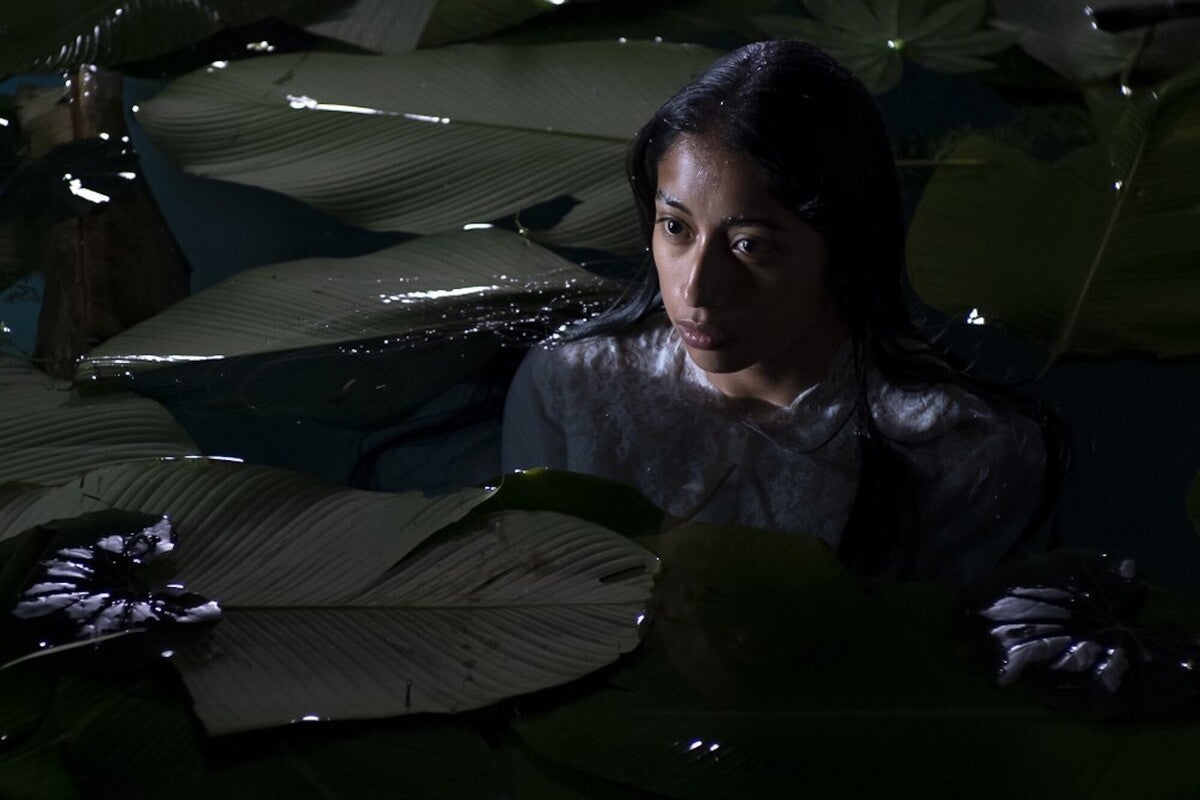 This quasi-horror film was the Guatemalan entry for the Best International Feature Film at the 93rd Academy Awards. Even though it shares a portion of a title with one of the Conjuring-universe films (The Curse of La Llorona), Jayro Bustamante's La Llorona (2020) isn't particularly scary, and it relies more on a sense of the unknown and the uncertain. It plays on audience preconceptions, given that the main character isn't anyone we'd want to root for. He's a former dictator (Julio Diaz), responsible for a genocide, who is unexpectedly released from prison and returns to his family home.
Surrounded by chanting protestors, and with most of the servants quitting, the family goes about life the best they can. But when a strange new girl, Alma (María Mercedes Coroy) comes on board to work as a servant, the dictator's increasingly frequent delusions and illicit behavior bring things to a new level of unsettling chaos. (In Spanish and Mayan with English subtitles.)
Madres
Stream it on Amazon Prime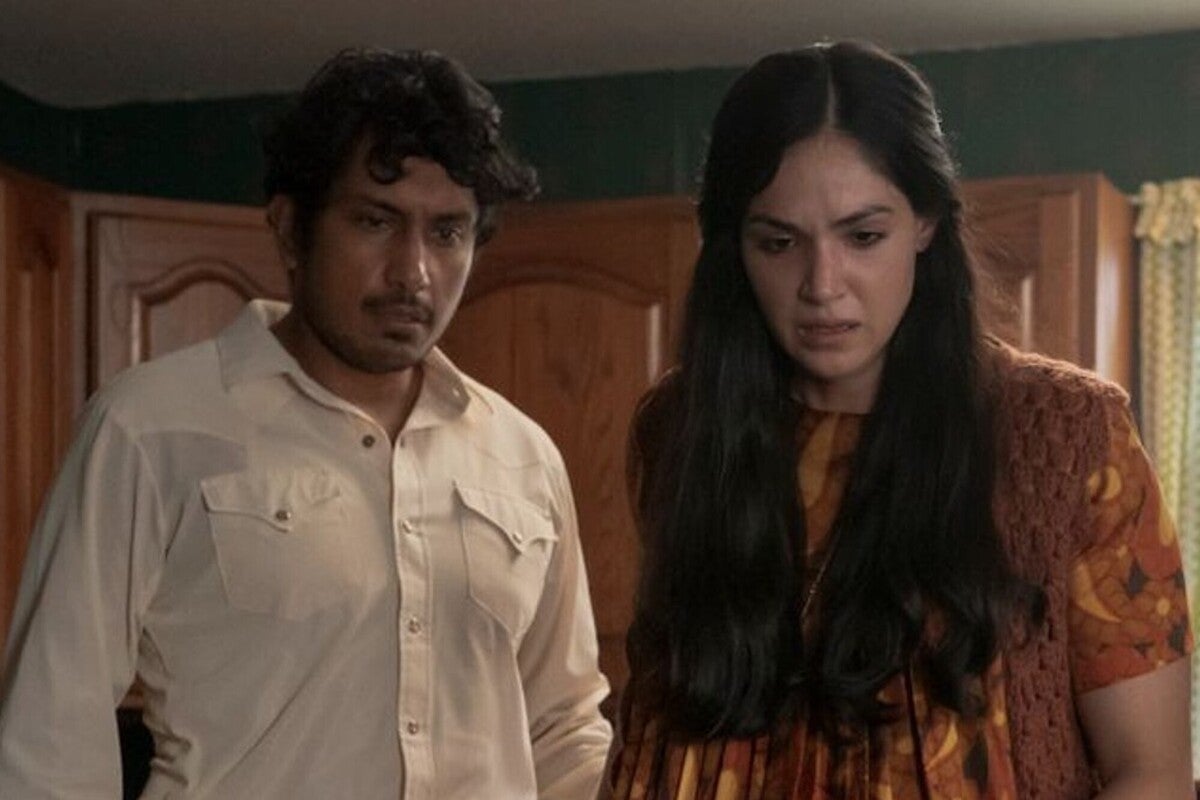 While this "Welcome to the Blumhouse" film has a few freaky moments, it's more of a mystery than a terrifying tale; its handling of themes of the immigrant experience, environmental impact, and women's reproductive rights make it well worth a look. In the 1970s, Diana (Ariana Guerra) and Beto (Tenoch Huerta) move from Los Angeles to a small, Mexican-American farming community, where Beto has been offered a job as a manager. Diana is very pregnant, and as they move into their new home— with remnants left behind by a previous owner—she begins to experience strange occurrences, complicated by the alienating fact that she doesn't speak Spanish.
Written by Marcella Ochoa and Mario Miscione and directed by Ryan Zaragoza, Madres (2021) is pretty straightforward in its storytelling, but it succeeds thanks to its strong performances and a final, shattering takeaway.
Mandy
Stream it on Shudder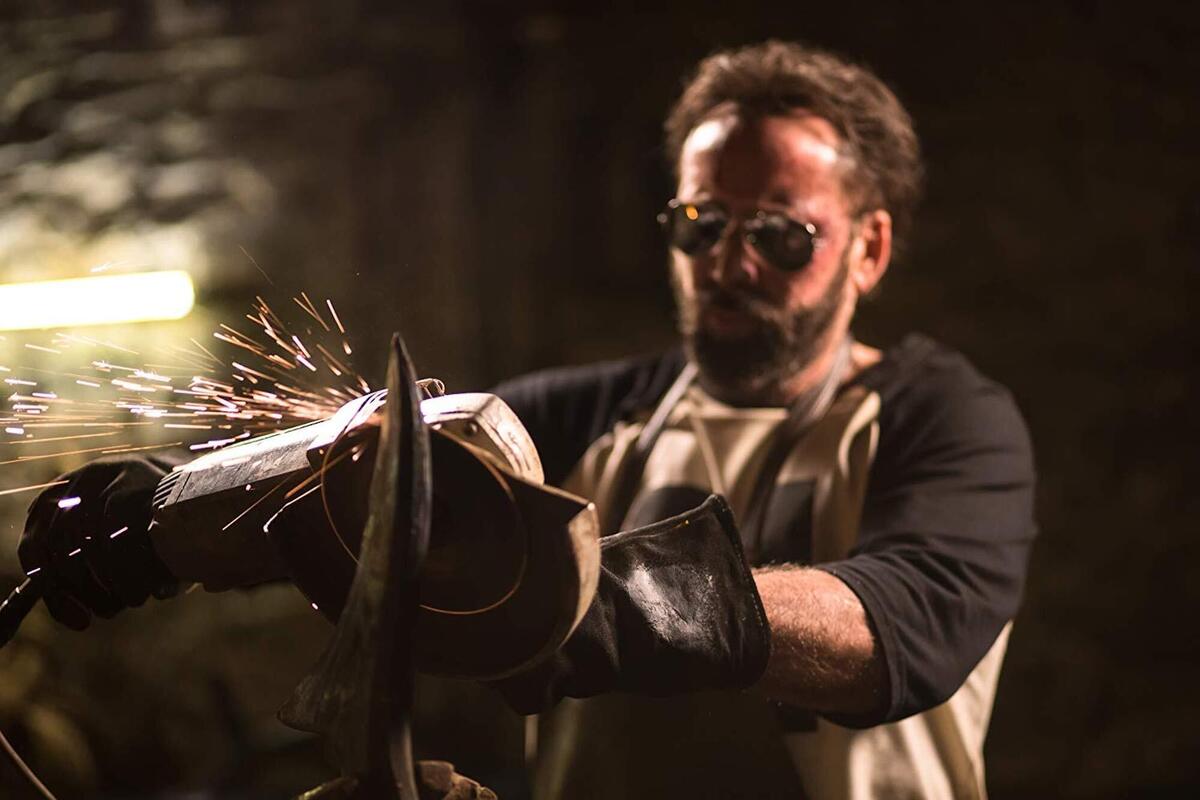 An unbelievably bizarre and disturbing horror/revenge film, slowed down and stretched out like a fever dream, Mandy (2018) is often decorated with gauzy shimmers, scratches of light, that streak across the screen as if we were indeed half asleep. Lumberjack Red Miller (Nicolas Cage) and his beloved Mandy (Andrea Riseborough) live in a remote cabin in the woods. The leader of a sinister religious cult (Linus Roache) spots Mandy and decides to take her. Red is tied up with barbed wire and forced to watch as she is tortured beyond belief. Then, he visits his pal Caruthers (Bill Duke), grabs his trusty crossbow, forges a kind of futuristic steel axelike weapon, and hits the road to take his revenge.
What's shocking is that director Panos Cosmatos doesn't milk any of this for thrills or tension. It's more about creating a mood, a disturbing, distilled visualization of darkness and evil. The brilliant score is by the late composer Jóhann Jóhannsson, who passed away just before this was released.
The Manor
Stream it on Amazon Prime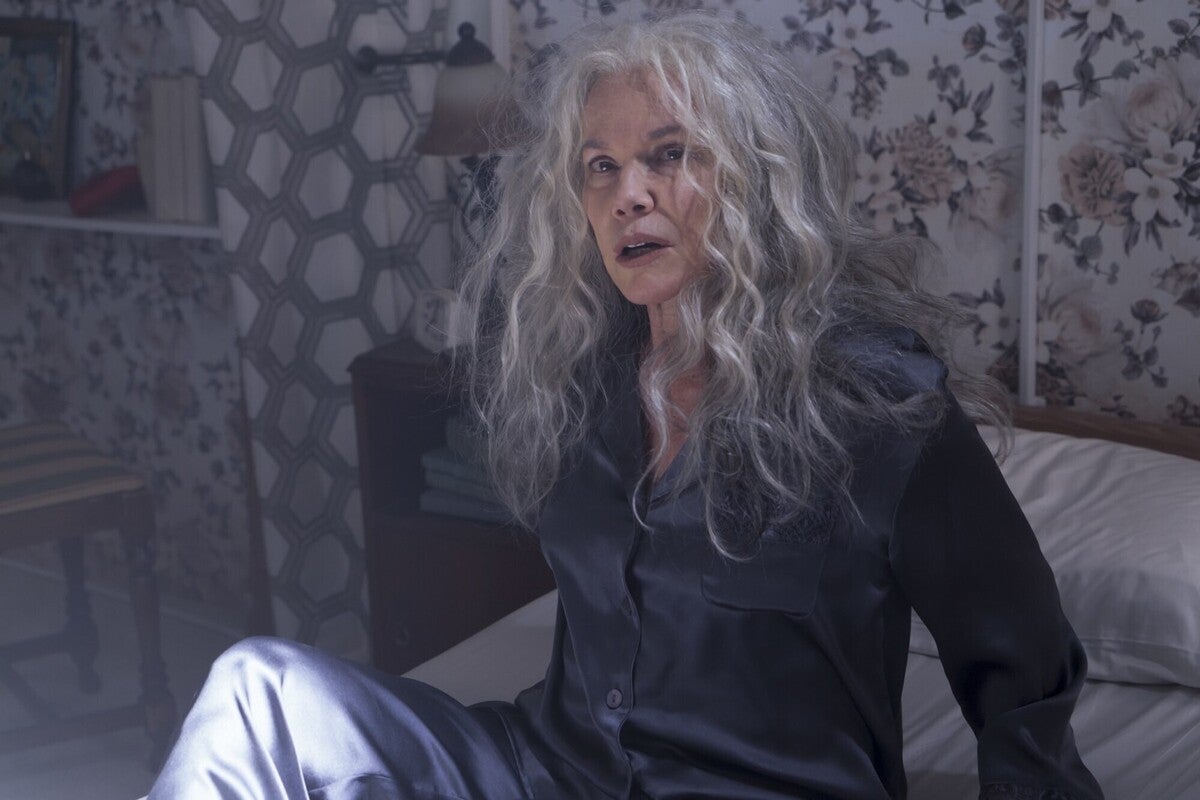 Another "Welcome to the Blumhouse" entry on Prime, The Manor (2021) has a rushed, chintzy quality as if a bunch of friends got together and decided it would be fun to make a scary movie, without really knowing how. But it still has a certain glee, a kind of tingle, that makes it passably enjoyable. It doesn't hurt that the one and only Barbara Hershey is here, still dazzlingly beautiful in her early 70s, and in nearly every scene. She plays Judith Albright, a one-time dancer who checks into a nursing home after suffering a stroke. There, she begins to have disturbing visions as the residents and nurses disappear one by one.
There are creepy photographs, a cat that can sense who's about to die, and gratuitous Halloween decorations (and Christmas decorations, too). Nicholas Alexander plays Judith's loving grandson, Ciera Payton is a helpful nurse, and Oscar-nominee Bruce Davison is Roland, a gentleman of the home who takes a shine to Judith.
Muppets Haunted Mansion
Stream it on Disney+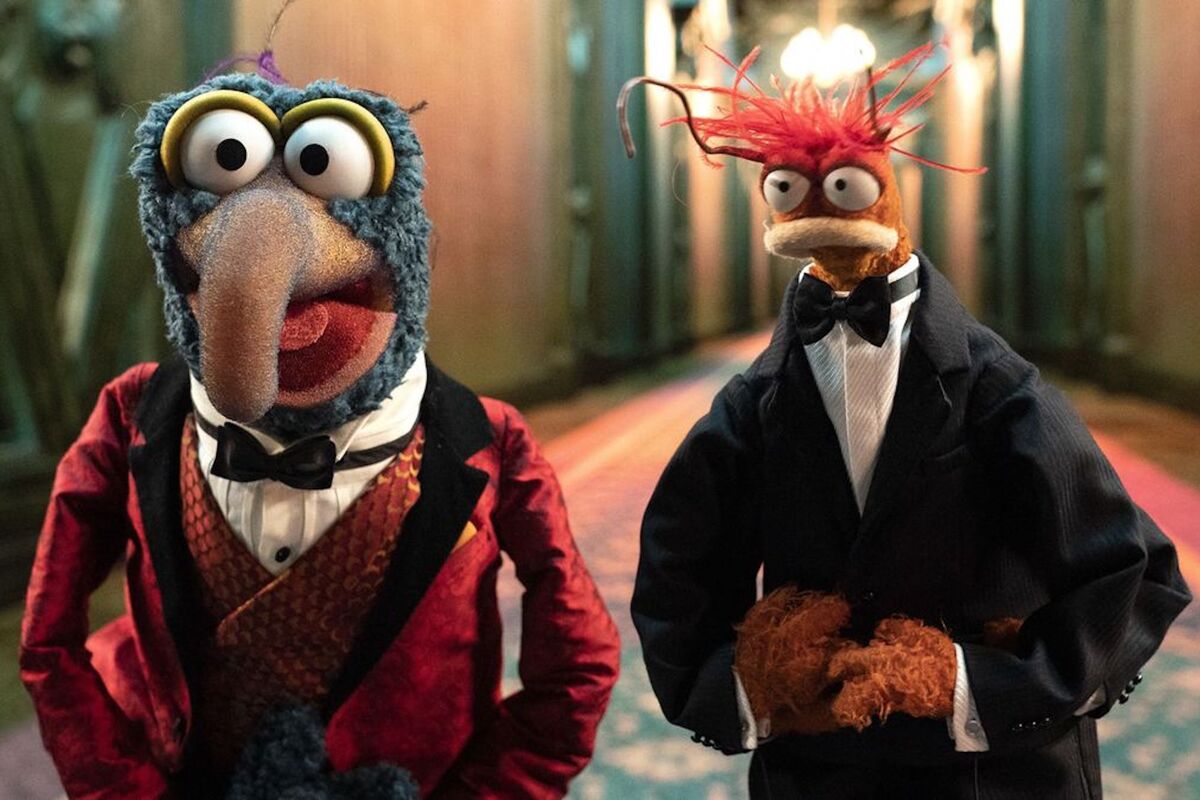 A smooth, uproarious blend of Muppets mayhem and Disneyland's spookiest attraction, the Disney+ special Muppets Haunted Mansion (2021) is good enough to become an annual Halloween favorite. On the night of Kermit's Halloween party, Gonzo (Dave Goelz, who has been performing the character since the 1970s), and Pepe the King Prawn (Bill Barretta) accept a challenge to spend the night in a haunted mansion. It was there that Gonzo's favorite magician, The Great MacGuffin, disappeared exactly a century earlier. They are greeted by a Ghost Host (Will Arnett) and meet the floating head of Madam Pigota (Miss Piggy), as well as a variety-show-like performance by some see-through spectres, before they are separated.
Gonzo must face his deepest fears in the sinister Room 999, while Pepe is swept off his feet by the dazzling Constance Hatchaway (Taraji P. Henson). If the friends can't survive, they will be trapped forever, which—as fun as this is—doesn't sound so bad. (The late, great Ed Asner appears—as a ghost!)
Nightbooks
Stream it on Netflix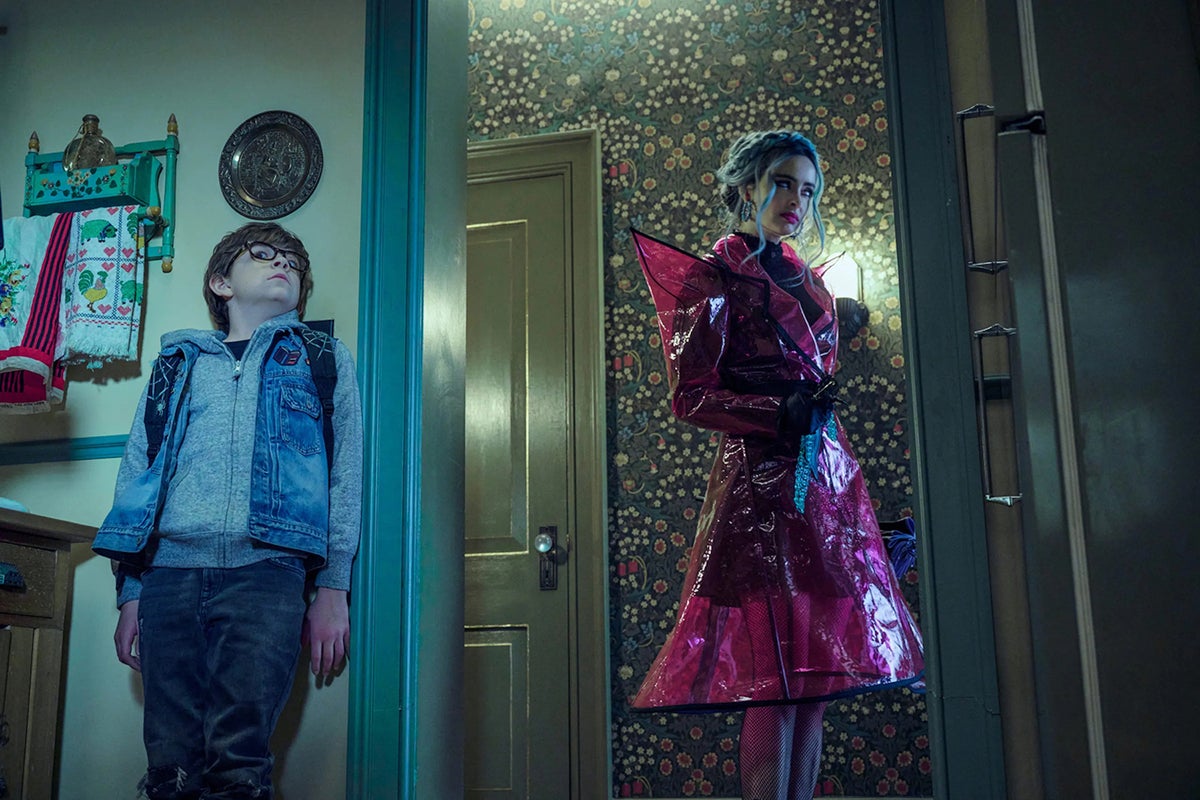 The energetic, impish, kid-friendly horror-fantasy Nightbooks (2021) celebrates the art of storytelling, and while its own story may be a tad predictable, it's still a great deal of brisk, mischievous fun. Young Alex (Winslow Fegley) is a horror hound who loves to write scary stories and who decorates his room with 1980s terror-movie posters (The Lost Boys is a favorite). But after a scarring event, he vows never to write again.
On his way to burn his things, he finds a mysterious room playing The Lost Boys on VHS and a welcoming slice of pumpkin pie. Lured in, he finds himself trapped by a witch (a luscious Krysten Ritter, with fabulous, drag-queen costumes), who demands a new horror story every night ("no happy endings!"). Cynical fellow prisoner Yazmin (Lidya Jewett) shows him the ropes and helps him avoid the witch's wrath. When Alex discovers secret messages in the apartment's sumptuous, stories-high library, he begins hatching an impossible plan of escape.
The Nightmare Before Christmas
Stream it on Disney+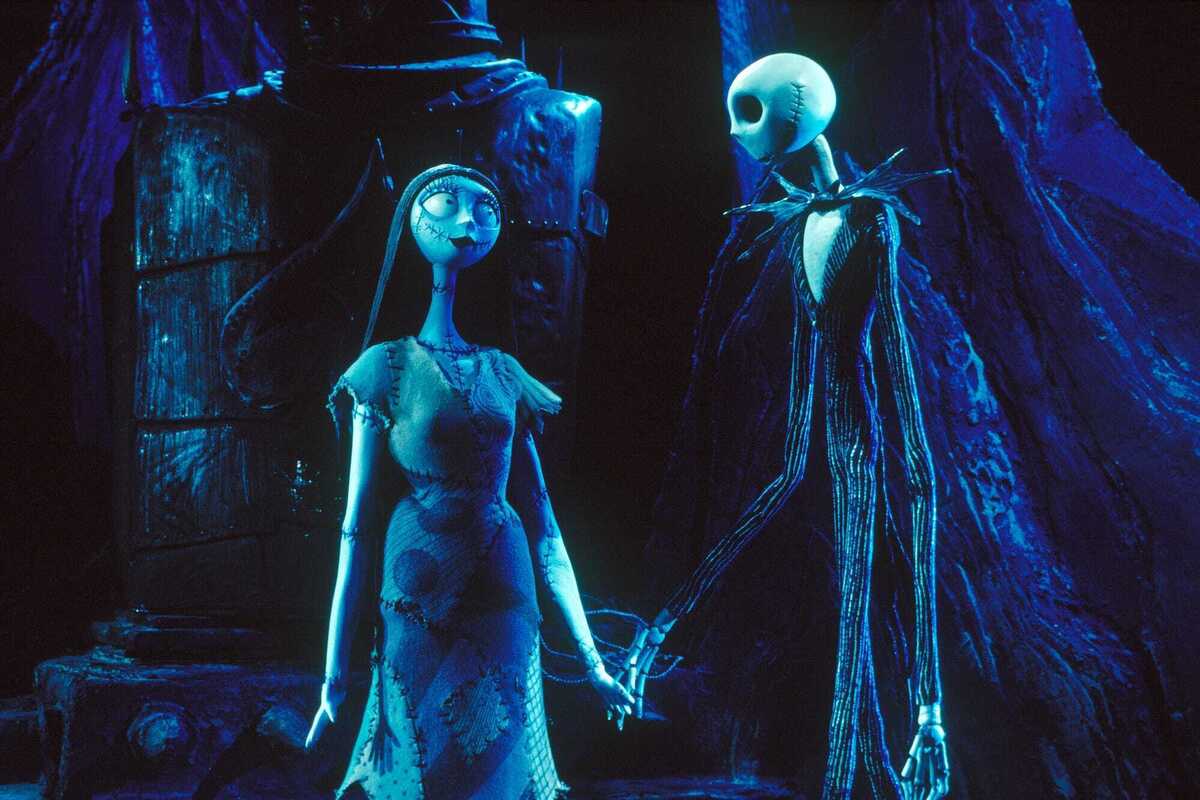 Though Tim Burton often gets credit for the whole thing, he provided the story and characters, and produced The Nightmare Before Christmas (1993), but Henry Selick (James and the Giant Peach, Coraline) did the actual directing work on this stop-motion animated holiday hybrid. Jack Skellington is the Pumpkin King of Halloweentown. Stuck for spooky ideas for the Halloween celebration, he stumbles into the neighboring Christmas Town and steals some, putting horrific twists on them. Unfortunately, Santa gets kidnapped in the process and ends up in the hands of the villainous Oogie Boogie.
It's a wicked concept that the movie somehow manages to keep light and funny. Danny Elfman's songs are gleefully off-kilter, and the animation is particularly, stunningly detailed. The overall effect, a film that can be enjoyed at both Halloween and Christmas, can catch you off guard. Chris Sarandon provides Jack's speaking voice, while Elfman sings. Catherine O'Hara and William Hickey provide other voices, and Patrick Stewart narrates.
The Old Ways
Stream it on Netflix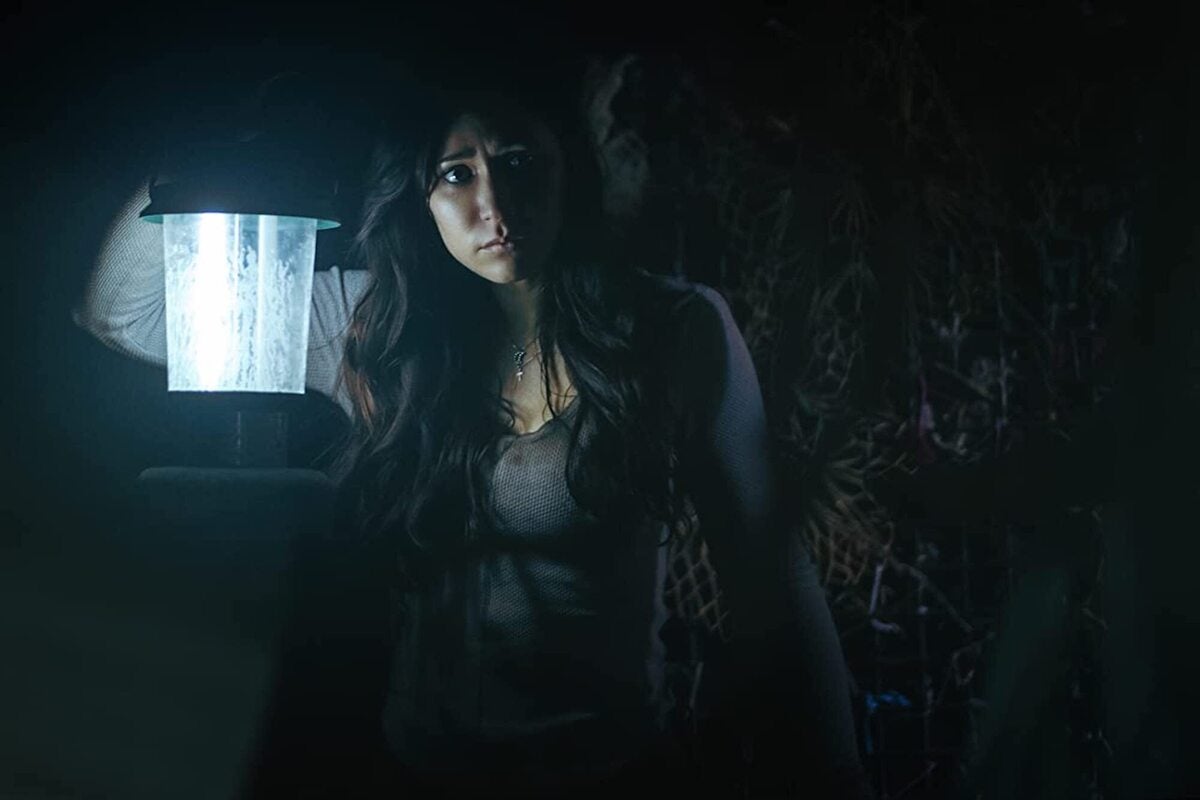 Journalist Cristina (Brigitte Kali Canales) finds herself locked in a room. She had traveled to Veracruz to do a story. She's of Mexican heritage, but can't speak Spanish. She tries to understand what's going on as an old woman (Julia Vera), face covered in paint, and an unsmiling man (Sal Lopez) with floppy gray hair, occasionally look in on her. Suddenly Cristina is shocked to see her cousin Miranda (Andrea Cortés), who explains in English that she, Cristina, has a demon inside of her, and they hope to exorcise it.
That's the start of The Old Ways, an outstanding horror film written by Marcos Gabriel and directed by Christopher Alender that crosses cultural commentary with powerful, creepy tension. The film equates the confined space of the room with Cristina's limited knowledge of her culture, and cleverly builds the mystery of just what the demon inside her could be (if there is one). The brilliant ending only increases the mystery and expands the discourse.
One Cut of the Dead
Stream it on Shudder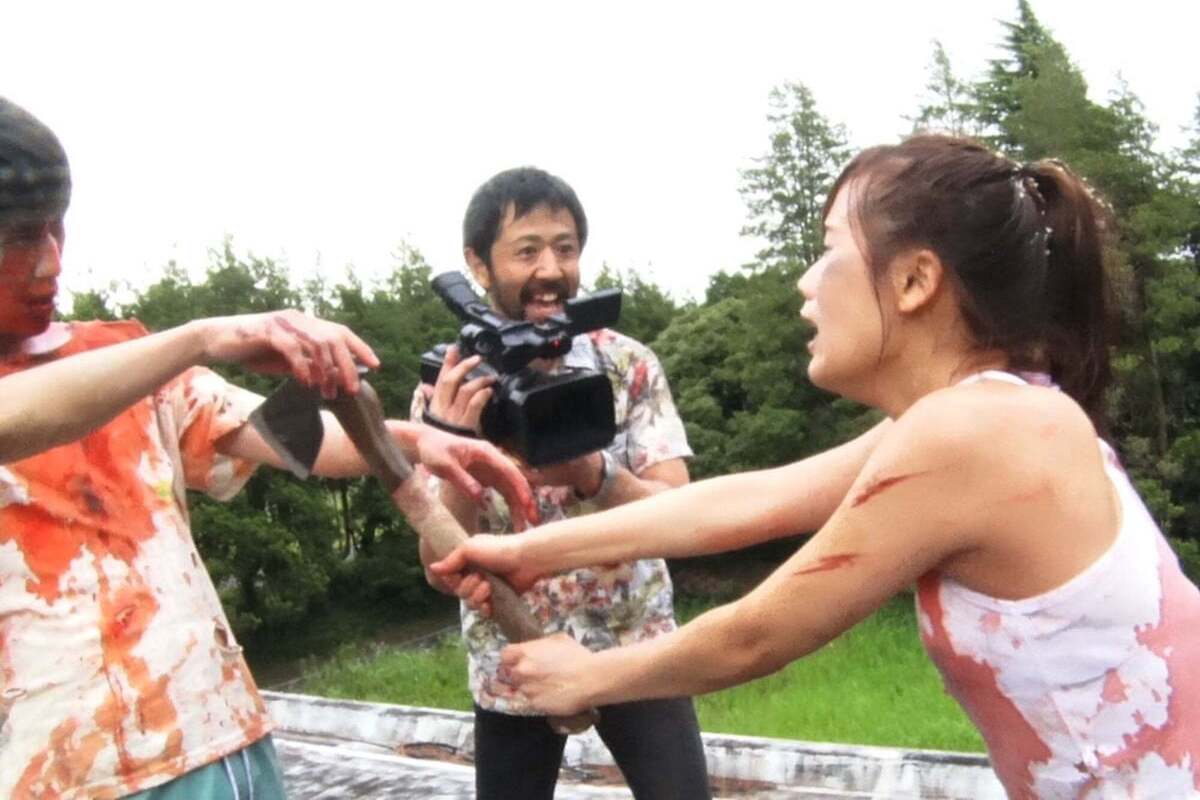 Shinichirou Ueda's One Cut of the Dead (2019) is arguably one of the best recent horror films, as eye-poppingly fresh and startling as Sam Raimi's Evil Dead films were in the 1980s. It begins as a zombie attacks a young woman, Chinatsu (Yuzuki Akiyama). A voice calls "cut," and director Higurashi (Takayuki Hamatsu) berates her for not being scared enough. The film production takes a break, and then real zombies attack, and we realize that everything is happening in one take, without a cut.
After 30 minutes, that film ends, and One Cut of the Dead shifts to the hilarious and amazing behind-the-scenes shoot of this breakneck, bravura production, which itself becomes a lovely and heartwarming story of family. Filled with rich characters and expert performances, this is an absolute must-see even for non-zombie fans. In Japanese with English subtitles.
Tigers Are Not Afraid
Stream it on Shudder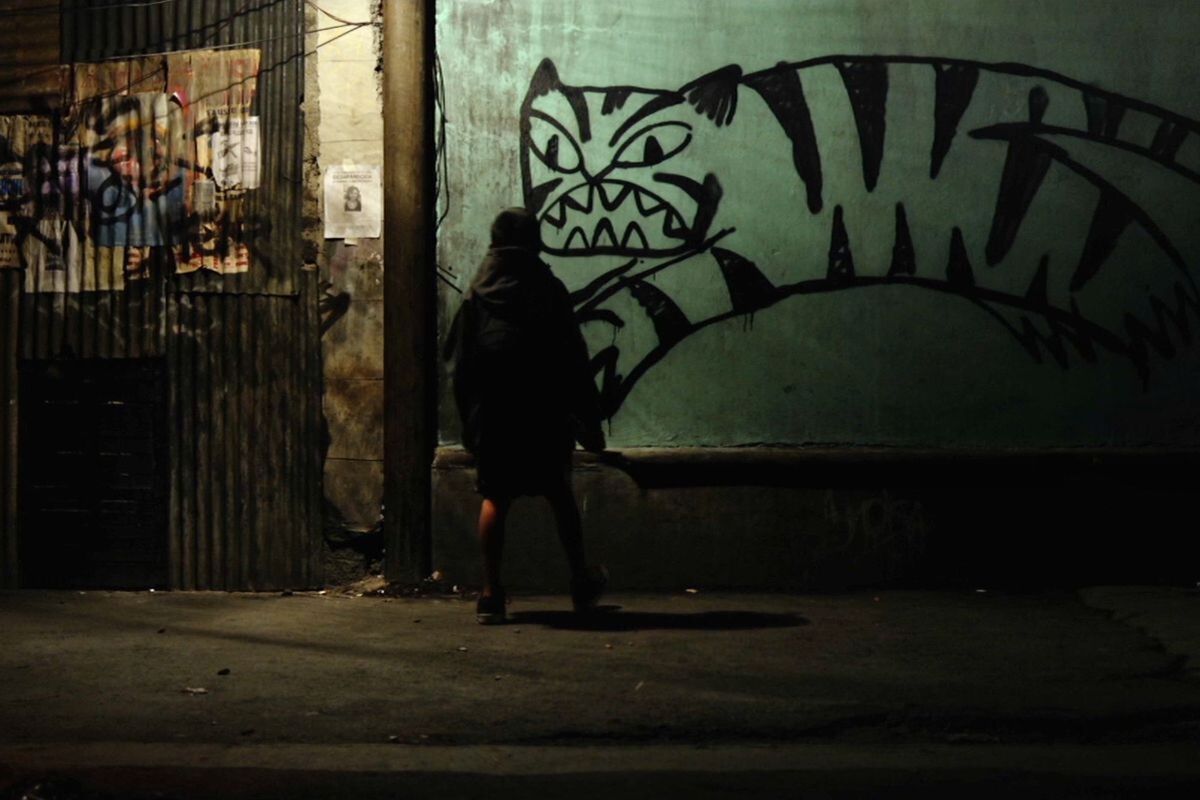 Issa López's extraordinary Tigers Are Not Afraid (2019) faces a horrifying real-life situation nearly head-on, yet filtered by a thin veneer of the supernatural, so thin that it could only be in the imaginations of children. In Mexico, gang violence runs rampant. Estrella (Paola Lara) has been studying fairy tales when violence forces her school to close down; her teacher gives her a piece of chalk that, she says, may grant three wishes. At home, Estrella's mother seems to have vanished, so she takes up with a squad of young boys—similarly abandoned—living on a rooftop.
As they seek revenge against the gangsters that have done all this, strange magic enters the picture, whether it's images of fish that have survived an overturned tank by swimming in a puddle, or stalking, ghostly figures. Yet, while the movie remains rooted in hard realism, it chooses not to be shocked by this situation, but rather saddened. In Spanish with English subtitles.
Under the Shadow
Stream it on Netflix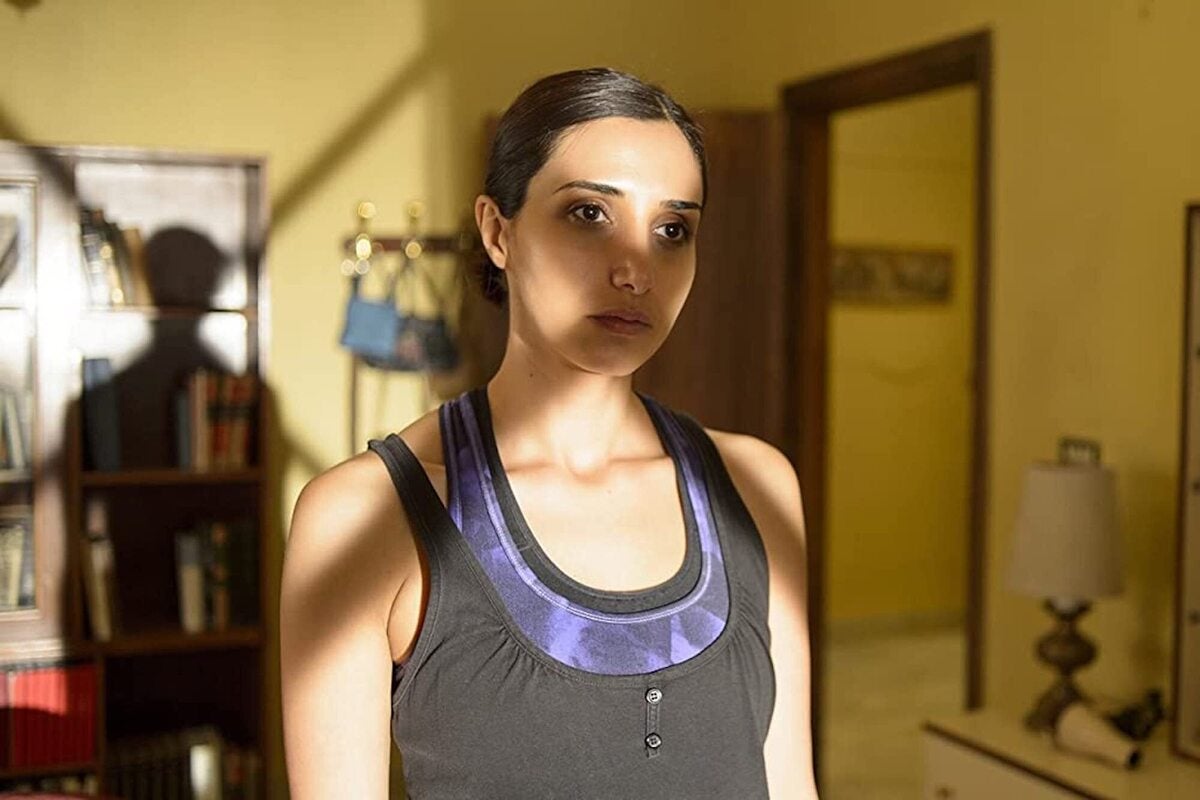 Written and directed by Babak Anvari, the horror movie Under the Shadow (2016) is all the more powerful for being steeped in world affairs, and for vividly capturing the emotional sense of what it might be like to be caught in a war. It's the 1980s, during the long Iran-Iraq conflict, and Shideh (Narges Rashidi) is forbidden to re-enter medical school because of her past as a political demonstrator. Her husband has been called off to serve in the war effort, and she must take care of her daughter Dorsa (Avin Manshadi) alone, with the threat of Iraqi bombs falling on their Tehran home. Worse, a Djinn has become attached to Dorsa, and the girl, sick with fever, refuses to evacuate until her missing doll is found.
The film—best viewed in its original Persian with English subtitles—concentrates on realism and on small details of life rather than elaborate visual effects of scares, but the film nonetheless remains a satisfyingly unsettling experience.
V/H/S/94

Stream it on Shudder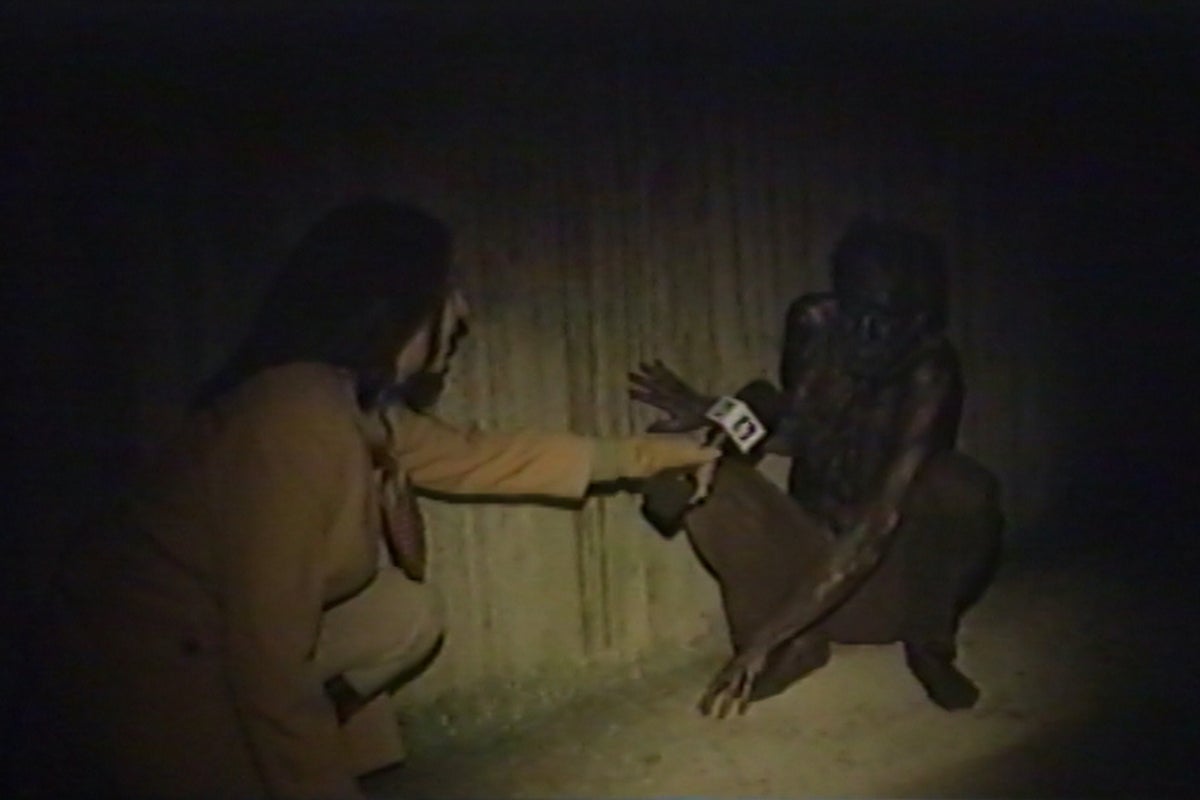 There's nothing like a good horror anthology to get in a Halloween mood. The best ones re-create the feel of telling scary stories, and the V/H/S series adds to that the feeling of watching horror movies on those old, grungy cassettes. V/H/S/94 (2021) is the fourth movie in the franchise and is set in the year 1994. It consists of four stories, plus a wraparound. In that, a SWAT team makes its way through a creepy warehouse, finding unsettling things inside.
The first tale follows a news reporter who investigates the legend of a Rat Man who lives in the sewers. The second tells the story of a young woman who is put in charge of a nearly empty wake at a funeral home, all by herself. The gory third segment is about a mad scientist attempting to make human/machine hybrids. And the fourth, most disturbing story, is about a group of extreme right-wing terrorists who have stumbled upon a particularly horrible weapon, with which they intend to blow up a government building. Overall, the collection has its ups and downs, but is pretty solid.