At a Glance
Expert's Rating
Pros
If you're using SimpliSafe, you're probably already paying for the video service
Fairly intuitive app interface
Clear, high-grade video quality
Cons
Slow to connect
Significant wireless disconnect problems
Some app instability issues
Our Verdict
This camera fits in well with SimpliSafe ecosystem, though it has some bugs that need working out.
Best Prices Today: SimpliSafe Wireless Outdoor Camera
For a long while, the lack of an outdoor camera had been one of the few negatives with the SimpliSafe security system. That changes with the company's new Wireless Outdoor Camera, a stylish device which, unlike the company's chintzy indoor camera, looks like it was built with the SimpliSafe design motif in mind.
The camera has a compact design, built as a small cylinder—think a half-height soup can—attached to a magnetic base that allows it to be fairly freely repositioned, although it is intended to mount high on a wall and be aimed down toward the ground. The base attaches easily to the wall via two included screws.
This review is part of TechHive's coverage of the best home security cameras, where you'll find reviews of the competition's offerings, plus a buyer's guide to the features you should consider when shopping for this type of product.
Mentioned in this article
SimpliSafe The Essentials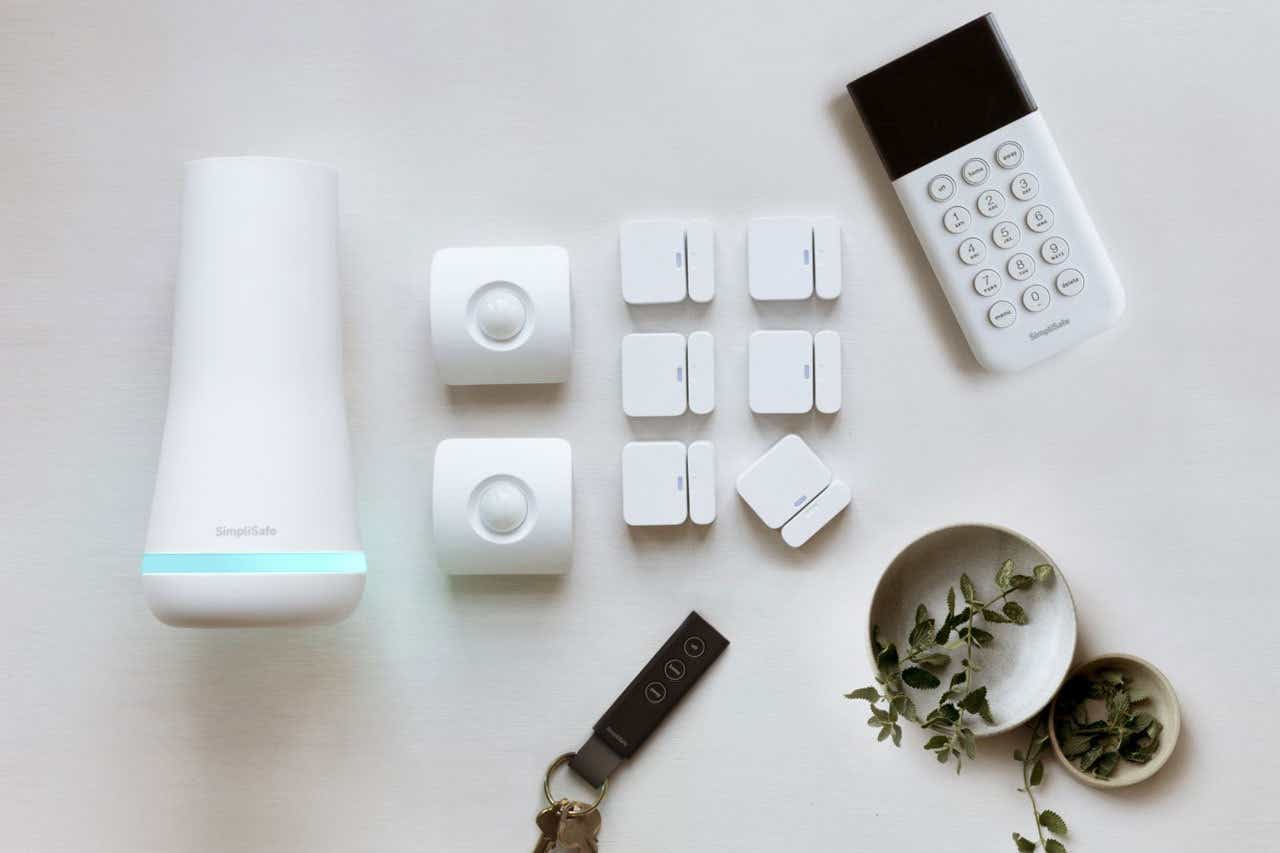 Price When Reviewed:
$219.96 (Indoor camera included if purchased direct from SimpliSafe; accessories included with the Best Buy and Amazon bundles are each slightly different.)
The camera is powered by a hefty battery similar to what you'll find in a Ring doorbell. The battery can be removed and charged externally via a microUSB cable (included); SimpliSafe says the battery will last 3 to 6 months before a recharge is required. If recharging batteries aren't for you, the camera can also be wired full time via a passthrough microUSB cable that's located underneath a rubber tab on the back of the device. (A 25-foot waterproof cable will cost you an extra $50.) If you'll be mounting the camera in a spot where sunlight is plentiful, an even better option might be to install the optional solar panel ($69) to keep the battery topped off.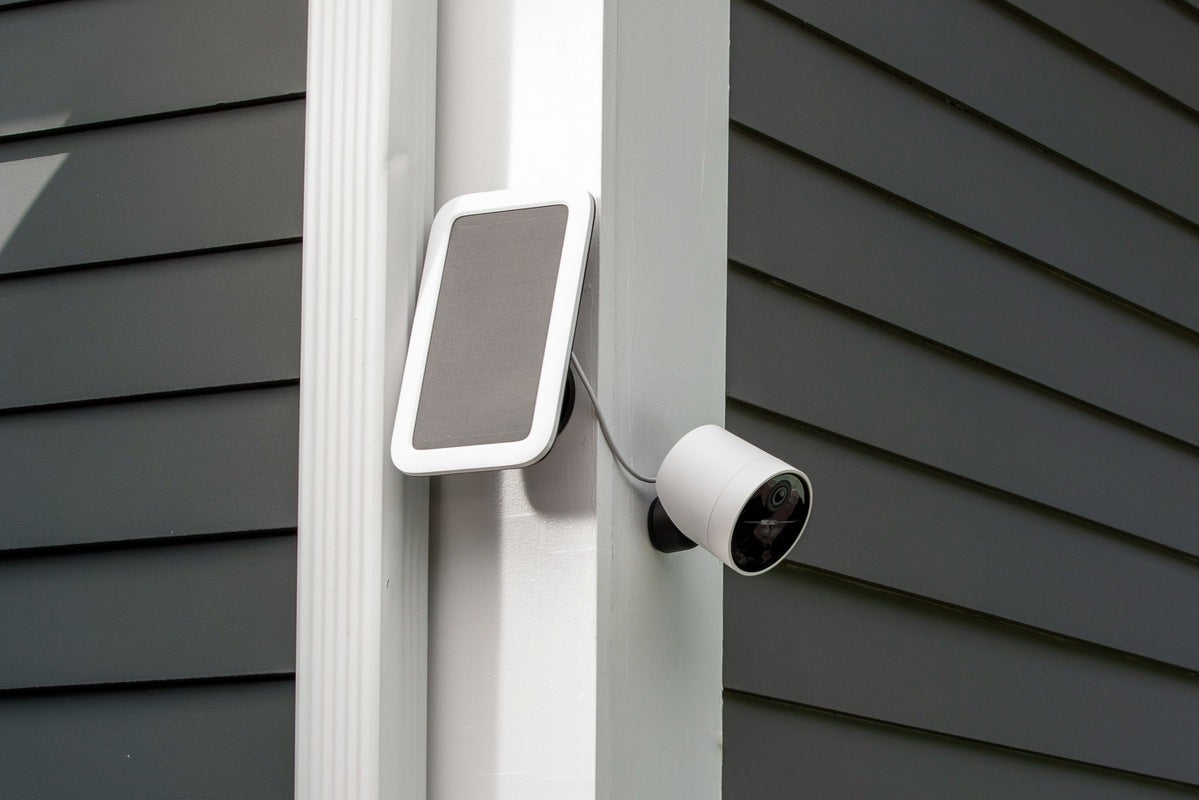 From a spec standpoint, the SimpliSafe Outdoor Camera covers most of the bases, although it depends on a connection to a third-generation SimpliSafe base station and keypad and cannot operate on its own (you'll also need to connect it to your 2.4GHz Wi-Fi network). The unit carries an impressive IP65 weatherproof rating and records 1080p video across a 140-degree field of view. Two-way audio is included, as are two night-vision options: traditional infrared or full-color night vision via an integrated spotlight. Motion detection and activity zones are available, and the camera can be set to alert based on any motion or only with people detection.
If you have a SimpliSafe hub running, setup is literally a one-button affair: Just fire up the SimpliSafe app, select "Set up a camera," and press a button on the back of the camera when prompted. Everything else is handled behind the scenes, making this arguably the simplest camera setup I've encountered to date.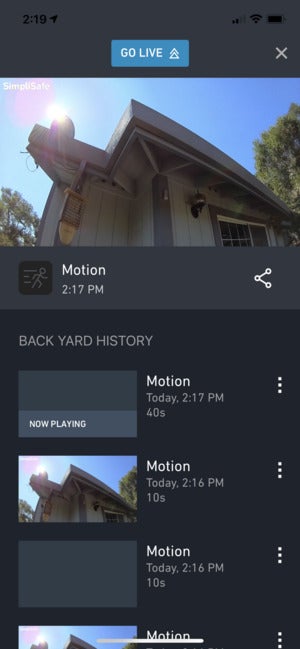 If you're just watching a live video feed, the camera is decent but not the best on the market. Video is clear, but the app is extremely slow to connect to the camera and wake it up, often taking 5 to 15 seconds before the feed appears. When recording video, the system has some room for improvement. It took a significant amount of motion for me to receive a notification from the app, even on the highest sensitivity settings, and clips that were recorded were often marked as "No Video" available. The app frequently crashed any time I tapped the "rewind" button to play back older clips within the primary interface. The app tends to lose its Wi-Fi connection quite a bit, again taking several seconds to find it again. Both night-vision modes are effective, but everything suffers from a "pop-in" issue where the lens must work to adjust to the ambient lighting for a few seconds, leaving the first moments of any recorded video overexposed.
Be aware that you will need a monitoring plan to make much use of the camera; otherwise, you're restricted to live video viewing. A $10/month plan offers unlimited recording options for up to five cameras and is designed for people who don't want professional security monitoring. Upgrading to SimpliSafe's 24/7 professional monitoring plan, at $25 month, boosts the max to 10 cameras; the good news is that if you use SimpliSafe as a security system, there's a strong chance you already have this subscription.
The camera's video is solid, but from a wireless standpoint some work remains to be done, and the app could use some polish for stability. Those are kinks that can probably get ironed out given some time and patience. The hardware is reasonably priced (though it's not cheap). Ultimately, if you're already a SimpliSafe user, it's worth taking advantage of the 60-day money-back guarantee to see if the system works well in your environment.
Best Prices Today: SimpliSafe Wireless Outdoor Camera