At a Glance
Expert's Rating
Pros
Vacuums and mops simultaneously
Supports multi-level mapping with cleaning zones and virtual barriers
Automatically boosts suction when on carpet
Cons
App has Wi-Fi connection problems
Mop can't scrub deep stains and dirt
Our Verdict
The Proscenic M8 robot vacuum and mop cleans well, but its connection issues need to be fixed before it can be recommended.
Best Prices Today: Proscenic M8 robot vacuum and mop
Proscenic's new M8 robot vac/mop hybrid promises new levels of performance, including stronger suction and more efficient navigation. It delivers on that score, besting the impressive cleaning I've experienced with the company's earlier robots. Unfortunately, it's tethered to a redesigned app with some significant connection issues that, for me, at least, rendered the M8's mapping and custom cleaning features inaccessible.
The M8 looks similar to the M7 Pro we reviewed last year, the most obvious difference being that the control panel with the Power and Home buttons has been redesigned. A turret centered on top houses upgraded laser navigation technology that creates more accurate and complete maps than previous generations. For the actual dirty work of cleaning, the M8 pairs a rubber-and-bristle rolling brush and a single spinning brush with a 3000Pa of suction. A 2-in1 module containing a 280ml dustbin and 300ml water tank enables vacuuming and mopping simultaneously, potentially cutting your cleaning time in half. The robot also comes with several accessories including its charging dock, a remote control, cloth mops, a mop holder, and an extra side brush.
This review is part of TechHive's coverage of the best robot vacuums, where you'll find reviews of the competition's offerings, plus a buyer's guide to the features you should consider when shopping for this type of product.
Setting up the M8 is as simple as plugging in the dock and placing the robot on the charging pins. It takes 160 to 190 minutes to fully charge, which yields about 150 minutes of runtime depending on usage.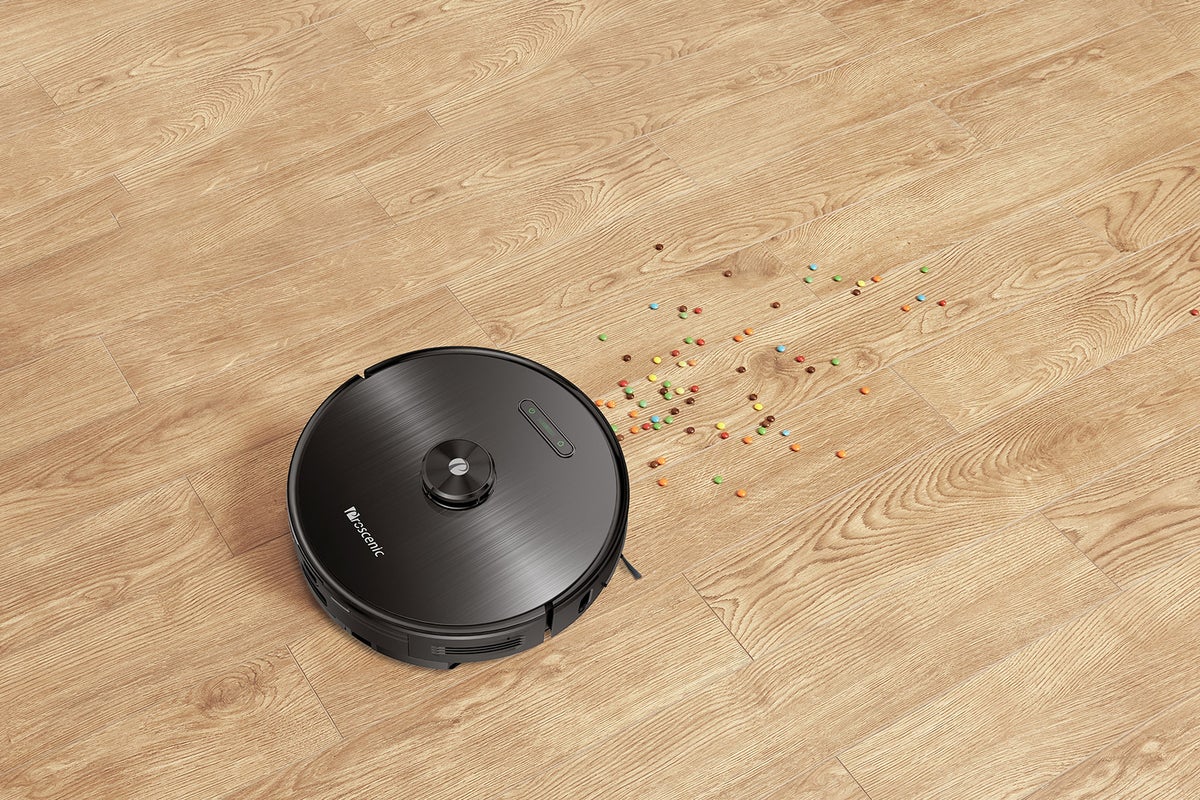 You can control the M8 with its remote or the new Proscenic app. The app makes more functions available, including multi-floor mapping, virtual barriers, and cleaning zones. The app, however, which I was forced to upgrade to when I opened the old one, is buggy as heck. Certain screens wouldn't scroll during the setup process, and the app repeatedly failed to connect to my Wi-Fi. Apparently, connection failure is a common problem judging from several online reviews. These bugs will likely be fixed in future updates, but they kept me from accessing some of the M8's most compelling features during my review period.
Fortunately, the physical remote gives you control over all the M8's basic functions, including starting and pausing cleanings, mode selection, and sending the robot to the charging dock. You can also use your voice to issue basic commands via Google Assistant or Amazon Alexa.
I used the M8 for daily cleaning of my downstairs level, which includes both carpet and hard floors. For straight vacuuming, you need only to press the "play" button on the remote. The M8 defaults to Auto cleaning mode, which automatically adjusts its suction to the type of floor it's on. When it detects carpet, Proscenic's Vboost technology automatically kicks in to increase the suction to max power. The suction reverts to the previous power level when it's back on hard flooring. You can manually turn on Max suction from the remote, but running it consistently in this mode will drain the battery more quickly. There's also a spot cleaning mode for areas of concentrated dirt.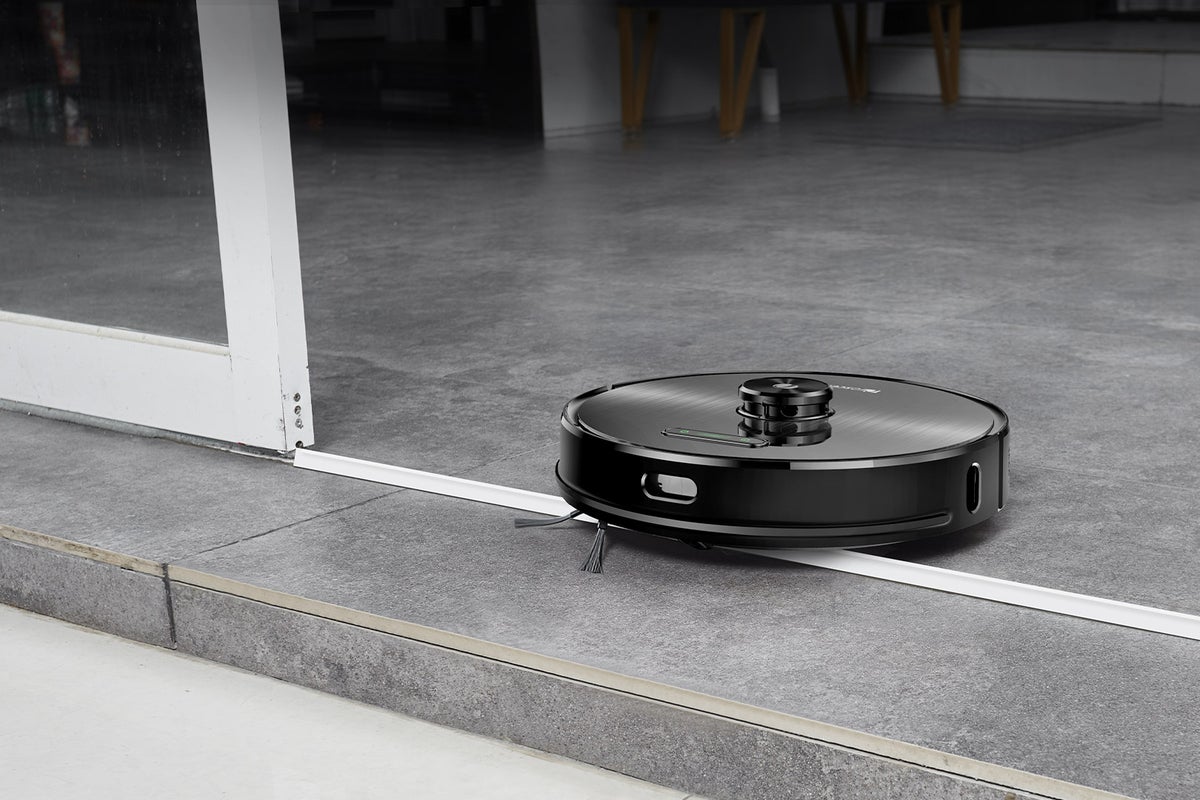 Vacuuming and mopping in tandem requires a little more prep. You need to remove the dustbin/water tank module and fill the tank with tap water. Then you place a mopping cloth on the mop attachment and slide that into the bottom of the dustbin/water tank module. Finally, reinstall the module in the robot.
The M8 did a great job cleaning my floors. The powerful suction grabbed every bit of dirt, dust, and pet hair it could get to—its turret kept it from getting under my couch and kitchen cabinets—and its mop was able to remove surface stains and light spills. You'll still need a stick mop handy as the M8 essentially just wipes a damp cloth over the floor without the scrubbing needed to bring up deeper grime. But for daily floor maintenance, the M8 does the trick.
On cleaning performance alone, the M8 has plenty to recommend it. But the current version of the Proscenic app rendered virtually all its advanced features inaccessible, which is reason enough to knock a whole star off this review. Proscenic will undoubtedly rectify the app issues, but if you can't wait, you might check out the Roborock S7 our current pick for the best robot/mop hybrid. It costs a bit more but includes similar features, more vigorous mopping. amd a bug-free app.
Best Prices Today: Proscenic M8 robot vacuum and mop
Note: When you purchase something after clicking links in our articles, we may earn a small commission. Read our affiliate link policy for more details.