At a Glance
Expert's Rating
Pros
Slim design offers flexibility in placement
High throughput capability
Aromatherapy option is a handy add-on
Cons
Very expensive
Minimal smart features
Lengthy, tedious app setup
Our Verdict
Bemis's towering air purifier offers only minimal smart features and a tedious setup process, but it sure can power through a lot of dirty air.
Price When Reviewed
$800
Best Prices Today: Bemis Imunsen Smart Tower Air Purifier
The latest smart air purifier to hit the market comes from Bemis, a sprawling manufacturer that makes everything from humidifiers to toilet seats. The Bemis Imunsen Smart Tower Air Purifier is exactly what its name suggests: a towering an off-white (and somewhat medical-looking) 19-pound device that stands 29 inches tall and measures 10 inches on each side.
Air is drawn in through three sides at the base and output directly upward, through an attractive panel on the top. The removable top panel is crafted from maple wood and carved into a beehive pattern, giving it a natural aesthetic. The unit is also available in black, if that's more in line with your décor.
This review is part of TechHive's coverage of the best air purifiers, where you'll find reviews of the competition's offerings, plus a buyer's guide to the features you should consider when shopping for this type of product.
Features and functionality
Bemis doesn't offer CADR (Clean Air Delivery Rate) ratings for the purifier, but it does say that the unit can filter 265 cubic feet of air per minute and has a usable area of 782 square feet. Its cylindrical multi-stage filter is accessible through the rear of the device. Here, a HEPA 13 filter is the centerpiece, plus a "deodorization filter" that goes to town on VOCs and other smelly gases. Filters are said to last about a year and replacements cost a pricey $100 each.
On the front of the unit, a minimalistic, sub-surface LED offers a numeric indicator of PM2.5 (particulate matter in the 2.5mm range) levels, plus a color LED that suggests whether air conditions are good (green), average (blue), or bad (orange).
A series of buttons along the top of the device gives you access to many of the expected controls, including four operational modes: a dynamic automatic mode that changes power according to the pollution level, three manual control levels, a full-blast cyclone mode, and a sleep mode that automatically reduces fan speed when it gets dark, dimming the display. Note that the sleep mode is strictly light sensitive; if any light enters the room, the unit will quickly return itself to auto mode, and it won't go back to sleep mode even if you turn the lights back off. It's a poorly thought-out feature, but a little electrical tape over the light sensor may provide more flexibility if you're a day sleeper or simply don't want more LEDs around you. All of the modes outside the lowest level of operation and sleep mode are quite loud; cyclone mode is deafening.
A final feature is the ability to add an essential oil capsule to the device, which is handy if you want the purifier to do double duty as an aromatic diffuser. This is not the easiest process, as it requires pulling the wooden panel off the top (a special tool is provided), then removing a safety net underneath that panel with a screwdriver. From there, an oil capsule can be dropped into the innards of the device, after which everything must be reassembled. Capsules are available in eucalyptus or lavender; each lasts two to three months. A three-pack of capsules runs $50.
Smart capabilities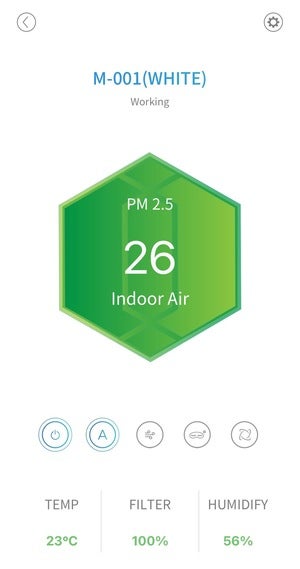 The unit includes smart features, but these are extremely basic, adding little to the experience. The Bemis Air app has a lengthy and crudely documented installation process, which requires registration, as well as manually connecting to the unit's temporary Wi-Fi network (2.4GHz only), a process that includes digging up a network password that's only printed in the manual. (Pro tip: it's "bemisair".) The app choked once during setup for me, but restarting it a second time got me through in one piece.
Once in the app, options are limited. The app screen recreates the controls available on the unit itself and offers the same color-coded PM2.5 information. There is no historical pollutant level log, no scheduling modes, and no connections to third-party ecosystems like Alexa. The only additions within the app are real-time measurements of temperature (Celsius only), a filter level gauge, and "humidify" (a.k.a. the humidity in the room).
Bottom line
Asking for some proofreading in the Bemis Air app may sound a bit pedantic, but given the $800 list price ($100 off at launch, or you can save $100 by getting the same model sans Wi-Fi), I don't think it's out of line. Additionally, a shopper couldn't be blamed for wanting more detail on Bemis's CADR ratings and a deeper set of smart features. On the plus side, the device can pump out a lot of air, so if you need a reasonably stylish purifier for a fairly large room—and assuming you're not turned off by the price—the Bemis Imunsen Smart Tower Air Purifier is at least worth a glance.
Best Prices Today: Bemis Imunsen Smart Tower Air Purifier