At a Glance
Expert's Rating
Pros
No-compromise delivery of high-res music-streaming services
Fast, stable operation
Onboard presets call up your favorite music without the need to open an app
Consumes very little space in your equipment rack
Cons
App takes time to fully master
Limited custom-EQ options
App doesn't report bit/sampling rate from streaming services
Touch controls on top are useless if the Node is rack mounted
Our Verdict
The Bluesound Node fulfills the promise of audiophile streaming, rendering this digital-age component a worthy addition to a substantial stereo system.
Best Prices Today: Bluesound Node
I'm glad the folks at Bluesound haven't taken the "if it ain't broke, don't fix it" adage too much to heart. Neither are they just resting on the laurels we previously bestowed on the company's stellar Node 2i and its amplifier-packing variant, the Powernode 2i. The new-for-2021 models—named simply Node and Powernode—add even more features and embellish on those components' top-notch performance while holding the line on pricing at $549 and $899 respectively.
At first glance, the new models look cosmetically unchanged from their compact predecessors, with sleek, round-edged enclosures measuring 8.66 x 5.75 x 1.81 inches (WxDxH) for the Node, and 8.66 x 7.48 x 2.75 inches for the Powernode. But when a proximity sensor causes the top-of-box control panel to light up as you approach, you'll see it's grown a bit larger, with a new array of five preset buttons helpful for party starting without engaging the BluOS app. That sensing feature will be undone, however, if you stash the player into a narrow equipment rack (guilty as charged).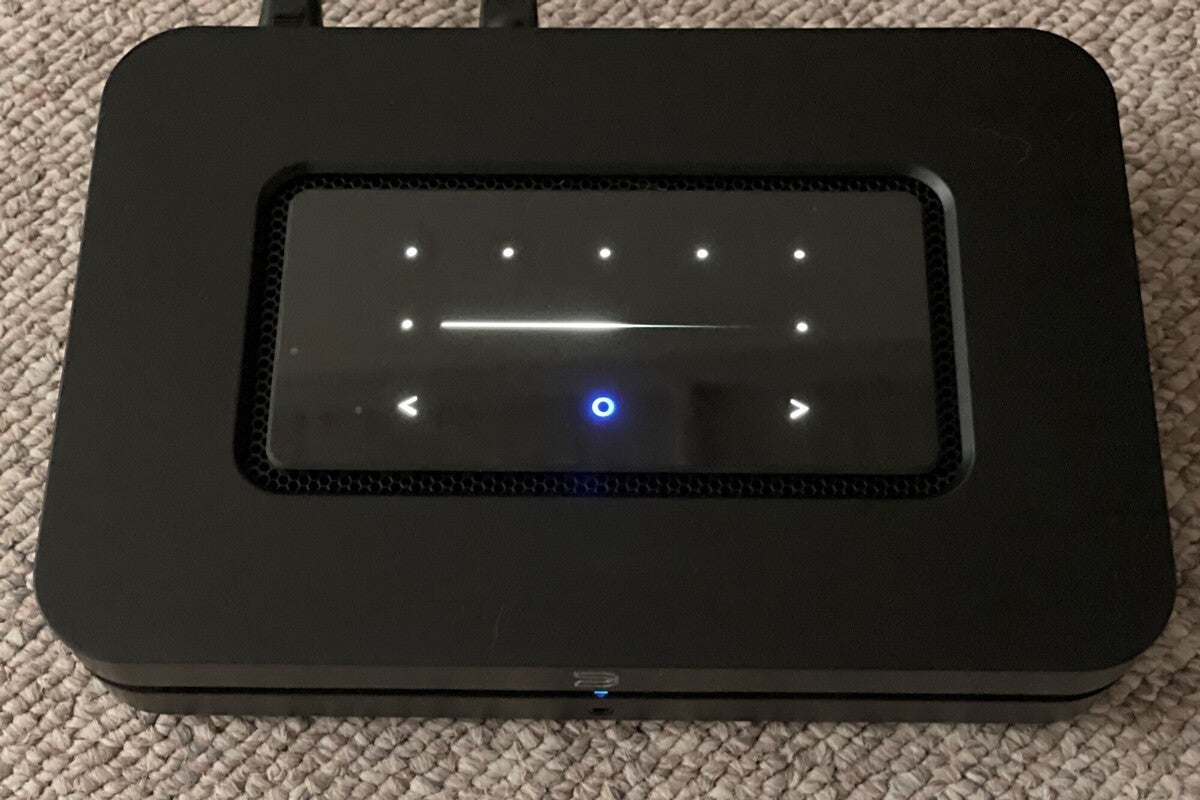 On the back, a new HDMI eARC connection renders the players more TV and high-res-audio soundtrack friendly. That port joins a very full jack pack consisting of RCA analog stereo outputs (fixed or variable); Toslink optical, coaxial, and USB 2.0 digital-audio outputs; a hybrid optical/analog input; an RCA subwoofer output (there's also a wireless sub connection option); gigabit ethernet (in case you don't want to make use of the onboard dual-band Wi-Fi adapter); an IR input; and a 12-volt trigger.
Mentioned in this article
Sonos Port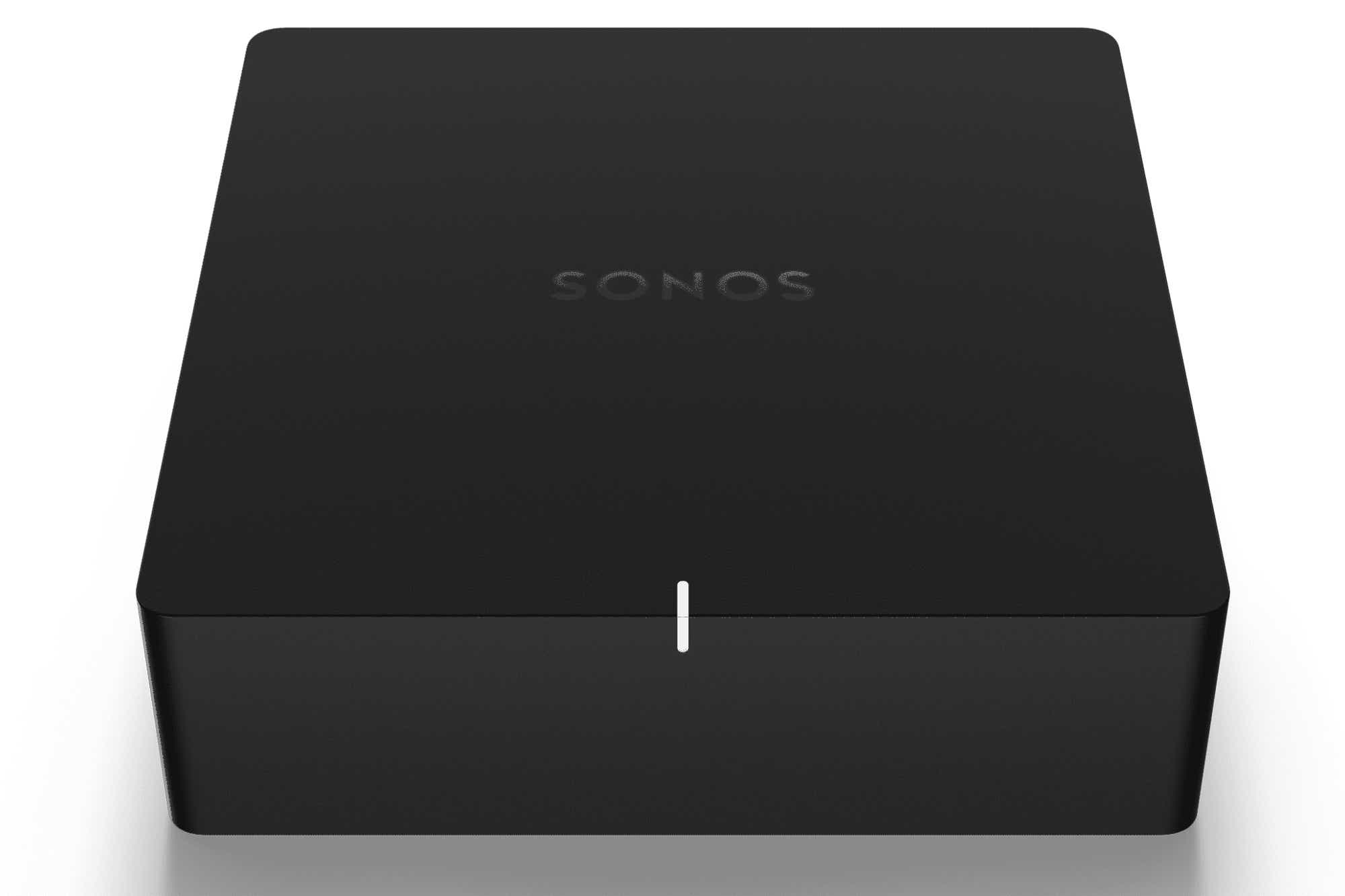 Price When Reviewed:
$449
A 3.5mm headphone jack hides low on the front panel, or you can go wireless with two-way Bluetooth 5.0 connectivity that includes support for aptX HD. Pat Metheny's new live club set, Side-Eye NYC L1.IV, and the 320Kbps Linn Classical web radio channel beamed beautifully to my Bose Frames audio glasses more than 30 feet away.
AirPlay 2 support means you can cast music from Apple hardware to either player, while the company's BluVoice skill in the Alexa app lets you control the system with voice commands. But you'll need to talk to an outboard device to do that, because the Node has no onboard microphones of its own. Google Voice and Siri are also supported, albeit with the same caveat.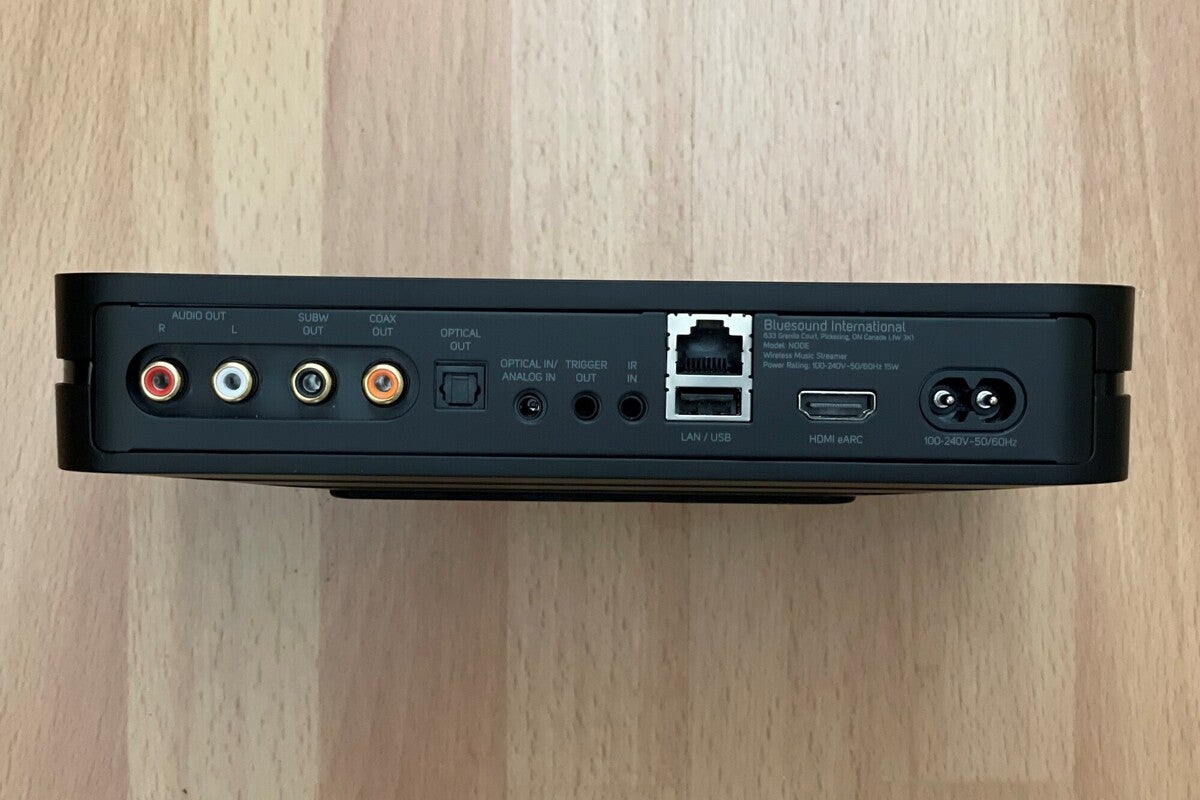 The most significant improvements to the new models are under the hood: A quad-core 1.8GHz ARM Cortex A53 processor replaces the previous-generation's single-core ARM Cortex A9 and makes the show run both faster—by a factor of eight, according to Bluesound—and smoother, thanks in part to the presence of four times as much memory. The new hardware also has headroom for whatever software improvements might come down the pike. I immediately noticed that these beefier new models connected to my home network—and to each other—much faster and with fewer hiccups. I had a similar experience with the updated BluOS app on my iPhone 12 Pro.
Bluesound says it has also refined the players' digital-to-analog conversion with the help of a next-gen 32-bit/384kHz DAC that supports 24 bit/192kHz audio processing plus MQA decoding. The new DAC also seems more adept at polishing low-res internet radio content: Stuff that sounds shrill on other streaming receivers doesn't here.
Why the Node comes first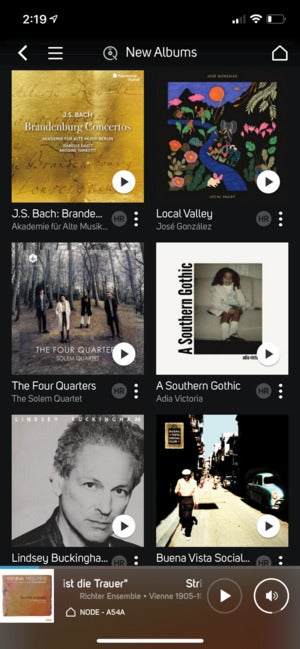 I've been testing and enjoying both products alone and together (they group reliably for multi-room play), but I opted to obsess on the Node first for a pragmatic reason: As a component that plugs into my favorite receiver and loudspeakers, the Node's performance becomes easier to quantify in comparisons with the competition from Andover Audio, Russound, and Sonos.
I tapped various internet radio stations, along with high-res streaming services like Amazon Music HD, Qobuz, and Tidal to make both A/B comparisons to those manufacturers' devices and to pit the Node's performance against high-res Super Audio CDs and DVD-Audio discs, which many "golden ears" still hold in high esteem.
I can't say I'm ready to trash my disc collection—or my Sony and Oppo universal disc players—but if the Node was able to deliver lossless multi-channel surround-sound mixes as sterling as its stereo takes on albums such as the Grateful Dead's Workingman's Dead or Donald Fagen's Kamikiriad (which, when streamed from Qobuz through the Node, sounds a tad better than the DVD-Audio version), I'd certainly consider it.
Bluesound's BluOs platform and Sonos' S2 platform both support 24-bit Qobuz streams—to a degree. Both will also offer 24-bit Amazon Music HD when Sonos adds support for that service layer later this year. So, why my italicized note of caution regarding Qobuz? Ya gotta read the fine print, people. Sonos S2 gear can process 24-bit content encoded at sampling rates up to 48kHz, but Qobuz offers tracks encoded at sampling rates all the way up to 192kHz. The Bluesound Node—and the Powernode—can handle that—as well as the in-between rates of 88- and 96kHz. Sonos gear can't (or to be more technically accurate perhaps, won't).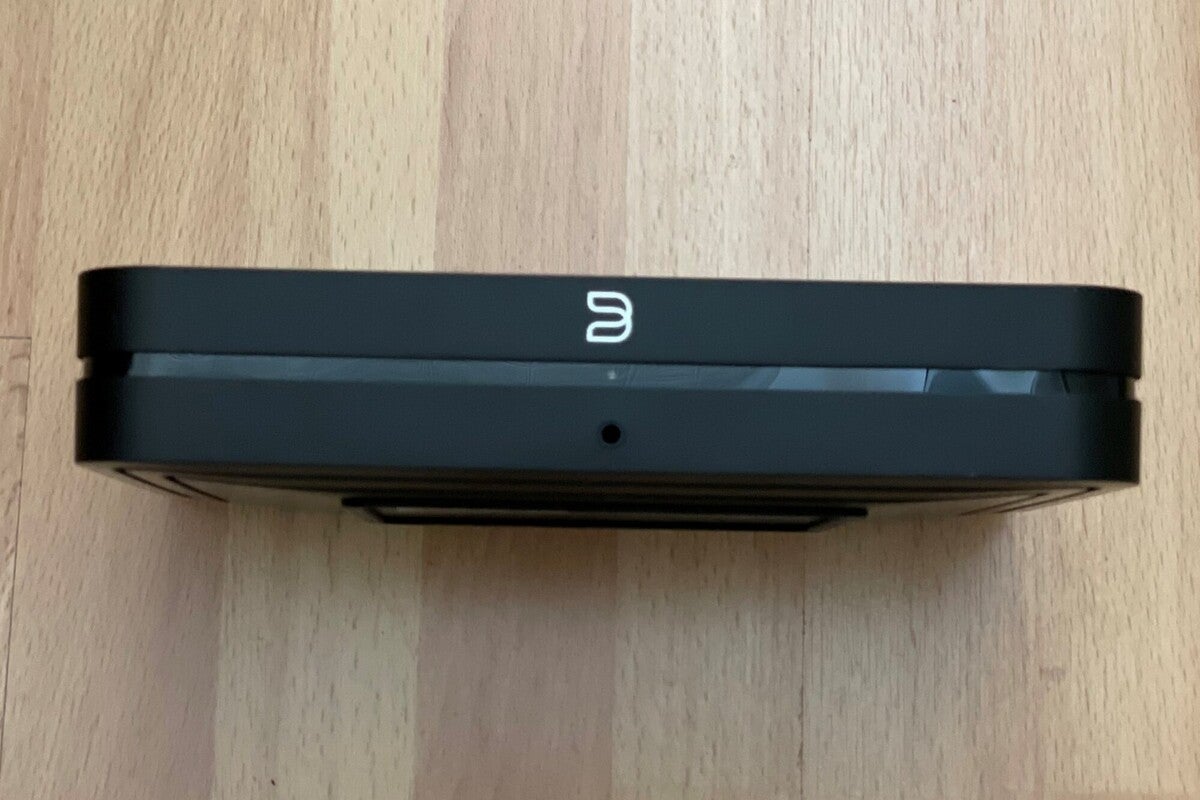 Qobuz has been capping some of its offerings at the more mainstream sampling rate of 48kHz lately, including on such high-profile releases as Drake's Certified Lover Boy; Sufjan Stevens' quirky ruminations on films, A Beginner's Mind; Metallica's weighty Remastered Deluxe Box Set, and the eponymous one-man-band project from my favorite Fleetwood Mac alum, Lindsey Buckingham. There's also a most-welcome, 90-track Ray Charles collection—titled True Genius—available now in 24/48 format.
But on at least half the new releases I've been sampling, Qobuz and Tidal both take the resolution even higher, and Bluesound's streamers can deliver it. Beautifully laid out on a plush blanket of 24/88 sound, the new Beach Boys box set Feel Flows builds on some of the group's most ambitious work (the Sunflower and Surf's Up sessions) cut in Brian Wilson's home studio. This version warms my heart more than even the vinyl versions—and Warner Bros did its best with those pressings back in the day.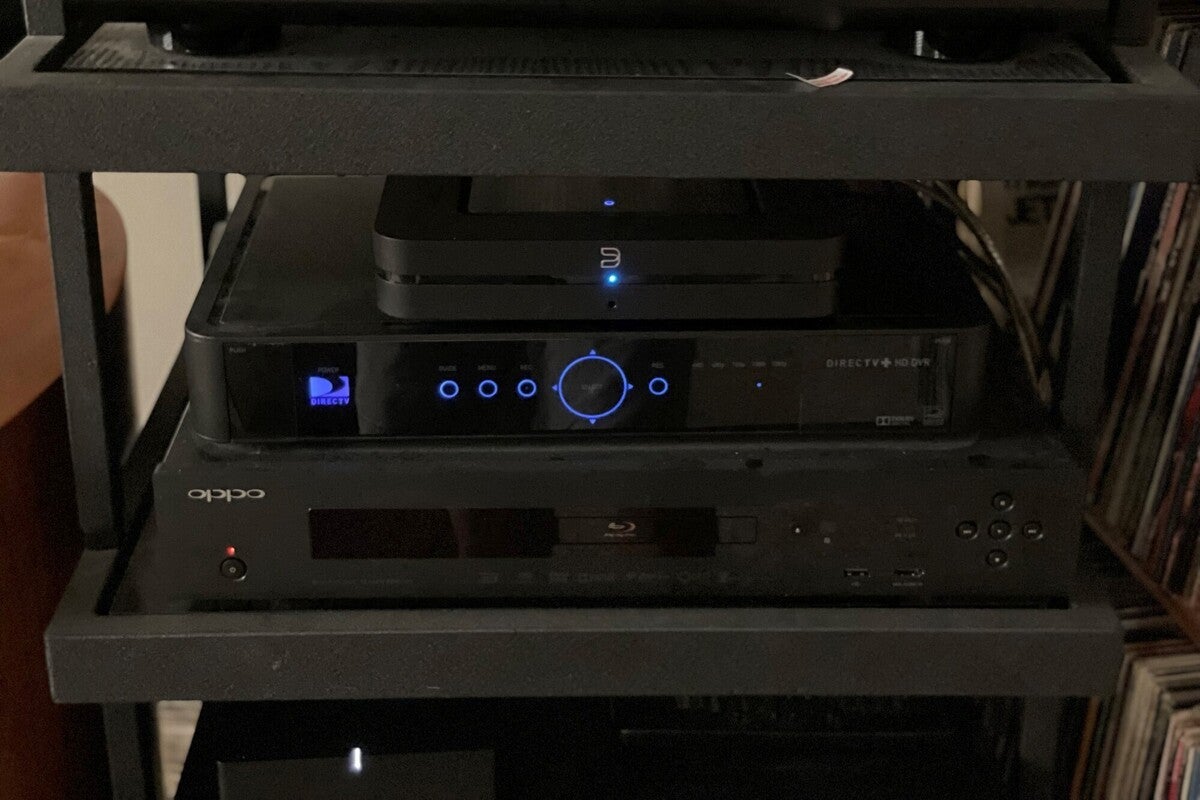 While the metadata in the BluOS app doesn't reveal a recording's encoded bit rate (a dumb omission, Bluesound), I have managed to sleuth out some classical recordings available on the platform at 24/192. And to revel in lots of showcase-grade 24/96 content coming from Qobuz and from Tidal's MQA-encoded Tidal Masters subscription tier. Among those ear openers: Countrypolitan buzz girl Sierra Ferrell's charming Long Time Coming, super cellist Yo-Yo Ma's eccentric Notes for the Future, Jose Gonzales' global folk-chillin' Local Valley, The Killers' most overt Springsteen homage Pressure Machine, and jazz adventurer Terence Blanchard's Absence, backed by the Turtle Island (string) Quartet.
When presented with such high-res content, Sonos essentially punts. The company recently told TechHive senior writer Ben Patterson that when its hardware encounters a bit stream encoded at a sampling rate higher than 24/48, it instructs the streaming service to send a CD-quality 16-bit/44.1 kHz stream, instead. Sonos doesn't support MQA either.
This coding difference helps explain why the Sonos Port's rendering of the same material has not sounded quite as refined to my ears when compared to the Node's performance in synchronized and level-matched comparisons. I'm sure differences in components, engineering, and tuning philosophy factor in as well.
As for the other streaming services, I've been told Bluesound products will go the limit with "whatever high-res standard Spotify introduces later this year." The BluOS platform also recently debuted the first free ultra high-res, 24-bit streaming radio feeds: MQA and CD-quality versions of four nicely curated, commercial-free Radio Paradise music channels, labeled Main, Mellow, Rock, and World/Etc. And Roon subscribers will want to know that the Node (and Powernode) are Roon Ready devices. All that said, Sonos supports even more music-streaming services, with Apple Music and Apple Music HD being the most notable ones you can't play on the Node—unless you cast a stream via Airplay 2, that is.
Running the show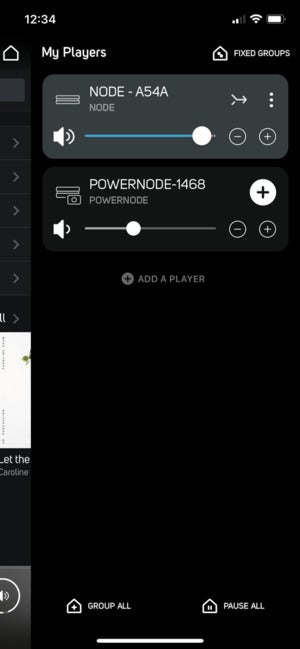 On the operations side, Bluesound's multi-screen BluOS app isn't nearly as user-friendly as what Sonos provides. And it kinda bugs me that even Bluesound's online owner's manual omits crucial details, such as how to connect your Bluetooth headphones, or empty a cache of tracks (such information is available in the form of online white papers, but owners shouldn't have to search for it).
Hands-on app operation becomes easy enough with repeated use, however, and after digging into the app's settings, I was happy to find that one of my prior complaint has been fixed: Adding a subwoofer is no longer an obtuse process.
Still, the tone controls on the new Node remain oddly limited in variable range (a claimed +/- 6dB.) One might conclude that Bluesound wants you to trust that their products' out-of-the-box sound presentation is so uncolored and true that it doesn't need "fixing."
For what it's worth
Honestly, unless you're a tightly focused foreground music listener—and nitpicker—you'll likely be quite satisfied by the CD-quality performance level that remains Sonos' prevailing stock in trade. The company's masterfully polished software makes it easy to compromise, too.
If you're the type of listener who places music on a pedestal, on the other hand; someone who obsesses over speaker placement, the quality of your interconnects, and the fatigue that can result listening to aliased digital audio reproduction, don't deny yourself the subtle yet appreciable enhancements the Bluesound Node can deliver.
Just listen. Carefully. On the Node, voices seem to share more emotion, guitarists more mettle (and metal), piano chords resonate deeper and sustain longer. Plucked bass strings sound warmer, fuller, enriched with harmonic overtones. You'll also newly appreciate the fine-tuning percussionists have done with their tom-toms and high-hats; the sweetly pitched chime and more articulate shimmer that can be extracted from a well-made, well-played cymbal.
It can't wring blood from a stone, but well-recorded, high-res music emanating from a Bluesound Node will grab you and treat you extra kindly with a natural, unforced, coherent presentation. It will make you feel more relaxed, pampered, and emotionally engaged. I find myself listening longer to this streamer than to others, with a higher comfort level and more anticipation, sensing there's something even greater to discover just around the bend with music both familiar and new. And that feeling is priceless.
Best Prices Today: Bluesound Node