At a Glance
Expert's Rating
Pros
Solid video quality, with good motion-detection capabilities
Environmental monitoring included
Hardware is free with a paid two-year subscription
Cons
Siren must be manually activated by the user
Premium service is pricey and doesn't include professional monitoring
Neither motion-detection nor night-vision settings can be customized
Our Verdict
Security features feel slapped on to this otherwise perfectly acceptable indoor camera.
Canary was one of the first companies to introduce a security camera with an integrated siren, with the Canary Pro reviewed here being the company's most current offering. But where other manufacturers have expanded on the concept—the Abode Iota being one of the most notable—Canary's approach hasn't evolved much.
Mentioned in this article
Abode Iota
Price When Reviewed:
$229.00 (MSRP as of May 22, 2023: $329.99)
A single camera does not a home security system make, not even for a small home, so Abode designed its Iota to work in concert with other types of discrete sensors: motion, doors and windows, etc.. This lets you enhance your security ecosystem piece by piece. If the Canary Pro camera doesn't detect an event, it might as well not have happened. The Canary app does support multiple cameras, but stand-alone motion and door/window sensors are much less expensive to deploy than entire cameras—and they're more granular in terms of intrusion detection to boot.
This review is part of TechHive's coverage of the best home security cameras, where you'll find reviews of the competition's offerings, plus a buyer's guide to the features you should consider when shopping for this type of product.
The good news is that the Canary Pro is relatively inexpensive. In fact, it's free if you pony up for the premium service subscription at $13/month or $129/year—with a 24-month commitment. If you'd like to pay less each month, you can pay $169 up front for the hardware. Basic service is included with this option, or you can pony up another $99/year for the premium service plan. I'll outline the plan details in a bit.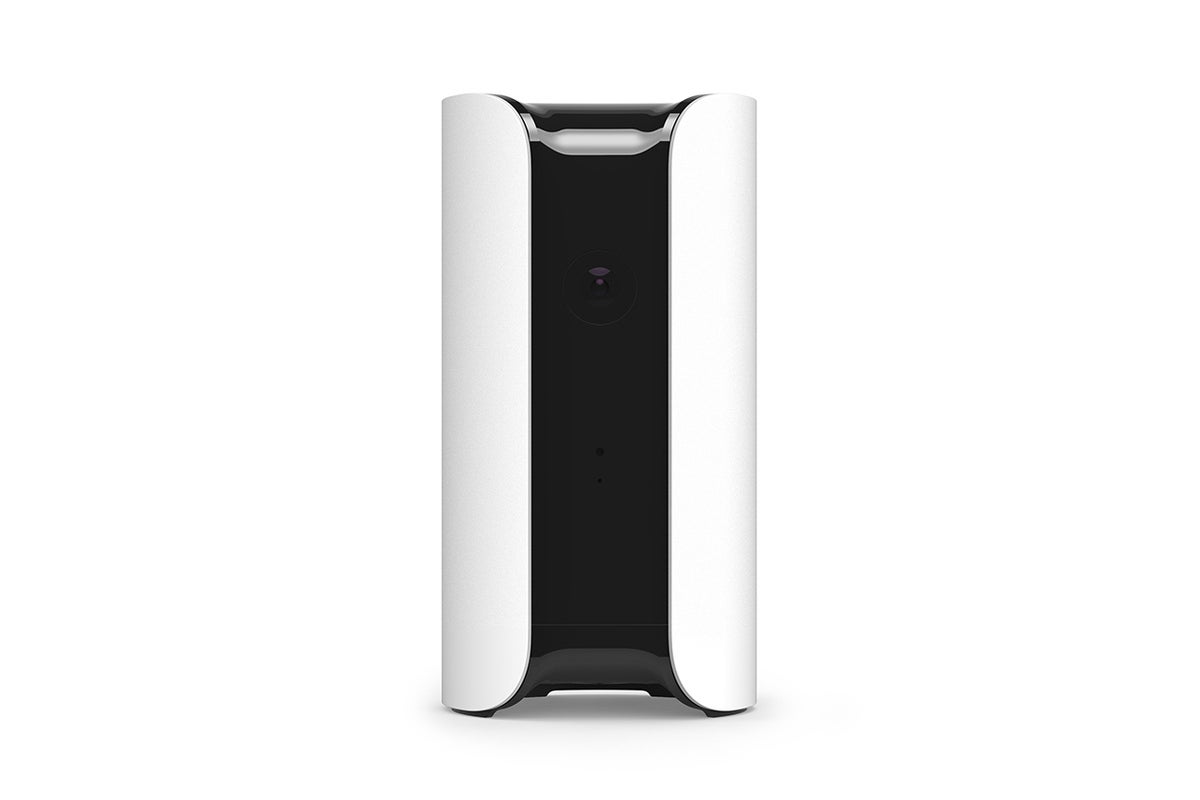 Let's start with a look at the hardware. It's a no-nonsense indoor camera, a simple cylinder 6 inches tall and 3 inches across, with a camera lens on one side. The camera has a 147-degree field of view, and it records video in 1080p resolution. It requires full-time power and can connect to your network via either 2.4GHz Wi-Fi or ethernet. The latter is a good thing: I was never able to get the Canary Pro to connect to my wireless network (it kept crashing during firmware updates) and had to rely on a wired connection. After plugging directly into my router, setup continued flawlessly—at least after slogging through a lengthy registration system that must be done on Canary's website.
The alarm portion of the device is built around a quite piercing 90dB siren with three operational modes: Away, Home, and Night. The camera can switch among modes based on when various users come and go, or you can switch among them manually in the app. Night mode can be automated with a schedule.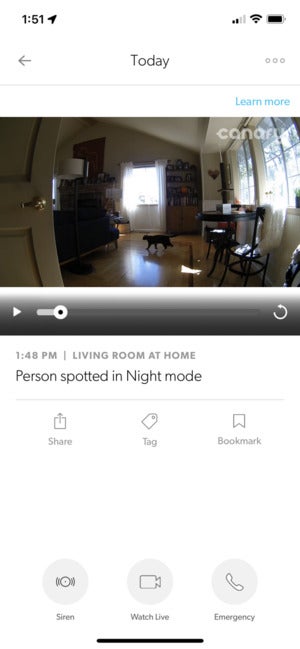 Motion detection and night vision are included, but neither can be configured by the user. You can turn on recording and/or notifications for certain types of motion (all motion or just people detection), for each of the three security modes. (Canary's user manual has a page on tweaking motion sensitivity levels, but this option has been removed from the app, according to the company, as it has "evolved into the smart person detection feature.") Practically speaking, there's no real difference among the various modes since they can all be customized individually.
It's critical to note that the siren is not and cannot be automated. It can be sounded only on demand, either while you're watching a live feed or a recorded video—although it doesn't make a ton of sense to sound the alarm while you're watching something that happened any more than a few seconds in the past.
In other words, if you're away from home, you need to wait for Canary to send you a push alert that someone's in your house, then watch the video and choose to sound the alarm (and optionally, have an agent dispatch the police, EMS, or fire department if you have a subscription. Note, however, that there is no professional monitoring option—you must act to summon first responders.) Realistically this feels so undercooked that the unit's security features barely merit any level of consideration.
One interesting add-on feature in the Canary Pro is climate management. The HomeHealth system tracks temperature, humidity, and air quality over time, and you can elect to have notifications about extreme changes in these variables pushed to you. It doesn't change the game, but it's a handy feature if you don't have another environmental monitoring system available. Google Assistant and Alexa devices are also supported. You can ask them about these readings, or if a registered user is at home or not.
Canary's video quality is good, and for the most part (though not always), it was able to distinguish a person from one of our cats during my testing. Its timeline system is populated with large thumbnails that—handily—are paused to show the moving object on the screen. Too many competing products offer thumbnails paused at the start of the video, before anything has happened, which means it takes longer to find clips of interest. Night vision is the standard infrared variety, but the range is good and clarity is solid.
If you don't have the premium service plan, you'll be limited to a single day of cloud-recorded video history and clips limited to 30 seconds in length. This is better than what some home security cameras offer (Ring, for instance, doesn't give you any recordings without a subscription).
The premium plan extends this to 30 days of recording, with clips up to 10 minutes long. The premium plan also adds some other small features, including two-way talk and unlimited downloads of clips to your viewing device. While the basic service plan is indeed decidedly basic, it's arguably enough for some users, particularly if you're using the camera to, say, keep tabs on pets while you're away from the house.
Ultimately, Canary Pro makes for a solid surveillance camera, though it doesn't offer much of anything you can't get in competing products. If you already have one Canary, adding a Pro may make sense, since additional devices only cost an extra $3/month of $29/year (again, if you're comparing to Ring, a single Ring subscription covers as many Ring cameras as you own). I wouldn't dream of relying on the device for protection needs, however. As a security system, it doesn't even come close to being effective.