At a Glance
Expert's Rating
Pros
Homey, compact design
Vibrant display
Optional MagSafe charging dock with night light
Cons
Expensive
Middling audio quality
Our Verdict
The diminutive Lenovo Smart Clock 2 makes for an enticing and Google Assistant-enabled bedside companion, but at $70, it's on the pricey side.
Best Prices Today: Lenovo Smart Clock 2
Lenovo makes a good thing better with the revamped Smart Clock 2, a Google Assistant-enabled alarm clock with a new design, a vibrant touch display, improved sound, and—if you're willing to pay for it—an optional wireless charging dock that doubles as a night light.
The Smart Clock 2 makes for an enticing bedside companion, capable of playing soothing (or not) tunes, setting alarms and timers, displaying family photos, and controlling smart devices with Google Assistant voice commands. But at $70, the Smart Clock 2 is on the pricey side, especially when you consider that the more capable and sleep-tracking Google Nest Hub costs just $30 more.
This review is part of TechHive's coverage of the best smart speakers and displays, where you'll find reviews of the competition's offerings, plus a buyer's guide to the features you should consider when shopping for this type of product.
You can also buy the clock bundled with a Qi- and Apple MagSafe-compatible wireless charging dock that boasts an integrated night light, but together, the combined devices take up considerably more space, and the package costs $90.
Design
Measuring 3.67 x 4.47 x 2.81 inches (HxWxD), the Lenovo Smart Clock 2 is a little taller than its predecessor but also shallower, with a base that hides a pair of 1.5-inch front-firing drivers. Weighing in at 0.66 pounds, the Smart Clock 2 feels solid and sturdy but not unreasonably heavy, and there's little chance you'll tip it over accidentally.
Available in Abyss Blue, Shadow Black, and Heather Gray flavors, the Lenovo Smart Clock 2 arrives with a cozy fabric covering, with volume up/down buttons on top.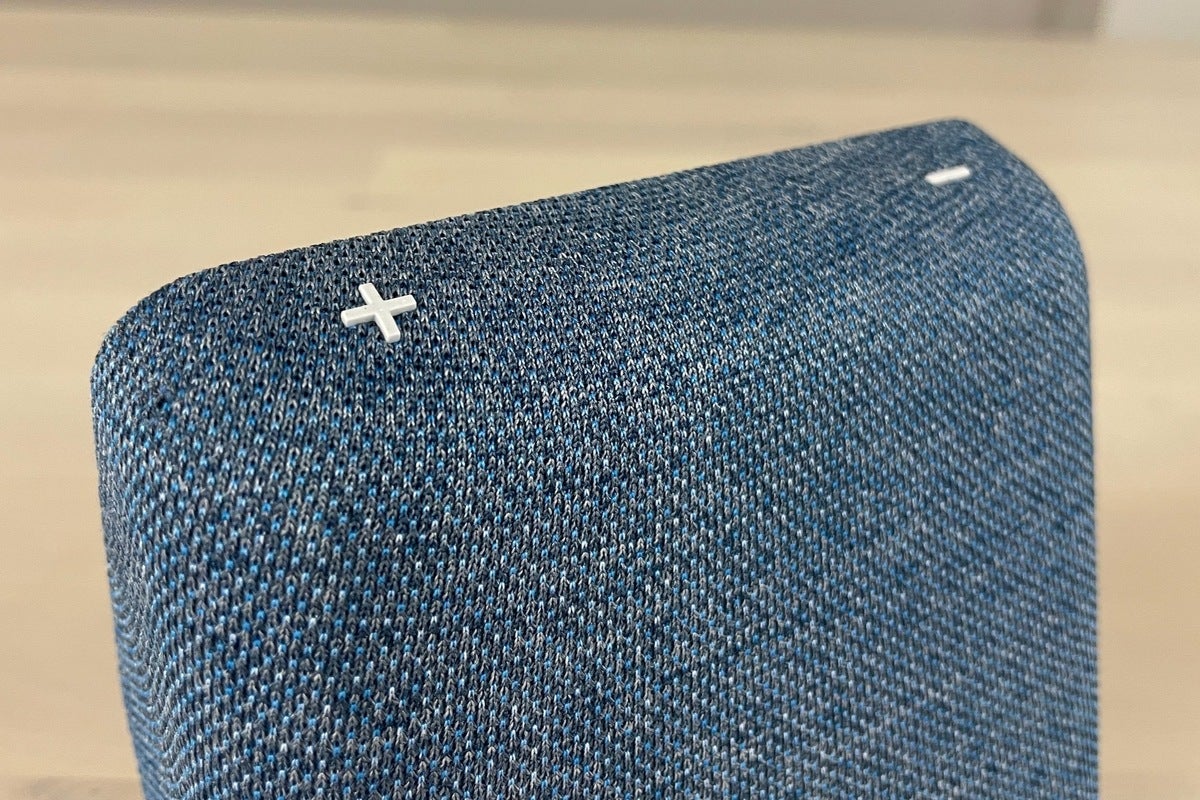 In the rear is a barrel-shaped power port for the roughly five-foot power cord, which terminates in a chunky wall wart. Also in back is a switch that mutes the microphone.
Optional charging dock
The optional charging dock, meanwhile, is nearly twice as wide as the clock itself, measuring 8.65 x 3.26 x 0.96 inches (WxDxH). A pair of rubberized feet on the bottom help keep the dock from sliding, while a cradle on top connects to the clock's base using a series of pogo pins. On its own, the Smart Clock 2 is a compact device, but sitting in its charging dock, it has roughly the same footprint as the Google Nest Hub.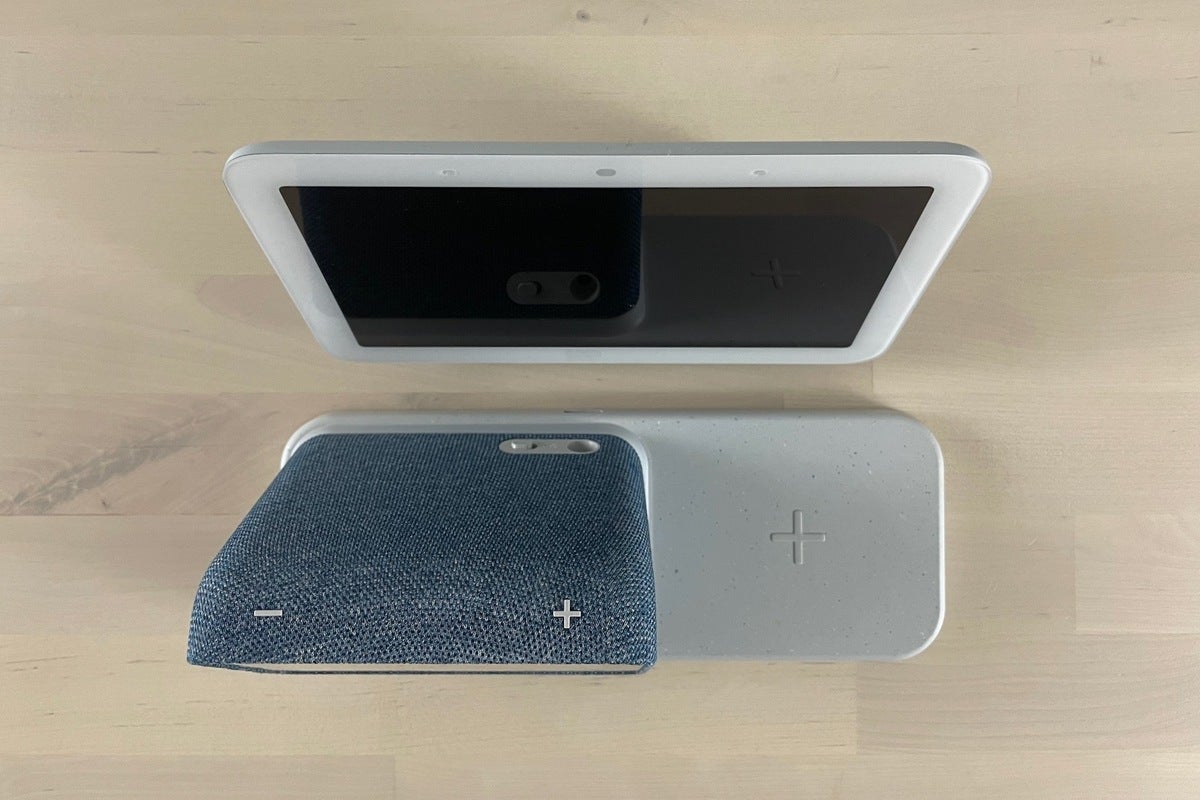 To the right of the clock cradle is the Qi-compatible charging surface, which supports Apple's MagSafe charging standard. Testing it with my iPhone 12 Pro, the handset snapped right into place and the screen displayed the MagSafe charging symbol, just as expected. I was also able to remove my iPhone from the MagSafe charger without lifting the dock itself. If you want to charge a second device at the same time, you can do so using the rear USB-A charging port.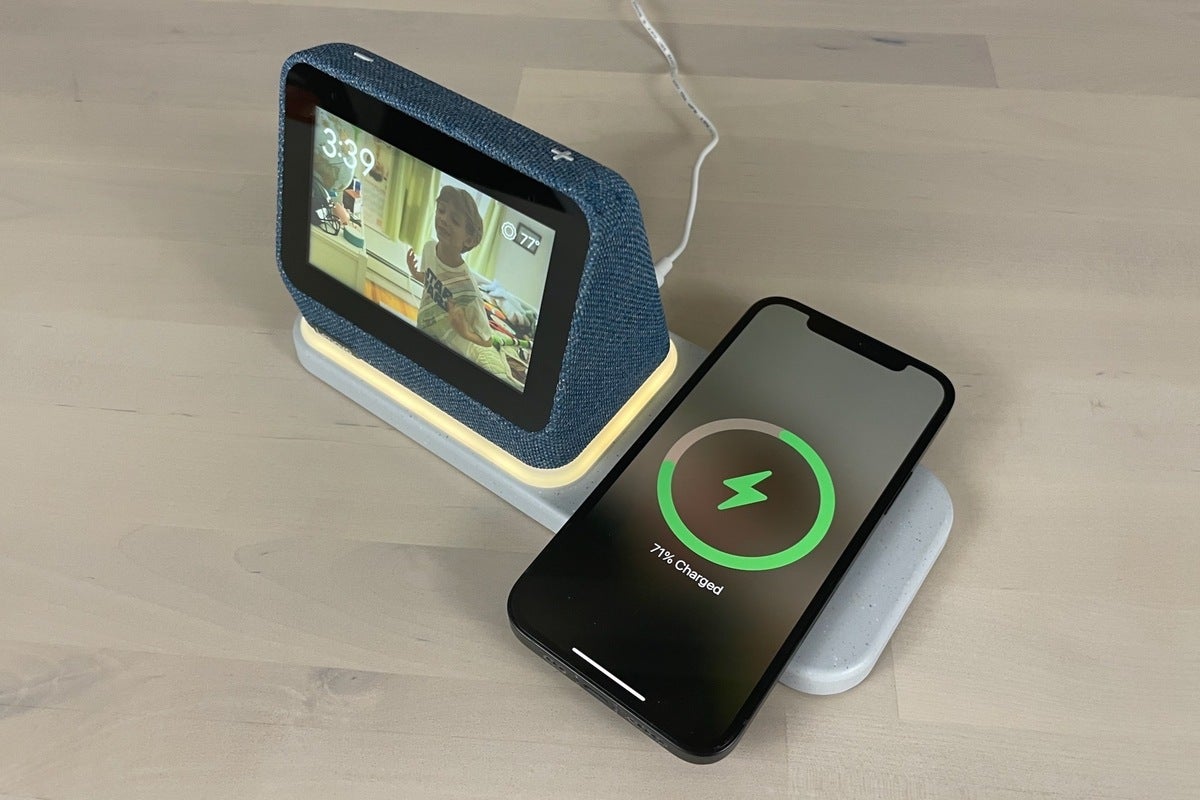 Besides the Qi charging surface, the dock also comes with a night light that's integrated into the clock cradle, encircling the clock when it's docked.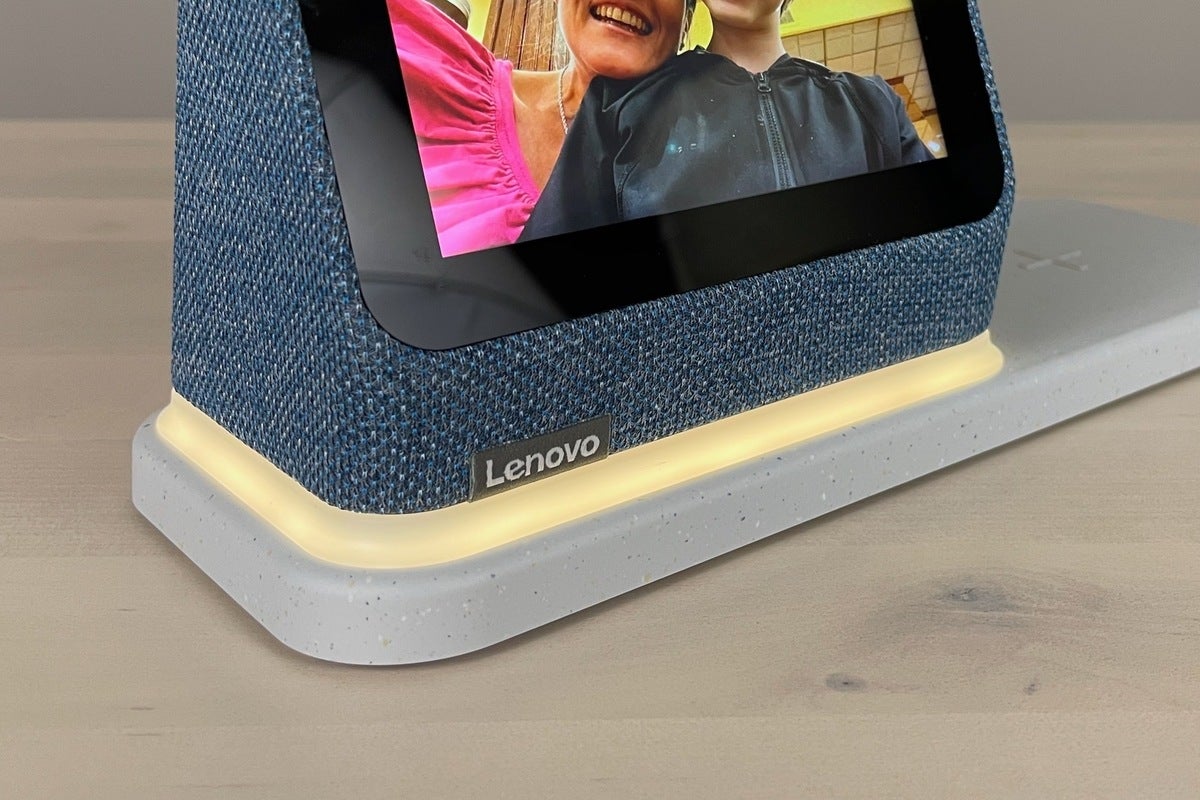 The 11-lumen light briefly turns on when you dock the clock or put a phone on the charger, and you can also activate the light by swiping down on the clock display and tapping the Night Light button. When you activate the light manually, it shuts off automatically after anywhere between one and five minutes, and you can adjust the night-light timer from the settings menu.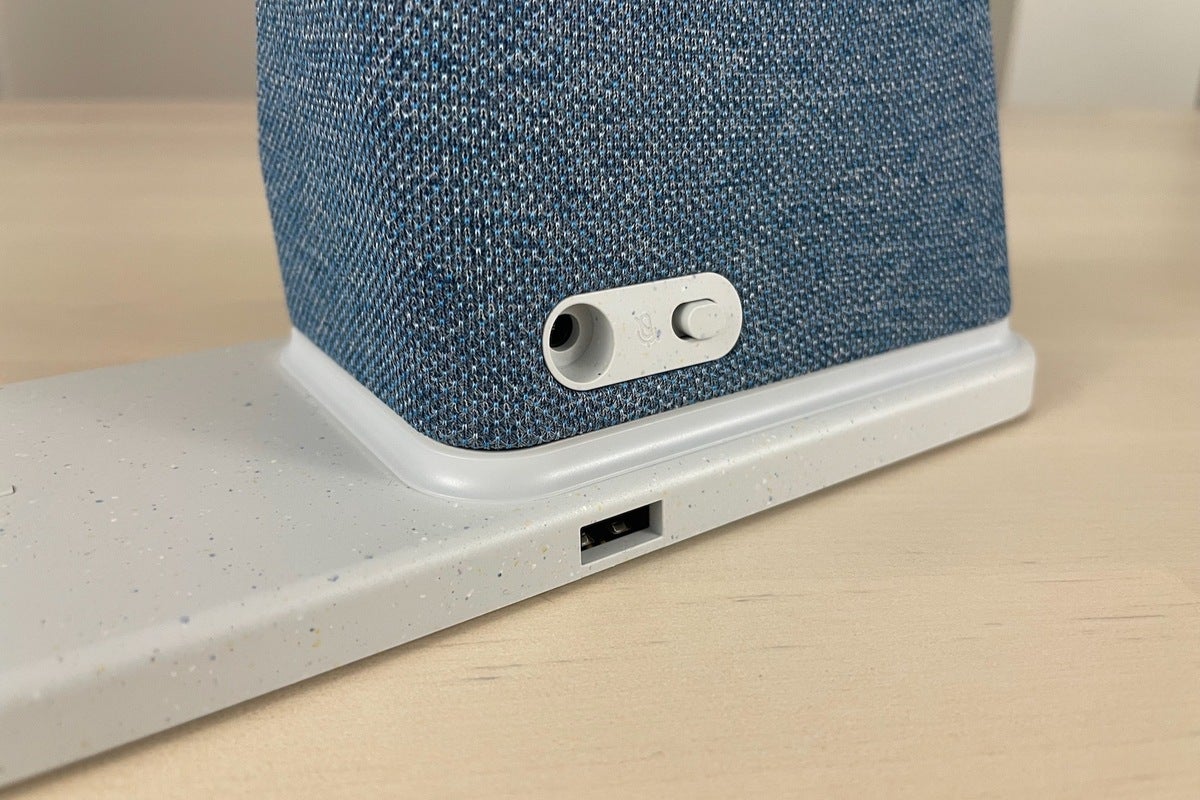 Now, beauty is in the eye of the beholder, and if you think the Lenovo Smart Clock 2's dock looks good, more power to you. Personally, I thought the dock's composite plastic surface, which is flecked with tiny specks of color, looked a tad ugly, particularly without a phone sitting on the charger. Besides looks, the charging dock takes up a considerable amount of space, which could be challenging on a crowded bedside table. In any case, that's just me, and if the charging dock works for you (and functionally speaking, it does work well), then don't let me stand in your way.
Display
The Lenovo Smart Clock 2's 4-inch, 480 x 800-pixel IPS display looked surprisingly sharp and vibrant to my eyes. When using the clock as a photo frame, my family photos looked pleasingly detailed, and there were no signs of a screen-door effect.
Unsurprisingly, the Smart Clock 2 lacks the Ambient IQ feature on Google's pricier Nest displays, which does a superb job of adjusting the color of the display according to the ambient light in the room. Still, the Smart Clock 2's more typical ambient light sensor did a fine job of dimming the display when the lights went down, and when the room went completely dark, the screen switched to a night mode with a dim clock face.
Features and functionality
While it comes with full-on Google Assistant, the Lenovo Smart Clock 2's display experience is a pared-down version of what you'll find on Google Nest smart displays. On the main screen, you can choose from 11 configurable clock faces, or you can use the clock as a photo frame using snapshots from Google Photos. Rather than attempting to pair portrait-oriented photos together or merely blurring the sides of portrait images to fill the screen, the Smart Clock 2 wisely sticks with landscape-oriented photos only.
If you swipe the display from right to left, you'll jump to a screen that lets you control any media you're casting to the clock (Chromecast audio is supported, but not video), while the subsequent screens show active alarms, the weather, and other relevant activity, such as recent Spotify playlists and upcoming calendar events. Not bad, but the interface on the Google Nest Hub and Nest Hub Max are far more elaborate.
Swiping down on the display reveals one-touch buttons for alarms, a nap timer, music (tapping the button will pick up wherever you left off on your default music service in Google Home), and the night light (which, as I detailed earlier, will stay on for up to five minutes. There's also an on/off toggle for all the connected smart lights in the room. Swiping up from the bottom of the display lets you adjust the screen brightness, tweak the volume, enable a "do not disturb" mode, and visit the settings screen.
Smart home control
Thanks to onboard Google Assistant, the Lenovo Smart Clock 2 lets you control your compatible smart home devices with voice commands, just as you could with a Google Nest Audio or Nest Mini.
Google's Home platform lags behind Alexa when it comes to smart device support, but it's rapidly catching up, and most of the key players in the smart home arena (such as Philips Hue, TP-Link/Kasa Home, LG, Samsung, August, Arlo, and Wyze all play nice with Google Assistant, not to mention Nest thermostats.
Still, it's worth noting (again) that the Lenovo Smart Clock 2 lacks the elaborate smart control screens on Google Nest Hub devices, and if you own any smart security cameras, you won't be able to stream their live video feeds to the clock's display.
Audio quality
Lenovo boasts that the Smart Clock 2's audio has improved now that its 1.5-inch drivers are front- rather than rear-firing. I wasn't able to compare the Smart Clock 2's audio performance to its predecessor, but playing tunes on the new clock sounded pretty decent given how small it is, with Billie Eilish's "Oxytocin" sounding relatively crisp with a teeny, tiny bit of bass, while "Reminiscing" by Little River Band sounded somewhat warmer than I would have guessed. Still, we're talking clock-radio-plus quality audio here, so keep your expectations in check.
As far as music services go, you can stream tunes from any streaming service available on the Google Home app, including Apple Music, Deezer, iHeartRadio, Pandora, Spotify, and YouTube Music, as well as any music apps that support Chromecast.
Bottom line
While I'm a fan of its compact, fabric-covered design, bright display, and smart functionality, the $70 Lenovo Smart Clock 2 would be more appealing if its price tag was a little lower.
As I've previously mentioned, the sleep-tracking Google Nest Hub is only $100, and it features the full Nest Hub experience as well as video streaming, and it's not that much bigger than the Smart Clock 2. And if you want the bulky (and if you ask me, somewhat unsightly) wireless charging dock with the night light, you're looking at $90 for the bundle.
Still, the Lenovo Smart Clock 2 is good at what it does, and if you're patient, you'll likely be able to snag one for a discount. Just days before this review was published, Lenovo was offering the Smart Clock 2 (not the clock-and-charger bundle) for just $50, or about as much as a display-less Google Nest Mini. At that price, the Smart Clock 2 starts to look much more attractive.
Best Prices Today: Lenovo Smart Clock 2