At a Glance
Expert's Rating
Pros
IP68-rated for bottom of the pool immersion
Versatile GoPro, suction, and keychain mounting
Stores 8GB of songs for phone-free playback
Supports True Wireless Stereo
Cons
No bass thump at all
A tad pricey for the sound quality
Our Verdict
This speaker is fun, will survive dives to the bottom of the pool, and stores up to 2,000 songs internally. It also comes with suction and GoPro mounts, and will also serve as a key fob. The sound is decent for a speaker this size, but there's little to no thump. Still, kudos for a very clever, rugged design.
Best Prices Today: Speaqua Barnacle Pro
My friends might argue otherwise, but I'm not immune to fun. I can look at the Barnacle Pro in its Tidal Blue (see above) colorway and say "That's a hoot!" Even better, this tiny Bluetooth speaker has a versatile mounting system and it carries a rare IP68 rating.
IP stands for "ingress protection," and in this instance, the 6 means dust and other particulate matter—sand, for instance—can't get inside and cause damage. The 8 means the unit can be submerged in up to 3 meters (9.8 feet) of water. Lesser IP67 or IPX7 ratings are far more common, offering protection from immersion in up to one foot of water and, with the latter spec, not making any promises about protection from particles. You can read all about IP codes in this other story.
This speaker should be able to withstand a trip to the bottom of the deep end of the pool, but I'm sure you'll let me—and the company—know if I'm wrong. Now, if there were only more bass.
This review is part of TechHive's coverage of the best Bluetooth speakers, where you'll find reviews of the competition's offerings, plus a buyer's guide to the features you should consider when shopping for this type of product.
Barnacle Pro design and feature set
My tongue-in-cheek opening comment aside, I did find the 2.75 x 2.75-inch Barnacle Pro's psychedelic blue motif attractive. It looks great stuck to the shower wall using the bottom mounted suction cup. If you don't like blue, this eyeball-like speaker is also available in six other ocean-themed colors as well as a textured one that looks like a golf ball and comes with a green suction-cup mount. I like this company, even if the Golf model costs $5 extra.
An included GoPro-compatible mount can be substituted for the suction mount (they screw on and off), or you can use the captive keychain ring that surrounds the mount point to turn the Barnacle Pro into a keychain fob. A rather large keychain fob to be sure, but one that can be quite handy in the wild if you're prone to misplacing such things.
The speaker floats, so it might also be handy as a keychain fob on watercraft. (Yes, I wanted to say boats, and don't ask me why I think of misplacing things.) Speaqua also includes a USB-A to micro-USB charging cable.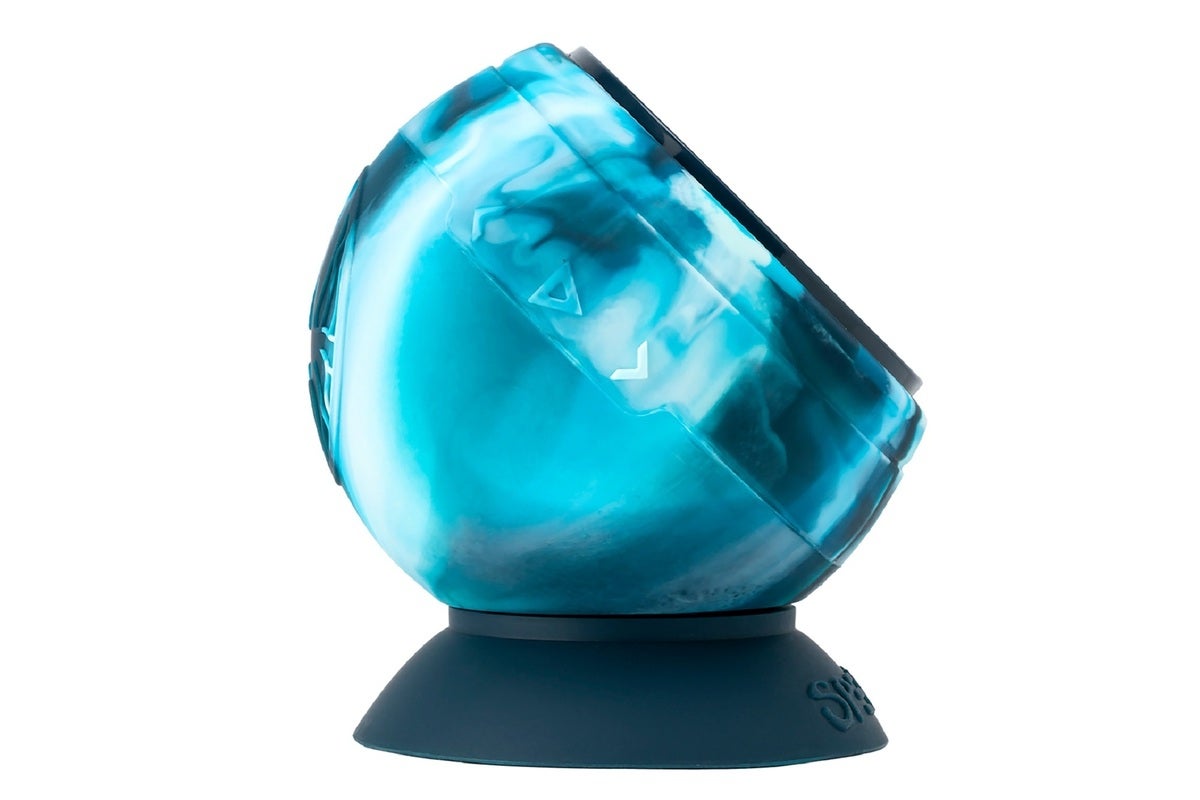 The controls are on the lip of the Barnacle Pro (I keep wanting to say "Bill"!), near the front grill, though because the raised symbols are in the same multi-colored Tidal Blue molding that keeps the water out, they're a bit hard to pick out visually (see above). It took a few sessions before I was familiar. If you don't mind boring, you might consider acquiring this speaker in a solid color, where they're undoubtedly easier to see.
On one side of the unit, you'll find volume down, power/memory mode, and volume up on one side of the unit. On the other, about two inches away, you'll see: previous-track/switch EQ, play/pause, and next-track. There's also a micro-USB port under a captive plug. Said plug is actually part of the molded waterproof cover. That's clever, but it's a tad hard to pry open. Of course, that can be said about the plug on a number of waterproof speakers.
Performance of the Barnacle Pro
I don't normally look at pricing until I've thoroughly tested a review product, but I snuck a look at this one and $65 had me thinking the Barnacle Pro might sound special for its size. As it turns out, the high cost is more a factor of its ingress protection and onboard storage. Its sound is merely OK.
Mid-range and treble frequencies are well represented, and there's no audible distortion, even at the surprisingly loud maximum volume. You get clear vocals, guitar, and other instruments. There's also an indoor/outdoor EQ function, though as far as I could tell, this only rolled off some of the top end.
The real issue is that there's hardly any low-end sound. You can hear the kick and bass guitars, but only their higher-frequency components; i.e., you can hear them, but you can't feel them. The sub-bass featured on so many hip-hop, rock, and other types of tracks simply isn't there.
A lack of bass wasn't unexpected in a speaker this size, but after my review of the Sony SRS-XB13—and given the price—I was hoping for just a bit more. Note that I even pulled a Harry Potter and listened underwater. Same deal, and it took me a while to get the water out of my ears.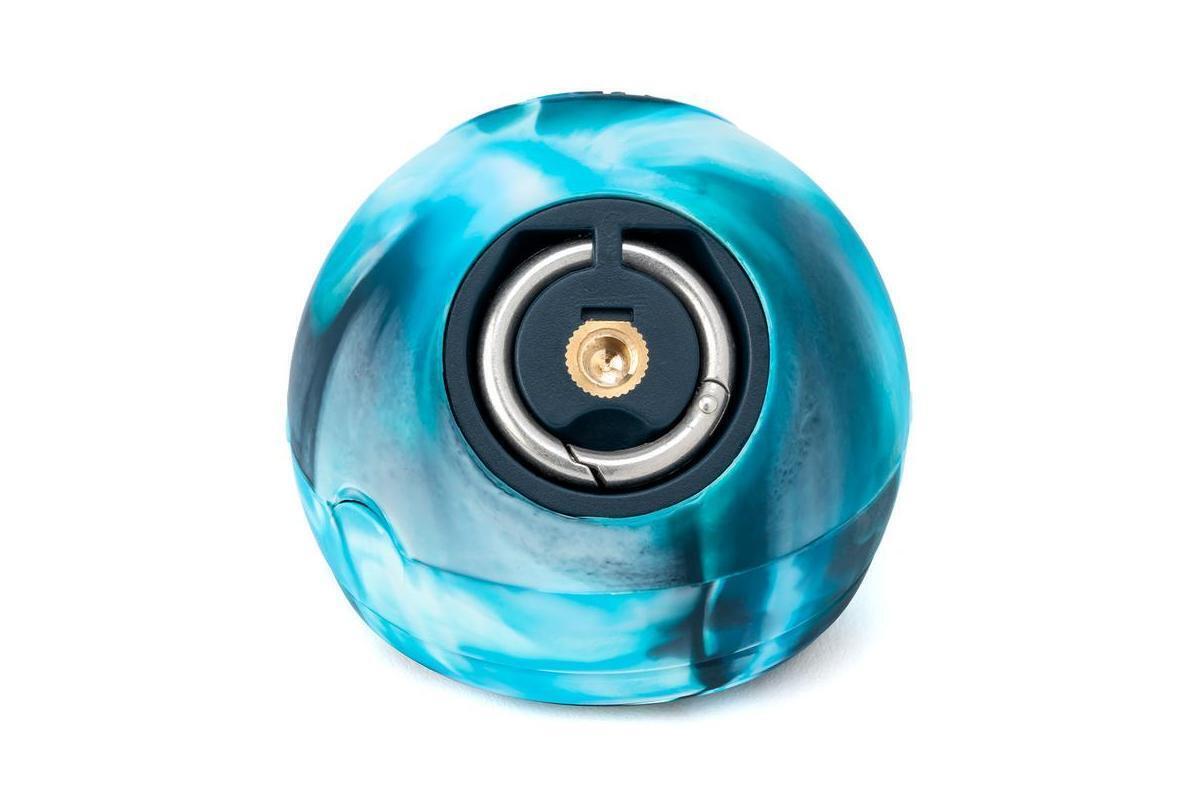 The Barnacle Pro is also monophonic, which usually means simply a lack of stereo separation. In this case, however, I also discovered that phase cancellation killed the lead guitar in one of my songs. That was a first for me, although it did reveal a phase problem with the mix. That's a good thing—at least for me as the recording engineer.
The Barnable Pro will pair with another TWS (True Wireless Stereo) speaker for stereo (the best experience would be with another Barnacle Bill—err, Pro). That should make for a more enjoyable listening experience, but it won't produce more bass.
The Barnacle Pro's battery is rated for only around 8 hours of playback—a surprisingly conservative estimate. To Speaqua's credit, however, it was a much more accurate assessment than the optimistic figures based on playing at 10-percent volume that many vendors provide.
Note that the documentation on the product page talks about the Barnacle Pro's ability to play iTunes m4a files stored internally. It also plays MP3 and WAV files; FLAC and WMA, however, are not supported.
The Barnacle Pro is clever
The Barnacle Pro is a cleverly designed, versatile, tough, and good-enough-sounding speaker given its diminutive size. Its $65 price is higher than I was expecting, but given the multiplicity of roles it can fill, it's not at all unreasonable.
Then again, I might just use it with one of my spare sets of keys—the one I take out on the water. I did mention it floats, right?
Best Prices Today: Speaqua Barnacle Pro