At a Glance
Expert's Rating
Pros
Smooth, solid design
Easy setup
On-device people, pet, and vehicle detection
Sharp, wide video image
Cons
Expensive
Can't stream (yet) to Chromecast with Google TV
Our Verdict
The Nest Cam (indoor, wired) boasts a feature that most smart security cameras don't: free people, pet, and vehicle detection, no cloud required.
Best Prices Today: Nest Cam (indoor, wired, 2021)
You usually have to pay extra before a smart security camera can detect people, but the wired, indoor-only Nest Cam (along with Google's other new Nest cameras for 2021) distinguishes itself with free, on-device detection of people, pets, and vehicles. That's a killer feature for this smooth, solidly built Nest Cam, which also boasts a handsome design, easy-as-pie setup, sharp video performance (including night vision), and (if you want them) affordable and value-packed subscription plans.
One thing the wired Nest Cam isn't, though, is cheap. At $100, the indoor Nest Cam's price tag is a far cry from those crazy-inexpensive Wyze Cams, and even Ring's somewhat pricier security cameras might look like bargains in comparison. So, is the wired Nest Cam worth it? Let's take a look.
This review is part of TechHive's coverage of the best home security cameras, where you'll find reviews of the competition's offerings, plus a buyer's guide to the features you should consider when shopping for this type of product.
Design
Mentioned in this article
Nest Cam with Floodlight (Wired)
Measuring 3.88 x 2.52 x 2.24 inches (HxWxD) and weighing in at 14.1 ounces, the wired Nest Cam feels reassuringly hefty and sturdy, and unlike some cheaper and lighter security cams I've tested, you'd have to work hard to get the Nest Cam to tip over when it's sitting on a shelf or countertop. The rounded base (there's even a solid-wood version for $20 extra) looks handsome, and its adjustable neck lets you aim the lens in a variety of directions, although straight up isn't one of them (down is no problem). A green light sitting above the lens warns passersby when the camera is active, and (following Google Nest's privacy policy) there's no way to disable the light, although you can dim its brightness.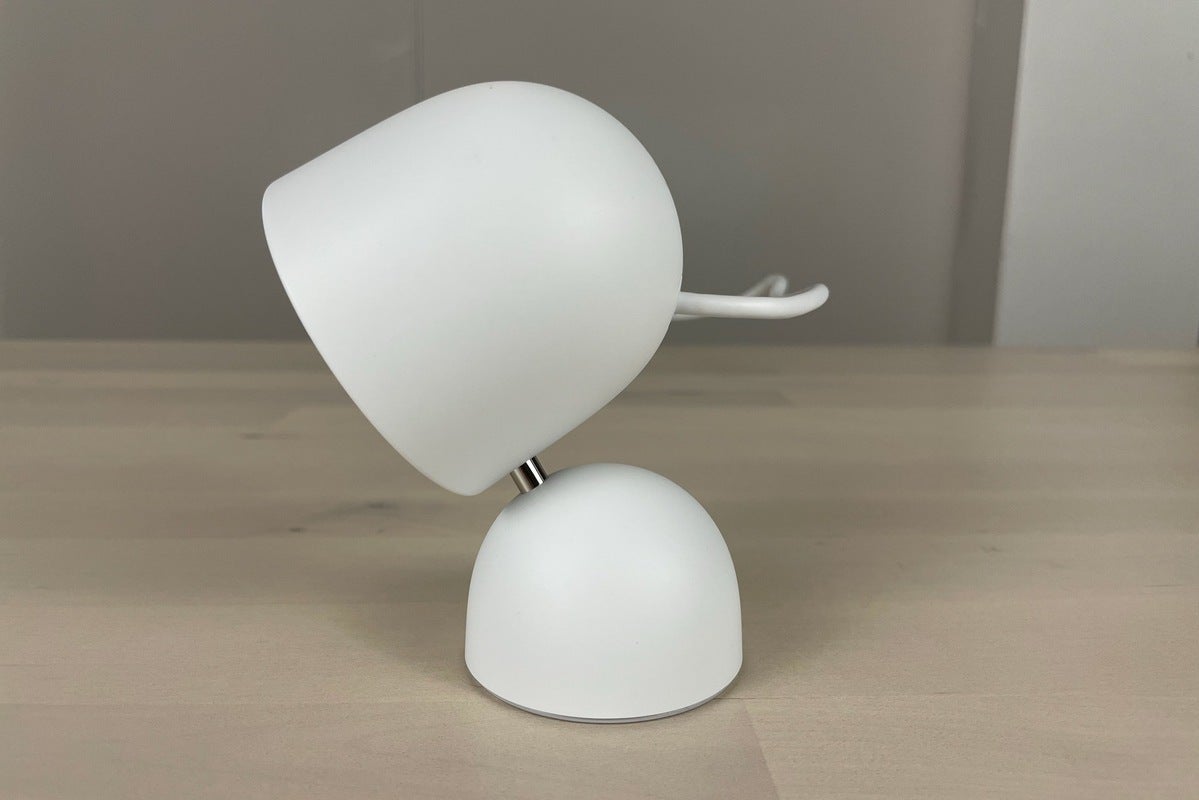 The Nest Cam is powered by a 10-foot captive cable that terminates in a USB-A connector, which then plugs into a wall wart. Because the cable plugs into the bottom of the power adapter rather than straight out of it, the connector will block a power outlet that's below it.
As I just mentioned, you can simply place the Nest Cam on a flat surface, such as a shelf or a countertop, but you can also mount it on a wall using a pair of mounting holes on the integrated wall plate (screws are included).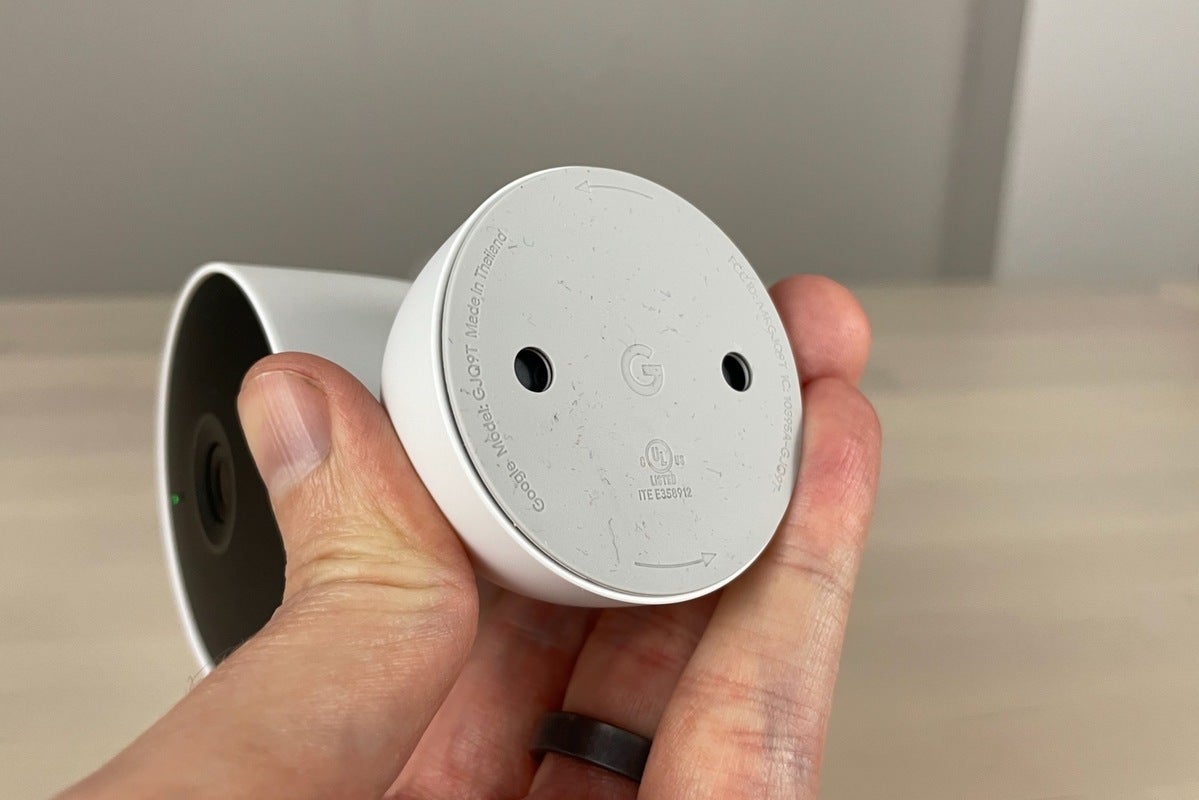 The wired Nest Cam is designated as an indoor-only camera, hence the lack of an IP (ingress protection) rating. If you want a Nest Cam that can survive the elements, you'll need to pony up for the battery-powered Nest Cam.
Setup
As with other Nest devices, getting the Nest Cam up and running is a snap. Just fire up the Google Home app, tap the "+" button to add a new device, scan the QR sticker on the camera, and the Home app should connect the cam to your Wi-Fi network automatically. I had a hiccup because the Home app couldn't find an "assisting" Nest Mini that I'd previously disconnected, but once I powered the wayward speaker back on, the connection process went smoothly.
After the Nest Cam is hooked up to Wi-Fi, the Home app will step you through a variety of privacy policies and opt-ins, and it will also ask which room the cam will reside in. In my case, I put the Nest Cam in my finished basement, where it could (along with an existing Wyze Cam v2) keep an eye on a door that opens into a common hallway.
Motion detection and notifications
Setting up motion zones on the wired Nest Cam is a simple matter of dragging the boundaries of the zone with your finger in the Home app.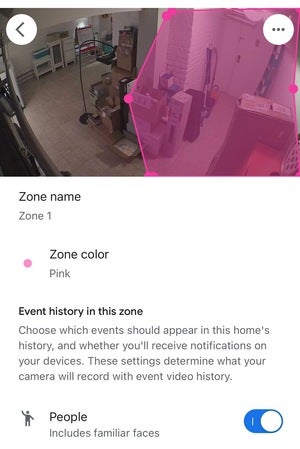 Once you've created a zone (you can create up to four), you can then designate which types of motion events—including people, animals, and vehicles—will show up in your event history, as well as which events will trigger a notification. Similarly, you can determine whether the camera will record and notify you of motion events outside your designated zones.
People, animal, and pet detection is pretty standard stuff, but what makes it special on the Nest Cam is that it all works out of the box, without the need for a paid subscription. And not only is that motion detection free, it's also performed on the camera itself, not in the cloud, which lowers the chance that third parties will be browsing your video history. In contrast, you can't get people detection on a Ring camera without signing up for a paid Ring Protect subscription.
One motion detection feature that you will have to pay for (I'll detail how much in a moment) is Google's Familiar Faces technology, which tells you not only when a person entered a motion zone, but who it was. All you need to do is put a name to a face in the Home app, and then Nest Cam notifications will begin telling you who was spotted in which zone. I found that the Nest Cam correctly identified familiar faces more than nine times out of 10, and on those occasions when it failed to identify a person, it was because their face was almost completely obscured from view. My daughter's recent haircut also threw the Nest Cam for a loop, but I solved that problem by adding her new look to her Familiar Faces entry.
Live view and event history
With its 1080p image quality and 135-degree field of vision, the wired Nest Cam delivers an impressively sharp and wide live stream (including the exceptionally clear, if black-and-white IR night mode), easily besting the image quality of my Wyze Cam v2 (which, to be fair, cost a mere $20 at the time that I bought it). You can access the live feed from the Google Home app, as well as from a Google Nest Hub or Hub Max. Somewhat surprisingly, however you can't stream Nest Cam footage to a Chromecast with Google TV. A Google rep confirmed that the wired Nest Cam is currently incompatible with the Chromecast dongle, and didn't have an update on when support might be added.
From the live stream view, you can tap the blue microphone button to engage in two-way chat with anyone in range of the camera, while the History tab lets you browse recorded motion events (with lengthy blank gaps where no motion events were detected) or (if you're signed up for the right Nest Aware subscription plan) your entire 24/7 recording history for the past 10 days.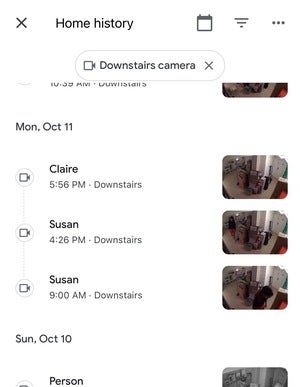 If you'd rather not scroll through hours of (potentially) dead air, your "Home history" shows you highlights of recorded events in a timeline, with each event labeled by type (Person, Pet, or Vehicle) or name (if you have Familiar Faces enabled). Tap an event, and the Home app will jump to the footage.
Nest Aware plans
Finally, let's talk about subscription plans. As I mentioned earlier, you don't need a paid Nest Aware subscription at all to use the wired Nest Cam. Out of the box, the Nest Cam will store video events that occurred in the prior three hours, including person, pet, and vehicle detection.
If you want a longer event history than just three hours, you can sign up for the $6-a-month (or $60/year) Nest Aware plan, which offers a rolling 30-day event history, along with the Familiar Faces feature, plus the ability to alert you of suspicious sounds, such as glass breaking or a smoke/CO detector firing off. For $12 a month, Nest Aware Plus ups the video event history to 60 days, while adding 10 days of full-on, 24/7 video footage. Each Nest Aware plan covers all the Nest cams in your home.
Bottom line
No question about it: The Nest Cam (wired) is one of the more expensive indoor-only security cameras on the market, with its opposite number, the Ring Indoor Cam, selling for just $60. That said, the indoor Nest Cam has an ace up its sleeve with its free, on-device people, pet, and vehicle detection, whereas the Ring Indoor Cam requires a paid subscription for people detection. The Nest Cam also scores with its (paid) Familiar Faces feature, while its rounded, solid design is far more homey than the Ring Indoor Cam's cylindrical look.
Granted, those who are invested in the Ring ecosystem would be wise to stick with Ring cameras. But if you're just starting off with home security or you already have some Nest devices, the indoor Nest Cam packs plenty of value, even if its sticker price isn't the cheapest.
Updated on October 26, 2021 with a correction: Mounting screws are, indeed, supplied with the Nest Cam. Our apologies for the error.
Best Prices Today: Nest Cam (indoor, wired, 2021)