At a Glance
Expert's Rating
Pros
Big, expansive sound given the compact form factor
Dolby Atmos and eARC support
Can be upgraded with additional Sonos speakers
AirPlay 2 and Sonos multi-room audio
Cons
Virtualized height cues are subtle, and occasionally hissy
Drivers begin to struggle at high volumes
No DTS decoding (yet)
Our Verdict
If you're looking for a compact soundbar that won't break the bank, and you're eager to jump into (or already invested in) the Sonos ecosystem, the second-gen Sonos Beam makes for a great choice.
Best Prices Today: Sonos Beam (2nd gen)
Last year's Sonos Arc is a heck of a soundbar, but it's also hella big, not to mention expensive (particularly following a recent Sonos price hike). For those with less room and a tighter budget, the just-refreshed and more affordable Sonos Beam might make for a better fit. With a five-driver array and a trio of passive radiators, the Beam delivers relatively big, wide, and deep sound from a small, all-in-one package, and you can always upgrade it with additional Sonos speakers.
While the second-gen version of the Beam ($450) looks nearly identical to its predecessor and contains the same driver configuration, it boasts a major new feature: support for Dolby Atmos, courtesy of Dolby's virtualization technology. The revamped Beam also packs eARC support, allowing it to handle lossless audio formats over its single HDMI-ARC interface.
This review is part of TechHive's coverage of the best soundbars. Click that link to read reviews of competing products, along with a buyer's guide to the features you should consider when shopping.
Those in the market for a compact, all-in-one, and sub-$500 soundbar won't be disappointed by the Beam, which packs an impressive punch (just don't crank the volume too loud) and serves as a perfect entrée into the Sonos ecosystem. If you already have the original Beam, you may want to stick with what you've got. Yes, the new Beam has Atmos, but without upfiring drivers, the height effects aren't all that ear-popping, and if you stream more than you play discs, the addition of eARC isn't a game changer.
Mentioned in this article
Sonos Arc
Price When Reviewed:
$899
Specifications
The second-gen Sonos Beam (similar to other all-in-one systems we've been seeing lately) is a 5.0-channel soundbar, with discrete drivers for the left, right, center, and left/right surround channels. While the Beam doesn't have satellite surround speakers, it can (similar to its predecessor) "steer" and "localize" sound around the room, and thanks to a beefier CPU, the revamped Beam can now deliver virtual Dolby Atmos height effect as well.
If you do ultimately decide you want physical surround speakers, you can always add a couple of Sonos Ones ($219 each), which can act as surrounds once paired with the Beam. You can also add the Sonos Sub ($749) to bolster the Beam's low-frequency effects. But while it's good to know that you can upgrade the Beam with additional hardware, all those Sonos speakers will cost you, with the total package (a Beam, two Sonos Ones, and the Sub) going for a steep $1,636.
As far as its internals go, the second-gen Beam is (with the exception of the new CPU) identical to the first, including four elliptical midwoofers (with the two midwoofers on the ends angled for surround and virtual height cues), a center tweeter for dialogue, and three passive radiators, which deliver (as I'll describe later) a surprising amount of bass. Each of the Beam's five drivers gets its own discrete class D amplifier.
Absent from the Beam's driver array are any upfiring drivers, which many Dolby Atmos-enabled soundbars employ to bounce height cues off the ceiling (a cheaper and easier alternative to installing height speakers in your ceiling). Indeed, the Beam joins a growing number of mid-range soundbars that use virtualization to achieve its height effects, and in this case, it's Dolby's own Atmos height virtualizer that's doing the work.
Virtualized Dolby Atmos sound isn't as accurate as it would be with upfiring drivers (or, best of all, in-ceiling speakers), but it can be quite effective, and if your ceiling is too high, too short, or vaulted, virtualized height effects will work better than up-fired height cues. Then again, virtual Dolby Atmos effects can sometimes sound distractingly hissy or artificial, depending on the implementation. I'll delve into the Beam's Atmos performance in a bit.
While the Sonos Beam supports Dolby Atmos, it does not support DTS:X, another object-based audio format from Dolby competitor DTS. That's not a huge deal, since DTS:X is mainly found on Blu-ray discs, and only a smattering at that (although Apollo 13, an essential 4K and DTS:X demo disc, is one of them). A bigger problem is that the Beam doesn't support DTS audio at all—or at least, not yet. Both the Beam and the Sonos Arc will be getting a firmware update later this year that will allow them to decode DTS audio, but until then, you'll need to offload DTS decoding to another device, such as a Blu-ray player or a Blu-ray-equipped game console (just set it to output PCM audio rather than bitstream).
Measuring 25.63 x 3.94 x 2.72 inches (WxDxH) and weighing in at 6.2 pounds, the new Beam is almost exactly the same size and weight as its predecessor, but instead of a fabric-covered circumference, the second-gen Beam has a new, perforated enclosure, similar to the larger Sonos Arc. Overall, the Beam looks and feels pleasingly small and handsome, and it fit nicely in front of my 55-inch LG C9 OLED TV, blocking only a slender, barely noticeable portion of the bottom of the screen.
Besides placing the Beam in front of your TV, you could also mount it under your TV; that said, the Beam doesn't come with any mounting hardware. Sonos does offer a customized mounting bracket for the Beam, but it will set you back $50.
Inputs and outputs
The Beam has but a single interface for connecting to a TV: one HDMI-ARC/eARC connector. But if you have an older TV that lacks HDMI, good news: Sonos includes an HDMI-to-optical adapter in the box. If your TV is so old that it only has RCA-style outputs or a 3.5mm audio jack, it might be time to upgrade your TV.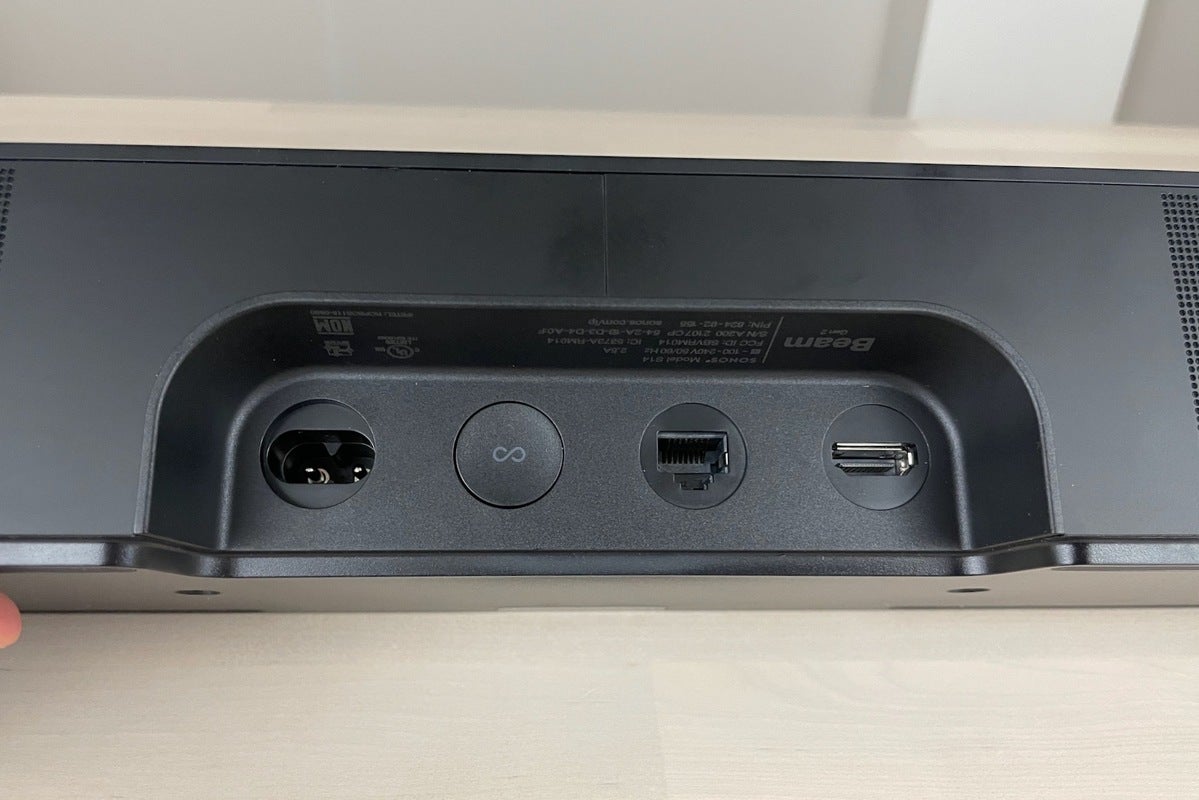 Because the Beam has just the single HDMI-ARC interface, you don't connect video sources directly to the soundbar; instead, you plug them into the HDMI inputs of your TV, which in turn sends audio down to the beam via the HDMI-ARC connection. The beauty of this setup is that it allows you to connect as many video sources as your TV permits, and you'll also be able to pipe audio from your TV's smart apps to the Beam.
Besides HDMI-ARC, the Beam also supports eARC, an "enhanced" version of ARC that allows for lossless audio formats such as Dolby TrueHD and DTS-HD Master Audio, which are commonly found on Blu-ray discs. For eARC to work on the Beam, however, your TV will have to support it too, and not many TV sets manufactured before 2019 do. If you're more into streaming media rather than the physical (i.e. Blu-ray) variety, eARC is a moot point, since all the major streaming video services transmit audio—including Dolby Atmos—via lossy formats such as Dolby Digital Plus.
Aside from its HDMI-eARC interface, the Sonos Beam also has an ethernet port, along with a power port and a button for pairing additional Sonos speakers.
Setup
I've previously described the Beam's (seamless) setup process in an unboxing article, but here's a quick recap.
Once you've powered up the Beam, the Sonos app should detect it right away and prompt you to add the soundbar. You'll then need to tap the Beam with your iPhone or Android phone to receive a PIN code via NFC (near-field communication), and the app helpfully demonstrates how and where to tap your handheld. After the Sonos app gets the PIN, it will add the Beam to your home Wi-Fi network, and that's pretty much that. (New Sonos users will need to install the app and create an account before beginning the setup process, of course.)
With the Beam connected to Wi-Fi, the Sonos app takes the extra step of making sure the soundbar is properly connected to your TV's HDMI-ARC interface. Next, you can (and should) use Sonos's excellent Trueplay room correction feature, which detects the acoustics in the room by listening to a series of blips and beeps emitted from the Beam. The feature requires the built-in microphone on an iPhone (Trueplay doesn't support Android), and you'll need to walk around the room, slowly waving your device in the air. The Trueplay process wraps up in a few minutes, fine-tuning the Beam's sound to make the most of your room's acoustics.
Indicators, buttons, and app control
On top of the Beam are four capacitive touch buttons that will be familiar to Sonos users, including play/pause, volume up/down, and mic-mute controls. The volume buttons share some additional functions as well; for example, to skip to the next track, you swipe from left to right across the row of volume and playback buttons, or you can swipe from right to left to go back to the previous track.
As far as the remote, well, there isn't one; instead, you can just use your TV's remote. If your TV supports HDMI-CEC, the remote should automatically control the Beam's volume. If your TV doesn't support HDMI-CEC, you can use the Sonos app to program the Beam to respond to the TV remote's IR commands.
You can also control the Beam via the Sonos app. Besides a volume slider, the app lets you tweak the Beam's treble and bass levels, as well as enable (or disable) a loudness mode. Night and dialog-booster modes are available from the app's playback screen, and you can also set a maximum room volume or adjust the A/V sync if the lips of the actors aren't matching up with their words.
The Beam has a single status LED up with the touch controls, and it glows when the Beam is online and flashes when you're adjusting the volume. The light won't tell you the current volume level, however, so if the Beam's volume happens to be cranked, you won't know until the sound begins blaring.
Alexa and Google Assistant
Like Sonos's other S2-series speakers, the Sonos Beam supports onboard Alexa or Google Assistant, although only one of those voice assistants can be active at any given time. Once you have either of the smart assistants installed, it'll be just like you have an Amazon Echo or Google Nest speaker; you'll be able to ask Alexa or Google to tell you the weather, read your schedule, tick off the latest headlines, set an alarm or a timer, or control supported smart-home devices.
You can also use Alexa or Google Assistant voice commands to control the Beam itself; for example, you can ask Alexa to raise or lower the volume, while Google Assistant can pause your tunes or skip tracks at your command.
Here comes my standard rant about Alexa and Google Assistant on soundbars, though: There needs to be a way to set voice assistant volume separately from the main soundbar volume. As it stands, if the Beam's volume is turned way up, Alexa or Google Assistant will YELL AT YOU if you speak to them, an occurrence that's made me jump out of my chair on more than one occasion.
Streaming music services and AirPlay 2
The Sonos app supports a number of streaming music services natively on the Beam, including Amazon Music, Apple Music, Deezer, iHeartRadio, Pandora, SoundCloud, Spotify, Tidal, YouTube Music, and Qobuz.
In addition, Qobuz can stream high-definition music via the Sonos app, and Amazon Music will soon be able to as well, with the added benefit of Dolby Atmos Music support. An important caveat: Because the Sonos platform only supports 24-bit audio with sampling rates up to 48kHz, any tracks at higher sampling rates will be played back at 16-bit/44.1kHz, or CD-quality.
Meanwhile, Tidal, which offers high-resolution music via the MQA codec, can only be played back at 16/44.1 on Sonos; the same goes for Deezer, although it only offers CD-quality music anyway. Apple Music, which recently rolled out lossless, 24-bit, and Dolby Atmos Music streaming, can't be streamed losslessly at all via the Sonos app yet.
Besides native music services, you can also stream tunes (including high-resolution tracks) on the Beam from local media servers, including Plex.
Finally, the Beam supports AirPlay 2, allowing you to cast audio to the soundbar via a Mac, iPhone, or iPad. You can also add the beam to multi-room AirPlay 2 speaker groups, allowing you to either play the same music in multiple rooms in your home or play different songs in different rooms.
Performance
Like the Sonos Arc, the Sonos Beam doesn't bother with sound modes such as Movie, Music, Sports, and so on; instead, you simply get what you get. Personally, I found it refreshing to not have to fuss with a half-dozen audio settings, allowing me to better focus on the Beam's sound without worrying about too many variables.
Overall, my feelings about the Sonos Beam's audio following my initial impressions are mostly unchanged. For a compact, all-in-one soundbar, the Beam packs impressively big sound, with a surprisingly wide soundstage and passive radiators that punch well above their weight. Teeing up the Battle of Hoth sequence on the UHD Blu-ray of Star Wars: The Empire Strikes Back, the laser bolts from the soaring Rebel Snowspeeders and the explosions of the toppled Imperial Walkers sounded properly ferocious, with clear surround cues (albeit not as clear as you'd hear from physical surround speakers) and solid booms as the AT-ATs stomped menacingly forward.
That said, the Beam starts to struggle at higher volumes; cranking up its volume beyond 60 percent, the furious battle started to sound more like cacophony, and not in a good way. Mind you, cranking the Beam so loud in my modest home theater quickly became uncomfortable, and for most of my listening, I was perfectly happy with the volume slider at the halfway point. Still, it was instructive to push the Beam to its limits, and if you're thinking of using it in a large space, the soundbar may begin to reach those limits.
Also, the Beam's virtualized Dolby Atmos height effects are on a par with what I've heard from similar Atmos soundbars that lack upfiring drivers: good, but not great, and prone to the occasional hissy artifact. As particles of ice showered down from the crushed Rebel base on Hoth, the sound did feel like it was coming from above, but it wasn't nearly as apparent as I've heard from soundbars that do have upfiring drivers. And on occasion, I heard the same, strange hissiness (for lack of a better term) from the Beam's height cues as I've detected on similar soundbars; take the opening sequence of 1978's Superman, when the swooshing, Atmos-inflected titles sounded a tad harsh.
I also tried some non-Atmos content, such as the UHD Blu-ray of Apollo 13, which has a DTS-HD Master Audio soundtrack (and as we've already established, the Beam can't play Apollo 13's DTS:X track). Sonos says the Beam doesn't do any upmixing for 5.1 audio, in part because it doesn't have to; it simply directs the surround channels to the soundbar's angled drivers on the far left and right sides. The results were pretty great, provided I kept the volume at a reasonable level. Just prior to the thrilling launch sequence, the gurgling fuel pumps delivered some solid surround cues, while James Horner's soaring score sounded crisp yet full. I was also impressed by the deep roar (well, deep for an all-in-one soundbar) of the Saturn V rocket as it rose from the launch pad and shot past the camera. Again, though, dialing the volume much beyond the 50-60 percent mark began revealing the Beam's limitations.
For music, I hopscotched across a number of genres, from classic rock and full-on classical to alt-pop and punk. Streaming from Tidal via AirPlay 2 (you can also stream directly from Tidal via the Sonos app), "Live and Let Die" by Paul McCartney and Wings was a delight, with the guitars, piano, percussion, and backing orchestra sounding precisely placed within the wide soundstage. I also enjoyed the timbre of Gidon Kremer's violin and the clarity of Martha Argerich's keystrokes in Beethoven's Violin Sonata No. 1 for Deutsche Grammophon (on a FLAC from a ripped CD in my Plex collection), while "Holiday in the Sun" by the Sex Pistols sounded appropriately down and dirty, with a narrow soundstage (that's the album, after all). Finally, Billie Eilish's "Oxytocin" (my favorite track on Happier Than Ever) sounded gloriously full-bodied and expansive, with a pleasingly deep baseline (again, that's "deep" in relative terms).
Bottom line
If you're looking for a compact soundbar that won't break the bank, and you're eager to jump into (or you're already invested in) the Sonos ecosystem, the second-gen Sonos Beam makes for a great choice. It's small, it has (relatively) big and expansive sound, it supports Dolby Atmos, and you can always upgrade it with more Sonos speakers.
That said, there are also reasons to give the new Sonos Beam a pass. If you want really big sound from a soundbar, you'll want to go with a more robust speaker, such as the Sonos Arc or the Vizio Elevate, both of which have upfiring drivers for clearer height cues. And if you already own the original Beam and you stream most of your video, the new Beam's somewhat subtle Atmos effects and eARC support won't justify the $449 price tag.
Best Prices Today: Sonos Beam (2nd gen)