At a Glance
Expert's Rating
Pros
Much more attractive than Ring's floodlight camera
Dead simple setup
Easy, intuitive interface
Cons
Night vision remains a bit weak, should you need it
Generally higher pricing than competing options
Scrolling through the video timeline can be tedious
Our Verdict
Floodlights give Google's winning Nest Cam even more new tricks, though it'll cost you.
Best Prices Today: Nest Cam with Floodlight (wired)
What do you get when you take an outdoor Nest Cam and add floodlights? Well, the appropriately named Nest Cam with Floodlight, which is pretty much exactly what it sounds like.
With this unit, the standard outdoor Nest Cam gets a companion component in the form of a bulky pair of floodlights that attach to the camera like guardian angels sitting on the camera's shoulders—though, realistically, installation goes the other way around.
This review is part of TechHive's coverage of the best home security cameras, where you'll find reviews of the competition's offerings, plus a buyer's guide to the features you should consider when shopping for this type of product.
Design and specifications
The large floodlight housing is what attaches to your wall fixture; it must be permanently mounted on a wall or ceiling, and connected to household electrical wiring, just like any exterior light fixture.
The camera connects to a magnetic mounting spot in between the two lights, with a small pigtail wire connecting to the floodlight unit for power needs. The whole affair looks an awful lot like the recently released Ring Floodlight Cam Pro, except the Nest Cam with Floodlight is considerably more attractive, even if it's available only in white.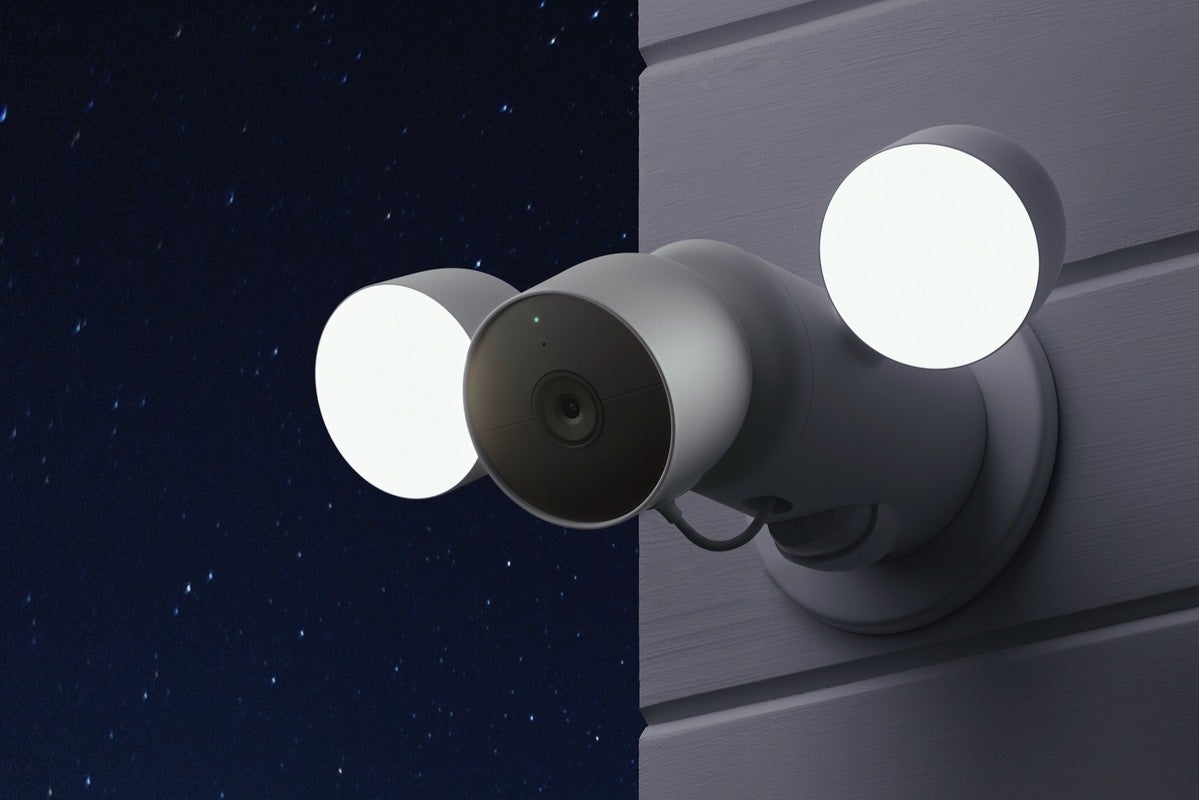 Let's break down the kit in pieces, starting with the floods. The two units produce 2,400 lumens of brightness (adjustable down from there) at a somewhat cool 4000 Kelvin color temperature. The floodlights are easy to aim but stay firmly in place, so they don't feel like they may slowly slip over time and require you to break out the ladder. Motion sensors built into the light housing provide a 25-foot range and a 180-degree field of view.
The camera itself is no different than the current-generation Nest Cam, a cup-shaped unit that records 1080p video with a 130-degree field of vision. The magnetic mounting system makes for easy positioning, though perhaps also a somewhat easy opportunity for theft, given that the camera can simply be popped off its mounting without the need for tools.
Two-way audio is also included, along with standard infrared night vision—though the powerful spotlights would seem to render the night vision moot. The entire package maintains an IP54 rating for limited protection against dust ingress, as well as resistance to water splashes from all directions.
Wireless setup
Setup through the Google Home app is again identical to that of the standalone Nest Cam, and it remains one of the most seamless in the business.
If you have any other Nest devices installed, you won't have to do anything except scan the QR code that temporarily covers the lens while it's in the box. The app handles everything else, connecting the cam to Wi-Fi (2.4GHz and 5GHz are supported) without any additional input. If you're starting from scratch, the system is scarcely more complicated and can be completed within minutes, including the installation of some needed firmware updates.
Features and functionality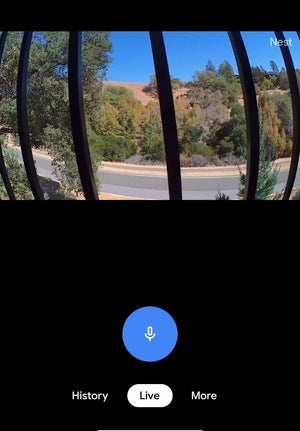 Again, this camera is no different from a standard Nest, and video looks solid both during daytime and under the floods, which are quick to pop on when motion is detected. (Sensitivity is tweakable, and floods can also be turned on and off manually if desired.) Infrared video quality, on the off chance you use it, is decent, but offers a more limited range and less clarity compared to the view from the floodlights.
This camera has the same limitations as other Nest cams: Without a subscription, you only get 3 hours of cloud-based recording for motion-detected events only. Nest Aware ($6/month or $60/year) lets you upgrade to 60 days of motion recordings, while Nest Aware Plus ($12/month or $120/year) provides an extra 10 days of 24/7 video recording, which is the only way to get 24/7 recording of any type.
I'm still not in love with Nest's playback system. The standard timeline lets you scroll back into infinity, but it's tedious because you have to sift through a lot of dead time that has no video attached to it, presuming you don't have the Nest Aware Plus plan. Again, the Ring timeline is dramatically better.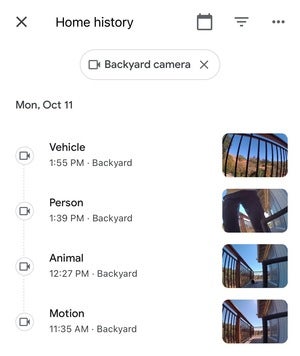 "Full history" remains the better way to spot goings-on, with Nest categorizing based on person, vehicle, animal, or unfamiliar face—or just plain motion. (Face detection and audio detection features, including glass breaking or smoke/CO alarm detection, are available only with one of the paid subscription plans.) The system immediately tagged pets and people accurately, making for a better experience than I had with the standard Nest Cam.
Bottom line
At $280, the Nest Cam with Floodlights is a $30 premium (at press time) over the Ring Floodlight Cam Pro, and Google's subscription plans are generally more expensive by a few bucks per month. That said, the two share similar features and both work very well.
If you're already running a Ring household, I recommend you stick with that branding, while anyone with Google Home devices should probably lean toward the Nest Cam. Still, it's not impossible to switch allegiances here and there. I certainly wouldn't be upset with either option keeping an eye over my home.