At a Glance
Expert's Rating
Pros
Fast, fluid performance with dependable Wi-Fi connectivity
Easy-to-operate interface with powerful voice control features
Full of nice touches that other cheap streamers lack, such as AirPlay and a Replay button
Cons
Discovering and tracking shows could be a lot easier
No Dolby Atmos support or IR control for external sound systems
Only supports wireless connections
Our Verdict
Roku's $50 streaming dongle hits the sweet spot for performance, features, and price.
Price When Reviewed
$49.99
Best Prices Today: Roku Streaming Stick 4K
If you want to buy a streaming player without overthinking it, just get the new Roku Streaming Stick 4K.
This $50 streaming dongle feels fast and fluid, and it supports 4K HDR video with both Dolby Vision and HDR10+. More importantly, it's a straightforward streaming device full of helpful features, and its improved Wi-Fi receiver helps it get better reception than previous low-cost Roku players.
I will continue to nitpick the Roku interface, which could use more convenient ways to follow and discover things to watch. Still, it's a far calmer experience than Amazon's Fire TV devices, a safer (if less visionary) pick than the Chromecast with Google TV, and a much cheaper option than any Apple TV box.
This review is part of TechHive's coverage of the best media streamers, where you'll find reviews of the competition's offerings, plus a buyer's guide to the features you should consider when shopping for this type of product.
Sizing up the new stick
The Roku Streaming Stick 4K replaces Roku's Streaming Stick+ from 2019. It's a slightly faster device with better Wi-Fi performance, and it adds Dolby Vision HDR, which Roku had only offered on its $100 Roku Ultra before. On TVs with Dolby Vision support, this allows for per-scene color optimizations while watching compatible HDR content. The only missing piece here is support for Dolby Atmos object-based surround sound, which remains exclusive to the Ultra in Roku's lineup.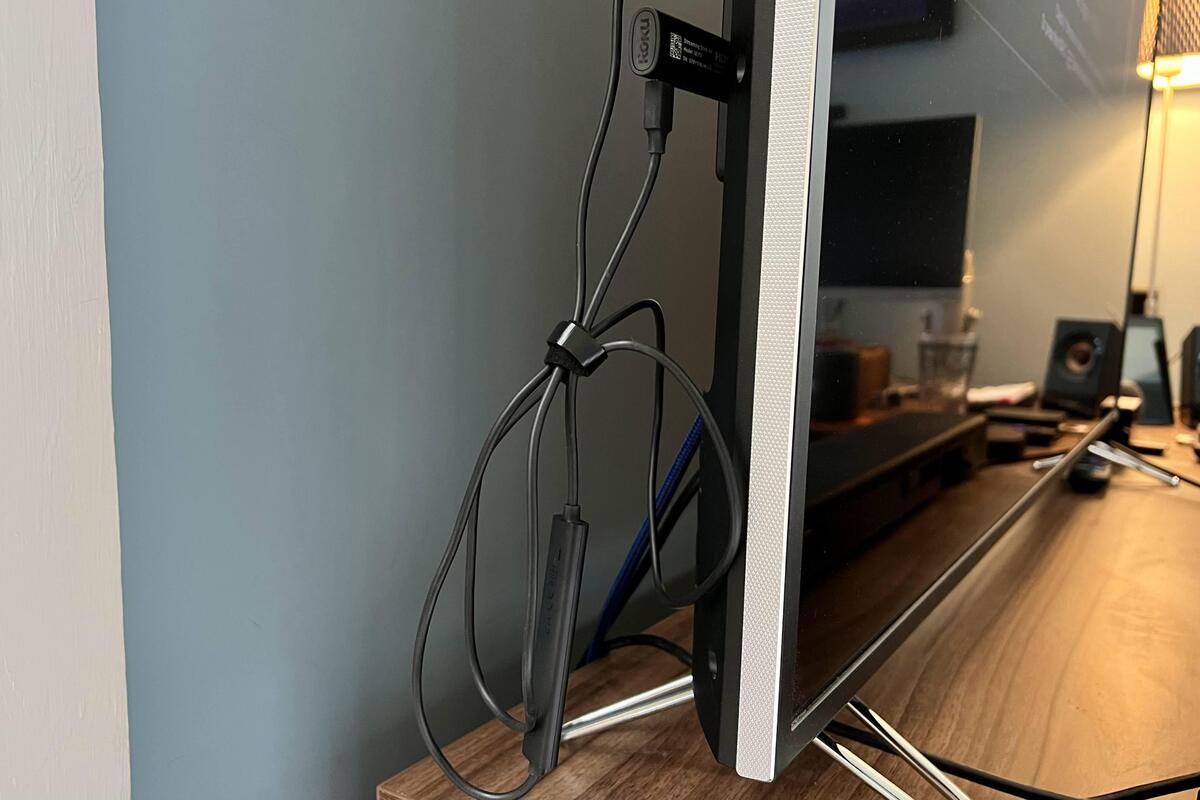 Size and shape are mostly unchanged. The Streaming Stick 4K is still a narrow dongle that plugs straight into your TV's HDMI port—Roku will send you a free HDMI extender if you need it—and its USB power cable has built-in module for the device's Wi-Fi 5 radios. You can plug the five-foot power cable into the USB port on newer TVs, or into an outlet with an included adapter.
The Streaming Stick 4K's remote uses an RF connection so you can point it anywhere, without line-of-sight to the stick, but it also has an infrared emitter for controlling TV volume, power, and mute. Sadly, Roku remotes still can't independently control soundbars or A/V receivers via infrared, so if your sound system doesn't support HDMI-CEC, you'll need a separate remote to adjust the volume.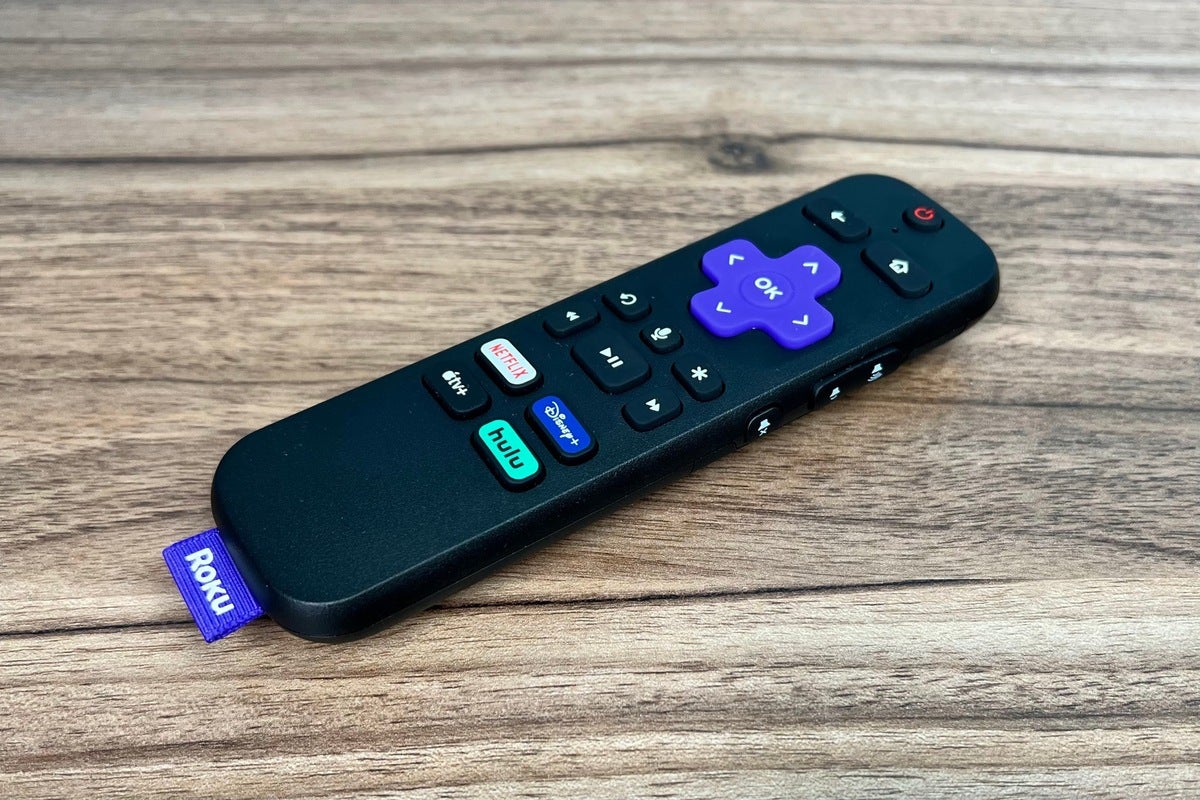 For an extra $20, you can also upgrade to the Voice Remote Pro, which adds a headphone jack for private listening, two programmable buttons, hands-free voice control, a rechargeable battery, and a remote finder feature you can activate via Roku's mobile app. (Read our review of the Voice Remote Pro, which otherwise costs $30 on its own, here.)
Speeds and feeds
Roku has perfected the art of squeezing performance out of cheap hardware. Menus load quickly and scroll smoothly on the Streaming Stick 4K, and you never have to wait long for apps to load. The $100 Roku Ultra still launches apps a couple seconds faster on average, but the Streaming Stick 4K doesn't feel like a major compromise for half the price. (Compared to the $40 Roku Express 4K+, I found that performance was roughly the same.)
Roku also tweaked the Wi-Fi radios in the Streaming Stick 4K, so it's no longer bound to the 20 MHz channel of wireless routers. Whereas the connection speeds of other Roku players top out at around 100 Mbps, the Streaming Stick 4K regularly hit 160 Mbps in speed tests on my 200 Mbps internet connection.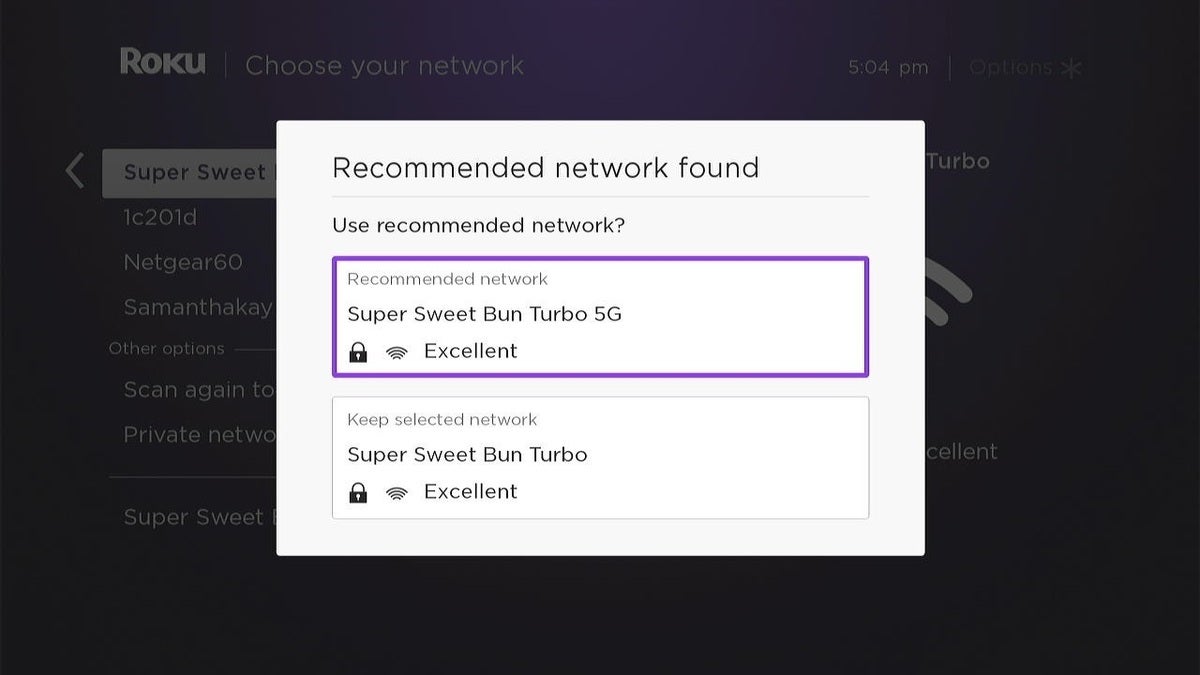 This doesn't matter much in practice, as even 4K video doesn't require speeds of more than 25 Mbps, but it can help download apps or pull in image thumbnails a teeny bit faster. The Streaming Stick 4K's reception range was also similar to that of the Roku Ultra and better than the Express 4K+ in my testing, and if you have a mesh Wi-Fi system, the Streaming Stick 4K can automatically pick the best action point.
Still, there is a trade-off: Unlike the Express 4K+, the Streaming Stick 4K doesn't support external ethernet adapters, nor does it have a built-in ethernet port like the Ultra. That makes it a non-starter for users who prefer a wired connection.
Software: Simple, but getting smarter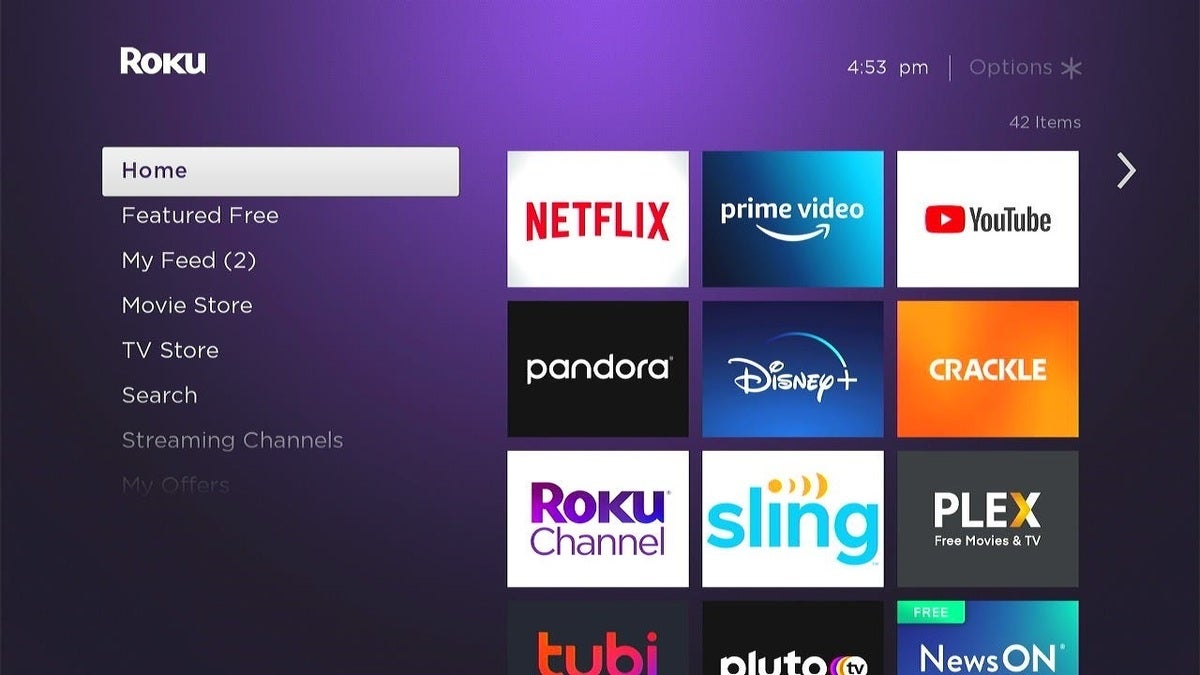 Roku OS 10.5 is rolling out alongside the new Streaming Stick 4K, and it does not dramatically change the Roku formula. The primary way you'll access content is still through a grid of apps, though Roku is starting to add new forms of content discovery around the margins of its interface.
Roku's voice search features, for instance, have steadily become more capable. Most major services let you launch videos by voice, so you can say things like "Watch Squid Game" and jump directly into the video on Netflix. This also works with a handful of music services, including Spotify, Pandora, TuneIn, and IHeartRadio. All that's missing is a way to launch live channels by voice from services like Hulu + Live TV and Sling TV.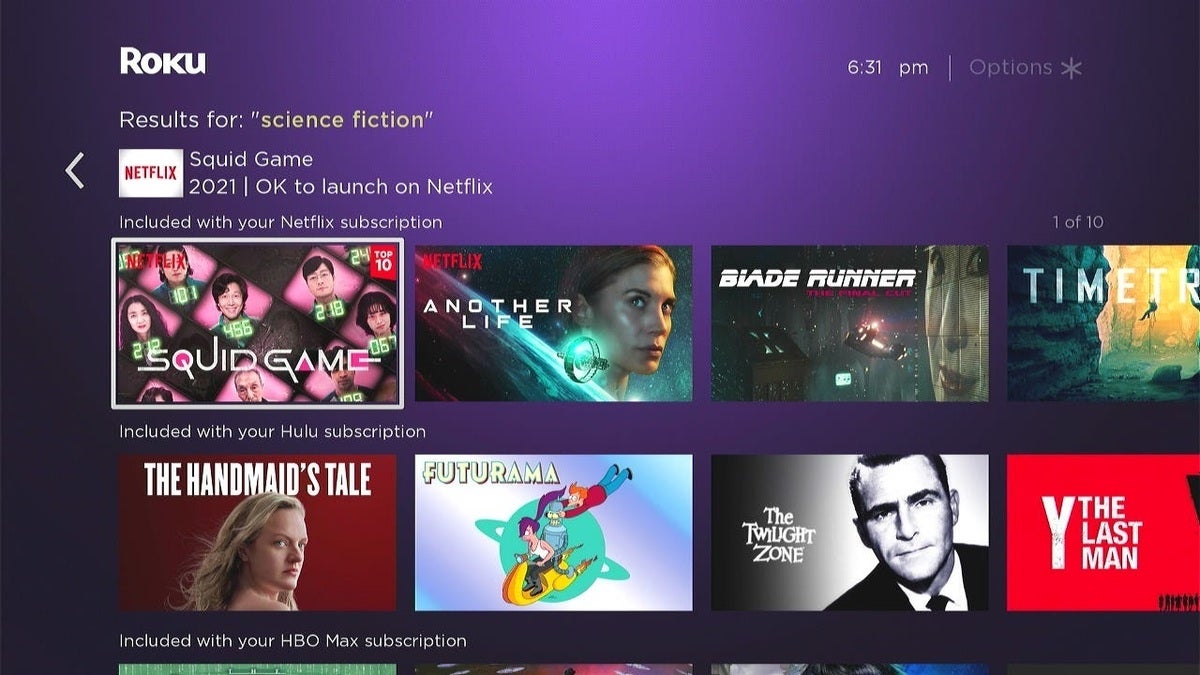 Genre search keeps improving as well. Use the voice remote to ask for comedy or science fiction, for instance, and you'll land on a page full of movies and shows to check out. Roku also recognizes which subscription apps you've installed, and will highlight recommendations from some of those services in its genre pages.
It's just too bad Roku doesn't bring those suggestions closer to the surface, like it does with the "Featured Free" section of the home screen. While the company gives prime menu real estate to ad-supported movies and shows, recommendations from subscription services like Netflix remain buried behind the search button. (That's not surprising given the importance of advertising to Roku's business.)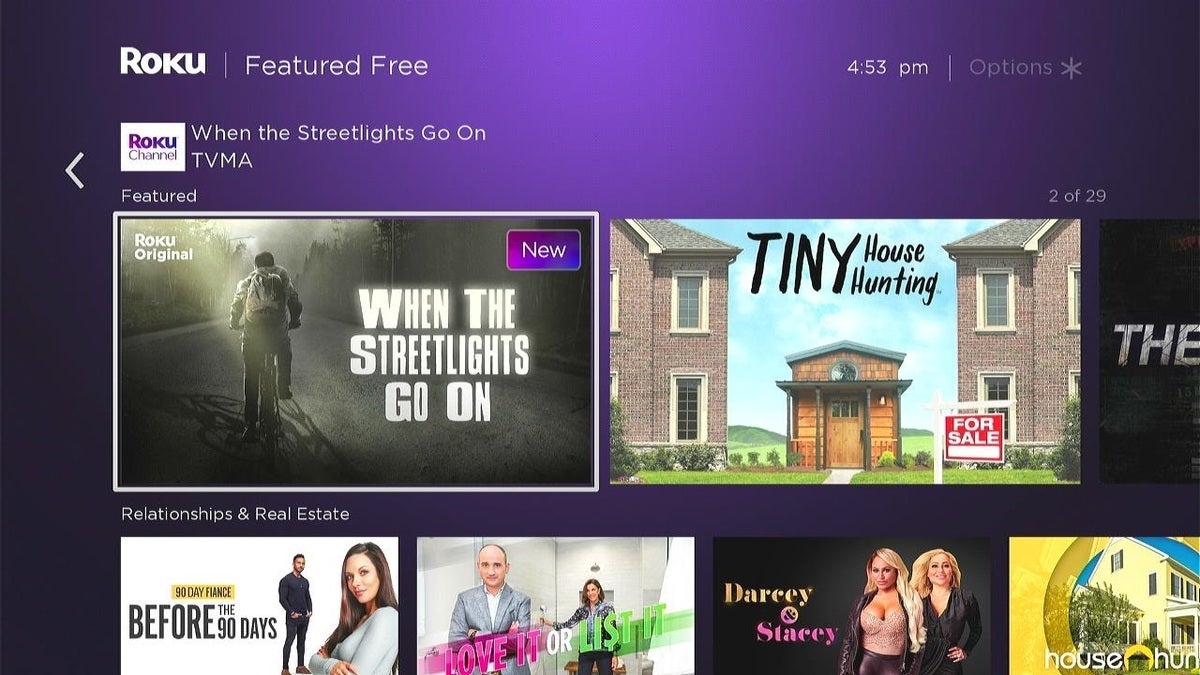 Roku's mobile app does go further, with a browsable list of genres and a "Save List" that lets you flag movies and shows for later viewing. But those features haven't yet made the jump to Roku's TV interface, so the experience feels disjointed. (On the Steaming Stick 4K itself, a separate "My Feed" feature lets you track movies and shows, but Roku seems to have neglected this feature, and it's fallen into disrepair.)
Little niceties everywhere
If you look beyond those nitpicks, the core Roku viewing experience is still great, largely due to all the clever flourishes Roku has built up over the years.
The remote control, for instance, has a replay button that jumps back 10 seconds and temporarily turns on closed captions. And if you hit the remote's star button during playback, you'll see options to turn on volume leveling or Night Mode, the latter of which compresses the sound so it's easier to hear at low volumes. For private listening, Roku's mobile app lets you listen to the TV through headphones, and a new audio sync option helps eliminate audio lag if those headphones use Bluetooth.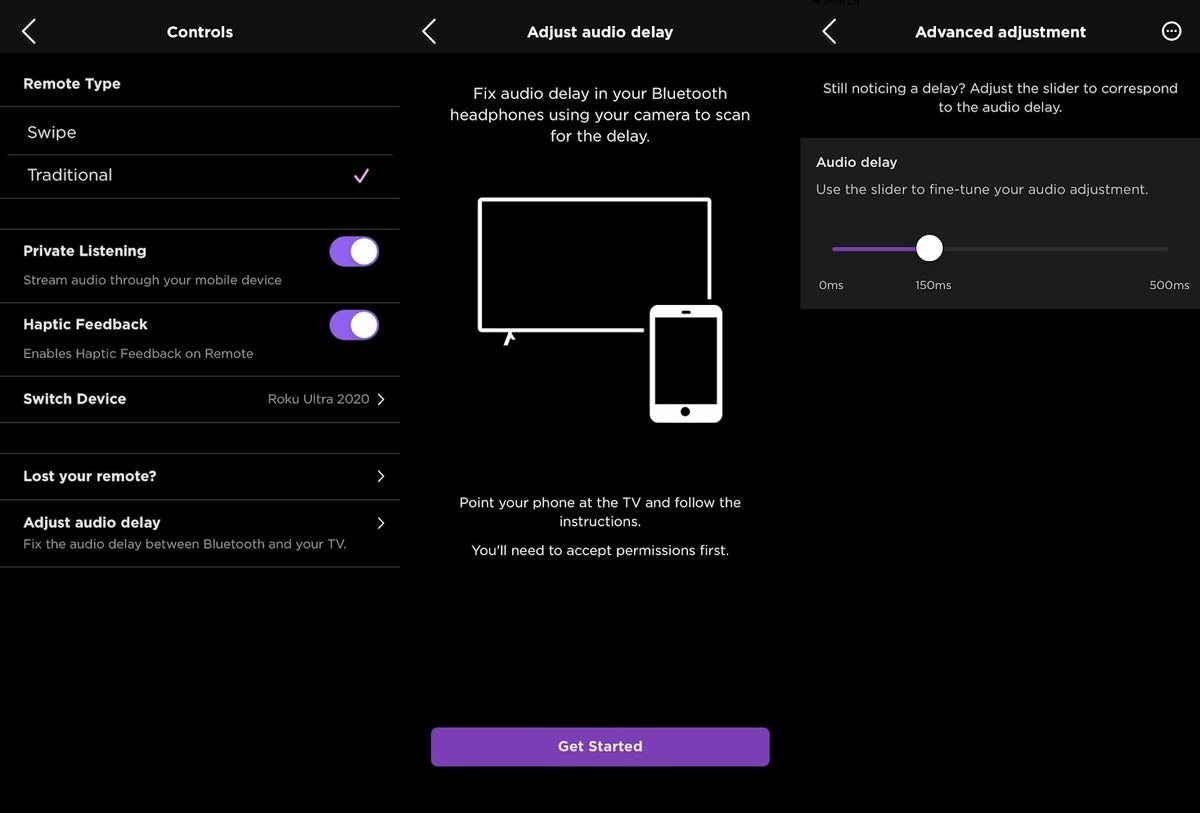 Roku also recognizes that not everyone's a Wi-Fi wizard. On networks with separate 2.4 GHz and 5 GHz bands, Roku will detect the best connection and suggest that you switch to it. And if you happen to be an Airbnb host, "Guest Mode" lets visitors sign into their accounts and automatically sign out at the end of their stay.
Roku streaming players support AirPlay and HomeKit as well, greatly extending their utility for iPhone and iPad owners. You can use AirPlay to send video, music, and photos to the television, mirror the display of an iOS or Mac device, and play music in sync with other AirPlay devices across multiple rooms. Roku players also support hands-free voice control via Alexa and Google Assistant devices, though I've found the requisite voice commands—"Alexa, pause on Roku"—to be overly clunky.
Which Roku to buy
If you're into the Roku experience, the Streaming Stick 4K's Dolby Vision support, stronger Wi-Fi, and portable design will make it the best player to buy. It's worth the extra $10 over the Roku Express 4K+ unless you need ethernet connectivity, and the $70 bundle with Roku's Voice Remote Pro beats the Roku Ultra unless you need both ethernet, USB media support, and Dolby Atmos.
Looking beyond the Roku lineup, the $50 Chromecast with Google TV and $20 Walmart Onn UHD Streaming Device are better picks if you want a more content-forward interface, and the Apple TV 4K still shines if money is no object.
But if all those options have left you feeling indecisive, the Roku Streaming Stick 4K might be just what you need.
Best Prices Today: Roku Streaming Stick 4K