At a Glance
Expert's Rating
Pros
Vibrating mop loosens and removes stains
Strong suction removes most types of household dirt
Mop automatically lifts when on carpet so the carpet doesn't get wet
Our Verdict
The S7 is an exceptional robot vacuum/mop hybrid that gives equal attention to hard floors and carpet. Paired with Roborock's Auto Empty Dock, it provides one of the most automated cleaning experiences to be had.
Best Prices Today: Roborock S7
To cut to the chase, Roborock's S7 robot vacuum/mop is the best hybrid I've ever used on my floors. Thanks to an innovative mopping assembly and sonic scrubbing technology, it wet cleans every bit as well as it vacuums to provide balanced cleanings that leave all your floors spotless. Paired with Roborock's Auto Empty Dock, which dramatically reduces how often you have to touch a vacuum bag, it makes maintaining your home's floors a much simpler and less-loathed task.
Design
The S7 hews pretty closely to the design of previous Roborock models. The circular robot measure 13.9 inches across and 3.8 inches at its highest point due to a turret that houses a LiDAR (Light Detection and Ranging) scanner that aids navigation. Adjacent to the turret are buttons for starting/pausing cleaning jobs, spot cleaning, and sending the S7 back to its dock.
This review is part of TechHive's coverage of the best robot mops, where you'll find reviews of the competition's offerings, plus a buyer's guide to the features you should consider when shopping for this type of product.
It's when you flip the S7 over that Roborock's latest innovations become apparent. The conventional bristle brush has been replaced with a more durable rubber one for better dirt agitation and fewer pet-hair tangles. The brush also "floats" now, allowing it to adapt to uneven terrain so it remains in constant contact with the floor for more thorough cleaning.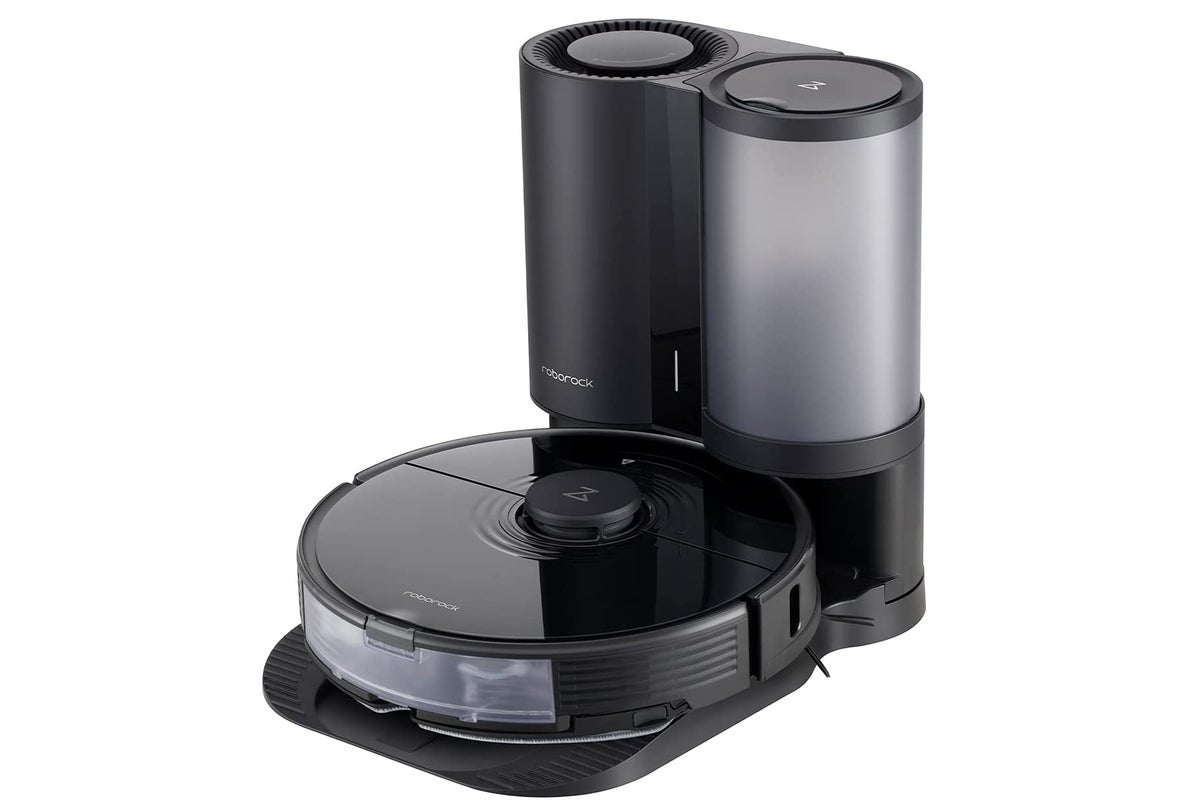 The most impressive change, though, is the S7's mopping technology. The robot uses sonic vibration technology to scrub hard floors up to 3,000 times per minute as water from a 300ml tank is continuously fed to the rear-mounted mop to keep it saturated. This enables it to loosen stains, something most robot vacuum/mop hybrids, which simply drag a damp cloth across the floor, are incapable of. If you have multiple types of flooring in your home, the S7 will recognize when it's on carpet and automatically raise the mop assembly 5mm off the floor.
While the S7 ships with a conventional charging dock, it can also be used with Roborock's optional Auto-Empty DockRemove non-product link, which the company provided for this review. In addition to charging the S7, the Auto-Empty Dock automatically sucks the contents from the S7's dustbin into a 3L canister each time the robot returns to charge its battery. Roborock claims it can hold up to 8 weeks of dust, and when it's full the dustbag self-seals for mess-free disposal. Roborock offers the S7 ($650) and Auto Empty Dock ($300) as separate purchases, or you can buy them together as the Roborock S7+Remove non-product link for the same total price ($950).
Setup and performance
As I mentioned earlier, Roborock provided us with the Auto Empty Dock along with the S7. The dock requires minimal assembly—you just slot the canister assembly on the base and plug it in. While the S7 is charging, download the Roborock app, select the S7 from a list of Roborock products and follow the app prompts to connect the S7 to your Wi-Fi. Roborock has one of the more streamlined setup processes I've encountered, and I had the S7 ready to go in about five minutes.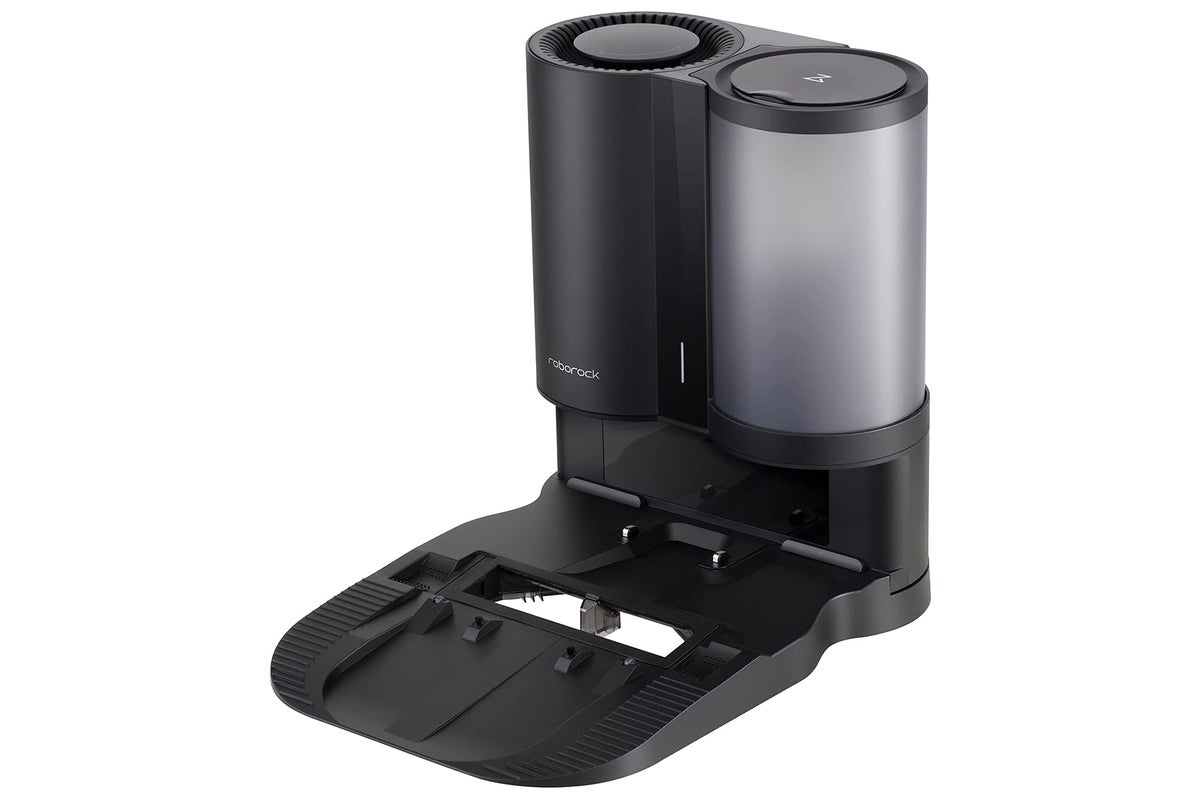 The S7 uses LiDAR to map spaces as it cleans. It took a couple of cleanings to get a complete map of the downstairs level of my home, and once it was done I had a map of the floorplan in the app. The app even takes a stab at dividing the space into color-coded rooms, and it had pretty good results in my tests, accurately delineating the living room, kitchen, and downstairs bathroom. In the event the S7 doesn't quite get the rooms right, you can manually designate them by adding dividing lines in the appropriate spots and naming the rooms. Once you have an accurate map, you can save it and use it to customize cleaning jobs by adding virtual boundaries and no-mop zones, dispatching the S7 to specific rooms, and more.
The S7 has a max suction of 2500Pa, which was more than enough to suck every food crumb, dust bunny, and strand of pet hair from my laminate floors. It was equally thorough on a couple of throw rugs—suction increases automatically when the S7 recognizes carpet—and it was able to traverse these without rumpling them or flipping over their edges.
While I expected that kind of vacuuming performance from a Roborock product, the mopping was a revelation. As most robot/mop hybrids simply drag a dampened microfiber cloth in their wake, they lack the agitation needed to bring up dry or deep stains. The S7's vibrating assembly was powerful enough to release a couple of these on my floors. I'm not planning on getting rid of my stick mop anytime soon, but I'd feel confident that regular mopping with the S7 would dramatically reduce how frequently I have to pull it out of the closet.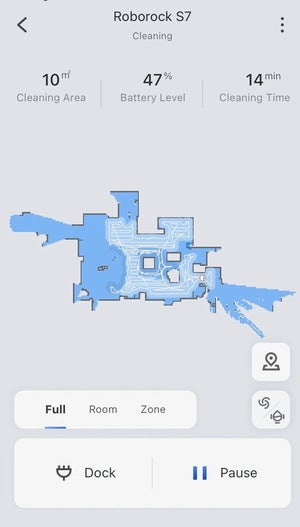 Roborock's Auto Empty Dock detects when the S7 returns to its charging pins and automatically sucks the contents from its dustbin. It offers four empty modes, selectable in the app, that intelligently adjust emptying based on your usage—Light, Balanced, Max, and Smart. The first three essentially allow you to set emptying performance based on the size of your home, while the Smart mode enables Roborock's algorithms to choose the best mode for your environment. The dock also includes automatic dustbin detection, which prevents it from emptying the S7's dustbin when it recognizes the canister has been removed from the dock.
If you have multiple floor types in your home, a robot that can both vacuum and mop is the logical choice. The S7 balances those cleaning modes better and yields more impressive results than any of the competing hybrids I've used. While the Auto Empty Dock isn't strictly necessary, it's a significant convenience particularly if you have four-legged family members, given that pet hair tends to fill a robot vacuum's tiny dustbins pretty quickly. You may find that disposing of your dust bags every month rather than every day is worth the extra expense.
Best Prices Today: Roborock S7