At a Glance
Expert's Rating
Pros
Golden, appealing sound signature
Built-in Alexa
HEOS high-resolution audio platform
AirPlay 2 support
Cons
A little lacking in the mid-range
Limited high-resolution support from music streaming services
Our Verdict
Denon's line of Home wireless speakers, including the Home 150, just got a feature that made them worthy of a fresh look: built-in Alexa, courtesy of a recent firmware update.
Best Prices Today: Denon Home 150
Denon's line of Home wireless speakers have been out on the market for more than a year now, but they just got a feature that made them worthy of a fresh look: built-in Alexa, courtesy of a recent firmware update. That means the Denon Home 150, Home 250, and other Denon Home devices are now smart speakers, on par with similar wireless speakers from the formidable Sonos.
I've been testing the $249 Denon Home 150 and $499 Denon Home 250 for several months now, in anticipation of the Alexa update that dropped only recently.
This review is part of TechHive's coverage of the best smart speakers and displays, where you'll find reviews of the competition's offerings, plus a buyer's guide to the features you should consider when shopping for this type of product.
So, how do the Denon Home 150 and Home 250 measure up now that they're smart speakers? Let's dig in.
Design and specifications
Measuring 7.4 x 4.7 x 4.7 (HxWxD), the short, squat Denon Home 150 feels solid and substantial at 3.7 pounds, with a fabric-wrapped circumference and a glossy top with touch-sensitive controls that appear when the speaker detects a nearby hand.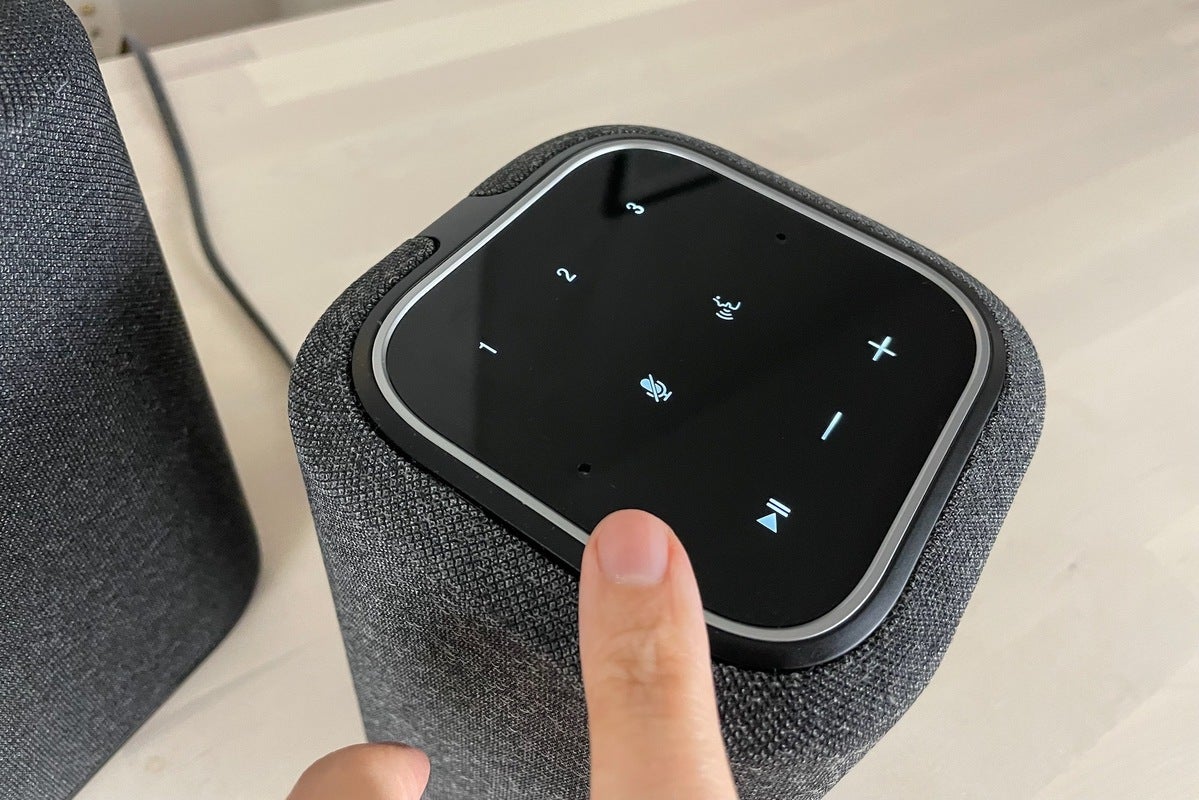 Near the base of the speaker is a short, thin status LED, while a second blue LED near the top of the speaker glows from behind the fabric when Alexa is listening or speaking.
In back of the speaker is an ethernet port, a 3.5mm auxiliary input, and a USB-A port that can read music files on an external storage drive. Also in the rear is a Bluetooth pairing button, a second button that lets you connect to a Wi-Fi router via WPS (Wi-Fi Protected Setup), and a threaded mounting hole.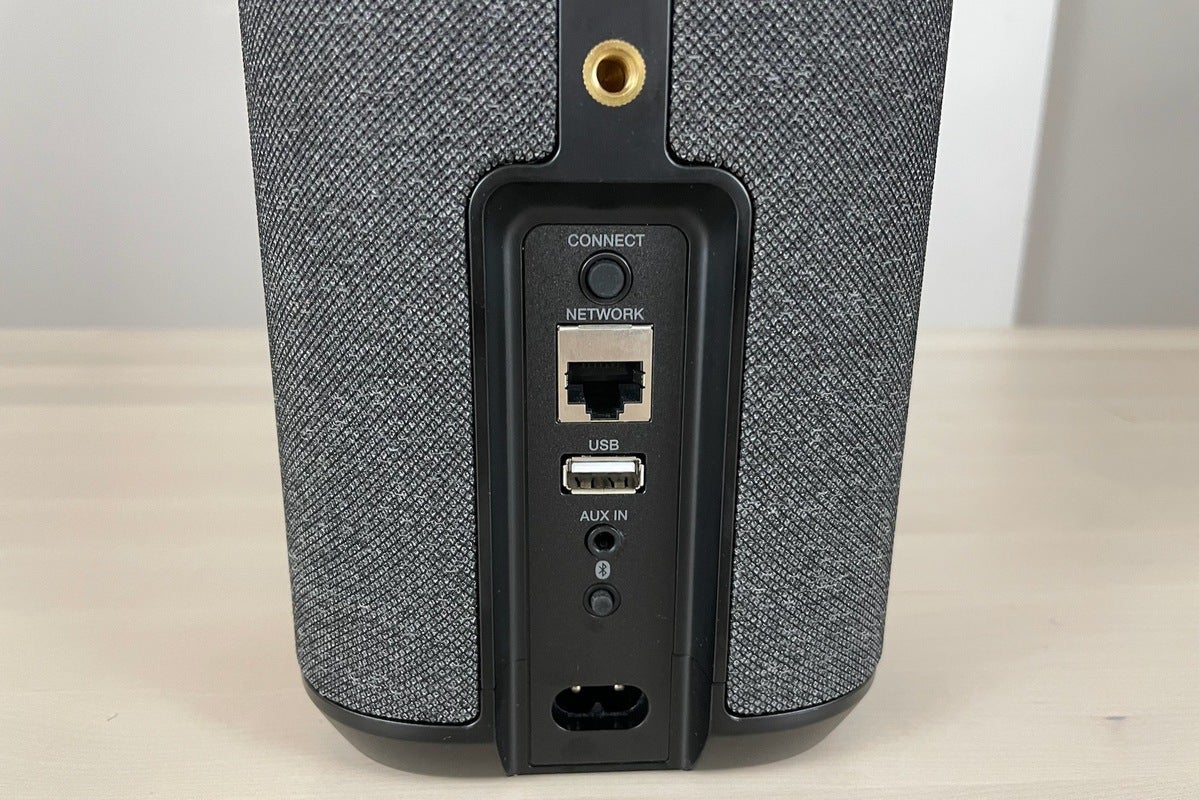 Considerably larger than the Denon Home 150, the rectangular Home 250 measures 11.6 x 8.5 x 4.7 inches (WxHxD) and tips the scales at 8.2 pounds, making it roughly twice the size and weight of its smaller sibling. As with the Home 150, the Home 250 is fabric-covered, with similar touch controls on its glossy top. You also get the same rear inputs and buttons, although the Home 250 swaps out the Home 150's threaded mounting hole for a deep, molded handle.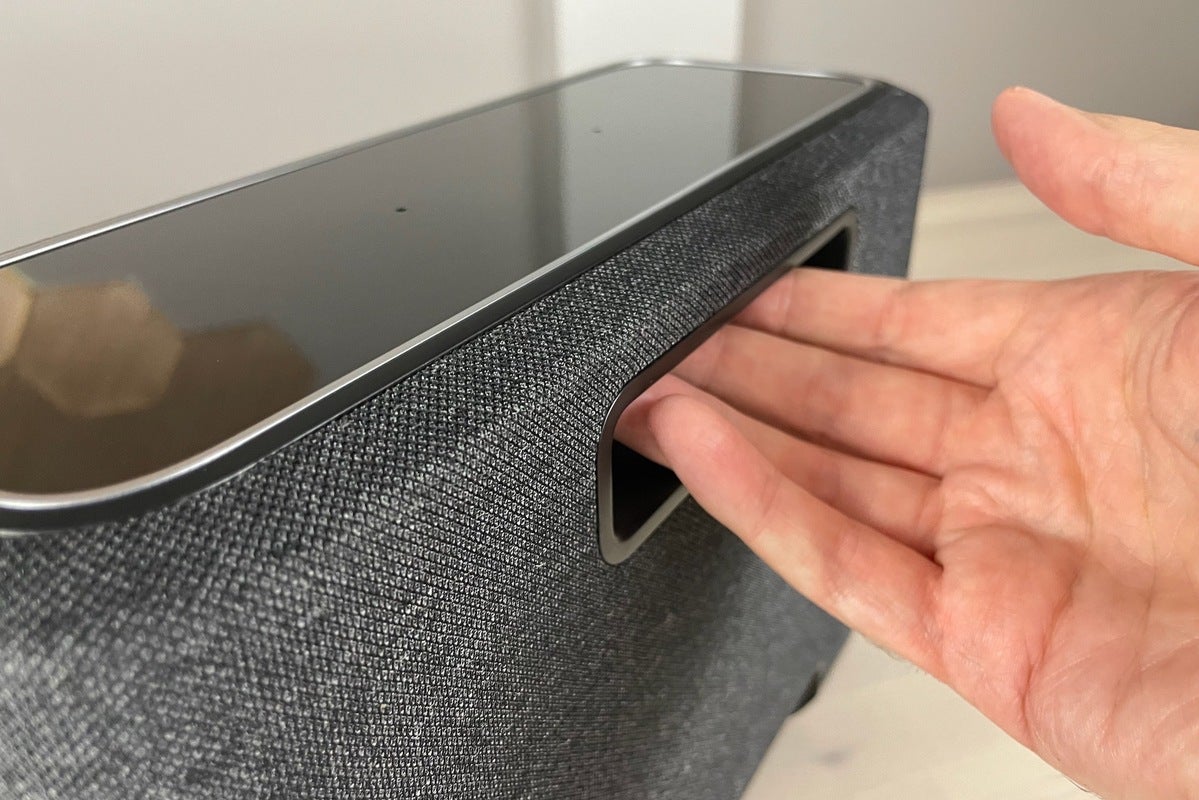 The Denon Home 150 comes equipped with a pair of drivers: a 25mm tweeter and an 89mm mid-bass woofer, each of which gets its own class D amplifier. The Home 250, meanwhile, has four drivers, including two 19mm tweeters and two 100mm woofers, plus a 133mm passive radiator. With those four drivers—which, similar to the Home 150, all get their own class D amplifiers—the Home 250 can deliver stereo sound (well, on paper, anyway), while the Home 150 settles for mono.
Besides the Denon Home 150 and 250, there's also the six-driver, $699 Home 350Remove non-product link, which I haven't reviewed yet. Also in Denon's Home lineup is the Dolby Atmos-enabled Home Soundbar 550Remove non-product link, which goes for $599.
Setup
The newly refreshed, much more modern-looking HEOS app makes it a snap to connect the Home 150, 250, or other HEOS-enabled speakers or soundbars to your home wireless network. Just tap Add Device from the Setting screen of the HEOS app; once the app detects the speaker, you press the Connect button in the rear of the unit, then enter your Wi-Fi network password into the app. Within a few minutes, I had both the Denon Home 150 and Home 250 connected to my home network.
After that, you can name the speaker, preferably according to the room it's in (Bedroom, Kitchen, Family Room, and so on). The app then asks you about speaker placement: specifically, whether the speaker is in an open space, next to a wall or a shelf, or in a corner.
A final step is to install Alexa, and the HEOS app will prompt you at setup if you want to add the voice assistant to the speaker. You can always decline and install Alexa later (from the Settings menu) or skip Alexa altogether. If you do choose to proceed, you'll need to sign in to your Amazon account, and the app will take care of the rest. The whole process only takes a few minutes.
Buttons and app control
Both the Denon Home 150 and 250 have touch-sensitive controls that light up automatically with the help of proximity sensors. When the controls are dark, the tops of the speakers look perfectly featureless, save for a couple of holes for the far-field microphone array (although you'll have to look closely to see them).
The main buttons you get are play/pause, volume up/down, and three numbered buttons that you can assign to your favorite TuneIn streaming radio stations, which you can browse from the HEOS app. If you've installed Alexa, you'll also see wake and mic mute buttons.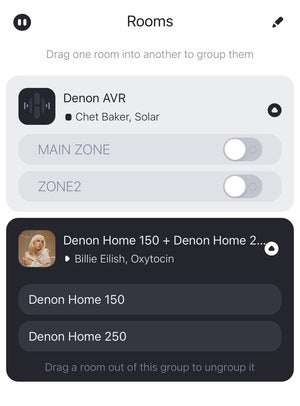 Speaking of the HEOS app, Denon recently gave it a sleek, modern (and very Sonos-style) facelift, although its functionality is largely unchanged from the previous version. The first of three tabs along the bottom of the interface let you select rooms with HEOS speakers installed, while the second tab lets you choose from a variety of music services (we'll tick them off in a moment) as well as inputs, local music on your mobile device, and DLNA-compliant local media services, such as Plex; the Music tab is also where you'll find the Settings icon. The third tab shows you what's playing, complete with album art, playback controls, and a volume slider.
Returning to the first tab, you can easily group HEOS speaker rooms together by dragging one room on top of another. Once you've grouped some rooms, the third playback tab lets you control the main volume as well as adjust the volume for individual rooms. Want to play a streaming radio station in one room and Spotify in another? Just tap a room to select it, pick a music source from the Music tab, then rinse and repeat for a different room.
HEOS multi-room audio functionality and AirPlay 2
The HEOS app is (natch) named after HEOS, Denon's high-resolution wireless audio platform. HEOS lets you connect up to 32 HEOS-enabled speakers in a network, and you can add up to 16 devices to a HEOS group. As far as music services go, HEOS offers Amazon Music, Deezer, Tidal, iHeartRadio, Napster, Pandora, Rhapsody, SiriusXM, SoundCloud, Spotify, TuneIn, and Mood Mix.
HEOS supports up to 24-bit audio with sampling rates up to 192kHz, with caveats. Yes, you can stream local files (either via a media server or a USB drive) at up to 24/192 resolution, as well as streaming tunes from Amazon Music, which has an extensive catalog of high-resolution tracks up to 24/192 resolution as well. (Recent Sonos speakers also support high-resolution audio from local sources and Amazon Music, along with Qobuz, but because the Sonos platform taps out at 24/48, tracks at higher sampling rates get downgraded to 16/44.1.)
However, because Denon Home speakers don't support MQA, music from Tidal (which delivers high-resolution tracks in the MQA format) only streams at a maximum of CD-quality (16/44.1) via HEOS, while two other services that stream high-resolution tracks, Apple Music and Qobuz, aren't supported by HEOS at all. In other words, if you want to stream high-resolution tunes via the HEOS app to the Denon Home 150 or 250 from a music streamer, it'll have to be Amazon Music.
Now, there is another option for streaming audio to the Denon Home 150 and 250: AirPlay 2, Apple's multi-room streaming platform that lets you stream audio and video to AirPlay 2-enabled devices from a Mac, iPhone, or iPad. That means if you want to stream tunes from Apple Music to, say, the Home 150, you could easily do so from your iPhone via AirPlay 2. At this time, however, AirPlay 2 doesn't support high-resolution audio; instead, the best it can do is 16/44.1, or CD quality.
As with HEOS, AirPlay 2 lets you group supported speakers together for multi-room audio setups—so, for example, I was able to group the Denon Home 150 and 250 with the Sonos Roam, a wireless speaker that also supports AirPlay 2.
Alexa integration
Denon first announced back in January that its Home line of speakers and soundbars would be getting built-in Alexa via a firmware update, which was slated to arrive in the spring. Well, spring came and went with no Alexa update. Later I heard June was the new target date, and then June melted into July, and then August. Finally, the Alexa update arrived at the very beginning of October, a couple of seasons late, but better late than never.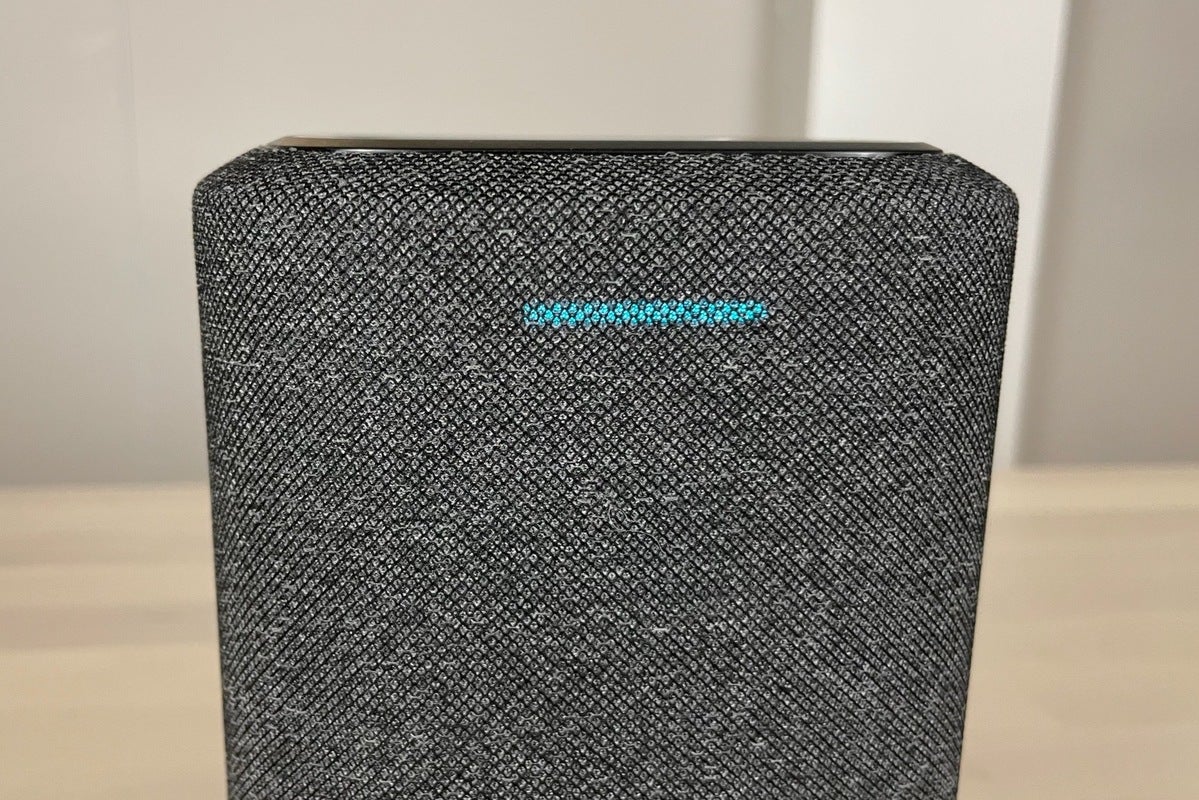 With built-in Alexa, Denon's Home speakers, including the Home 150 and 250, are now smart speakers, and for the most part, the Alexa integration is seamless. As with Amazon's Echo devices, Alexa on Denon Home speakers will tell you the current weather, tick off your schedule, read the latest headlines, and control compatible smart home devices, such as smart lights, smart plugs, and smart thermostats.
One thing to keep in mind about asking Alexa to control your music on the Home 150 and 250 is that she can only do so if you initiated your listening session with an Alexa voice command. If you started playing tunes on the HEOS app, Alexa won't be able to pause the music or skip tracks, although she will be able to control the volume.
Another issue is that you can't call or "drop-in" on your other Alexa-enabled devices from a Home speaker, nor can you ask Alexa to make phone calls to mobile or landlines, or send messages to contacts. That said, you can ask Alexa to make an announcement ("Dinner time!") from the Home 150 or 250.
Also, Alexa on the Home 150 and 250 does not support Alexa Multi-Room Music groups, although Denon says that feature (along with Alexa Calling and Messaging) "will be considered for a future release."
One last quibble: Alexa's volume on the Home 150 and 250 is governed by the speaker's main volume level, which means that if you've been cranking music on the speaker, Alexa will YELL AT YOU if you chat with her. There really should be a way to set Alexa's volume discreetly so a too-loud Alexa won't give you a heart attack.
Performance
Because I've been waiting patiently for Alexa to make her debut on Denon's line of Home speakers, I've had the Denon Home 150 and 250 in my kitchen and living room, respectively, for months. I also happen to own a HEOS-enabled Denon A/V receiver downstairs in my home theater, so I've had plenty of opportunities to group them all together, play different music in three separate HEOS zones, as well as stream audio to them via AirPlay 2.
From an operational point of view, the Home 150 and 250 have performed like champs, with nary a disconnection nor a hiccup. Both speakers became a little dusty over time, particularly my Denon Home 250 test unit, which sat in the corner of my dining room on the floor where it was frequently bonked by a Roomba (sorry Denon!). But with the help of a microfiber cloth, both speakers cleaned up great, with the Home 250 showing no signs of any robot vacuum abuse.
More importantly, the Denon Home 150 and 250 sounded great, although those with different tastes may feel differently. As with Denon soundbars I've tested, the Home 150 and 250 have a sweet, golden sound, with plenty of high-end detail and deep, satisfying bass. Comparing them with a Sonos wireless speaker, however, the Denon Homes were a bit lacking in the mid-range. That makes sense, given that the Home 150 and 250 each have tweeters and woofers but no proper mid-range drivers.
Still, both the Home 150 and 250 are great fun to listen to, and they each boast a sonic signature with (I'm guessing) a wide appeal. Focusing on the Home 150 for a moment, Bruce Springsteen's spare "The Ghost of Tom Joad" (streamed from Tidal via the HEOS app) sounds crisp and clean with plenty of warmth, while Billie Eilish's dark and sinuous "Oxytocin" was satisfyingly breathy and punchy, and for a relatively small speaker, it can certainly dial up the volume.
Over on the Home 250, "Oxytocin" sounds predictably bigger and way deeper, and you can crank it loud enough to wake the neighbors. Switching over to Louis Lortie's performance of Ravel's solo piano works for Chandos, the Home 250 delivered the delicate tracks with impressive clarity and depth, although it also pushed the low end a bit aggressively. Taking another sharp turn, Ciara's ever-catchy "Level Up" again sounded pleasingly vibrant and punchy, flirting with too-boomy but never quite crossing the line.
One note about the Denon Home 250: While it's a stereo speaker, I'd be hard-pressed to tell unless it was right in my face. With its left and right drivers so close together, the Home 250 essentially sounds like a mono speaker when listening at a reasonable distance. If you really want to hear stereo from the Home 250 (or the Home 150, for that matter), you could get a second Home 250 (or two Home 150s) and group them as a stereo pair using the HEOS app.
Denon Home or Sonos, and the bottom line
Now with onboard Alexa, Denon's Home 150 and 250 quite naturally invite comparison to Sonos wireless—and smart—speakers, including the similarly priced Sonos One (now $219 following a recent price increase) and the Sonos FiveRemove non-product link ($549), which each pack Alexa and Google Assistant (albeit one at a time, not both simultaneously). Which is better?
I wish I could give you a cut-and-dried answer, but I honestly can't. Sonos speakers might have a slight sonic edge over the Denon Home speakers in that they sound a little fuller to me, but my family and I had many spirited debates about which speakers sounded best, and I frequently flip-flopped myself. Truthfully, they all sound pretty dang good, but Denon Home and Sonos speakers do sound different; the former a tad brighter and deeper, the latter a little fuller (and don't forget Trueplay, Sonos's easy-to-use but powerful room correction feature). Were I to rerun my listening tests, I'd probably just go in circles again.
As for the HEOS and Sonos wireless platforms, it's a close call. Both support up to 32 speakers in a network, and both support high-resolution audio, although as I mentioned earlier, HEOS supports sampling rates all the way up to 192kHz while Sonos is stuck at 48kHz. The HEOS app just got a nice facelift, yet the appealing Sonos app remains more intuitive, while both support a wide range of streaming music services.
In the end, I don't think you'll go wrong either way; my advice is to look closely at the respective feature sets and consider which platform you'd rather invest in. Are you a Google Assistant fan, or do you like Apple's style of hardware and interfaces? Then you might want to consider Sonos. Are you a stickler for high-resolution music, or perhaps you have a home theater with a HEOS-enabled Denon A/V receiver? If so, Denon Home speakers may be best for you.
Best Prices Today: Denon Home 150