At a Glance
Expert's Rating
Pros
Easy to install and remove
Compatible with HomeKit, Alexa, and Google Assistant
Backlit color lighting scenes look sensational
Equipped with a built-in Thread border router
Cons
As pricey as Nanoleaf's other smart lights
Not touch sensitive
A bit of an eyesore when turned off
Our Verdict
Nanoleaf does it again with modular, colorful "light lines" that work with HomeKit and turn your wall or even a ceiling into a light show.
Best Prices Today: Nanoleaf Lines
Nanoleaf has always prided itself on breaking the mold with its smart lights, from its earliest light panels to its Shapes and recent Elements line. Heck, even Nanoleaf's 120-sided "Essentials" A19 bulb dances to its own beat. Now Nanoleaf has something new up its sleeve: Lines, a modular smart lighting product with backlit, foot-long "line lights" that shine in up to 16 million colors and snap onto hexagonal connectors, allowing for a variety of customizable designs.
Mentioned in this article
Nanoleaf Elements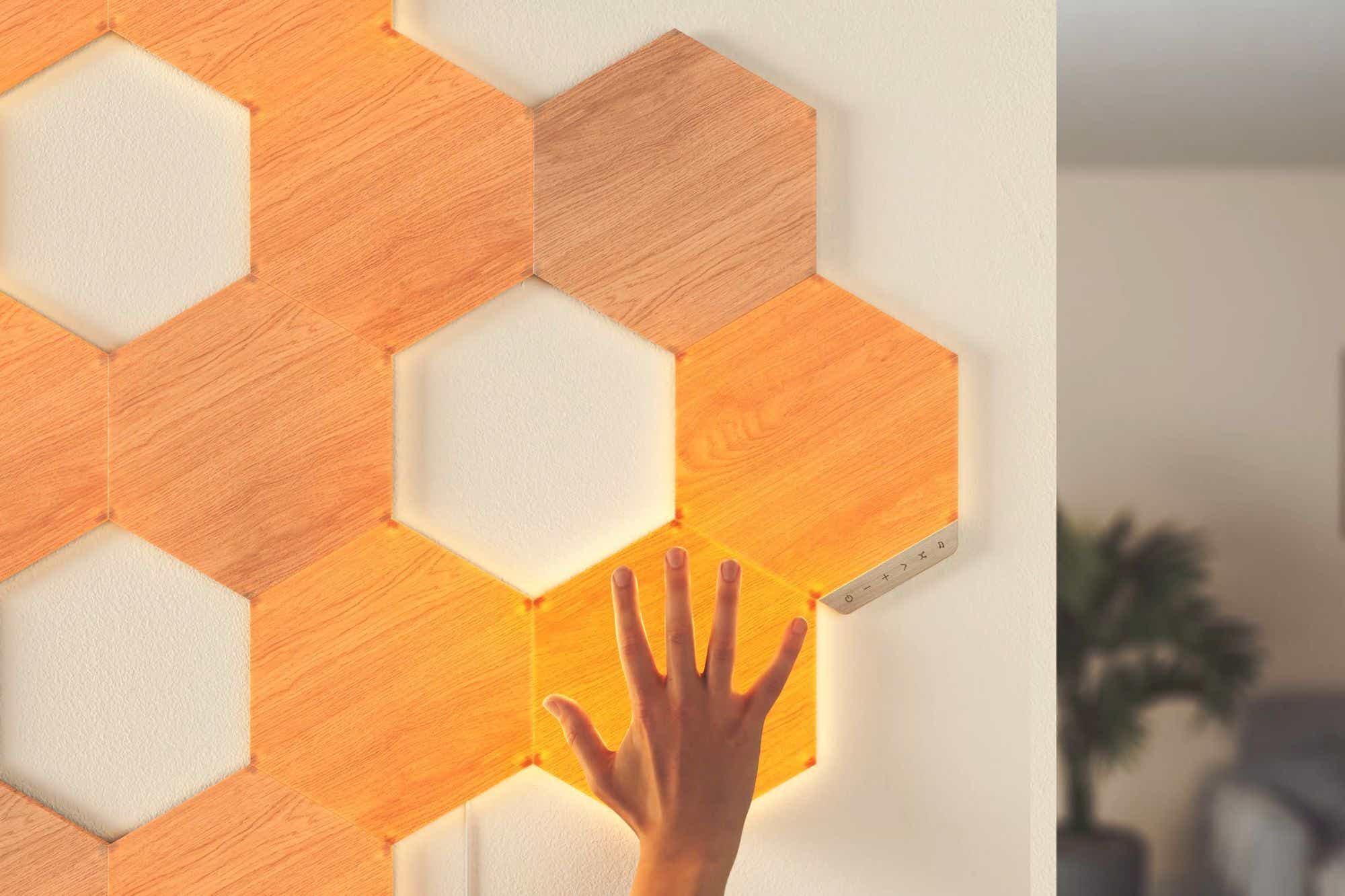 Unlike Nanoleaf's previous smart lighting product, the Elements light panels, the Lines aren't understated or subtle. While the monochromatic, "wood-look" Elements were designed to blend in to your dining room decor, the colorful, eye-catching Lines are practically begging to go with your RGB-equipped gaming rig, where they can jazz up your Twitch stream and even mirror the colors on your screen. And while the handsome Elements look pretty good when they're not glowing, the same can't be said of the Lines, which are a bit of an eyesore when they're powered off.
This review is part of TechHive's coverage of the best smart light bulbs, where you'll find reviews of competing products, plus a buyer's guide to the features you should consider when shopping this category.
I've been testing Nanoleaf Lines for about a week, and they've been a blast to use. Installed above my MacBook's external 4K display, the easy-to-install Lines look sensational, and they're easy to control and schedule using both the Nanoleaf app and Apple's HomeKit platform. (Nanoleaf Lines is compatible with Alexa and Google Assistant, too.) Lines can also pulsate along to music, and you can group your Lines installation with other Nanoleaf lights.
But Nanoleaf dropped a key feature of the Elements and Shapes panels from its new Lines series: touch sensitivity, meaning you won't be able to wow your guests with touch-enabled light games or by tapping a line to trigger a HomeKit smart plug. Also (and as with Nanoleaf's other smart lighting products), the Lines don't come cheap.
Specifications
Available at the end of November for $200 (pre-orders have already begun), the Nanoleaf Lines Smarter Kit contains nine "light lines," each of which is roughly 11 inches long, 0.78 inches wide, and about a third of an inch deep.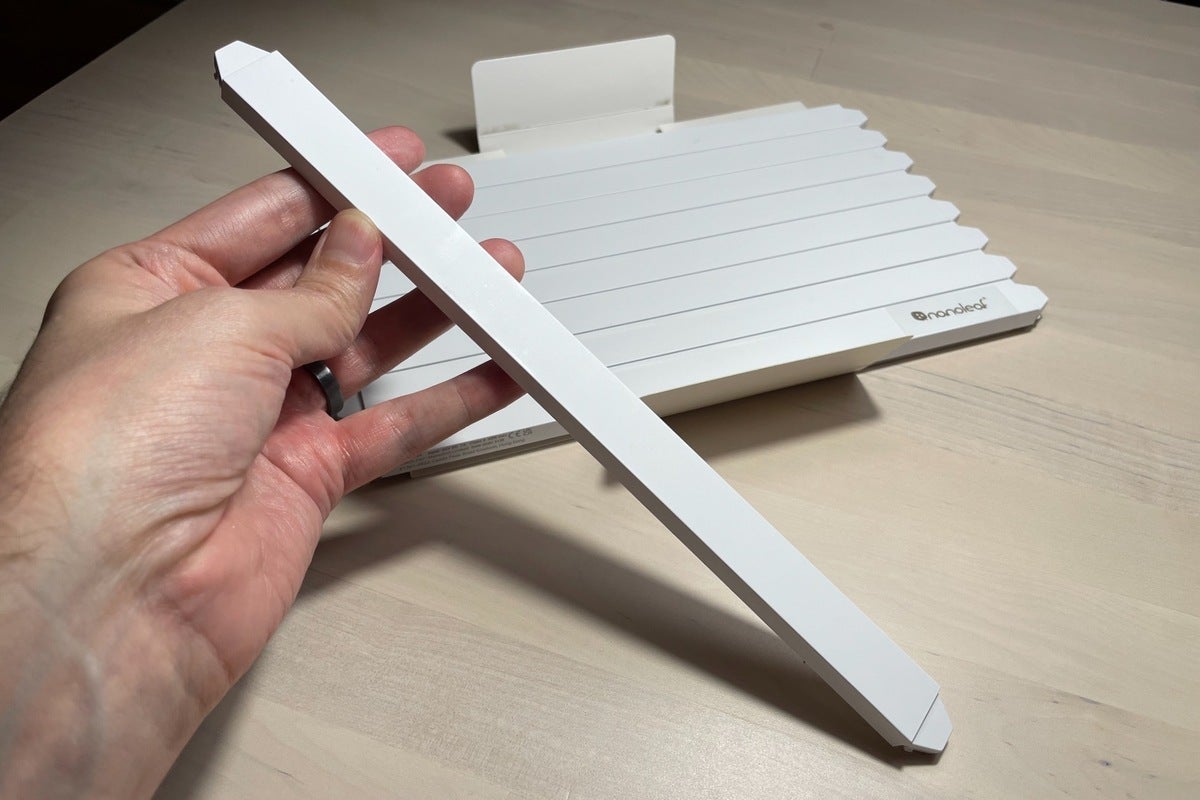 Weighing only 0.08 pounds each, the light lines (or "bars," take your pick) feel extremely light. Of course, this featherweight design is the result of Nanoleaf's aforementioned decision to jettison the touch sensitivity feature found in the Elements and Shapes light panels. I'll discuss the ramifications of that omission in a bit.
Also in the box are nine hexagonal mounting connectors, which act as compact hubs for up to six light lines; nine caps that you snap onto the mounting connectors once you've attached the proper number of light lines; and 10 mounting plates, which each have double-sided pull tape as well as a pair of mounting holes for screws.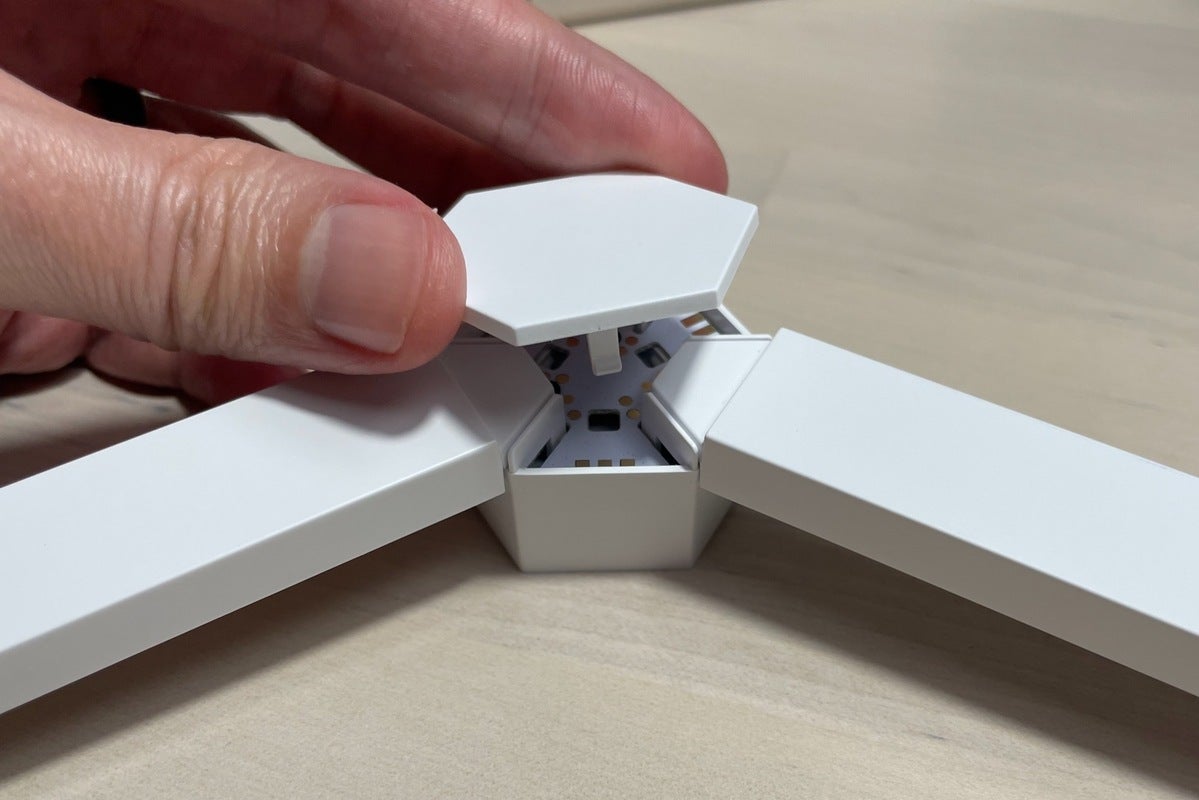 A tenth mounting connector doubles as a controller, with its own snap-on cap equipped with clickable power and control buttons, as well as a captive cable that attaches to a slim power connector containing a Thread border router. The power connector, in turn, connects to a second cable that terminates in a chunky wall wart.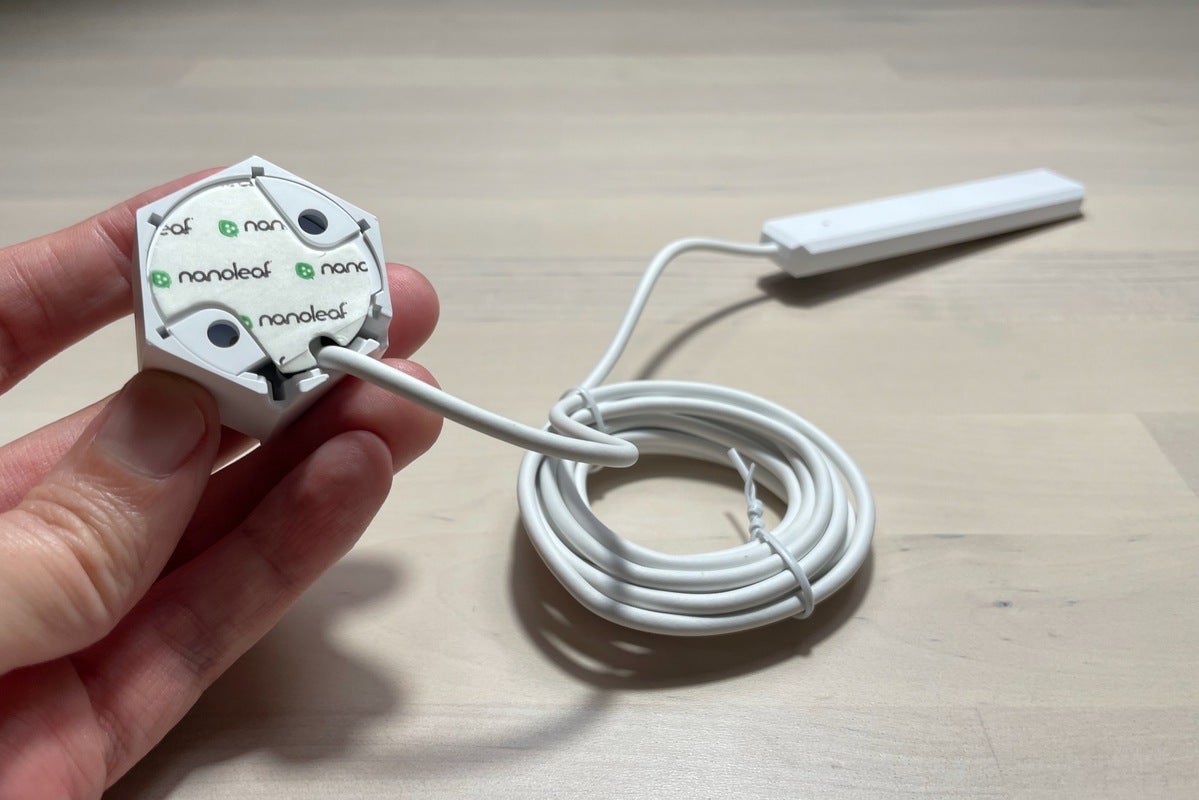 Besides the Lines Smarter Kit, there's also a $70 expansion pack that includes three light lines, three mounting connectors, and three mounting plates, but no power connector or PSU.
Going back to the light lines themselves, each one has two light zones capable of shining in different colors simultaneously; up to 16 million colors are supported, as well as white color temperatures ranging from a very warm 1200 Kelvin to a cool 6500K. Each light line is capable of throwing off up to 20 lumens, which means a nine-piece Smarter Kit will only generate up to 180 lumens—not all that bright, given that a single A19 bulb typically glows at about 800 lumens. So no, Nanoleaf Lines aren't about lighting up your work space; instead, they're all about style and mood.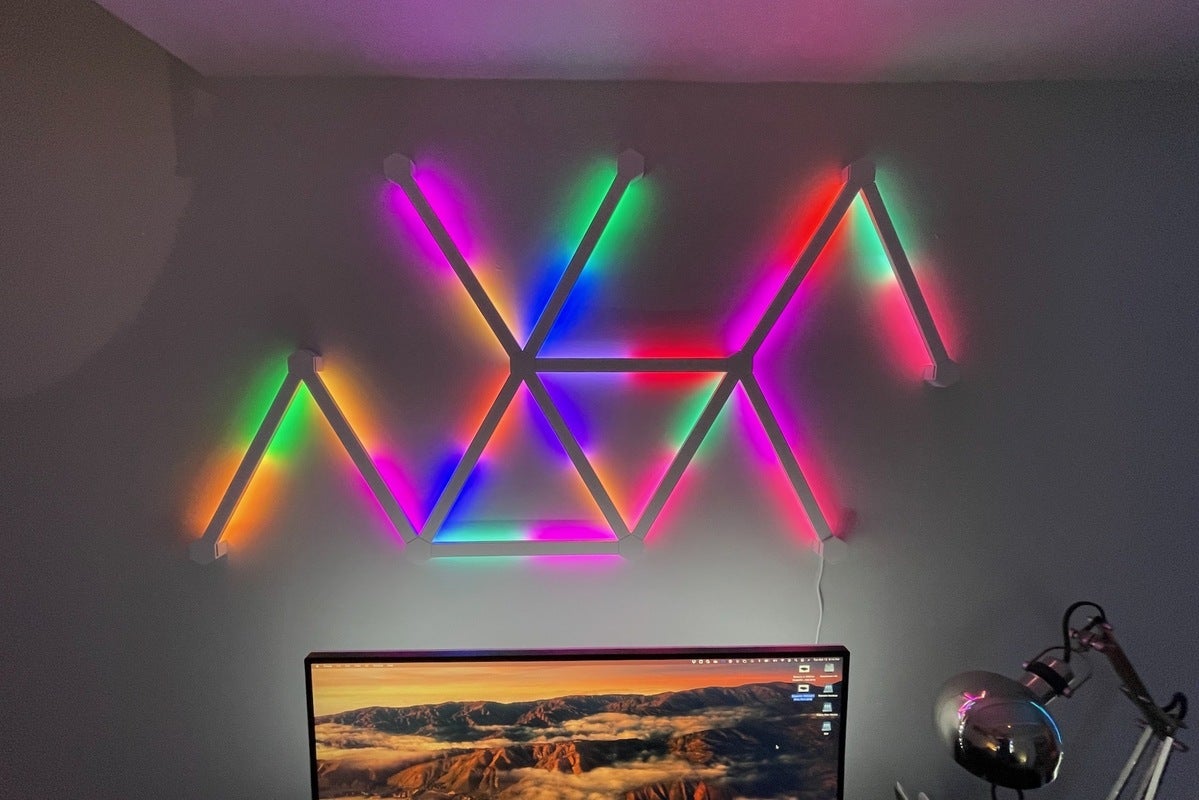 While the Nanoleaf Lines power connector has its own integrated Thread border router, the unit doesn't use Thread for connectivity; instead, it connects via Wi-Fi (2.4GHz only). The Thread border router is, for now, intended only for connecting Nanoleaf's Thread-enabled Essentials lights, including the Essentials A19 bulb and light strip, without the need of an Apple HomePod mini (which itself is a Thread border router). Nanoleaf says a future update will enable the Lines's Thread border router (as well as those in the controllers of the Elements and Shapes panels) to connect to any Thread-enabled device. (Read this article to learn more about Thread, and how it's integrated in Nanoleaf products.)
Lines, Elements, and Shapes will also support Matter, a new smart home standard that promises to (eventually) unite the Amazon Alexa, Google Assistant, and Apple HomeKit platforms.
Installation and setup
Before you start installing Nanoleaf Lines on your wall, you should settle on a design. The kit includes a series of diagrams to spark some ideas, or better yet, you can try the Layout Assistant in the Nanoleaf app.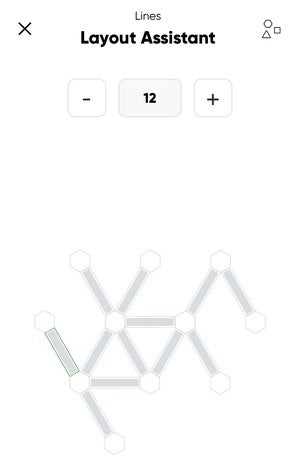 The Layout Assistant lets you arrange your light lines using a drag-and-drop interface (you can edit the number of lines you have to work with), and you can see how your design looks on the wall via the magic of AR. If you're not feeling creative, a shuffle button creates random arrangements of the light lines.
Once I decided on my own pattern, I began the installation process with one light line with mounting connectors attached at either end. As I mentioned earlier, you can mount the connectors using the peel-and-stick adhesive tape that's attached to the mounting plates (the mounting connectors come with the plates already snapped in), or using the mounting holes (you'll have to supply your own screws); I opted for the peel-and-stick method. With the first light line installed, I began attaching more light lines, adding more mounting connectors as I went. I was also careful to leave the power connector and the attached cable for the bottom of my installation. Finally, I snapped the connector caps onto each mounting connector, plugged in the power supply (which is chunky enough to block a neighboring power outlet), and the light lines came to life.
Overall, the entire installation process took only about half an hour. The completed Lines installation felt reassuringly sturdy, in part because the lines themselves are so light; indeed, even using the peel-and-stick tape, I didn't (and still don't) worry that the Lines would fall off the wall.
If you ever do want to rearrange or remove the Lines, you can do so by pulling the mounting connectors straight out from the wall; doing so will leave behind the mounting plate. You can then either unscrew the plate (if you screwed in into the wall) or (if you used the peel-and-stick method) you can pull straight down on the exposed portion of the pull tape. I tried the process myself with a spare mounting connector and managed to remove it without leaving any tape behind, or without pulling any paint off the wall.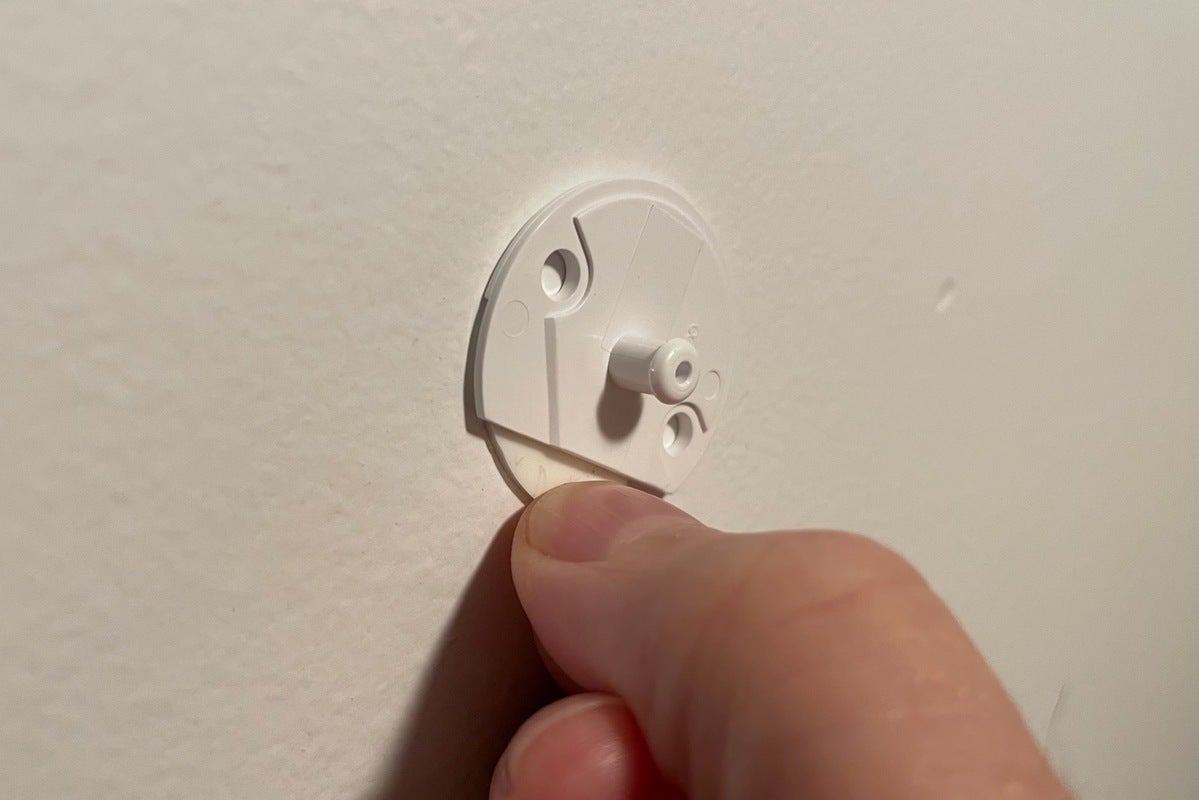 To connect the Nanoleaf Lines to your home Wi-Fi network, you'll need to aim your phone's camera at a QR code on the power supply; there's one for Android phones, as well as another for Apple's HomeKit platform. I had to go through the process a couple of times (I was using a beta version of Nanoleaf's iOS app), but within a few minutes the Lines were up and running on my Wi-Fi network.
Features and functionality
The Nanoleaf Lines share many of the features of the Nanoleaf Shapes and Elements lights. For example, you can choose from a variety of dynamic lighting scenes, ranging from "Cozy Blaze" and "Fiesta" to "Starry Sky" and "Tuscany Sunset." You can also create your own static or dynamic lighting scenes, or download more from the Nanoleaf user community. Nanoleaf's light scenes manage to look snazzy and, well, awesome, without ever veering into tacky town, which is quite the feat.
Similar to the Shapes and Elements, the Nanoleaf Lines has an integrated microphone that allows its lights to pulse along with a nearby music source. As with its standard and dynamic lighting scenes, the Lines has a series of Music scenes as well, including "Beat Drop," "Cotton Candy," "Hip Hop," and "Jalapeno Heat."
The Lines can also change colors to match a PC or Mac display, with help from the Nanoleaf desktop app. You could even use Nanoleaf's Screen Mirror feature (which, again, also works with Nanoleaf's Shapes and Elements light panels) to sync the Lines with a traditional TV, but only if you're streaming video to the TV from a laptop with the Nanoleaf desktop app installed.
You can group the Nanoleaf Lines with other Nanoleaf lights, including Shapes, Elements, and Essentials light, and you can also create lighting schedules; that said, the Nanoleaf app doesn't support a randomized vacation mode for fooling would-be intruders.
As I mentioned earlier, the Nanoleaf Lines aren't touch sensitive as the Shapes and Elements are. That means you won't be able to swipe or tap the lines to (for example) change the brightness, switch lighting scenes, play light games, or control other smart home devices. That's disappointing (my daughter loves tapping and swiping on our Shapes and Elements light panels), but at least you can still control the lights using the controller connector, which offers clickable buttons for power, brightness, changing scenes, and activating music mode.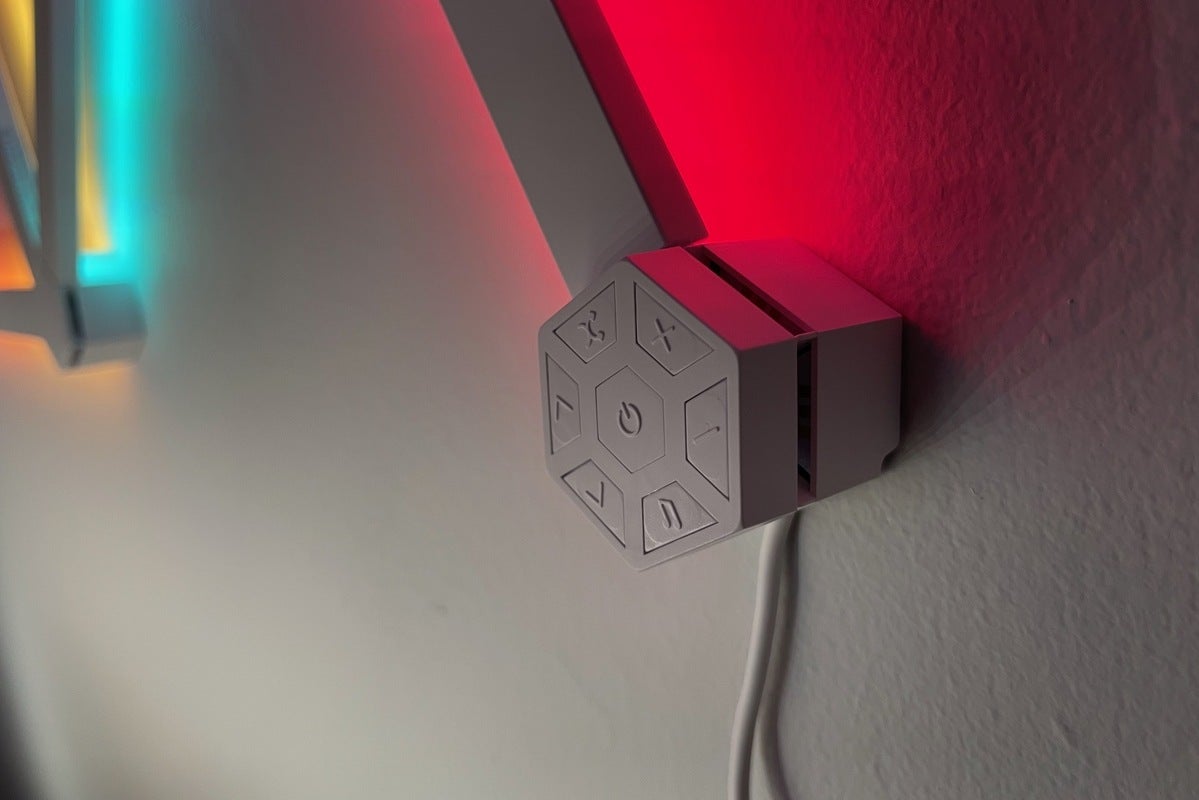 When turned off, the Lines look somewhat meh (as I've already said); to rectify that issue, Nanoleaf is planning snap-on "Skins" covers for the line lights themselves, which will be available in December in both black and pink. Also slated for December are "Flex Connectors" that will let you bend your Lines designs around a corner, or even up onto the ceiling.
In addition to HomeKit, Nanoleaf lines also boast integrations for Alexa, Google Assistant, Samsung SmartThings, and IFTTT.
Bottom line
Like its Elements and Shapes light panels, Nanoleaf's new Lines are certainly unique, and with their snazzy, colorful lighting scenes, the Lines are sure to draw attention during your Zoom calls or Twitch sessions. The Lines are also easy to install, work seamlessly with HomeKit, Alexa, and Google Assistant, and feature a built-in Thread border router for controlling Nanoleaf's Thread-enabled Essentials lights, as well as other Thread devices down the road. They're expensive, sure, and they lack the touch capabilities of the Elements and Shapes light panels, but the one-of-a-kind Nanoleaf Lines certainly excel at what they do.
Best Prices Today: Nanoleaf Lines