At a Glance
Expert's Rating
Pros
Very affordable
Solid HEPA credentials
Compact design, weighing less than 6 pounds
Cons
Zero smart features, not even an air quality monitor
Very loud at its highest speed
Our Verdict
This personal purifier is light on features, but it offers high-grade filtration at a very low price.
Price When Reviewed
$102.99
Best Prices Today: Bissell Myair Pro (model 3139A)
Bissell's Myair Pro offers a compact option for small-scale air purification with minimal fuss. The all-white, cylindrical device—14 inches tall by 8.5 inches in diameter, and weighing less than 6 pounds—can live happily on a tabletop, but it's not the most style-friendly purifier on the market. Stashing it in the corner might be a better fit.
The device's simple design (we reviewed Bissell's model 3139A, there are four slightly different others in the Myair line) uses a small, cylindrical activated-carbon and H13 HEPA filter that pops into place through the bottom of the purifier, where a simple hatch offers easy access. Air is pulled in from the base of the unit and emitted upward through the top of the purifier, which is designed with a stylish grille.
This review is part of TechHive's coverage of the best air purifiers, where you'll find reviews of the competition's offerings, plus a buyer's guide to the features you should consider when shopping for this type of product.
Controls are minimal and are all found in the center of this grille: a power button, "plus" and "minus" buttons to cycle through the three fan speeds, and a lighting control button that lets you set the power and brightness of a night light that emanates from inside the system. There's also a filter-reset button that illuminates red when the filter needs changing (about four months of use is specified). Replacement filters cost $26 each.
To be sure, this purifier is built for personal use. Its CADR rating of 72 (which is not broken down based on specific irritants) is low, which Bissell says rates the unit for cleaning just 110 square feet. That makes it appropriate for a small bedroom or a large bathroom at best. At its lowest speed, the unit is virtually silent, but it ramps up to a healthy 51dB when placed in its fastest mode—it's definitely too loud to sleep next to, and it's louder than many much larger air purifiers.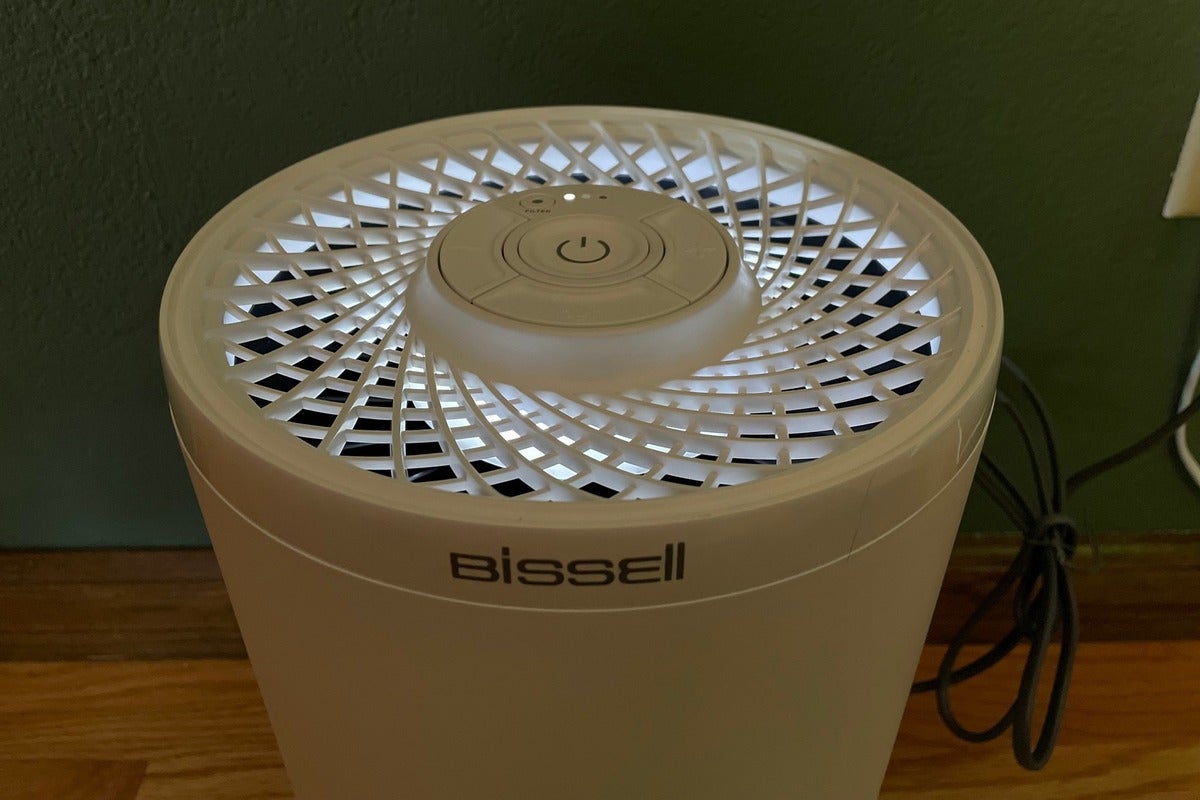 The unit includes no smart features nor any onboard method of monitoring air conditions. As such, it's up to you to determine when the unit needs to be run and at what speed. For a small filter like this, that's probably not a big deal—run it when the air smells bad or your air-quality app tells you to—but it does make the purifier a bit of a one-trick pony that might be best reserved for, say, sending off to school with a dormitory-bound student.
The best news is that, like the Bissell air320 Max, it's surprisingly inexpensive for a genuine HEPA filtration system—even if it is designed for a more limited-usage scenario.
Best Prices Today: Bissell Myair Pro (model 3139A)