At a Glance
Expert's Rating
Pros
Incredible audio quality
Deafening maximum volume
Perhaps the most rugged Bluetooth speaker on the market
Cons
Incredibly homely and quite bulky
USB-C port are very difficult to access
Our Verdict
Whether it's strapped to your truck, boat, or biplane, Turtlebox makes good on its promise of indestructible audio.
Best Prices Today: Turtlebox speaker
Turtlebox is unapologetic that its mission is "to make the loudest, rugged portable speaker in the market that is specifically built for the outdoors." It has arguably succeeded on that front, though it has also succeeded at creating the ugliest Bluetooth speaker on the market. Clearly, you're going to have to pick one of your primary senses here: the way it sounds, or the way it looks.
Let's start with its sound. There's no way around it: Turtlebox has made good on its goal of providing outstanding audio quality via crisp highs and thunderous bass. And it's deafeningly loud; what's more, there doesn't seem to be any distortion, no matter how high you punch the volume up. There's no clear indication of when you reach maximum volume via the backlit onboard controls, but I don't think it's even possible to get there if you're standing right next to the speaker without causing permanent hearing damage. (The unit is specified to top out at 120dB.)
This review is part of TechHive's coverage of the best Bluetooth speakers, where you'll find reviews of the competition's offerings, plus a buyer's guide to the features you should consider when shopping for this type of product.
You can do this a little more safely by using the volume controls on your phone, from a distance. Even then, it's tough to find a situation where you can comfortably take the Turtlebox above more than 30 percent volume unless you're in a stadium-like environment. Surely such situations exist, although—and if that doesn't cut it, two units can be paired together for a true stereo experience.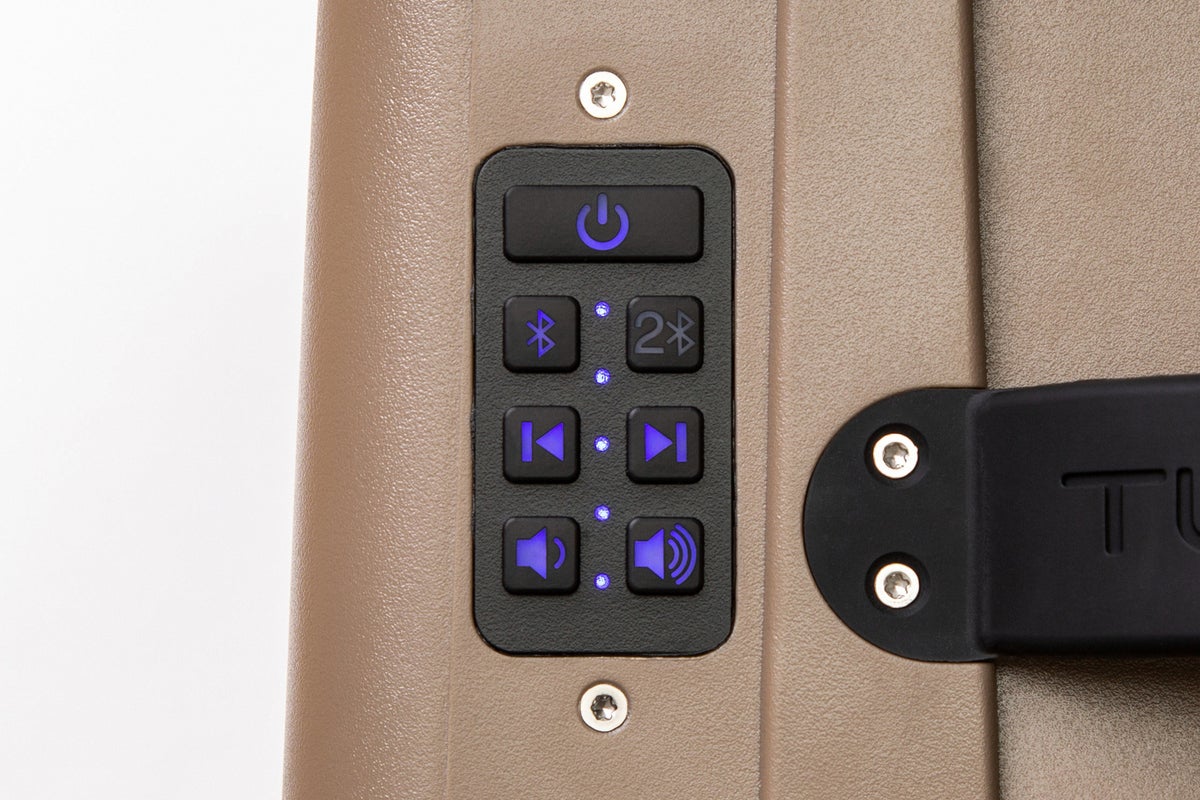 That power comes courtesy of a single, massive, oval 6 x 9-inch driver, plus a 1.25-inch tweeter. Turtlebox doesn't provide an amplifier power rating, though the battery is noted as a 9-cell, 85wH unit (a mAh rating isn't specified, and we can't compute it because we don't know the battery's voltage rating). The battery is said to be good for 20 hours of playback at "easy listening" volume, and more than 6 hours at maximum volume. Audio source options are limited to Bluetooth or AUX cable input.
With its audio cred clearly established, let's look at the aesthetics of the device, which are decidedly uninspired. (It probably didn't help that of the five color options, the company sent me the brown one.) The rough shape of a large lunch box (11.5 x 6.5 x 8.75 inches, WxDxH), the entire unit is clad in monochrome plastic that wouldn't be out of place on a portable beverage cooler.
With its distinctly industrial appearance, it's clear that the Turtlebox will feel best at home in the environments in which the company has photographed it: in the back of a pickup, tied to a kayak, or strapped to the hood of an ATV. (Tie-down anchors are included on both sides of the device.) Ruggedized to amazing IP67 specifications—meaning its immune to dust and can submerged in up to a meter of water for 30 minutes without suffering harm—it seems clear that the 10-pound device will not be easily damaged short of your F-150 completely going up in flames. Looking for more information on IP codes? You'll find details at the preceding link.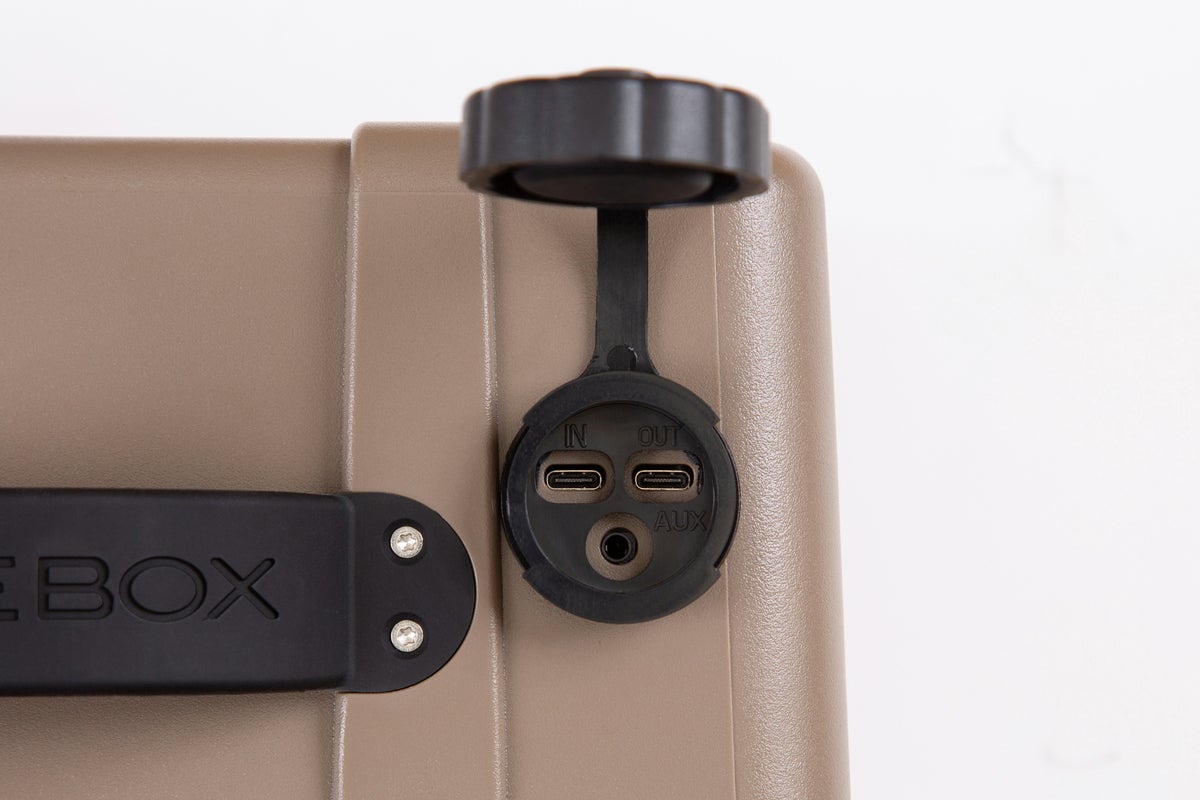 Design quirks aside, my only real concern with the speaker involve its two USB-C ports, one of which is used for charging via the included power adapter and one of which provides pass-through power for charging your phone or whatnot. The ports, and the AUX port, are all located under a threaded waterproof cap, which is great for ruggedness but less than ideal for usability. There simply isn't enough clearance around the USB-C ports, which are wedged right next to one another with minimal room available on either side. If you want to charge a USB-A device with a USB-C adapter, you won't be able to, as there simply isn't enough space.
$374 isn't cheap, but if you need a speaker to complement the Yeti cooler in the bed of your truck, Turtlebox really seems like the only plausible choice.
Best Prices Today: Turtlebox speaker