At a Glance
Expert's Rating
Pros
Excellent sound and good active noise cancellation
Available in a variety of kid-friendly colors and themes
Volume-limiting function to protect children's hearing
Cons
A tad pricey for a kids' item
Our Verdict
These headphones let you limit the volume at which Junior can listen, feature active noise cancellation, and—best of all—are comfortable and sound great.
Best Prices Today: BuddyPhones Cosmos+ kids' headphones
You might think pink headphones with a shiny anime princess on the ear cups would be found in the bargain bin and sound like garbage. That was my first thought. I was wrong on both counts. The BuddyPhones Cosmos+ ANC kids' headphone reviewed here cost $100, but it sounds as good as—or better—than some "serious" headphones costing considerably more.
This review is part of TechHive's coverage of the best noise-cancelling headphones, where you'll find reviews of the competition's offerings, plus a buyer's guide to the features you should consider when shopping for this type of product.
Design
As noted, BuddyPhones Cosmos+ sent for this review were pink and princess-y. That's obviously not going to cut it for every kid, so the manufacturer also offers White/Unicorn, Blue/Kid DJ, Yellow-Orange/Lion, Gray/Mad Scientist, and Dark Blue/Pirate models.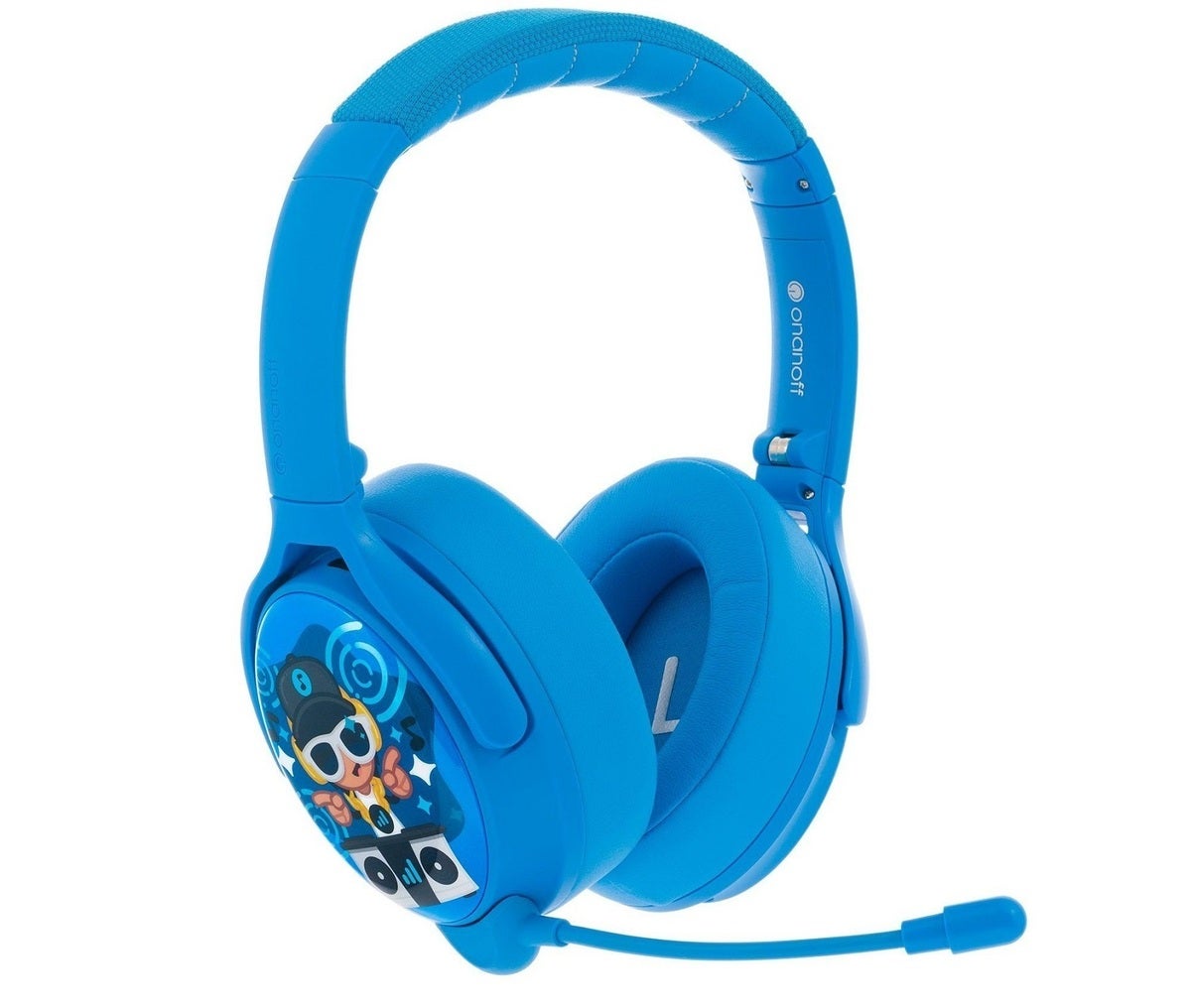 The Cosmos+ come in a color-coordinated carrying case, which also contains a detachable boom microphone that attaches to the USB-C port that's also used for charging. BuddyPhones includes 3.5mm audio and USB-A to USB-C charging cables.
You can limit the Cosmos+'s volume to 75dB, 85dB, or 94dB, and there's active noise cancellation facilitated by microphones in each cup. There's also a study mode that's invoked by a switch on the left cup, directly below the power/ANC button and above the 3.5mm audio output. Engaging Study Mode kills most of the bass and accentuates that part of the spectrum where voices reside.
Bluetooth pair/answer/hang up, along with and volume-up/down controls are on the right-hand cup. Pressing both of the latter simultaneously changes the aforementioned volume levels.
Hopefully, Junior won't figure out this rather simple trick. Prolonged exposure to noise levels 90dB and higher is generally assumed to be damaging over the long term, though long term is considered by OSHA to be eight hours. Still, I'm a bit surprised that manufacturers of kids' headphones exceed 85dB (BuddyPhones calls this a travel mode for airplanes, and it's not the only company doing so).
Ergonomics
Even with my adult melon, the Cosmos+ had plenty of headband adjustment to keep the headphones comfortable. The cups are well-padded, and there's even padding over the speaker grill, just in case your ears bottom out. That's a nice touch that doesn't negatively affect the sound.
The headband is also well-padded and there's white cross-stitching that sets them apart style-wise from the competition. All told, these headphones are solidly constructed and very comfortable to wear. Even for adults adjusting the volume.
Performance
I was more than pleasantly surprised (after mistakenly starting in Study Mode) by the sound delivered by the Cosmos+. Of course, the trend in the industry has been better audio from cheaper stuff, but this is much better than typical.
There's more than enough bass, the mid-range is well-defined, and there's plenty of high-end sparkle. Really, if they were the usual plain gray or black, I could be fooled into thinking they were from a higher-end manufacturer.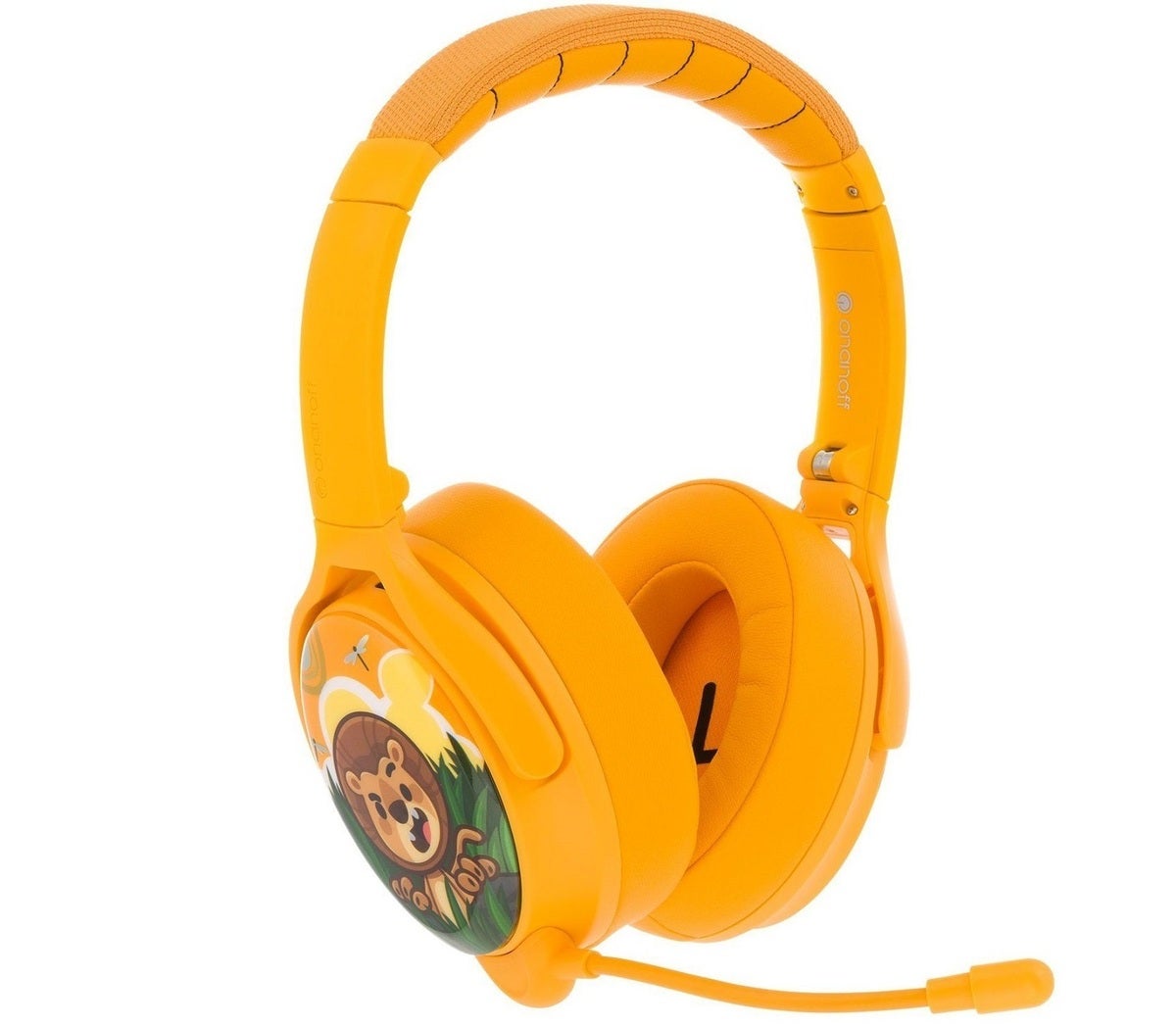 The active noise cancellation works well and didn't change the primary sound to any noticeable degree in my listening. It cuts out a fair amount of noise in the low and mid-range and should be effective in both automobiles and airplanes. Let me know if you discover otherwise.
BuddyPhones claims up to 20 hours of battery run time from the Cosmos+, and I was several hours in and counting. But I have discovered over time that vendors are very optimistic in their battery life claims, and I generally count myself lucky if I get half the promised time.
Great headphones for kids
The BuddyPhones Cosmos+ are easily the best children's headphones I've tested. They're comfortable, offer outstanding sound and effective ANC, and they won't kill your progeny's ears in the two quieter modes (likely not the 94dB mode either, to be real). They're definitely worth the bucks, as when junior is asleep, you can grab them for your own use. Just don't let anyone see you, you pirate/princess/mad scientist you.
Best Prices Today: BuddyPhones Cosmos+ kids' headphones