I've become a fan of late of Tribit's winning formula of high-grade audio and reasonable prices, but the company's wacky Tribit Home Speaker (model BTS50) might be a bit too quirky for mainstream acceptance.
Think of this product as a clock radio foremost, thanks to a large LED clock that's front and center on the device. The rest of the system resembles something of a flattened droid, about 9 inches tall, covered with fabric and bearing a strip of LEDs that wraps around the device, up and over the top from side to side. Using the onboard touch-sensitive controls, you can switch the LED to emit monochrome light (either white or various colors) or fire up one of two synchronized music modes. Lighting brightness is adjustable.
This review is part of TechHive's coverage of the best Bluetooth speakers, where you'll find reviews of the competition's offerings, plus a buyer's guide to the features you should consider when shopping for this type of product.
The unit does not include a battery (except for a coin cell used for backup for the clock if the power goes out), and it offers several audio source options: Bluetooth, a microSD card slot, AUX input, or FM radio. (An included antenna plugs into the AUX port for FM use; a standard AUX cable is not included.) Two USB ports—one USB-A, one USB-C—are available for charging external devices, but they can't be used for connecting media sources.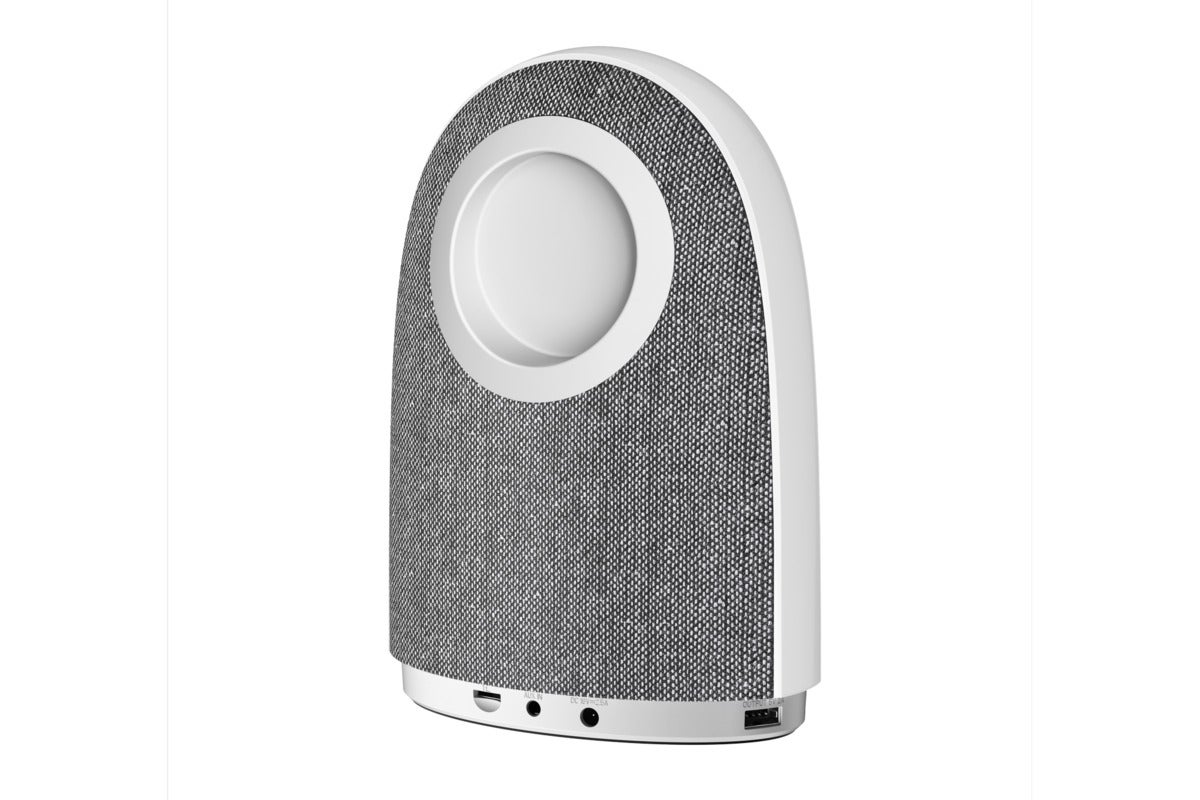 And the features don't stop there. Simulated sunrise alarm? Natural wake-up sounds? White noise (or rain or birds chirping or "light music") generator? Ability to pair two speakers together for stereo sound? Yes, on all counts; although navigating the controls to figure out how to configure all of this isn't easy, even if you keep the manual close by.
Mentioned in this article
Anker Soundcore Wakey
As for audio quality, 25 watts total is probably adequate for the types of environments in which the Home Speaker makes sense, with a 3-inch driver, 1-inch tweeter, and 3.5-inch passive radiator offering fairly directional sound. I've certainly had more immersive audio experiences—the bass here is thin, the treble unexceptional—b ut not necessarily from something on my bedside table. For most users, audio quality should suffice as "good enough."
At $90, the unit is priced roughly in line with similar products like the Anker Soundcore Wakey and iHome iAVS16, though each of those units has unique features (wireless charging and Alexa, respectively) lacking in the Tribit Home. That said, if dancing lights are what you need to pull you out of bed in the morning, look no further.