At a Glance
Expert's Rating
Pros
Transcendent listening experience
Wonderfully clean, clear sound
Music streamer, Class A/Class AB headphone amp, and Class A preamp in one unit
Super-solid build quality
Cons
Nonintuitive setup procedure
Limited Tidal and Qobuz integration in the Naim app
No MQA support
Our Verdict
The Uniti Atom HE has a few quirks, but the name of the game is its sublime sound.
Best Prices Today: Naim Uniti Atom HE
Naim Audio is one of the UK's most venerable high-end audio-electronics manufacturers. After nearly 50 years, the company continues to offer many of the finest amplifiers, streamers, CD players, and digital-to-analog converters on the market today.
The Naim Uniti Atom Headphone Edition (HE) is the latest member of the company's Uniti family of products. These all-in-one streamers provide access to a wide variety of audio sources, including online high-res-audio streaming services such as Tidal and Qobuz. The Uniti Atom HE is virtually identical to the older Uniti Atom, except you get an amplifier for your headphones instead of a power amplifier for your loudspeakers. After spending some time with it, I found its sound to be spectacular, although it does have a few quirks.
Uniti Atom HE feature set
Mentioned in this article
Uniti Atom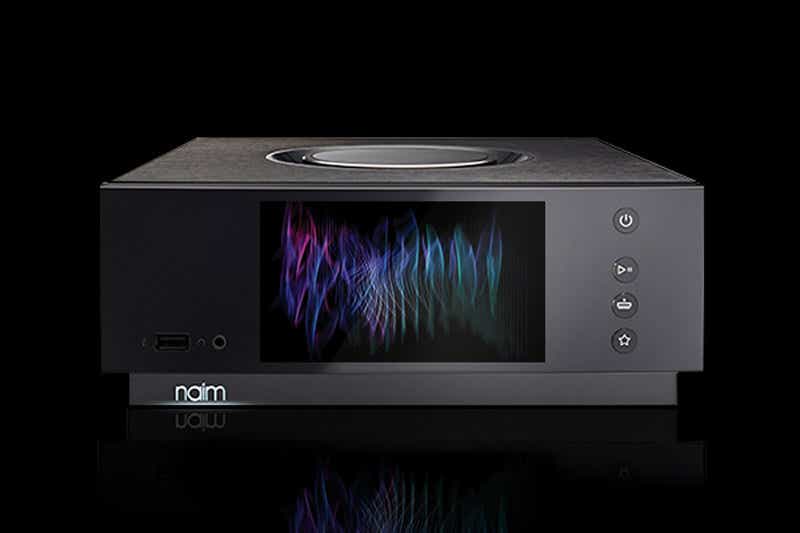 Price When Reviewed:
$2995.00
The Uniti Atom HE is a seriously hefty piece of gear, packing 15.4 pounds into a box measuring just 3.7 x 9.6 x 10.4 inches (HxWxD). The build quality is obviously of the highest order, with a black, brushed-aluminum casing that includes integrated heat sinks on the sides.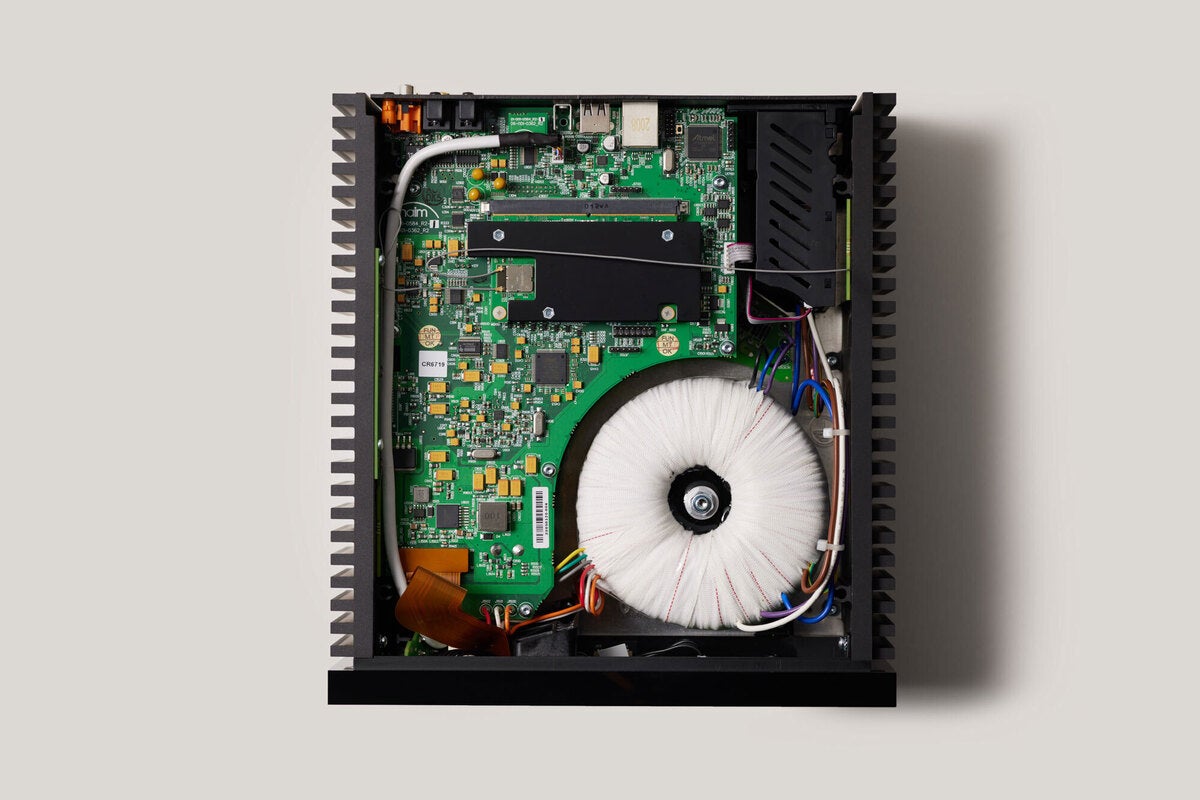 Inside, a new amplifier was designed especially for the Atom HE. Drawing on a range of technologies, including elements of the company's flagship Statement amplifier, the new design is said to deliver outstanding amplification for headphones as well as exceptional performance as a line-level preamp that can drive an external power amp or active speakers.
Interestingly, the headphone amp behaves in Class A mode up to a point, at which it seamlessly switches to Class AB. It remains in Class A mode when driving 600-ohm headphones all the way to full volume; at 300 ohms, it switches to Class AB only for the last few decibels. As the headphone impedance drops, so does the point at which it switches to Class AB mode; for example, at 32 ohms, the amp is Class A up to about 3.2 mW, after which it switches to Class AB for the top 25dB. As a line-level preamp, it's pure Class A all the way.
The amp delivers 1.5 watts/channel into 16 ohms, and it can handle impedances from 16 ohms on up. In addition, it delivers that power to all three headphone outputs simultaneously. Those outputs include a 6.3mm (1/4-inch) unbalanced and 4.4mm Pentaconn balanced jacks on the front of the unit and a 4-pin XLR balanced jack on the back.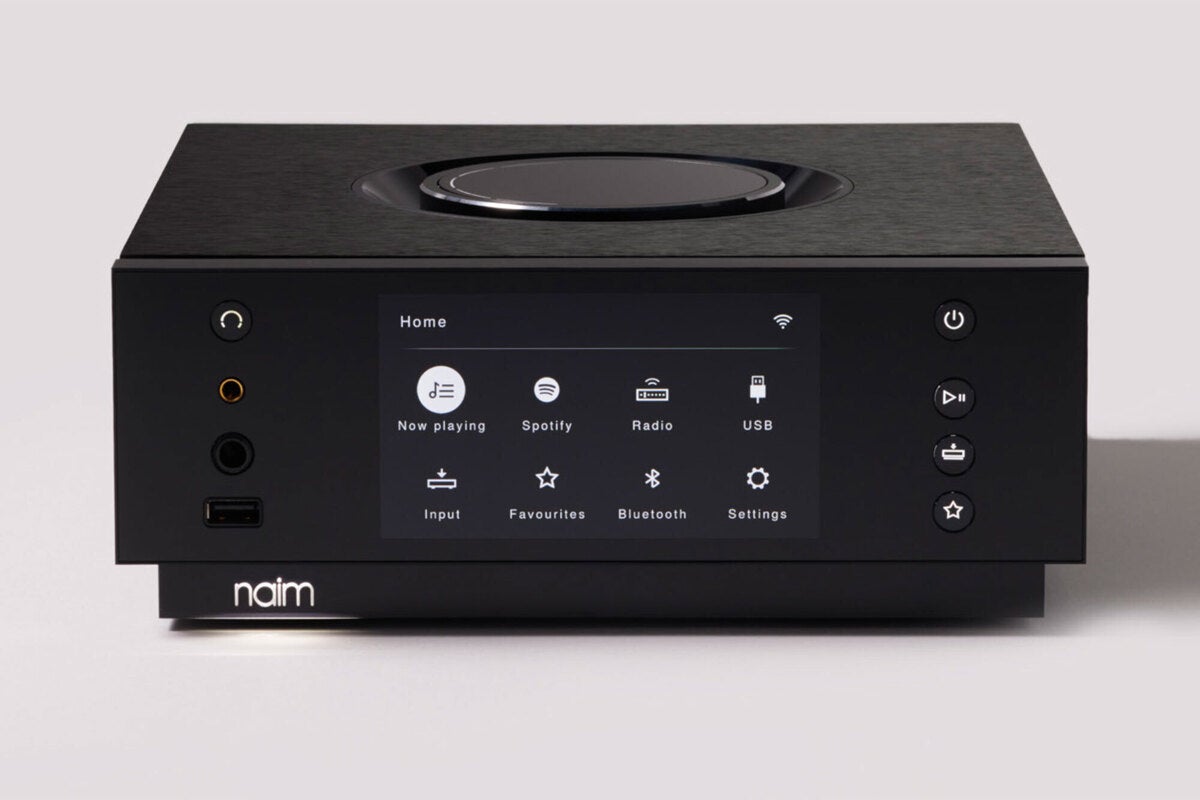 The only other connector on the front is a USB-A 2.0 input. Another USB-A 2.0 input in the back is joined by two optical digital-audio inputs and one coax digital-audio input as well as a stereo pair of RCA analog-audio inputs. In addition, the rear panel provides a stereo pair of balanced XLR preamp outputs and a pair of unbalanced RCA preamp outputs. Rounding out the rear panel is an ethernet port (10/100 Mbps) and a ground-lift switch.
Naturally, there are plenty of wireless options as well. The Atom HE connects to your Wi-Fi network (802.11b/g/n/ac) with Chromecast built-in and AirPlay 2. It also provides Bluetooth connectivity, though that is considerably lower fidelity than Chromecast or AirPlay 2.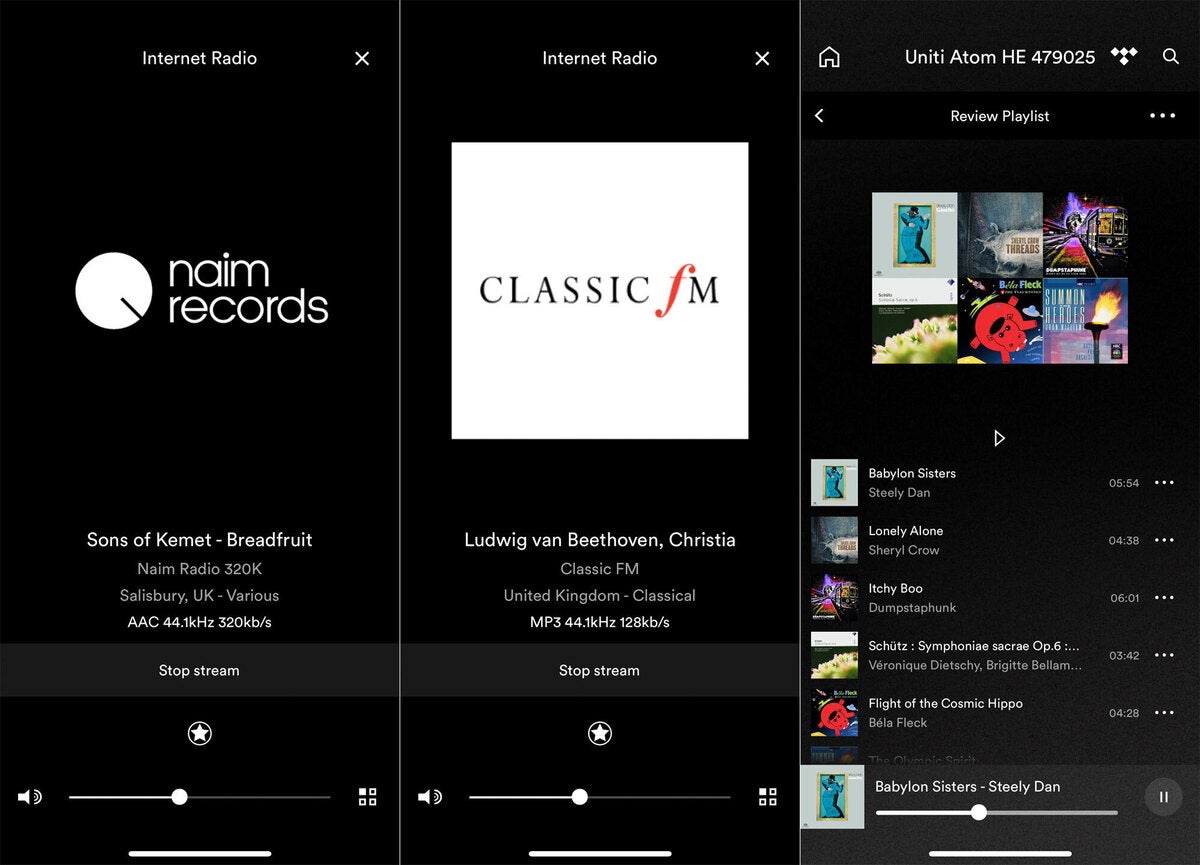 The Atom HE uses the same Naim streaming platform found in many of the company's products, from the Mu-so second-generation family up to the flagship ND 555 player. That platform provides direct access to Tidal, Qobuz, Spotify Connect, and internet radio as well as many other providers via Chromecast and AirPlay 2. It also supports UPnP network streaming, and it's Roon-ready as well. Finally, you can sync up to five Naim streaming products and control them from the Naim app.
It's no slouch in terms of audio formats, either. The Atom HE supports WAV, FLAC, ALAC, and AIFF up to 24-bit/384kHz, DSD 64 (2.8MHz) and 128 (5.6MHz), MP3 and AAC up to 16-bit/48 kHz (320Kbps), and OGG and WMA up to 16-bit/48kHz. Bluetooth codecs include SBC and AAC. It does not, however, support MQA.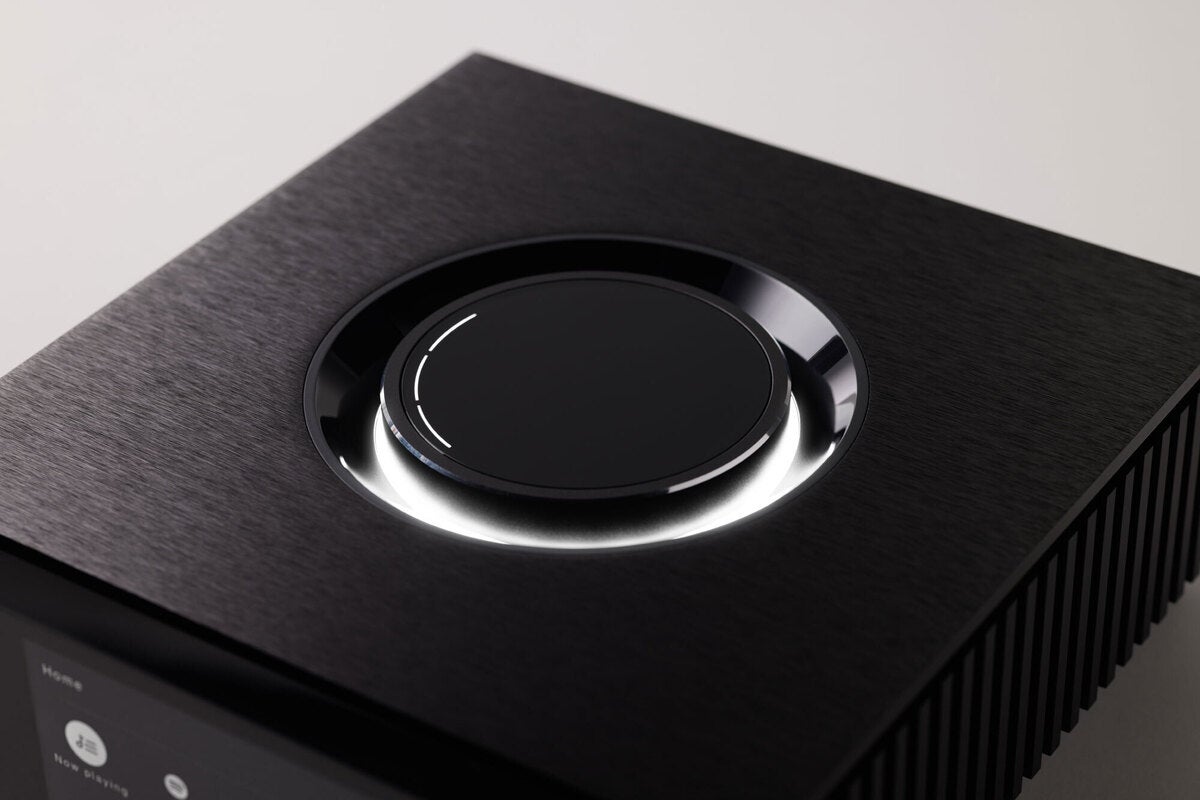 Uniti Atom HE user interface
The most obvious onboard control is the ginormous volume knob on the top of the unit. It has a solid, smooth feel, and a ring of curved LED segments indicate the level.
A large, full-color display on the front provides a variety of information, including the album cover associated with the currently playing track if available. To the right of the display are four buttons: power on/off, play/pause, input selection, and a button that calls up your preset internet radio stations. To the left is the headphone output-activation button along with the 1/4-inch unbalanced and 4.4mm Pentaconn balanced output jacks and one USB port.
The two front-panel headphone outputs automatically activate when you plug a jack into them, but the 4-pin XLR output on the back does not; to use that output, you need to press the headphone button. (Interestingly, if you plug a jack into one of the front outputs, the rear output also activates.) To use the Atom HE as a preamp, toggle the headphone button off. You can keep any headphones plugged in, which is convenient, and it avoids unnecessary wear and tear on the headphone jacks.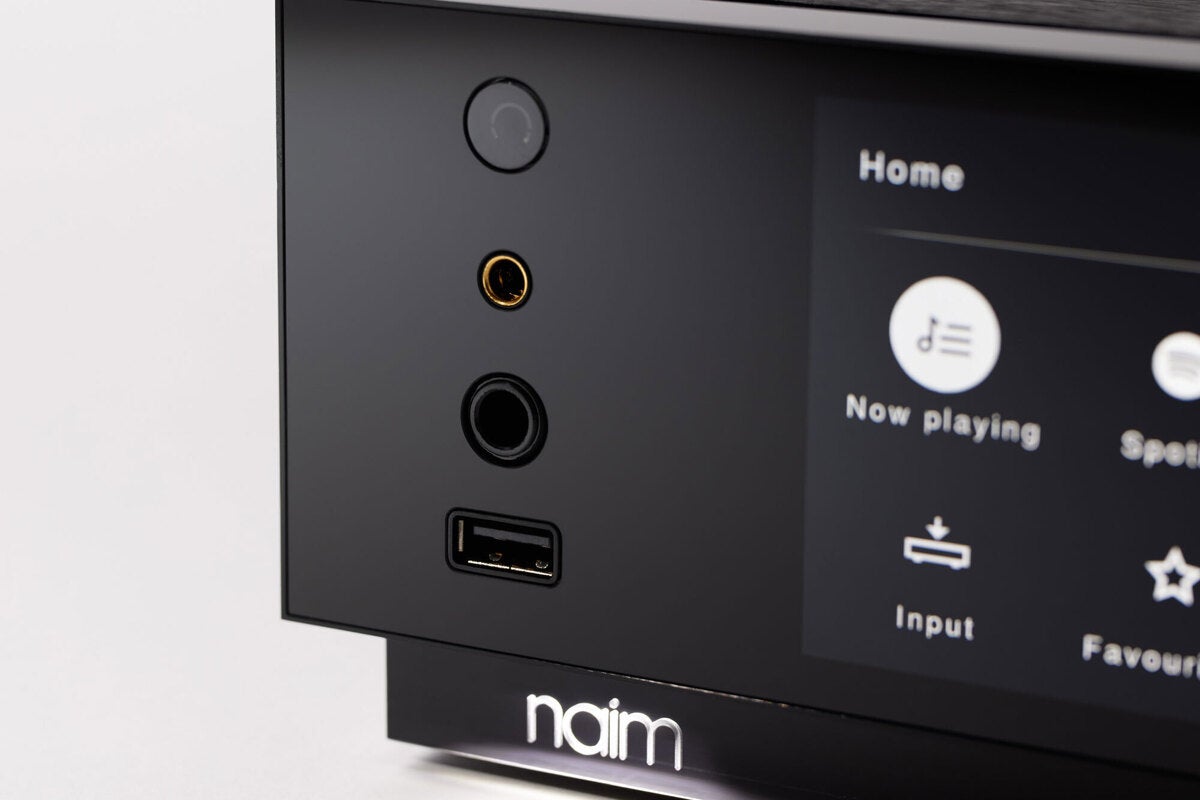 Other than power on/off, play/pause, headphone output activation, and volume control, you can't do much with the front-panel controls. You really need the included remote, which communicates with the unit via Zigbee. The remote provides all the buttons you need to fully control the Atom HE, including play/pause, skip forward/back, volume/mute, multi-room control, and a four-way cursor cluster to select different items on the display. A ring of LED segments around the cursor cluster indicates the volume setting.
With the remote, you can select any of the physical inputs, Bluetooth, Spotify, and various internet radio stations, but you can't access Chromecast, any UPnP servers on your network, or the Tidal or Qobuz streaming services. That requires the Naim app, which is available for iOS and Android.

Setting up the Uniti Atom HE
The unit I received came from a previous reviewer, so I thought it would be all set up and ready to go. I was wrong. I went through the setup wizard, which seemed to work, but I heard nothing from any of the preset internet radio stations, and I didn't see Tidal or Qobuz in the Naim app on my iPhone XS. Then, I tried the setup in the app, but got "an unexpected error occurred, try again"—twice. Unfortunately, the Quick Start Guide is a giant, fold-out, single piece of paper (very inconvenient) and not much help at all.
During a call with Naim in the UK, I performed a complete system reset and started from scratch using the app. But even then, the app wouldn't go past a certain point in the process, which puzzled the Naim rep. Under his guidance, I was able to complete the setup process using the remote. After clicking through a bunch of screens, the app finally showed the main home screen with Tidal, Qobuz, etc.
Unfortunately, my experience does not bode well for the average consumer. If you encounter a similar glitch, my best advice is to do a complete system reset and set up the system from scratch using the included remote.
I placed the Uniti Atom HE in my home theater and connected it to an ethernet cable to my router. In that position, I needed a fairly long cable to the headphones, so I used the 10-foot XLR balanced cable that comes with the Focal Clear Mg headphone. You'll find my earlier Clear MG review at this link.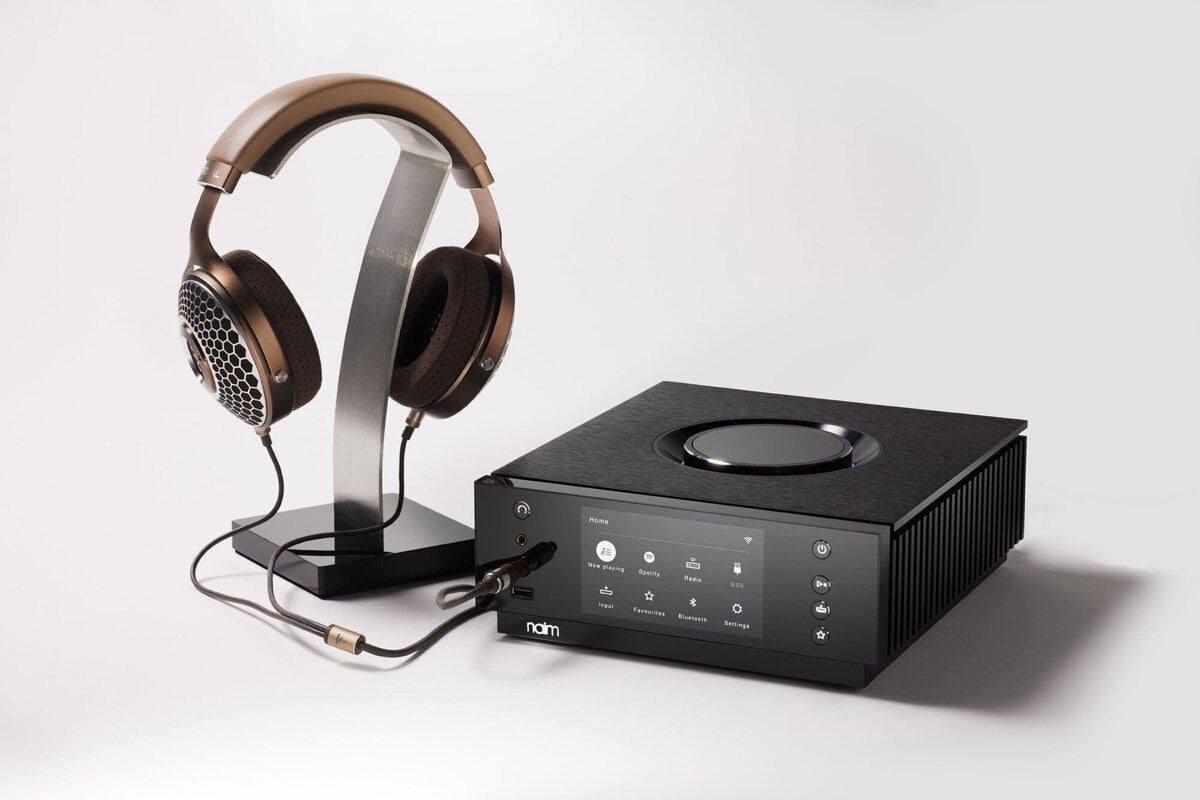 I signed into Tidal from within the Naim app, but I immediately noticed that it did not have any of the recent albums and tracks I had listened to on that service. Also, there was no way to identify Master (i.e., high-res audio) tracks. When I asked Naim about this, I was told that the app is really intended only to access playlists, which I hadn't used before. So, I added some Master tracks to a playlist within the Tidal app, and voilà, the playlist appeared in the Naim app.
But as I played the tracks, they were all identified as FLAC 44.1kHz/16 bits, which isn't technically high-res. To my amazement, Naim informed me that the Uniti Atom HE downconverts high-res tracks from Tidal to CD quality! Apparently, Tidal encodes its Master tracks with MQA, which the Naim does not support, so it downconverts them to CD quality. According to the company, it has not had the global demand to make support for MQA a development priority.
As with Tidal, Qobuz from within the Naim app did not have my recent activity, not even some tracks I had purchased to download onto a USB thumb drive; it recognizes tracks only in playlists. So, I put together a playlist in Qobuz, which then appeared in the Naim app. This time, the tracks were not downconverted, so off I went.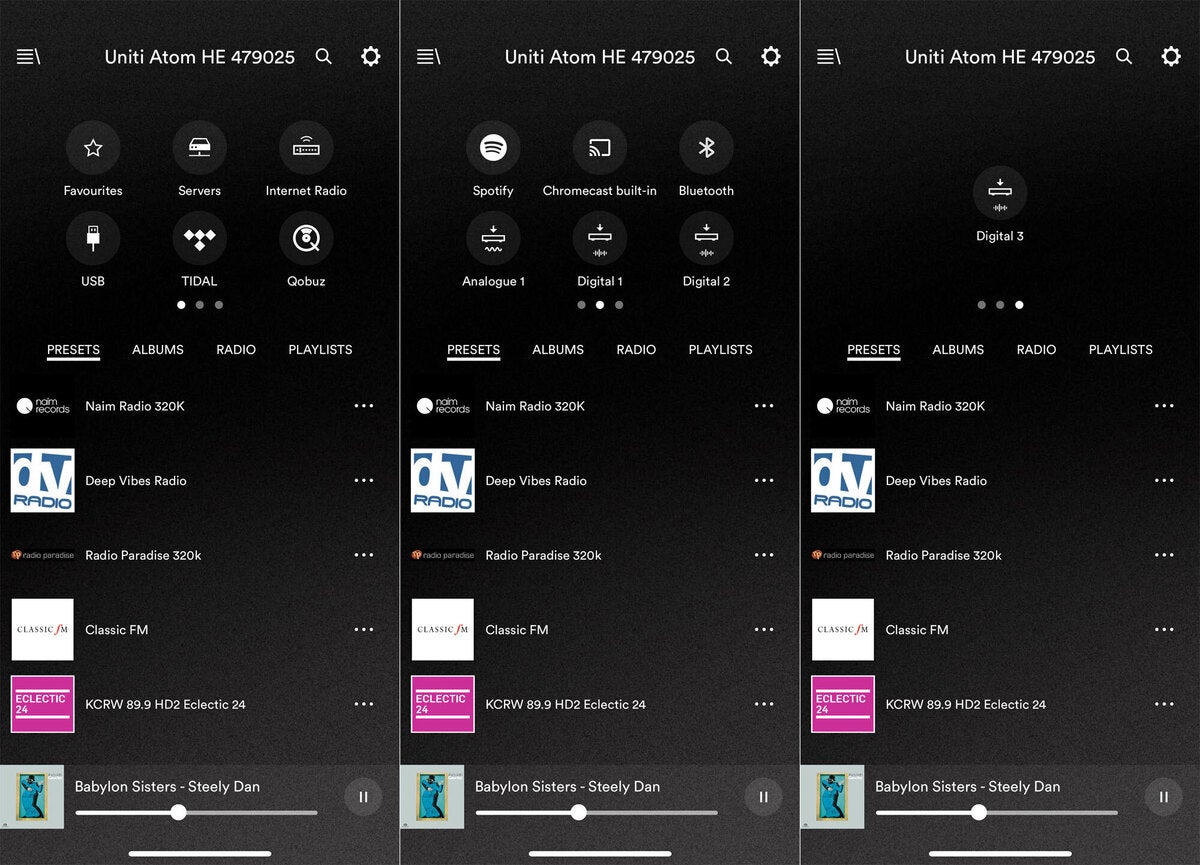 Uniti Atom HE performance
First up was "Babylon Sisters" (96/24) from Gaucho by Steely Dan. The sound was wonderfully clean and clear throughout the entire frequency range. The vocals sounded entirely natural, and I could hear deeper into the mix than I'm used to. All instruments were clearly discernable within a cohesive whole.
The same was true with "Itchy Boo" (44.1/24) from Where Do We Go From Here? by Dumpstaphunk. That track really gets down! Once again, I was struck with how well I could discern each instrument within the mix, which was nonetheless completely integrated and well balanced. Nothing stuck out or got obscured.
Even though "Flight of the Cosmic Hippo" from the album of the same name by Béla Fleck and the Flecktones is only CD quality (44.1/16), it's a fantastic bass test. The Naim rendered the super-deep bass beautifully; it was strong, but it didn't overpower the banjo, piano, drums, or harmonica. The second half of the bass solo goes way low, but it remained clean, tuneful, and well defined.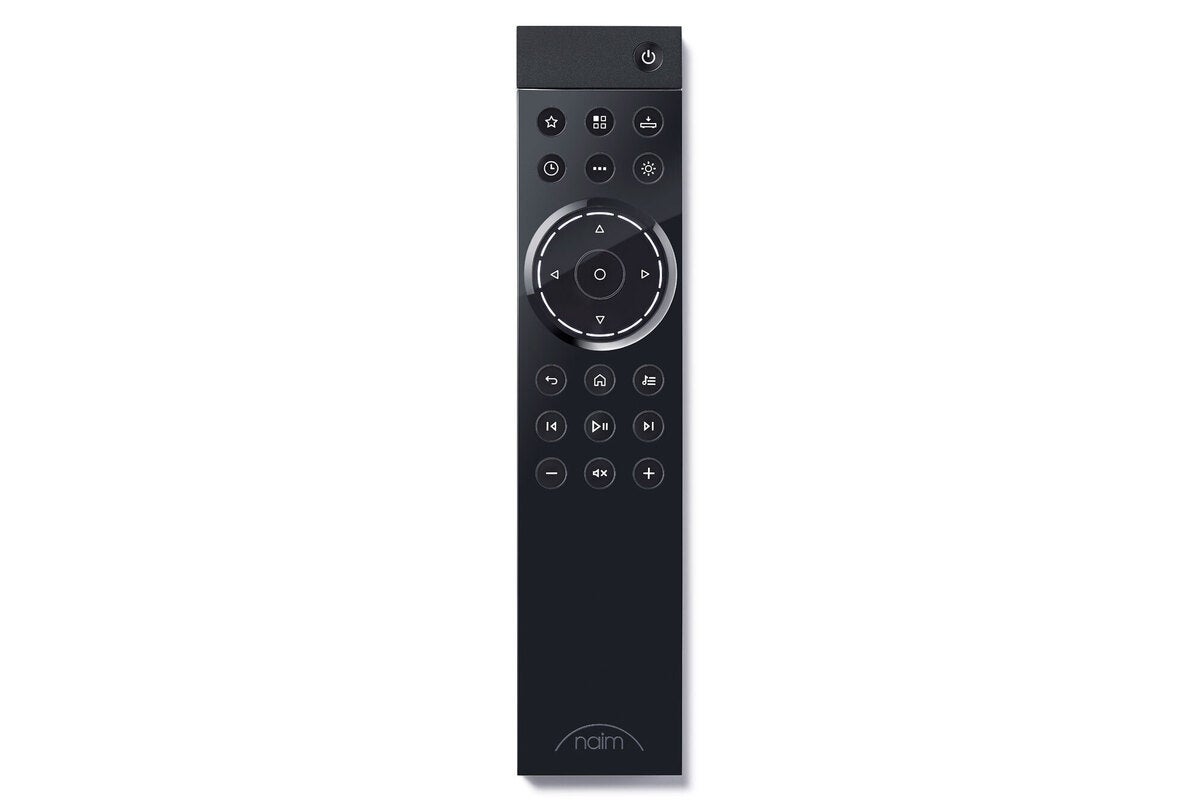 Another great bass track is "Adulthood" (44.1/24) from We Are by Jon Batiste. In this case, it's an acoustic bass, which sounded amazing—deep, rich, present, and natural. Likewise, the vocals sounded entirely natural, and as before, I could hear deep into the super-clean mix. A brass band comes in toward the end, and it sounded like I was in the room with them.
For a couple of country tracks, I listened to "Lonely Alone" from Threads by Sheryl Crow with Willie Nelson, as well as "Sheryl Crow" from Here on Earth by Tim McGraw (both 96/24). In both cases, the sound was crystal clear with natural vocals and well-balanced bass. Once again, I could easily discern each instrument and voice within a cohesive whole.
Turning to classical music, I found Sinfoniae Sacrae, Op. 6 by Heinrich Schütz as performed by Les Sacqueboutiers de Toulouse. Although it's only CD quality (44.1/16), this group uses instruments and performance techniques appropriate for the 17th century, and the playing is wonderful. I listened to XIX Buccinate in neomenia tuba SWV275, which features cornetts, sackbuts, organ, gamba, theorbo, and dulcian as well as voices, the type of ensemble I've played in for many years. The Naim reproduced everything exceptionally well, and as I had come to expect, I could easily discern each instrument within the clean, clear mix.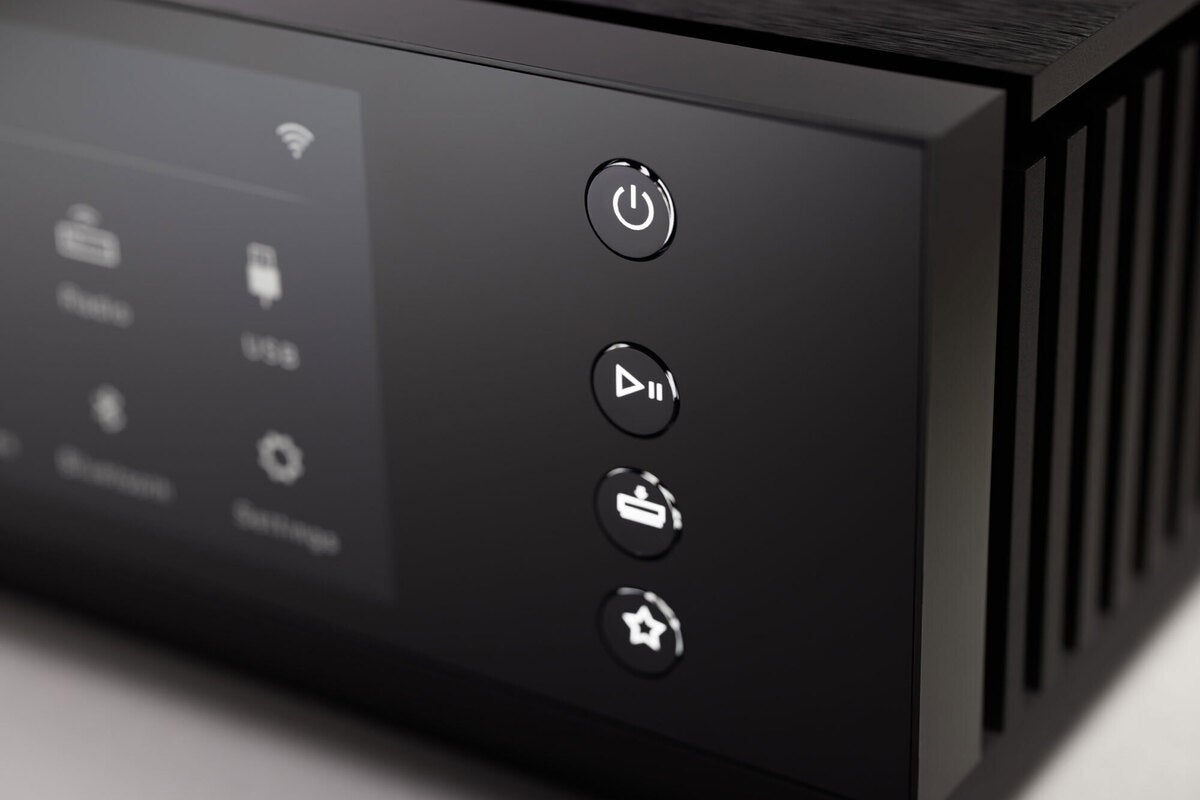 One of my favorite large orchestral pieces is Respighi's The Pines of Rome. I listened to the fourth movement, "The Pines of the Appian Way," as performed by the Berliner Philharmoniker under Herbert von Karajan (96/24). Like Ravel's Boléro, "The Pines of the Appian Way" starts super soft and slowly builds to a thundering climax, and that wide dynamic range was artfully reproduced by the Naim. The sound was clear and open throughout, and it gave me goosebumps by the end.
As I mentioned earlier, I purchased some high-res tracks on Qobuz to have on a USB thumb drive, so I plugged it into one of the USB ports on the Uniti Atom HE and listened to a few of those tracks. "Für Alina" from Road to the Sun by Pat Metheny, "Eretseretse" from An East African Journey by Omar Sosa, "Spread Love" by Take 6 from its eponymous first album, "It's 'Cause I Am" from Real To Me by Callista Clark, "Olympic Fanfare" by John Williams and "Great Gate of Kiev" from Mussorgsky's Pictures at an Exhibition as performed by the Los Angeles Philharmonic under Gustavo Dudamel—all sounded glorious: clean, clear, and perfectly balanced.
Finally, I checked out some of the Internet radio stations available on the Uniti Atom HE. They include KCRW 89.9 HD2 Eclectic 24 (MP3, 44.1kHz, 192Kbps), Classic FM (MP3, 44.1kHz, 128Kbps), Naim Radio (AAC, 44.1kHz, 320Kbps), and Deep Vibes Radio (MP3, 44.1.kHz, 320Kbps). The stations with higher bit rates sounded fine, but I was surprised that the classical station (Classic FM) was only 128Kbps, which sounded a bit veiled.
Just as I was finishing this review, I learned that a firmware update was about to be released. Along with some bug fixes, the update adds support for Tidal Connect, which lets you stream content from the Tidal app directly to the Uniti Atom HE. As soon as it was available—the day I had to turn in this review—I initiated the update from the Naim app. Confusingly, the app reported that it could not find the device, but the front panel indicated that the download and update were in progress.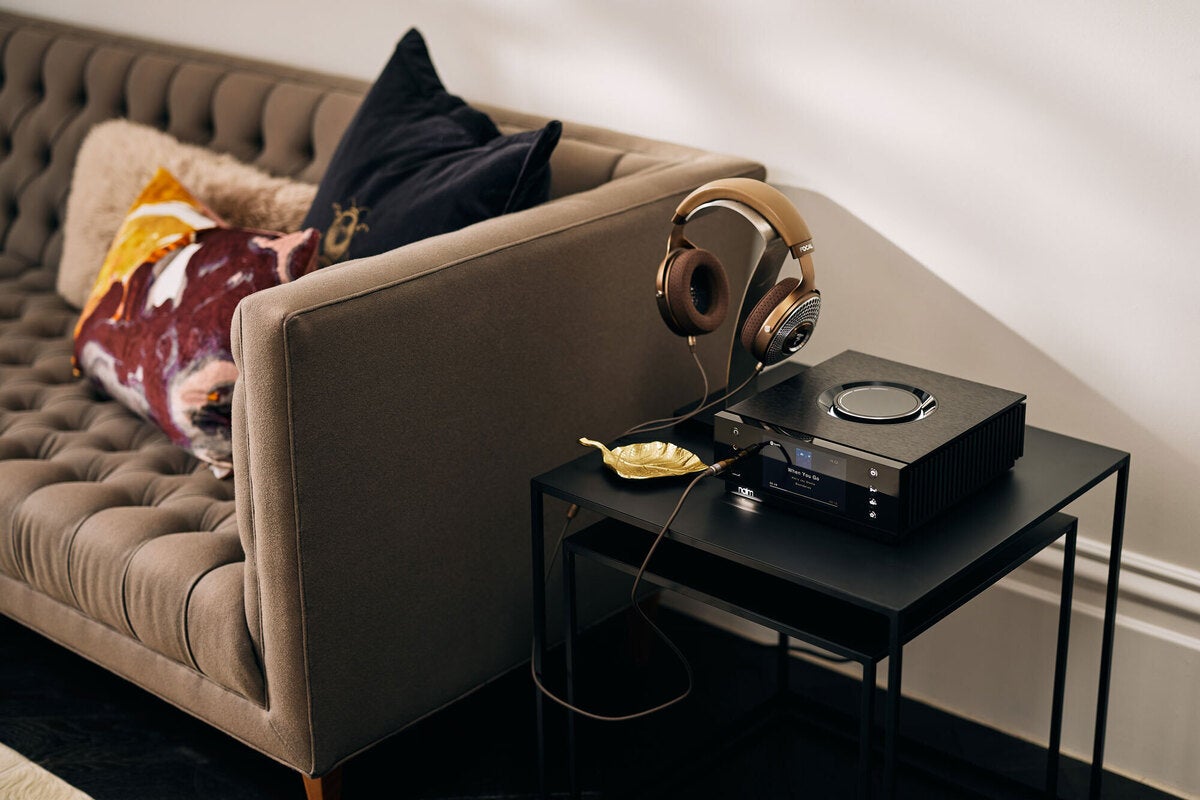 Once the update was complete, I tried Tidal Connect, and it worked like a charm—with one exception. Even though I was playing tracks I knew were 96/24 resolution, the Tidal app indicated they were HiFi, which means FLAC 44.1/16. That's because the Atom HE does not support MQA, so it downconverts Tidal Master tracks to CD quality. Still, using the Tidal app is much better than the Naim app, because it knows what I've listened to lately without having to make playlists.
Bottom line on the Uniti Atom HE
If I had to choose one word to characterize the sound of the Naim Uniti Atom HE, it would be "clarity." Every track I listened to was super clean and clear, allowing me to hear deep into the mix and easily distinguish every instrument and voice while remaining entirely cohesive. It was a real joy to listen to.
The only problems I encountered were the nonintuitive setup procedure and the limited Tidal and Qobuz integration within the Naim app. (The new firmware update solves the Tidal-integration problem by allowing you to use the Tidal app.) Also, Tidal Master tracks are downconverted to CD quality, while Qobuz high-res tracks are not. CD quality isn't bad by any means, but if you're paying for the top Tidal tier, you should get all that it offers—at that means MQA.
Clearly, the Naim Uniti Atom HE is aimed at audiophiles who want a top-notch streaming experience on headphones. And the fact that it doubles as a Class A preamp is a big bonus.
Of course, this level of performance doesn't come cheap—the list price is $3,290. But when paired with headphones of commensurate quality, such as the Focal Clear Mg, the listening experience is transcendent.
Best Prices Today: Naim Uniti Atom HE