I'm about to throw an outdoor party and I want to spruce up my patio that doubles as a driveway. In addition to moving the car to the street and sweeping up, I plan to add some smart outdoor lighting.
There will be a lights hung on a rose arbor and a floodlight to bathe the area in a soft glow. Hopefully, it will create the right mood for eating, drinking, and conversation.
If this were an indoor party, this task would be a snap: Plug in a smart outlet and put the beer on ice. But this is an outdoor party, so it requires equipment that is both smart and safe.
The outdoor smart lighting gear I'll need
Mentioned in this article
Wemo WiFi Outdoor Smart Plug
Mixing electricity with rain, sleet, and snow is inherently dangerous, so this installation calls for special electrical devices. I'm using the $40 Belkin Wemo WiFi Smart Outdoor Plug. It's weather-resistant with an IP44 rating, which means that it can stand up to being splashed with water and is safe to use outdoors four seasons a year. It just can't be safely immersed in water, such as for the underwater lighting in a koi pond. (The article at the following link will tell you everything you need to know about IP codes.)
In addition to a lit on/off switch, the Wemo smart plug has two outlets with fold-open covers to protect them when not in use. What the WiFi Smart Outdoor Plug doesn't allow is independent operation of its two outlets or dimming for that matter. In other words, it's all or nothing when it comes to control.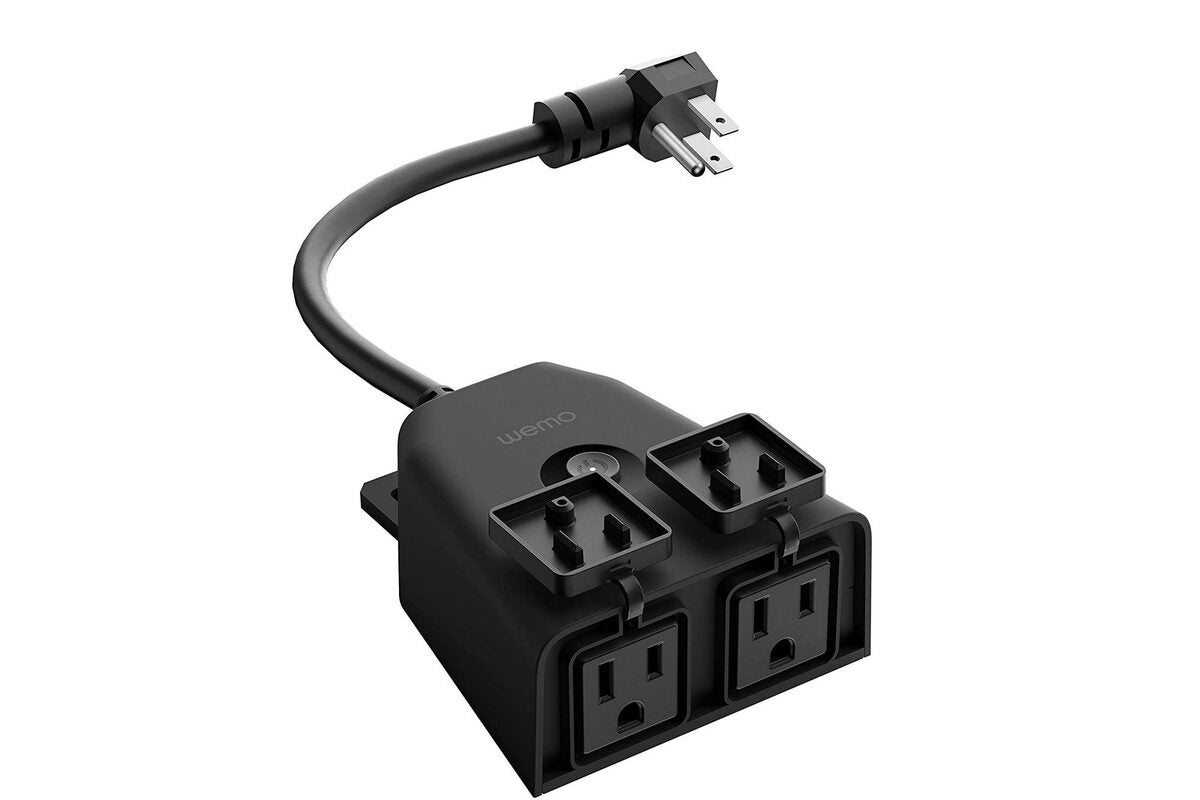 Finally, I will be using the smart plug with an outdoor outlet that has both a plastic cover and Ground Fault Circuit Interrupter (GFCI) protection. This type of electrical equipment is generally used outdoors as well as in kitchens and bathrooms, basically any place where water might be an issue. It works by quickly cutting the power if it loses its path to earth; as such, it's good protection for outdoor use.
Prepare for outdoor smart lighting installation
Before I got started with installing t he smart outdoor outlet and lights, I checked a few preliminaries.
First, I made sure that the string and flood lights I want to use are below the switch's 15-amp (1,800 watt) rating. Check.
Then, I tested my Galaxy Note 20's Wi-Fi connection. Check. If I couldn't get online, I would have needed to add a Wi-Fi extender to my network.
Next, I made sure that the phone's Bluetooth was turned on. Check.
Finally, I downloaded and installed the Wemo app and created an account. Check.
Using a step ladder, I strung the lights on a rose arbor I made several years ago. I used zip ties to hold the wiring in place.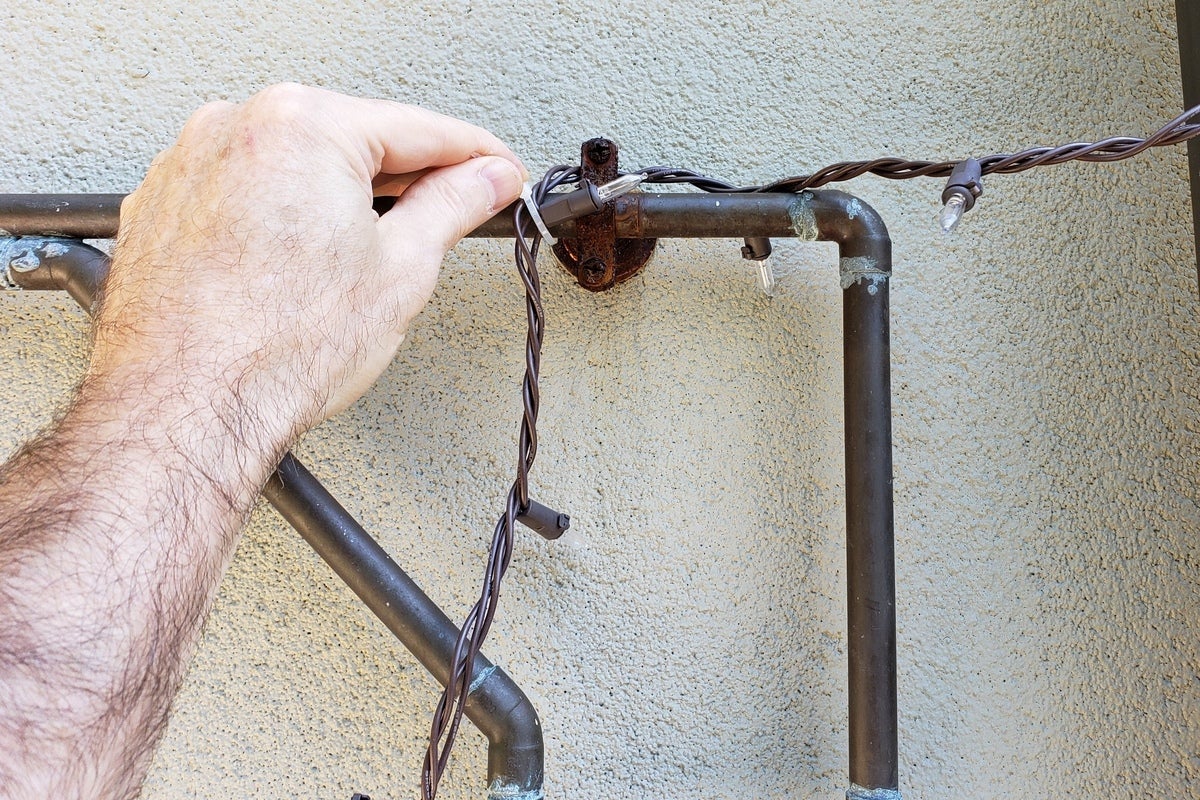 I followed this up with mounting the floodlight above and angled down. This way my guests will see what they're drinking and who they're dancing with.
With everything in place, I opened the cover for the house's outdoor outlet and inserted the WiFi Smart Outdoor Plug into one of the outlets. With the smart plug hanging, I plugged the string lights and the floodlight fixture into its outlets; the floodlight required using an outdoor extension cord. If I decide to keep it, I'll secure the smart plug to the wall.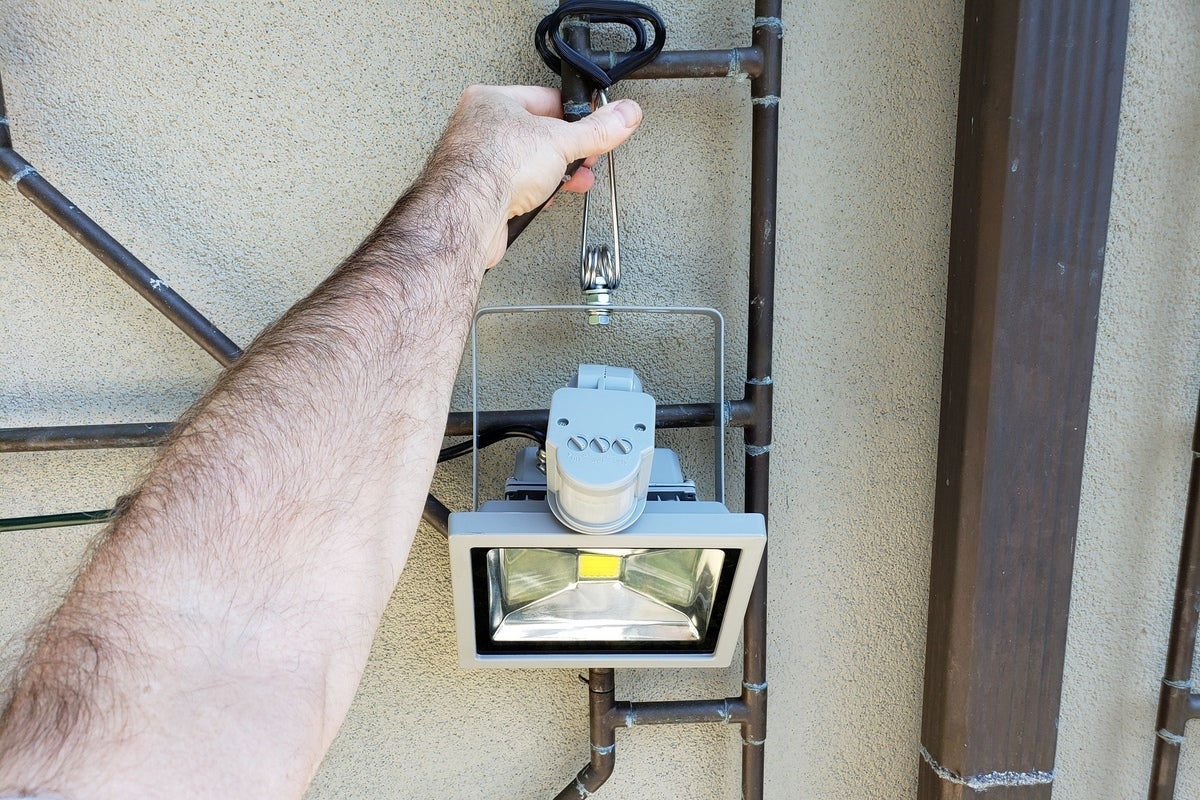 With the wiring done, it's time to see just how smart this outlet is. I opened the Wemo app and tapped "Add a New Wemo" to get started. Then, I picked Smart Plug from the list of potential hardware types, followed by selecting Outdoor Smart Plug.
The app provided hints for setting the gear up and the smart plug's LED blinked white and yellow. This showed it's ready to be configured.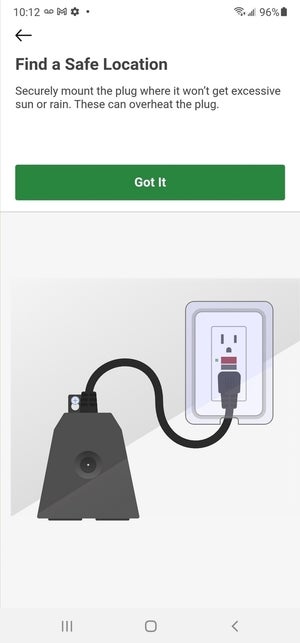 After I gave the app permission to use the phone's location data, it scanned for the plug and found it within a few seconds. I tapped to connect the device.
With the phone and smart plug linked, my next task was to name the plug. "Outdoor lights" seems appropriate. My advice is to let the app remember the Wi-Fi settings, making it easier to reconnect later.
Then, the app scanned for Wi-Fi networks in the area and found my wireless LAN. I typed in the passcode and both the app and the smart plug were online in less than a minute.
That's it. It took all of 10 minutes to hang the lights and set the plug up. I tried it out by turning the lights on and off remotely with the phone. There's a slight delay and you can hear the plug's relay click on and off to make and break the electrical connection.
How to control outdoor smart lights
If all I wanted was to remotely operate the lights, I'd be done and the party could get underway. I, however, want to schedule the plug's actions. To do this, I start by tapping "Rules" at the screen's bottom to get to the timing portion of the app.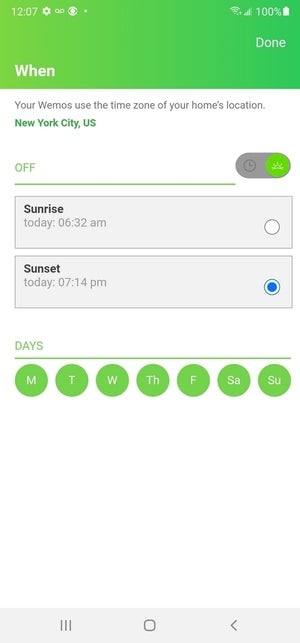 Next, I needed to tap "Schedule" to set up a timing rule. I named it "Party lights."
I pulled down the "Turn On/Off" area and picked "On" to start the sequence for the plug's timing. I set the turn on time for 7:00 p.m., when guests will start arriving.
Finally, I repeated the sequence for turning the lights off at 2:00 a.m.; by then, it's time for the last stragglers to go home. I'm done and it is getting close to party time.
With the lighting now set, all I need to do is set the patio up for the party. Let's hope the party will be illuminating.
But there's one more twist that the Wemo app and outdoor smart plug can do. I will eventually set it up to control my Christmas lights by automatically turning the lights on and off at sunset and sunrise. To do this, I slid the app's green clock switch to the right to illuminate the sun icon and put it into solar mode.
The app then asked for my location, because it determines the on/off timing every day based on my longitude and latitude. The closest listed location was New York City. Now it's all set up and ready for my light show and for the holidays.