At a Glance
Expert's Rating
Pros
Good sound with nice stereo separation for the price
Rechargeable via USB or built-in solar panels
Water resistant
Cons
Sound quality dependent on placement and orientation
Not a lot of bass
Music played from aux inpurt or SD card limited to a single speaker
Our Verdict
This stereo pair of water resistant, indoor/outdoor speakers sound better than their price tag, and even offer FM radio and SD card playback. You can even stake them into the ground.
Best Prices Today: iLive model ISBW240BDL Bluetooth speakers
iLive's Indooor/Outdoor Bluetooth speakers call to mind those solar-powered pathway lights they sell in the lawn-and-garden department at the hardware store. Not because they glow at night, but because these water-resistant, Bluetooth, stereo speakers come with both solar panels for charging their batteries, and removable stakes you can drive into the ground to keep them upright.
It's an interesting idea, to be sure, but the better news is that these speakers—search for iLive model number ISBW240BDL—sound far better than you might guess from their $70 price tag (Walmart was selling them for $50 at the time of this writing). And when you're not entertaining outdoors, you can detach the stakes and bring the party into the house
Design
The cylindrical speakers—you might also compare them to pint beer cans—have circular solar panels on top that will trickle-charge their batteries when it's sunny outside. Without the stakes, each 3.03-inch diameter speaker rises 6.57 inches high.
Each speaker sports an identical set of controls (they were probably sold individually at one point): Volume-up, volume-down, Bluetooth pair, and stereo pair/input select; plus, a multi-function power and next-track/previous-track button. There are also two indicator lights for Bluetooth and stereo pairing, as well as a microphone directly above those. The opposite side of the speaker is home to a large plug hiding a micro-USB charging port, an 3.5mm auxiliary input, and a microSD card slot.
As you might've guessed, one of the ISBW240BDL's neat tricks is playing music from a microSD card. This allows you to set-and-forget your playlist, and it eliminates the party foul of interrupting playback when your phone turns back into a phone. But there's a catch—it only works on one speaker at a time.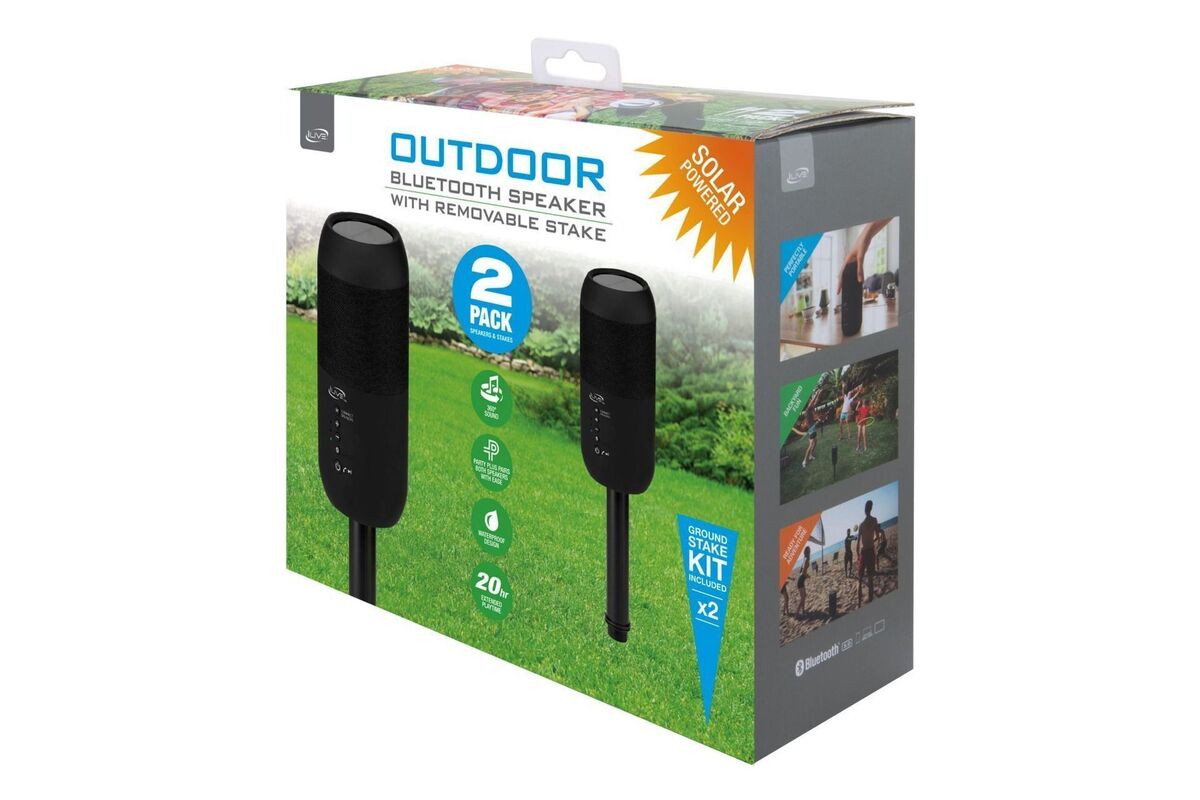 And that is my main gripe with these speakers: They function as a stereo pair only when Bluetooth is in use. If you use the aux input or the card slot on either speaker, it only can be heard from that speaker. Bummer. The reason is obvious—it's the Bluetooth signal that's being separated via TWS (True Wireless Stereo—or something similar). It's disappointing nonetheless.
On the other hand, you can coordinate music from the ISBW240BDL's other cool trick: FM radio. In this case, you must set each speaker to the same station. FM is invoked by a short press on the "connect speakers" button. You'll hear a lot of static the first time you do this, but pressing and holding the power button for two seconds will scan for local stations. Once the scan is complete, a two-second press on the plus/minus buttons will switch stations.
The manufacturer claims the ISBW240BDL are water resistant, but it provides no IP rating for them. Judging from the build quality, design, and port plug, I'd guess they'd survive just about anything short of total immersion. But that's just a guess, because iLive didn't return my fact-check sheet. Based on my listening tests, I'd also guess each speaker enclosure houses a single, approximately two-inch, full-frequency speaker with an amplifier delivering 7 to 10 watts of power to it.
Performance
The ISBW240BDL won't blow anyone away with its audio performance, especially when played individually; however, they're very listenable when paired in stereo. Separation will do that for you. That said, I wouldn't have been that kind at first blush.
I began testing these speakers with the controls facing me. While the stereo separation was fantastic (as it should be with separate right and left speakers), Toto's "Africa" sounded dull and lifeless. I started slowly rotating the speakers on their vertical axis, and as I reached a point halfway between the front controls and the plug in back, voila! The high-end picked up noticeably, and the placement of various instruments in the sound field perked up as well. The product page's claim of 360 degree sound, on the other hand, is a bit inflated.
The ISBW240BDL's primary weakness is its lack of bass. There's no sub-bass at all, as two seconds with Young Jeezy's Put On was more than enough to prove. What bass is present could better be described as low-mid punch. I wouldn't call the low-end anemic, but thump is definitely minimal.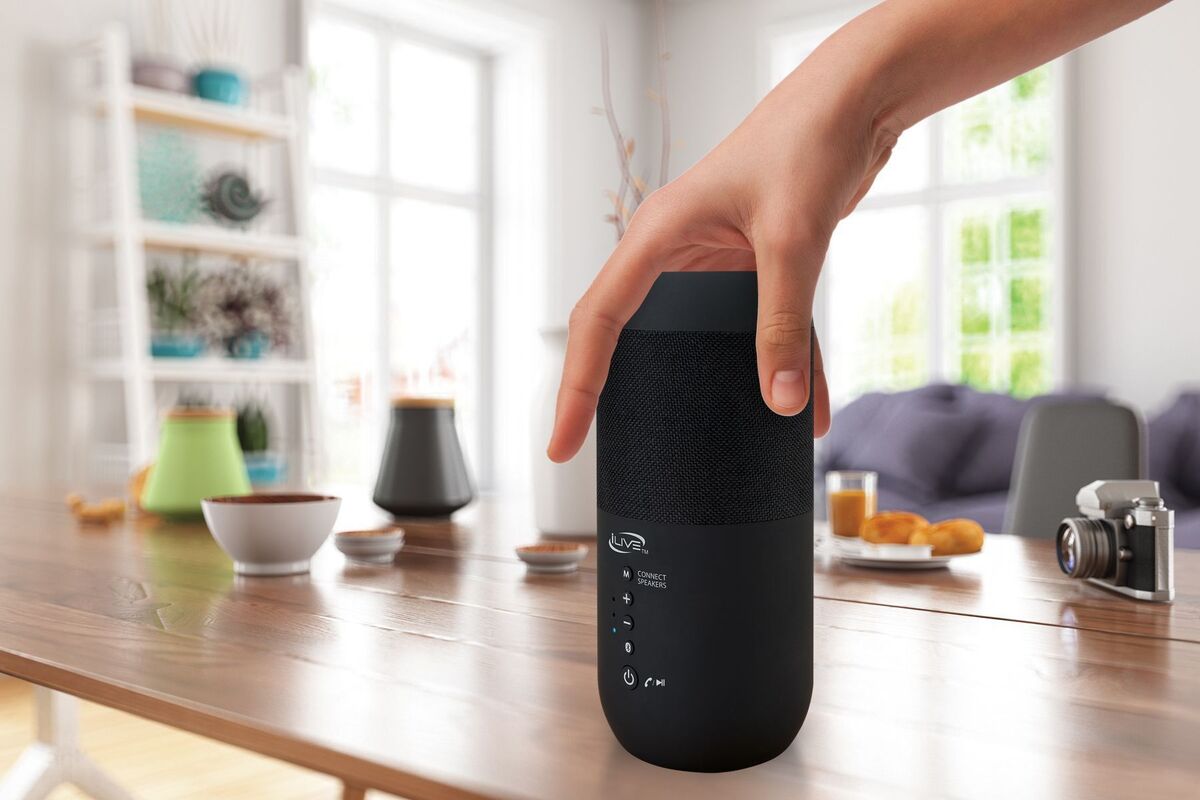 These speakers are fine for light listening at a picnic, indoor/outdoor meal, or the like. Say, when conversation and eating are the primary focus. They're loud enough for a couple or two to dance to, but don't bring them to a hootenanny of any genre.
iLive claims 20 hours of run time at half volume, but I was only halfway to that mark when a red-light battery warning started to flash. Vendor estimates tend to be a tad optimistic. After so many speakers not reaching claims, I regard the iLive's as a good performance.
Conclusion
Stereo separation can make up for a lack of super fidelity, which is largely what's going on with the ISBW240BDL combo. Whoever at iLive realized that and bundled them as a pair deserves a raise—individually, the speakers are strictly lightweight.
As a pair, these speakers are fine for casual listening in any location when you don't require lots of volume or thump. There's nothing better, or even similar as far as I know, in the price range. Just remember that they're only stereo when Bluetooth is in use.
Best Prices Today: iLive model ISBW240BDL Bluetooth speakers