At a Glance
Expert's Rating
Pros
Extremely affordable
Includes two transmitters
Tons of ringtone options
Can get very loud
Cons
Short transmitter taps might not ring the chime
IP55 weatherization is barely sufficient for outdoor use
Zero smart features
Our Verdict
This no-frills wireless system can be set up in seconds; it's an easy fix for a broken doorbell.
Best Prices Today: Avantek DB-21 wireless doorbell
Broken doorbell? If you can do without video or smart home integration, Avantek has super-affordable—and much simpler—alternative: A battery-powered doorbell that gives you a quick and easy way to take any visitor-notification system wireless.
The DB-21 kit—Avantek has dozens of products in this space—consists of three components. The doorbell receiver is a slim, black box, 3.5 inches square. It contains the chiming system and plugs into an outlet anywhere in the house. Two transmitters are included, so you can have doorbells on different doors that ring to the same receiver; each is a slim tablet not much larger than a Zippo lighter. These can be mounted on the wall with either screws or adhesive tape; both options are included. While AC powers the receiver, the transmitters each use a coin cell battery. Avantek says a cell will last for up to three years.
Setup couldn't be simpler. Plug in the receiver, activate the pre-installed transmitter batteries by pulling out a plastic tab, and you're ready to go. Avantek provides instructions for pairing the transmitters to the receiver—they work on the 422.92MHz RF band—but mine were pre-paired out of the box and required no further configuration. From there, just press the button on the transmitter and the receiver rings.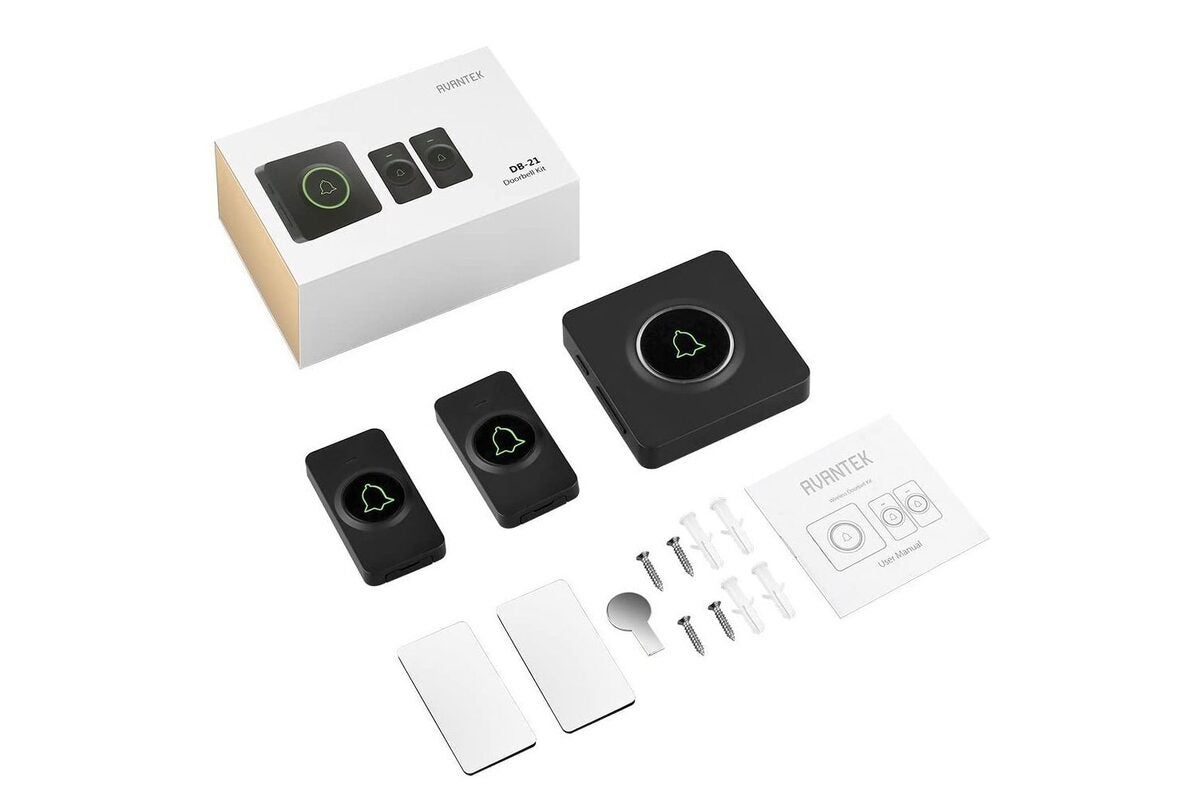 Chime volume is adjustable via a button on the side of the receiver—up to 115dB, according to the company, and you can push another button to choose from a phenomenal 52 total ring tones which span every known chime and musical style you can imagine. At maximum volume, the device is indeed very loud—although you'll want to locate the receiver centrally in very large homes. An LED indicator also lights up on both the transmitter and the receiver whenever the doorbell is rung.
Mind you, the DB-21 is decidedly limited. It has no real smart features: It doesn't use Wi-Fi or even Bluetooth, and the transmitters' IP55 weatherization is a bit of a bare minimum for exterior use. They're sufficiently protected from dust to prevent failure, but they're only protected from water sprayed from a hose. They just don't feel particularly tough, to be honest.
On the plus side, the unit boasts a maximum range of between 1,000 and 1,300 feet (depending on where you read the spec), which is roughly a quarter mile. In my testing, I only averaged about 500 feet, but that was through ample interference in the form of foliage and other homes. If you need to mount a doorbell at the end of the long, cypress-lined driveway leading to your palatial summer home, the DB-21 will surely fit the bill.
My only real complaint with the DB-21 is that you must hold the button down for about half a second for the signal to be sent to the receiver. That may not sound like a problem, but if you quickly tap and release the doorbell button, the LED will light up—as if the command has been received—but it won't actually be relayed to the receiver. Since the transmitter doesn't make any noise itself, it's probable that some visitors won't hold the button down long enough for the chime to ring.
At a whopping $27 (and often less, as coupons are often available), this is a decidedly low-risk investment if you're searching for a cheap and easy doorbell solution. It's definitely a much better product than the competing Swann Home Doorbell Kit, which doesn't plug into wall power and requires 3 AA batteries for the receiver that are constantly being drained. That said, if you want something that will alert your smart phone or ring multiple chimes in the house when visitors arrive, well, you'll need to upgrade to something a bit more advanced (and costly).
Best Prices Today: Avantek DB-21 wireless doorbell