At a Glance
Expert's Rating
Pros
Detailed sound with solid bass for an all-in-one soundbar
Built-in Alexa and AirPlay 2
Simply, intuitive remote
Can be upgraded with wireless surround speakers and subwoofer
Cons
Flat sound signature won't be to everyone's taste
Alexa yells if the main volume is set too loud
Only one HDMI port
Our Verdict
Not that many budget soundbars come equipped with both built-in Alexa and AirPlay 2, but the HW-S60A's flat audio signature isn't for everyone.
Best Prices Today: Samsung HW-S60A
Any manufacturer of a budget soundbar has to cut corners in one way or another; bottom-line value is determined by where those compromises get made. In the case of Samsung's $280 HW-S60A, there's no Dolby Atmos support, but you do get some enticing perks in return, including built-in Alexa, AirPlay 2, and 5.0-channel sound, with side-firing drivers supplying the surround channels. Also, you can upgrade the HW-S60A with Samsung's optional surround speaker kit and subwoofer.
How does the HW-S60A measure up compared to its competitors? Well, that depends on what you're looking for in a soundbar. While I admired the HW-S60A's surprisingly wide and detailed sound, I preferred the warmer, sweeter sound signature of Denon's $249 DHT-S216H, but that Denon all-in-one soundbar doesn't do Alexa or AirPlay 2. Yamaha's $200 SR-B20A has the height effects (courtesy of DTS Virtual:X) that the HW-S60A is missing, but the Yamaha speaker doesn't have Alexa or AirPlay 2 either. Roku's $180 Streambar Pro does have AirPlay 2, not to mention an integrated Roku streaming player, but the HW-S60A sounds better.
In the end, the Samsung HW-S60A delivers solid sound and plenty of value in a compact, $280 package, but its flat sound signature won't be for everyone.
This review is part of TechHive's coverage of the best soundbars. Click that link to read reviews of competing products, along with a buyer's guide to the features you should consider when shopping.
Configuration
The Samsung HW-S60A is a 5.0-channel soundbar, but it doesn't come with a set of physical surround speakers that would typically give it a 5.0 (left, center, right, surround left, surround right) designation. Instead, the HW-S60A takes an approach we've seen from competing all-in-one soundbars: It uses side-firing drivers in the main soundbar unit to bounce the surround channels off your walls, delivering (ideally) surround effects without actual speakers behind your sofa. Does it work? We'll discuss that in a bit.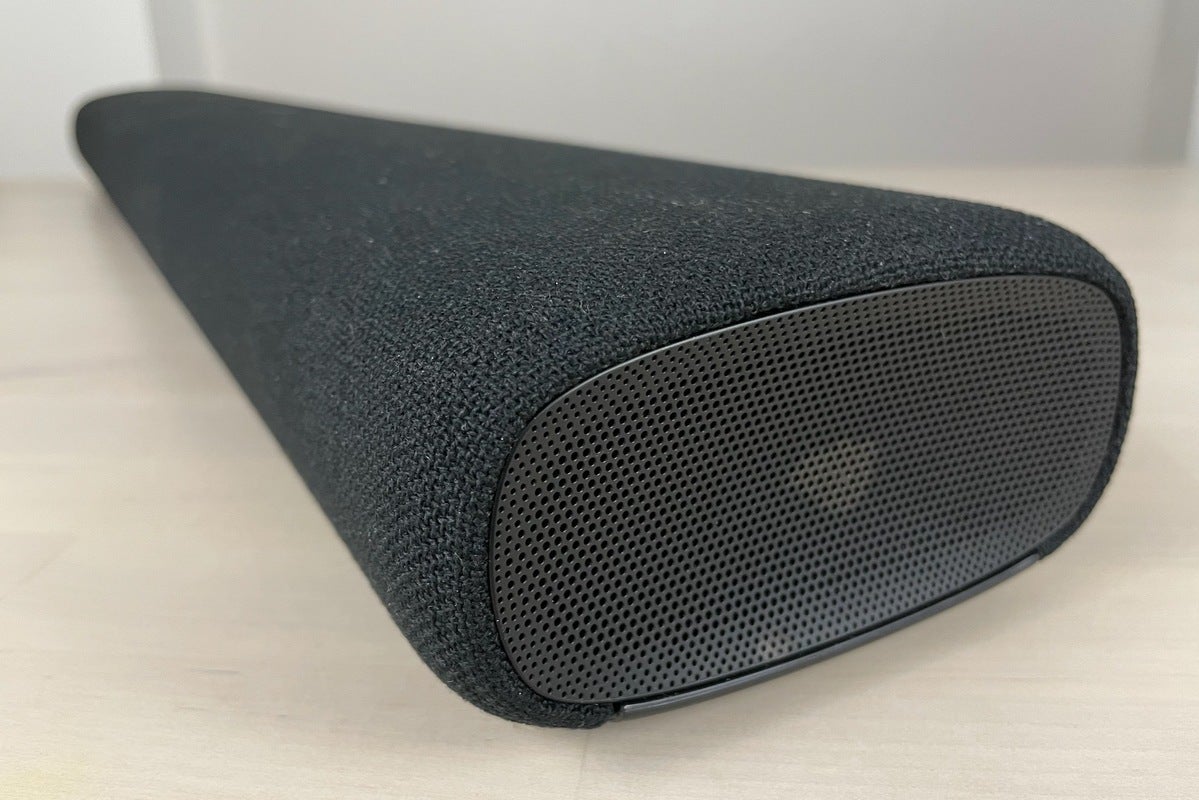 Besides the left, center, and right drivers (Samsung didn't supply us with driver specifications), there are also a pair of "Acoustic Beams"—Samsung's name for an "inward"-firing driver with a series of holes designed to project sound precisely throughout the room.
If you want to bolster the HW-S60A's low-frequency effects, you can turn it into a 5.1-channel soundbar with the optional, $280 SWA-W500 wireless subwooferRemove non-product link. And if you'd prefer physical surround speakers, the soundbar is compatible with Samsung's $180 SWA-91005 surround speaker kitRemove non-product link. Samsung didn't supply us with any extra speakers, so we focused our testing on the main soundbar unit.
Our top budget pick
Denon DHT-S216H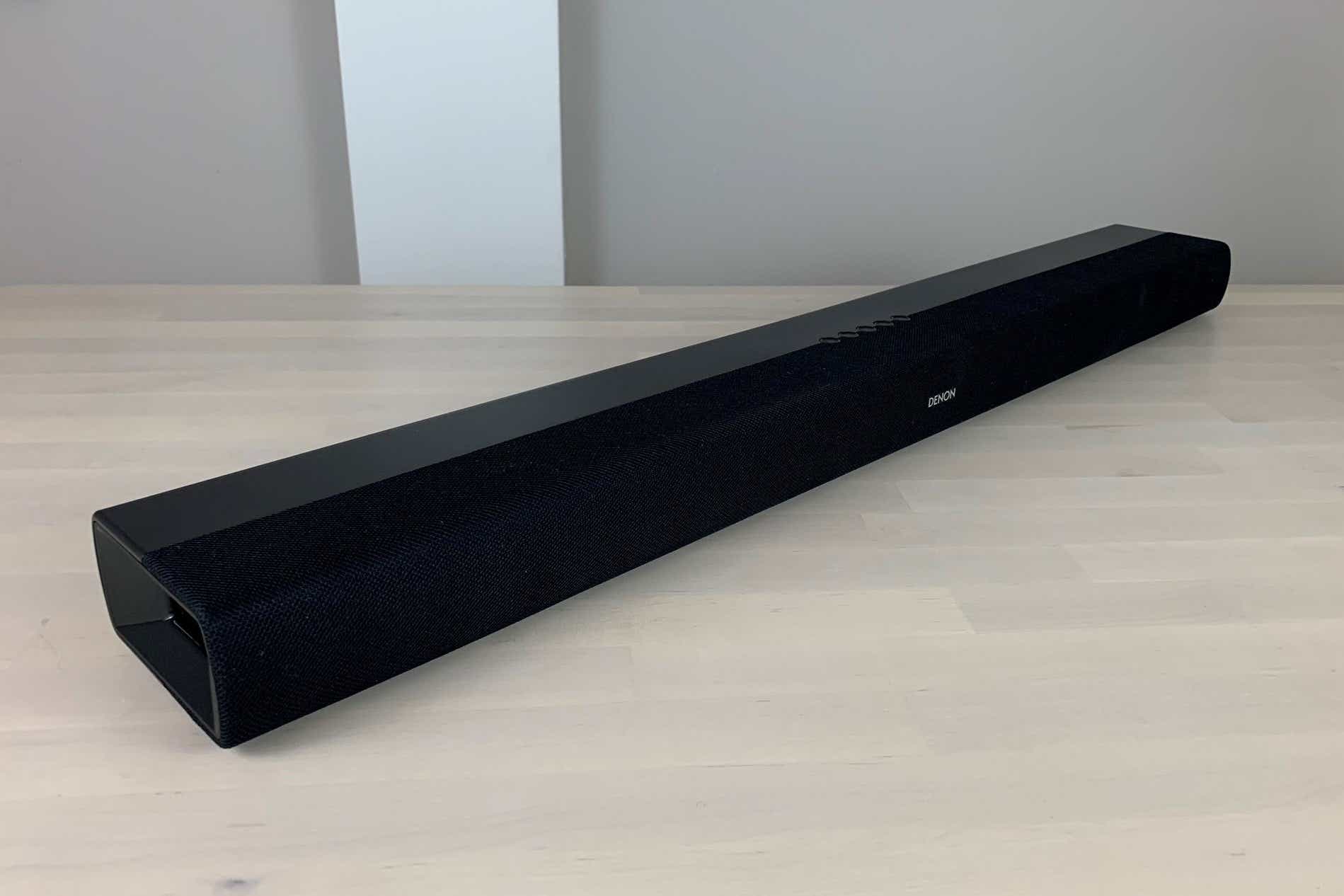 The HW-S60A lacks upfiring drivers for Dolby Atmos and DTS:X height cues, and it doesn't support any height virtualization modes either. So if you're looking for a soundbar that delivers immersive Atmos or DTS:X sound, you'll have to pony up for one of Samsung's pricier models, or a similarly priced competitor such as the Vizio M51ax-J6 or the Yamaha SR-B20A that can produce virtualized height cues.
Measuring 30.1 x 2.7 x 4.9 inches (WxHxD) and weighing 6.6 pounds, the HW-S60A is relatively narrow and manageable, with a rounded, fabric-wrapped exterior that's attractive but dust-prone. At 2.7 inches high, the soundbar may block a sliver of your TV's screen when placed directly in front; it certainly did with my low-slung, 55-inch LG C9, although the slight dent it made in the bottom of the screen didn't bother me too much.
If you don't want the HW-S60A sitting in front of your TV screen, you can always mount it under your TV, and Samsung thoughtfully supplies mounting gear and a mount guide for that very purpose. Also in the box: an HDMI cable, an accessory that not all soundbar manufacturers (cough—LG!—cough) bother to include.
Inputs and outputs
The HW-S60A has a pared-down selection of interfaces in the rear, including a single HDMI-ARC port, optical (Toslink) in, and a microUSB port for installing firmware updates.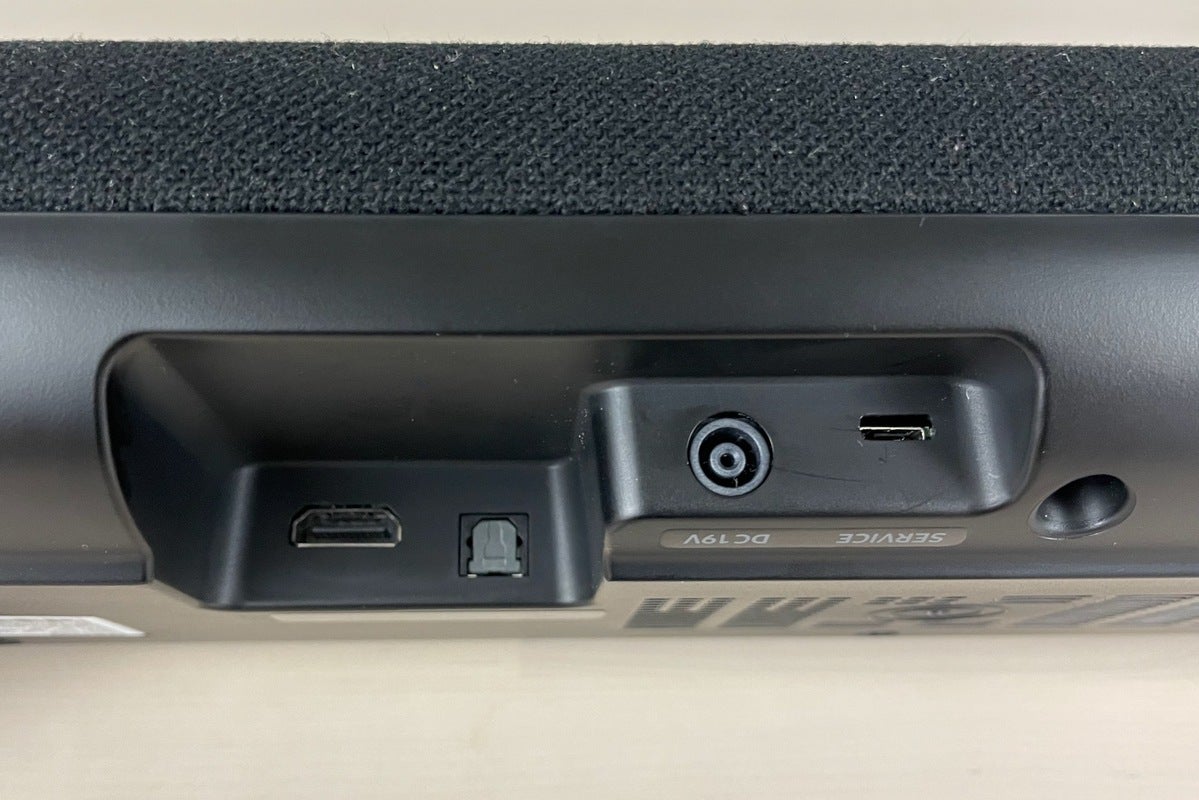 Because the HW-S60A has but the single HDMI-ARC interface, you only have one option when it comes to connecting the soundbar to your TV via HDMI: plugging your video sources into your TV's HDMI inputs and then sending audio to the soundbar via HDMI-ARC. On the one hand, that means you can connect as many video sources as your TV allows, and it also means that you can pipe sound from your TV's built-in tuner and apps to the soundbar. On the other hand, because the HW-S60A doesn't support eARC (an "enhanced" version of HDMI-ARC), you won't be able to listen to lossless Dolby TrueHD and DTS-HD Master Audio tracks, which are commonly encoded on Blu-ray discs.
A workaround for the eARC issue would be to connect a video source (such as a Blu-ray player or game console) to the soundbar's second or third HDMI inputs, except as we just mentioned, the HW-S60A doesn't have any. For those who stream videos rather than play them on physical Blu-ray media, the eARC issue is largely moot, since streaming services generally deliver audio in the lossy Dolby Digital or Dolby Digital Plus formats.
If you want to use the HW-S60A with an older TV that doesn't have an HDMI-ARC port, you can use the optical connection. No optical output either? Well, that's a problem, because the HW-S60A lacks a 3.5mm audio jack that might otherwise allow you to connect a vintage TV with stereo output.
Want to skip the cables altogether? If you wish, you can connect the HW-S60A to your screen via Bluetooth or Wi-Fi, but that's only possible with a supported Samsung TV.
Wi-Fi setup
Once you have the HW-S60A positioned in front of your TV or installed beneath it, and your HDMI or optical cables and power cord (which has an in-line power brick, allowing for a standard two-prong plug without a wall wart) are all set, it's time to connect the soundbar to your Wi-Fi network.
The process is fairly simple: Just open the Samsung SmartThings app for iOS or Android, tap the "+" button in the top-left corner, tap Samsung from the "by brand" tab, then tap "AV," and finally "Soundbar." The app will guide you through the process, including entering your Wi-Fi credentials. Within a few minutes, the soundbar was connected to my wireless network, all on the first try.
Indicators, buttons, remote, and mobile app
There are only four buttons on top of the HW-S60A: a multifunction button that serves to power on the soundbar as well as change inputs, volume up, volume down, and microphone mute (for when you want some privacy from Alexa).
The HW-S60A's indicator lights are similarly minimalist. The five lights—four white, and a middle multicolor LED—peek out from the soundbar's fabric up top and right next to the buttons, and the lights flash depending on whether you're adjusting the volume, swapping inputs, muting the sound, changing sound modes, pairing a Bluetooth device, and so on. There's a learning curve to figuring out what the pulsing lights mean, and because the LEDs are on the top of the soundbar, they can be difficult to see when you're sitting on the sofa.
The HW-S60A ships with Samsung's standard soundbar remote, a sleek, ergonomic wand with volume and bass rockers that sit right next to your thumb. Mute, sound mode, and settings buttons are in each reach right below the four-way navigational pad, while power, input select, and Bluetooth buttons are positioned in the top quarter of the remote. Overall, it's a simple, intuitive layout. It's also worth noting that you can most likely control the HW-S60A's volume with your TV remote, give the soundbar's HDMI-CEC support.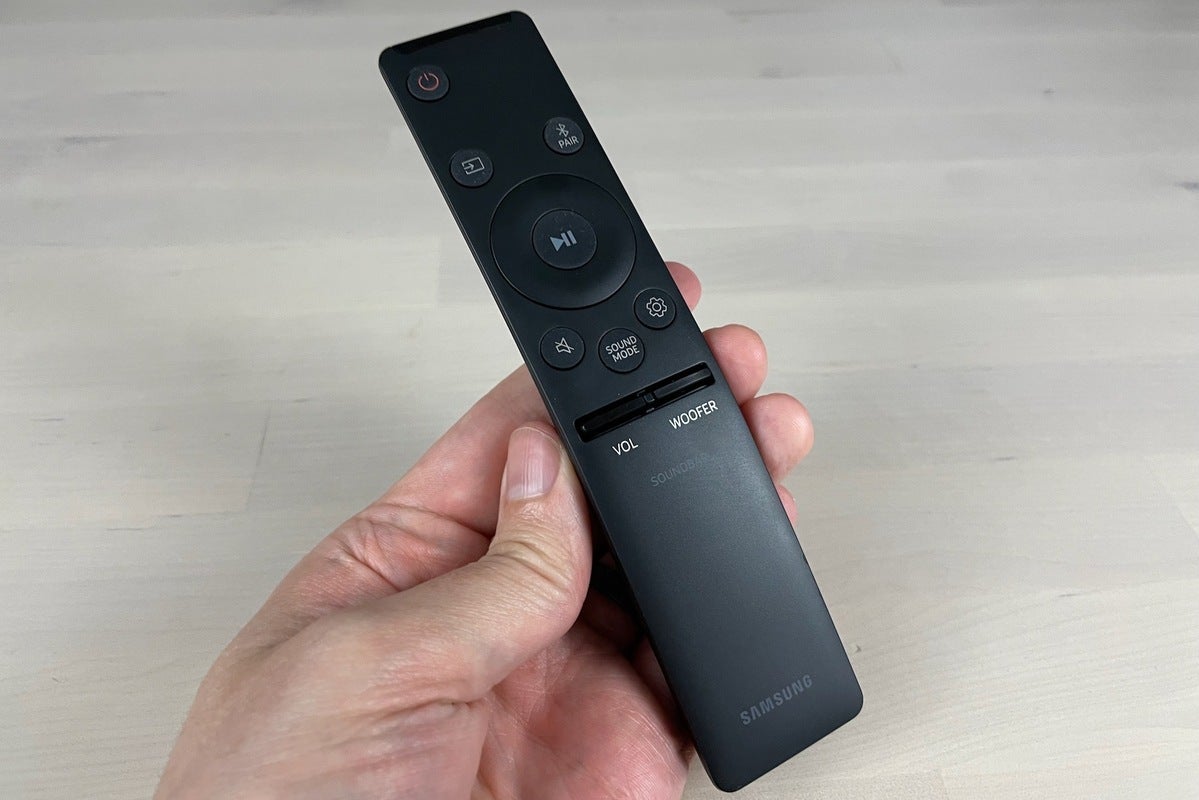 Another option for taking charge of the HW-S60A is via the SmartThings app. Using the app, you can power the soundbar on and off, adjust the volume, change sound modes, fiddle with EQ settings, and trim the side and rear channel levels.
Alexa, AirPlay 2, and Spotify Connect
You can't have everything when it comes to a sub-$280 soundbar like the HW-S60A; for example (and as I've already covered), Dolby Atmos is one of the features you'll have to do without. What you do get, however, are a pair of features that are relatively uncommon at this price point: built-in Alexa and AirPlay 2.
With Alexa on board, the HW-S60A functions as any other Alexa-enabled smart speaker would. You can ask Alexa to check the weather, give you a rundown of your schedule, set alarms and reminders, play music (Amazon Music, Apple Music, Deezer, iHeartRadio, Spotify, and Tidal are among the supported music streaming services), or control other smart devices in your home. You can also ask Alexa to adjust the soundbar's volume, mute the audio, or skip to the next music track.
One gripe about Alexa on the HW-S60A, however: She can get shockingly loud, even when the main soundbar volume is only at a moderate level. Indeed, Alexa made me jump out of my chair a couple of times after I'd cranked the volume for a movie. Samsung really needs to build in a separate volume setting for Alexa, and I've been told that the manufacturer is actively working on such a feature.
AirPlay 2 is another impressive feature for a soundbar in this price range. With AirPlay 2, you can stream audio to the HW-S60A from any supported Mac, iPhone, or iPad, and you can also add the soundbar to AirPlay 2 multi-room setups.
Finally, the HW-S60A acts as a Spotify Connect device, allowing you to stream tunes to the soundbar directly from the Spotify app.
Sound modes
The HW-S60A has four sound modes: Standard, Music, Game, and Adaptive, the latter being an AI-powered mode that automatically tweaks the sound depending on what you're watching and/or listening to.
I've found Samsung's Adaptive mode to be quite effective on its other soundbars, and the same holds true here. I found that I preferred the more expansive Adaptive mode across the board, so I stuck with it during my testing.
Besides the main four sound modes, there's also a voice-enhancing setting for boosting dialogue, as well as a night mode that compresses the dynamic range during late-night viewing sessions.
Performance
A $280 soundbar won't be able to compete with high-end A/V gear, so before I began my testing of the HW-S60A, I spent some time listening to the rarely used internal speakers on my LG C9 OLED TV. While the LG's speakers are capable of Dolby Atmos output, they're still pretty tinny and bass-deprived. So here's the question: Will the HW-S60A make for a substantial upgrade to your own TV's speakers?
After more than a week with the HW-S60A, I can say the answer is yes, albeit with some caveats. While the soundbar's side-firing drivers do a nice job of widening with the soundstage and delivering some nice virtual surround effects, I was never tricked into thinking that there were phantom surround speakers in the room, although that's not uncommon with all-in-one soundbars.
Also, the HW-S60A's sound signature is somewhat flat, which isn't necessarily a bad thing; after all, most audiophiles prefer a flat frequency response. But I suspect the HW-S60A's target audience is looking for something a little sweeter (heck, I'm not immune to the pleasures of a sweetly tuned speaker), and for good or ill, there's a decided lack of warmth to the HW-S60A's sound. That's not to say that the soundbar's passive subwoofers don't crank out any bass; indeed, they most certainly do.
Now, both of the above issues could well be addressed by adding Samsung's wireless subwoofer and surround speaker kit (although as I mentioned earlier, I wasn't able to test either of those accessories). Still, there's a lot to like about the HW-S60A's sonic performance, and you could always upgrade later if you find the sound wanting.
Starting off with Star Wars: The Empire Strikes Back on the iTunes Store via an Apple TV 4K (I streamed all the videos for my testing, as I'm guessing most other users of this soundbar will be doing the same thing), I was impressed by the HW-S60A's wide soundstage, such as when Luke's X-Wing soared off Hoth toward its destination of Dagobah, or as a squad of Storm Troopers fired laser bolts at the escaping Millennium Falcon. Speaking of the Falcon, the soundbar's passive subwoofers kicked into gear as the ship's engines roared during the chase with the pursuing Star Destroyers—we're not talking thundering bass, mind you, but certainly better than I was expecting given the lack of a powered subwoofer.
But while the HW-S60A's sound delivered plenty of details, especially in the mid-range, it still sounded a little… well, flat. Again, flat isn't inherently bad, but I still found myself wanting a little juicier, as I did during the famous opening credits of 1978's Superman. As the credits soared across the frame, the soundbar managed more impressive surround cues, and John Williams's rousing theme sounded clear and detailed; there was even a decent "thunk" for Richard Donner's "directed by" credit. But again, yeah, a little flat, for better or worse.
Switching over to the thrilling launch sequence in Apollo 13, the HW-S60A nicely handled the roar of the Saturn V's engines as the rocket rose off the launch pad, and James Horner's score soared right along with it. I did notice that some of the surround effects in Apollo 13 pushed the HW-S60A to its limits; for example, the gurgling of the fuel pumps didn't sound like it was coming from behind the sofa as it might on a system with proper surround speakers. Also, the dialogue of a CAPCOM that pans to the right ("We're just going to burn those engines for a little bit longer") sounded a bit artificial as the voice moved to the side of the screen. Not a huge deal (and nothing that Samsung's surround kit wouldn't solve), but there it is.
I also streamed some tunes from Spotify, Tidal, and my own Plex media library to the HW-S60A via AirPlay 2, and as I teed up Bruce Springsteen's "The Ghost of Tom Joad," the soundbar again showed off its expansive soundstage, with The Boss's spare vocals sounding crisp and clean, with solid low-frequency effects as the warm synthesizers rose up. Meanwhile, Vlado Perlemuter's loosely miked performance of Ravel's solo piano works sounded appropriately airy, with plenty of space registering between the clear keystrokes. I also liked the spacious reverb and relatively deep bassline of Billie Eilish "Oxytocin," although again, it was a tad flat.
Bottom line
The Samsung HW-S60A has a flat sound signature that I admire rather than love, and I think many other listeners will share my so-so appraisal. That said, Samsung has packed a lot into the HW-S60A's affordable shell, including its Alexa and AirPlay 2 capabilities, and you can always upgrade the HW-S60A by adding a subwoofer and surround speakers (although doing so would jack up the price). The HW-S60A would be a solid pick for those who want a budget soundbar with room to grow, while those looking for immediate gratification might be better off with a sweeter-sounding but less versatile speaker, such as the Denon DHT-S216H or the Yamaha SR-B20A.
Best Prices Today: Samsung HW-S60A