At a Glance
Expert's Rating
Pros
Surprisingly affordable
Very simple controls
Versatile, attractive design
Cons
Very loud
Buggy Wi-Fi setup
Limited smart features
Our Verdict
Bissell's air320 Max offers just a smattering of smart features, but makes up for it with impressive industrial design and a low price tag.
Best Prices Today: Bissell air320 Max
Fashion statements don't come easy in the world of air purifiers. The Mila purifier has long been our reigning champion in the looks space, but Bissell's air320 Max gives it a run for its money.
Mentioned in this article
Mila air purifier
Price When Reviewed:
$349
Like the Mila, the air320 Max is propped up on wooden legs, but from there the somewhat larger unit—it measures 25 x 14.5 x 8.5 inches (HxWxD)—takes its design cues more from a high-end loudspeaker. A washable fabric grille on the front of the unit pops off to reveal two replaceable filters—an H13 HEPA filter and an activated carbon filter—which are sandwiched together. Air is pulled in through the front and emitted up and out through the top of the device. All told, the purifier looks good, with a contemporary (but not futuristic) sensibility and feel.
This review is part of TechHive's coverage of the best air purifiers, where you'll find reviews of the competition's offerings, plus a buyer's guide to the features you should consider when shopping for this type of product.
Controls are dead simple. There's a single power button on top of a simple dial which controls the fan speed, and that's about it. Five speeds are available, or twist it all the way to the left for automatic mode. There's no visible LED display, but when the unit is powered on, numerals appear on a hidden display beneath the chassis' plastic frame. These numbers indicate the PM2.5 reading in real-time. As well, a colored light behind the grille offers another visual indicator of air quality, from red (bad) to blue (good).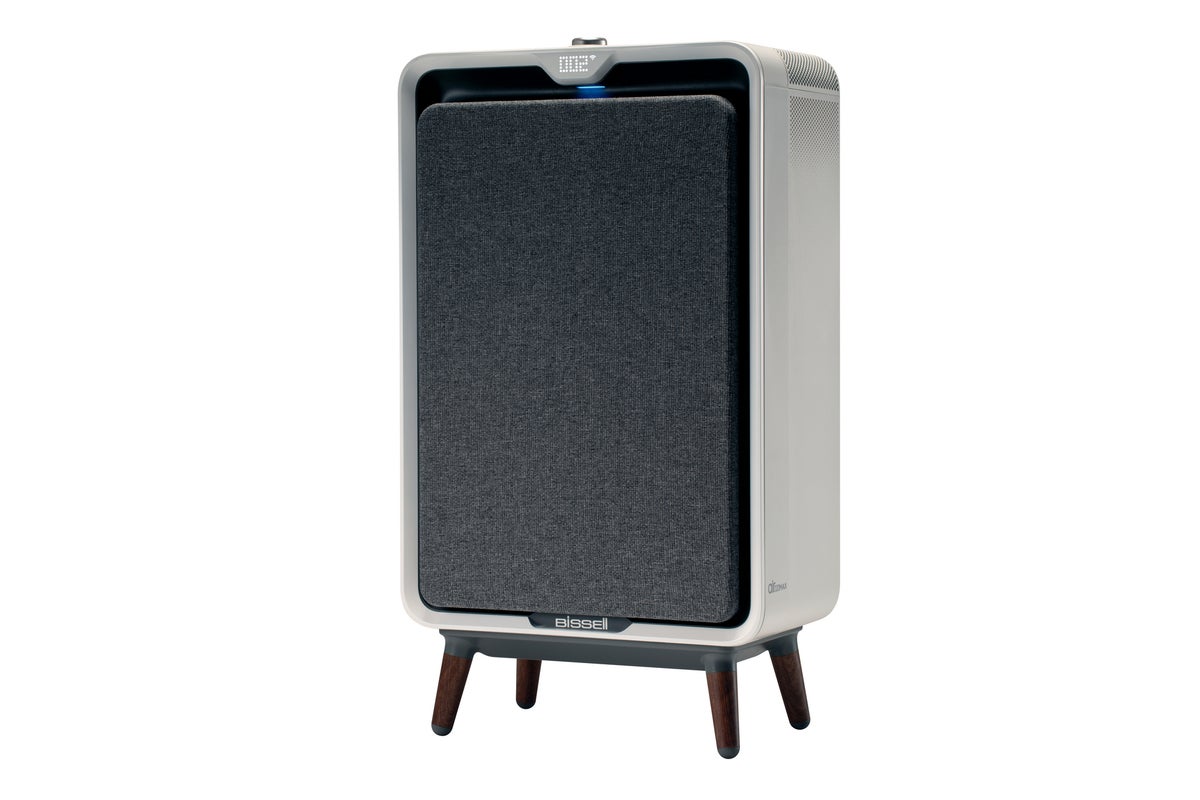 Bissell says the unit can clear a 307 square foot room in 12 minutes—or a larger space in a proportionally greater amount of time. CADR ratings of 198 (smoke), dust (206), and pollen (241) aren't all that high considering the size of the unit, but they're workable for most environments. On the downside, the air320 Max is rather loud, even at lower fan speeds. Sure enough, Bissell rates its maximum loudness at 59dB, which is higher than any unit I've tested to date.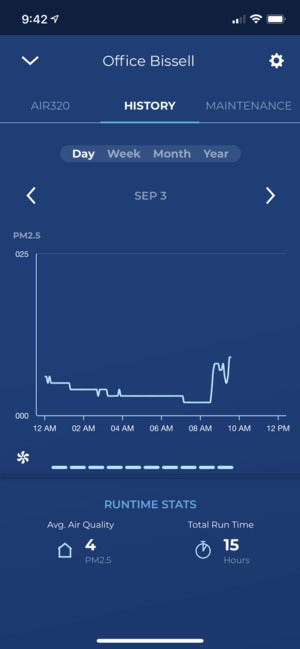 Bissell's purifier stumbles when it comes to smart tech, and while the unit supports Wi-Fi (2.4GHz only), its connectivity ability is rocky. The process begins by having to scan a QR located behind the filters—which must be done while the unit is running. I got repeated errors trying to connect to the purifier's temporary network and from there had more trouble connecting to my home's Wi-Fi network.
All told, I spent a solid hour trying to get things going, after which the system generally worked fine. (If you don't need smart features, the air320 model, without the "Max," is otherwise identical but $10 cheaper.)
Naturally, the app can be used for manual control and to activate a night mode that turns off all lighting. Otherwise, functions are limited, though it tracks air conditions over time, but only PM2.5 levels. The app doesn't include a scheduling system, nor does it connect to any third-party smart home ecosystems.
The air320 filters are rated for six months of use before they need to be replaced. Replacement filters run $19 and $22 for carbon and HEPA filters respectively. Bizarrely, a combo pack of both costs $50, $9 more than if you buy them separately. The good news is that, at less than $300, the air320 Max hardware is a veritable bargain. If you don't have extreme filtration needs and want a unit that will look good in any room, it's definitely worth considering.
Best Prices Today: Bissell air320 Max