At a Glance
Expert's Rating
Pros
Attractive industrial design
No filters to replace
Lots of monitoring capabilities in the app
Cons
Extremely expensive
Very low air output makes it suitable only for a single room
App is still clearly a beta product
Our Verdict
This small air purifier uses ionization technology to forgo filters—but it comes at a premium price.
Best Prices Today: OneLife X air purifier
The OneLife X air purifier was crowdfunded on Indiegogo, where it has garnered an impressive $220,000 in funding to date. That's a big surprise considering the increasingly crowded size of the air purifier market, but OneLife says it has a unique technology that makes it worth your while; namely, that it can operate without needing replacement filters.
That technology is billed as "cutting edge plasma filter technology" which is variously described by OneLife as "using a broad-spectrum plasma field and sophisticated laser sensors" and "a special ionization electrode" that can eliminate 99.99% of all airborne particles—as small as 0.01 micrometers ("that's 10 times smaller than the Coronavirus"), all with no filter replacements needed.
This review is part of TechHive's coverage of the best air purifiers, where you'll find reviews of the competition's offerings, plus a buyer's guide to the features you should consider when shopping for this type of product.
That sounds an awful lot like the language used by ionizers, though OneLife is careful not to describe its product that way. Ionizers have slowly been falling out of favor for years, in part because they produce ozone (a known lung irritant) and in part because they aren't actually proven to capture viruses. Many experts note that cheaper air filter technologies are actually more effective than ionizers. OneLife says that its product does not produce measurable ozone. As well, numerous other air purifiers include ionization as an option in addition to standard HEPA filtration, but OneLife X exclusively offers the former.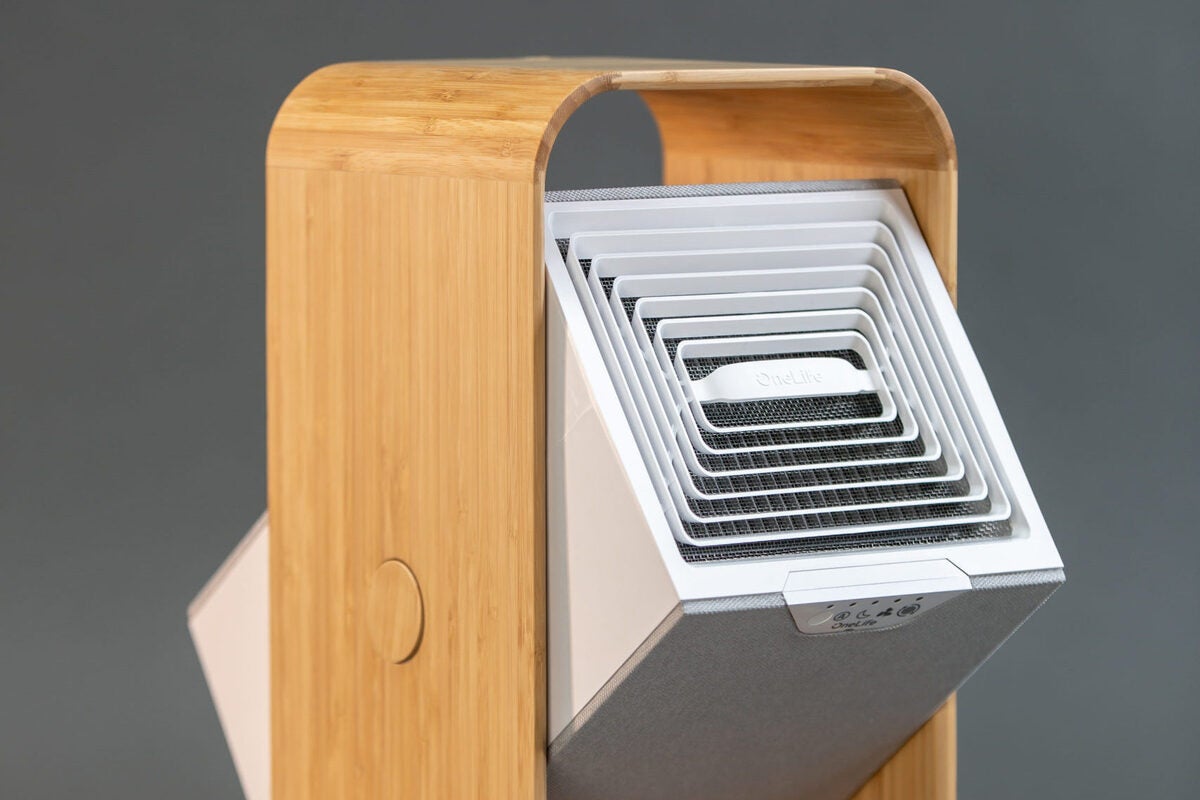 Putting aside its underlying technology, the hardware is small, just 16 inches tall and 7.5 inches on each side. At just 9 pounds it can be placed nearly anywhere, and with its bamboo case and choice of two grille colors (gray or black, both included in the box) it's stylish enough to fit any décor. The unit draws dirty air in through the base and emits clean air through the top; the mechanism swivels forward to give you some directional control—and gives you easier access to the filter tray. (This doesn't need to be replaced, but it does need to be cleaned under running water periodically.)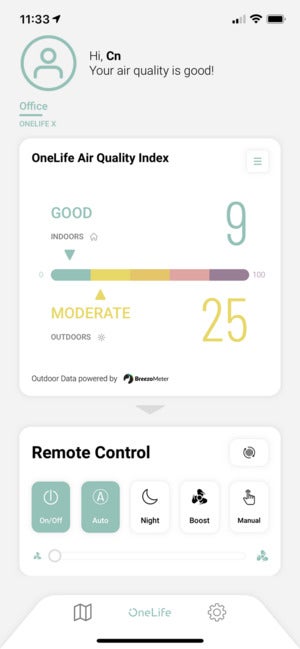 Again, this is a small, tabletop-sized unit that's rated to clean a 270 square foot space, or essentially a single room. CADR ratings for the unit are difficult to find, but I was able to dig up a single rating published by the company for CES that pegged it at 59 cubic feet per minute. That's extremely low, but the unit is also extremely small, so it's perhaps not totally out of line.
Usage is simple, with a single button on the hardware that cycles through three modes – auto, night mode (low fan speed), and boost mode (highest fan speed). The color of the status LED indicates what air quality looks like currently, and a separate LED tells you if the filter needs cleaning. At low fan speeds, the unit is extremely quiet, but the boost mode is definitely too loud for working nearby or, say, watching TV if it's running in the room.
You will have to use the OneLife app if you want more fine-grained control over the system, including the ability to manually tune the fan speed. A numerical indication of air quality is included here, as is a log of various pollution levels, including PM1, PM2.5, VOC, temperature (in Celsius), and humidity. Outdoor condition information—including a handy air quality map showing your surrounding area—is also included.
While I tested a beta version of the app, it was still showing some early growing pains, having a terrible time with initial setup as it struggled to connect to my Wi-Fi network (only 2.4GHz networks are supported). The app dropped its connection to the unit periodically as well, requiring unplugging the OneLife X and plugging it back in to repair. Alexa and Google Home are both said to be supported, but at press time an Alexa skill still didn't exist for the system.
OneLife notes its list price for the unit at $799, with early bird pricing at $579. Even the discount price seems very high for what is essentially a fancy ionizer, though admittedly it's one of the most attractive products in its category on the market. No matter where you fall on the ionizer effectiveness front, here's hoping some discounts lie ahead for it.
Best Prices Today: OneLife X air purifier