At a Glance
Expert's Rating
Pros
Signature B&O sound
Fabulous audio performance in every mode
Superb build quality, design, and materials.
Excellent battery life
Cons
Getting a consistently solid fit requires some effort
Noise-cancelling performance inferior to some competitors
Pricey, even by true wireless headphone standards
Our Verdict
The Beoplay EQ is Bang and Olufsen's finest true wireless earphone to date, though its adaptive noise cancellation isn't class-leading in its real world use.
Best Prices Today: Bang & Olufsen Beoplay EQ
Bang & Olufsen's Beoplay EQ is the first true wireless headphone to provide not just active noise cancellation, but adaptive noise cancellation. While that feature is a potential game changer, buyers should take into account that B&O has prioritized audio fidelity over isolating the listener from the outside world.
With that out of the way, the Beoplay EQ is B&O's best-performing, best-fitting, best-designed true wireless headphone to date. It's also the smallest the company has ever made. It raises the bar in nearly every area over its previous true wireless headphone, including the Beoplay E8 Sport true wireless headphone that I had the opportunity to sample last year.
This review is part of TechHive's coverage of the best noise-cancelling headphones, where you'll find reviews of the competition's offerings, plus a buyer's guide to the features you should consider when shopping for this type of product.
The Beoplay EQ comes in two color options: Black Anthracite, the color of my review pair, and Sand. As with all B&O products that I've owned or reviewed, build quality, materials, and finish are top notch. Perhaps what struck me most about the Beoplay EQ was its form factor. The Beoplay EQ is light, compact, and one of the most practical and functional true wireless headphones I've encountered. Slipping the Beoplay EQ's case into a crowded pocket was a non-issue.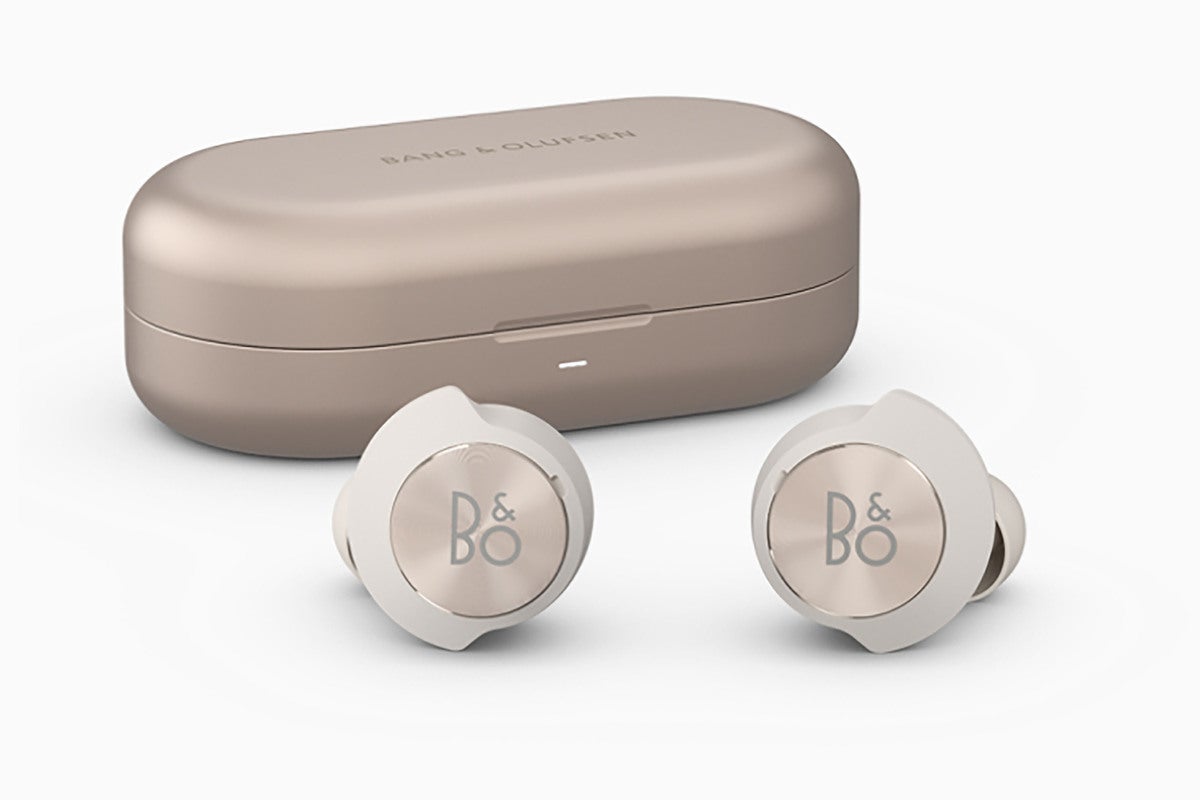 An excellent Bluetooth feature set
Mentioned in this article
Astell&Kern KANN
Price When Reviewed:
$999.00
Bluetooth 5.2 is on board, and wireless range was outstanding. I easily exceeded 33 feet of wireless range. There's support for both Apple's lossy AAC codec and Qualcomm's aptX Adaptive codec, the latter of which can deliver high-res audio wirelessly with up to 24-bit resolution and sampling rates as high as 48kHz, with a maximum bit rate of 420Kbps. The Beoplay EQ promises to remember the last eight paired devices. I paired the Beoplay EQ with my iPhone 12 Pro, two MacBook Pros, an AppleTV 4K, and an Astell&Kern Kann high-res digital audio player.
I did run into a hiccup where I needed to re-pair the Beoplay EQ from scratch to my iPhone 12 Pro; other than that, pairing and switching between devices was a relatively painless affair so long as you pay keen attention to the precise steps B&O requires.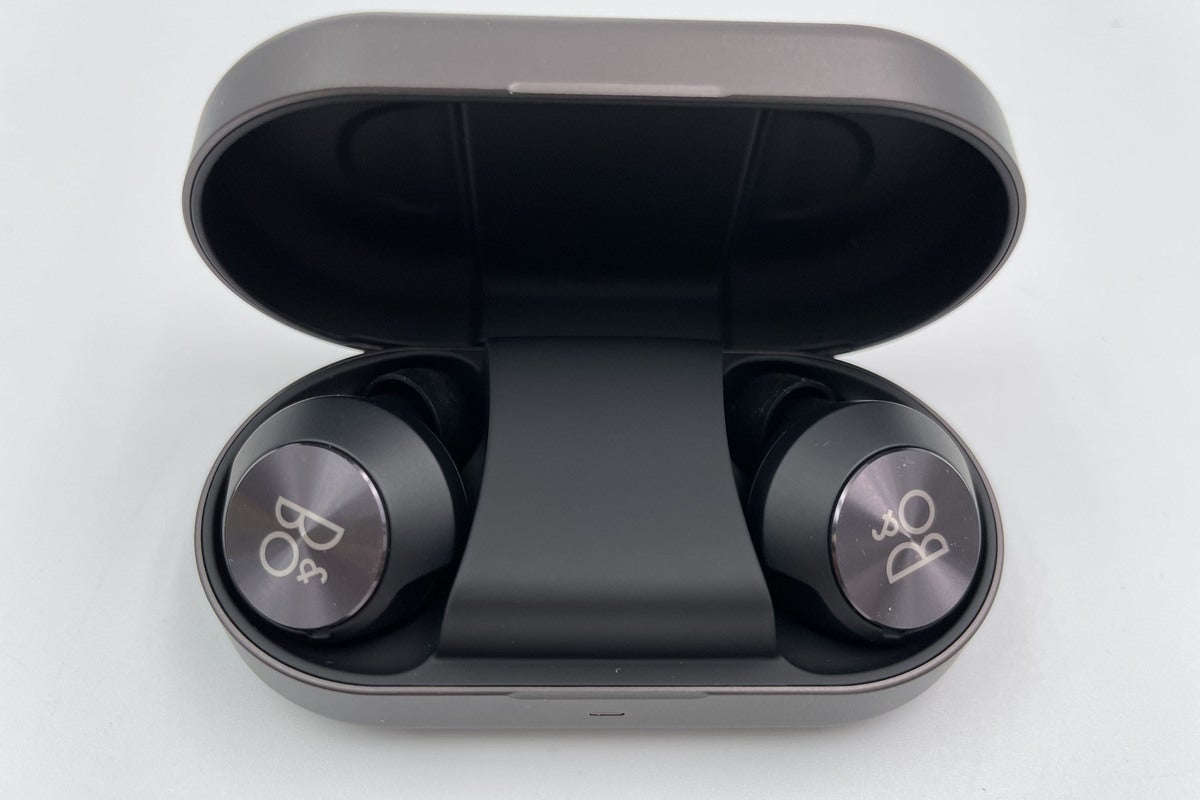 The Beoplay EQ are rated IP54 for dust (they prevent enough dust ingress to protect the earphones) and water resistance (water sprayed from any direction). Read the story at the following link for an in-depth explanation of IP codes.
B&O's mobile app for iOS and Android is your command center for all your Bang and Olufsen wireless products. I was able to manage both my Beoplay Portal and Beoplay EQ headphones through the app.
The app gives you real-time status of the earbuds' battery levels and their current volume, along with the ability to pause, advance, or rewind the current song. The app gives you several listening modes to tailor the Beoplay EQ's sound to your preference or source material. The app likewise lets you set adaptive ANC and whether the Beoplay EQ should go into automatic standby after 15 minutes of inactivity to conserve battery life.
The app also handles over-the-air firmware updates. If you do happen to need a firmware update (as happened during my review period) be prepared for a 5- to 10-minute update; it's not a quick process.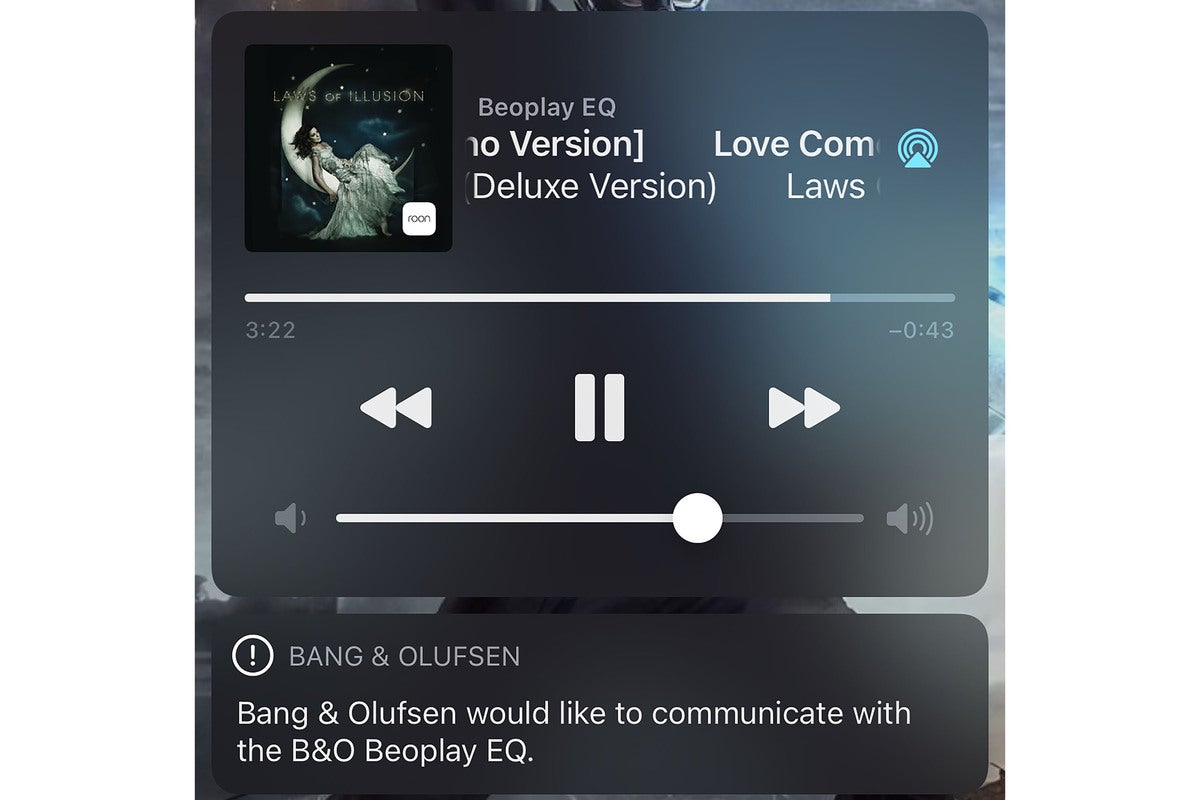 The app isn't without its quirks. There were a handful of times when the app wouldn't recognize the headphone even though they were connected via Bluetooth—an anomaly that plagues several brands of true wireless headphone and apps, I've discovered.
There were also a small handful of times that my iPhone wanted me to authorize communication between the Beoplay EQ and the B&O app before the headphone's touch controls would work.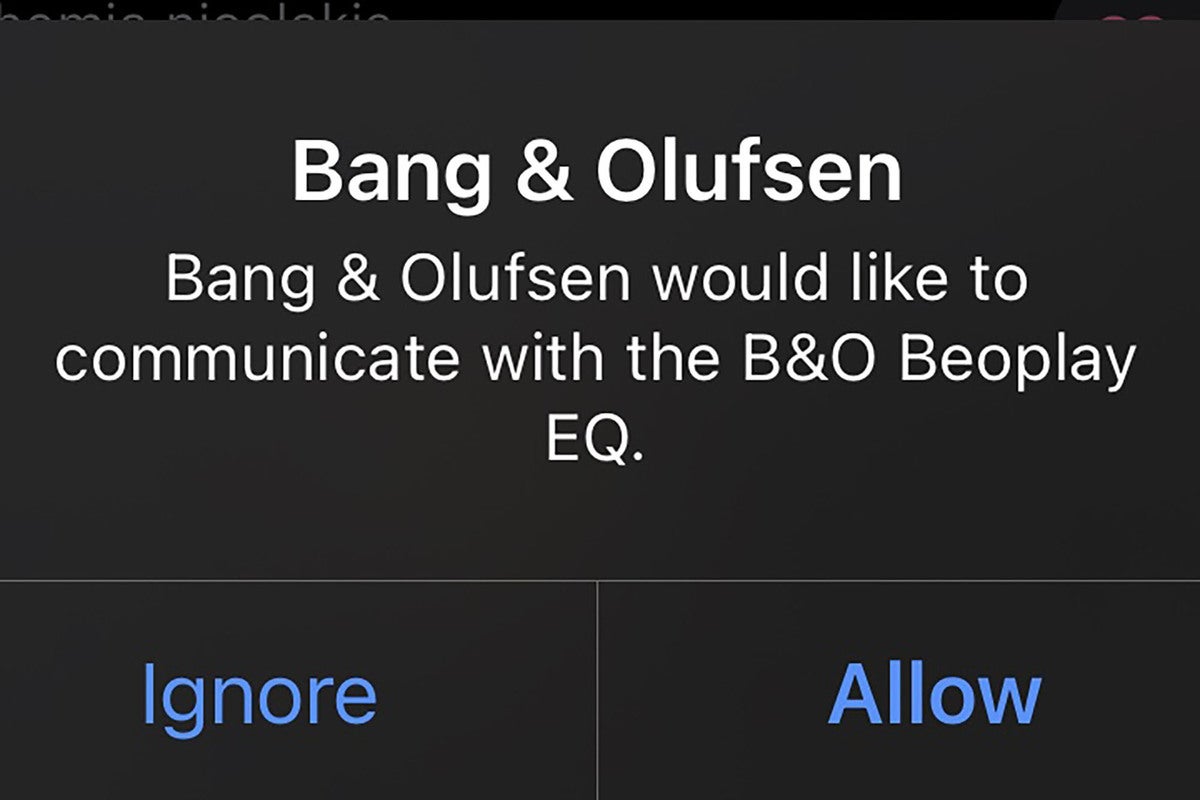 Excellent battery life
The Beoplay EQ delivers superb battery life for a true wireless noise-cancelling headphone. Each earbud sports an 85mAh battery, and the aluminum charging case houses another 340mAh battery. The charging case has a USB-C charging port on the back and also features Qi wireless charging. A full charge takes around 90 minutes, while a 20-minute charge should be good enough for a two-hour sprint.
You'll get approximately 6.5 hours of use with ANC active, 7.5 hours without ANC, and around 20 total hours of runtime with charges from the case. The right-hand earbud serves as the primary wireless device and consequently drains its battery slightly faster than the left-hand earbud. My real-world experience came very close to those specs, and I never worried that I'd have enough battery power to actively use the Beoplay EQ for an entire day. I've never been able to say that about the Apple AirPods Pro.
In the box, you'll find four silicone tips, a Comply 200 sports tip, and a USB-A to USB-C charging cable. Unlike some previous-generation B&O True Wireless headphones, the silicone tips have some grip to them and aren't so slick that they slide right out of your ears. I appreciate whatever changes B&O made. Note that if you use the Comply tips, you'll experience a slight elevation in the bass, which is characteristic of that brand.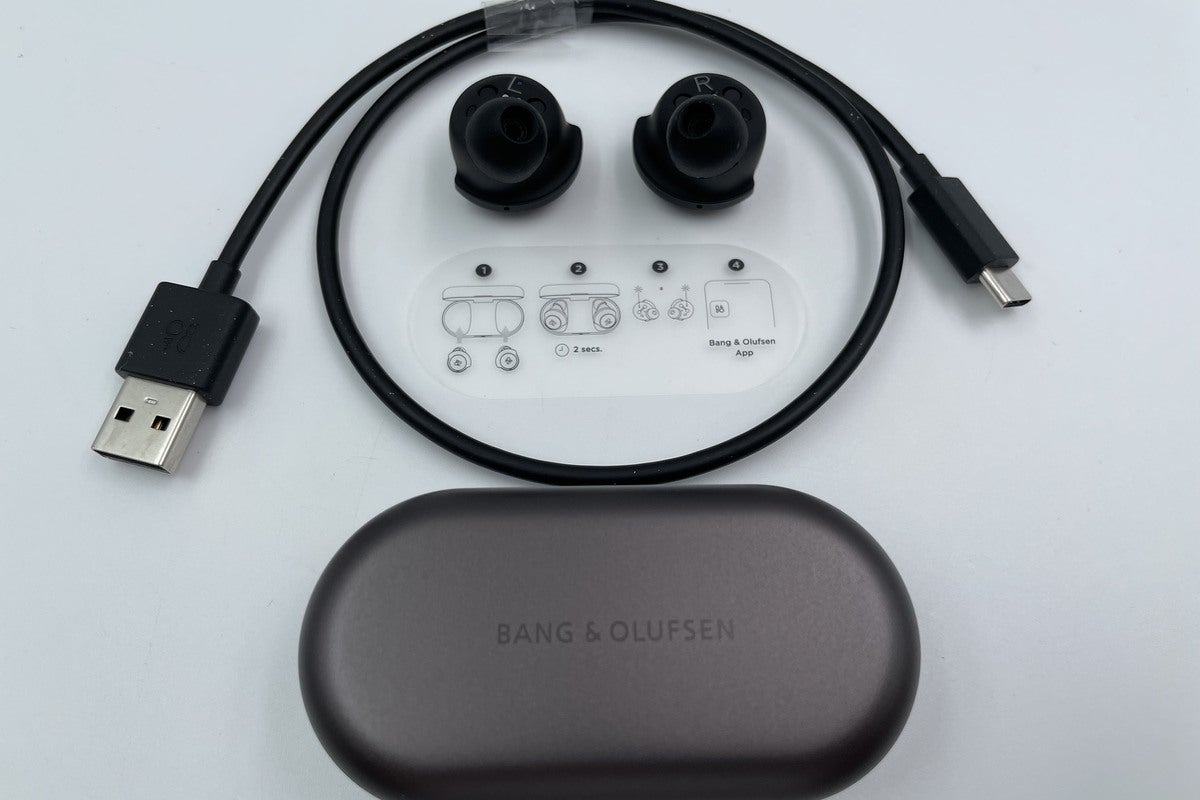 Crystal-clear calls without hiccups
The Beoplay EQ's call performance was superb. Not once did I have a call where the person on the other end couldn't hear me clearly or asked me to repeat things. By the same token, I could hear callers clearly without unexpected dropouts. It was a pleasure to use a product that just worked.
The only drawback you need to be careful of is the Beoplay EQ's aluminum touch interface. The flat sides of the right- and left-hand buds respond to touch commands to toggle noise cancelling, play/pause, songs, and the like. During a phone call, however, an errant finger will hang up on the caller.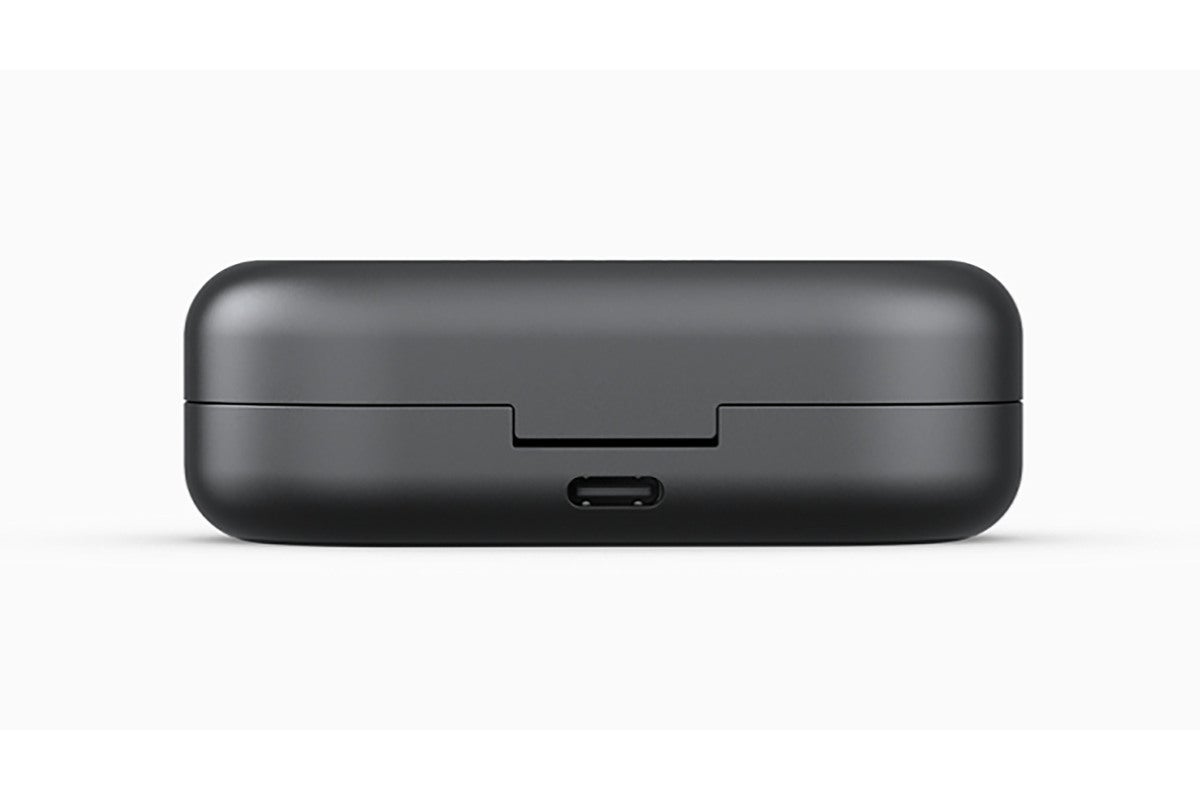 Adaptive noise cancelling and transparency performance
Adaptive noise cancelling is, of course, one of the Beoplay EQ's hallmark features. In contrast to active noise cancelling, which uses microphones and speakers to reduce background and surrounding noises, adaptive noise cancelling is slightly more sophisticated, as it uses the microphones and speakers to automatically adjust the noise canceling level to your surroundings. While ANC tries to keep the wold out, transparency does just the opposite, giving you situational awareness of your surroundings so you can hear approaching vehicles, PA announcements, and the like while also listening to your music.
No matter which mode I chose, the Beoplay EQ's sonic performance was uncanny; I was hard-pressed to tell any difference in the quality of the music reproduction. B&O has suceeded in its goal of putting the music first. That said, if noise cancellation and transparency modes are more important to you, the Beoplay EQ are not the absolute best in class: Apple's Airpods Pro outperformed them in both of those areas.
The Beoplay EQ's transparency mode was solid. I could easily make out my surroundings with a good tonal balance, but there are two areas where the Beoplay EQ's performance falls short of Apple's AirPods Pro: With transparency mode active, human voices were oh-so slightly recessed, and the the magical sense of space you get through the AirPods Pro wasn't quite there with the Beoplay EQ.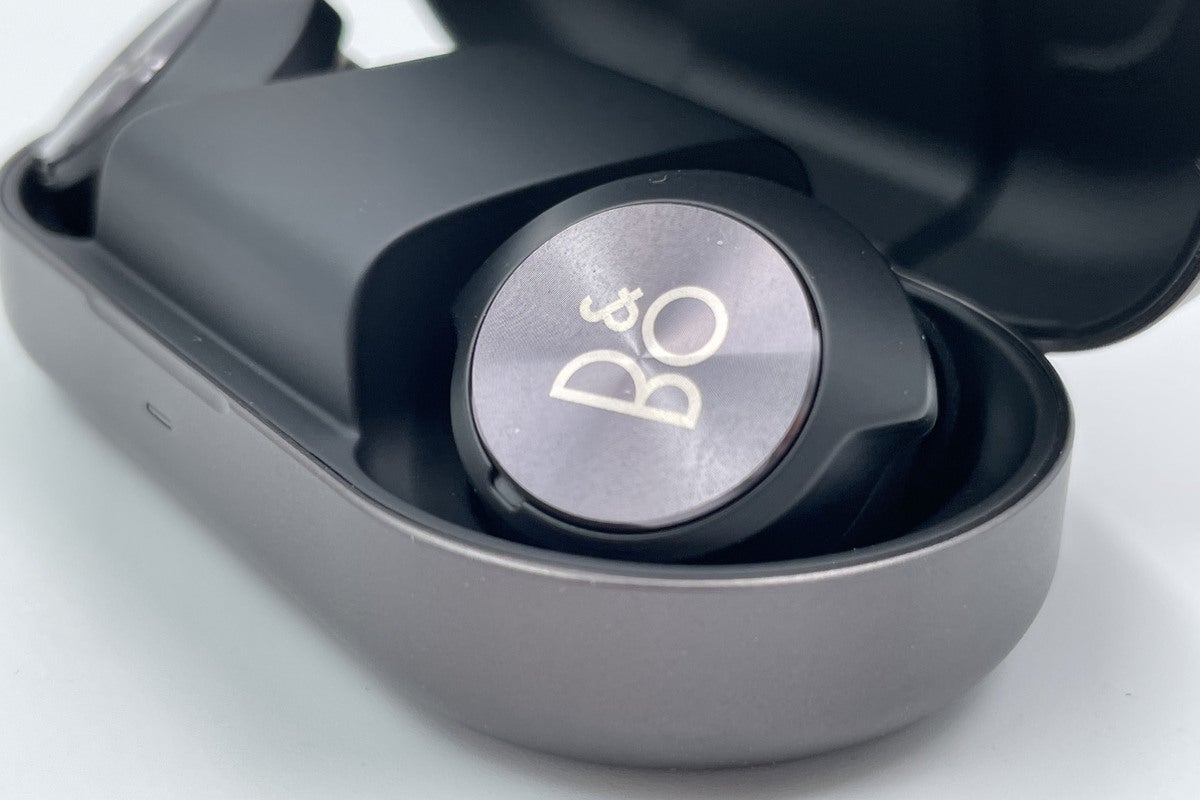 As for adaptive noise cancelling, the Beoplay EQ's performance was good enough that I had significant difficulty making out what someone was saying to me if I was listening to any music at moderate volume. ANC took the edge off noisy environments, too; this headphone is very good in busy streets and rooms with HVAC noise.
Mentioned in this article
Roon Labs Nucleus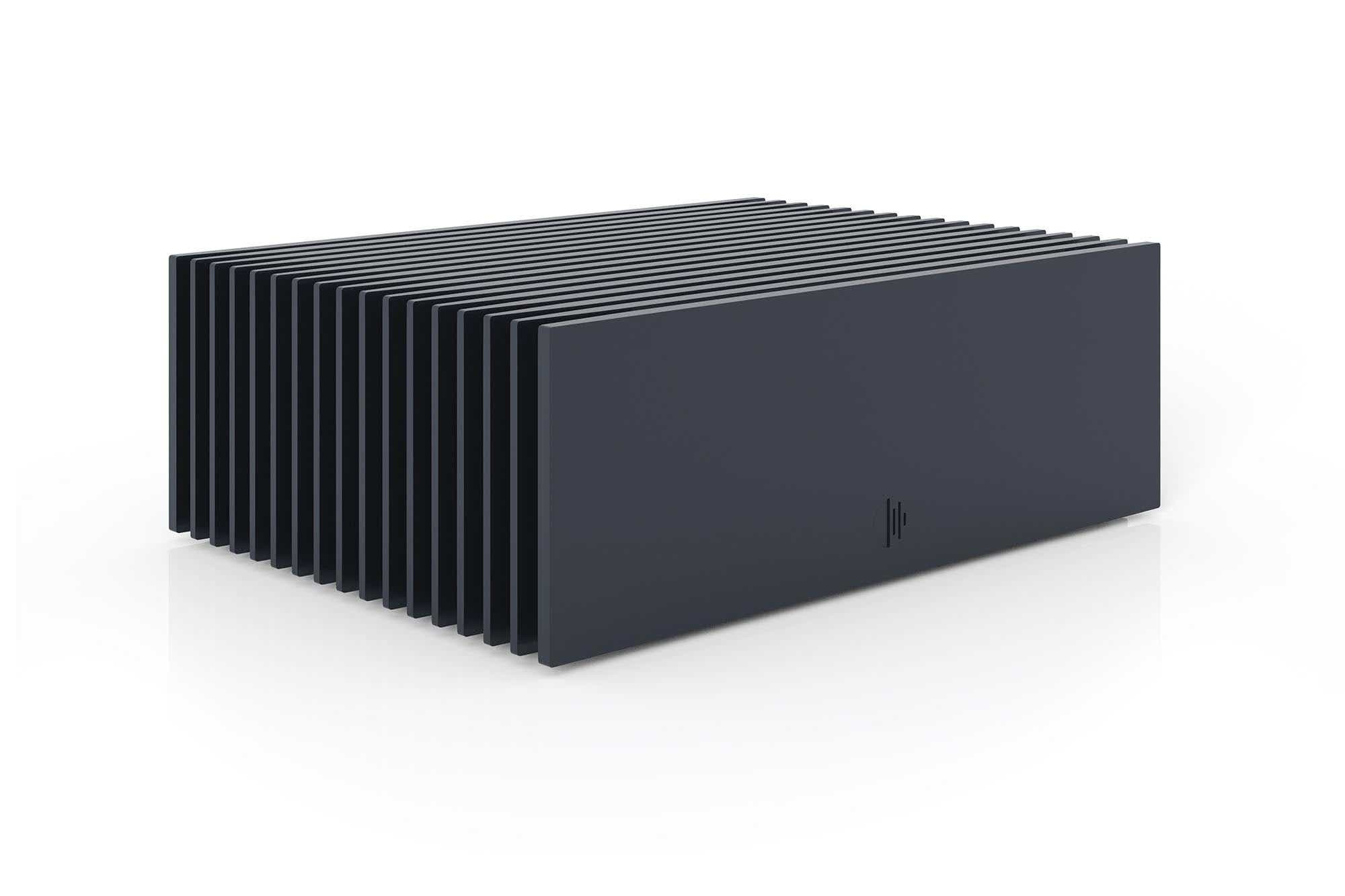 Price When Reviewed:
$1459
I also simulated an airplane cabin by pumping in airplane cabin noise into my kitchen through my overhead Beale Audio speakers and cranked up the cabin noise until it hit just over 95db on my sound pressure level meter. It's typical for an airplane cabin to hit 94db. Standing directly under the speaker I used the Beoplay EQ in passive and adaptive noise cancelling modes and compared it to the Apple AirPod Pros.
The AirPod Pros delivered a better noise-canceling experience overall, dampening more sounds across the frequency band save the upper end. The B&O Beoplay EQ didn't do as well with mid-range frequencies, letting more of the engine noise through. I got the best performance from the included Comply 200 isolation ear tips.
That the Beoplay EQ didn't dethrone the AirPods Pro probably doesn't phase B&O. I've had this discussion with B&O representatives before. This is a company that prides itself on musical performance at all costs, and the company's implementation of any ANC technology is adopted with an aim to do no harm to the music.
Listening Tests
I tested the Beoplay EQ with my iPhone 12 Pro and Astell&Kern Kann music player. Source material included Tidal Masters, lossless files played through Apple Music, and content streamed from my Roon Nucleus server through the Roon app on my iPhone.
I should note that even though Qualcomm claims its aptX Adaptive codec is backward compatible, I could only get the Beoplay EQ to initiate a vanilla aptX connection to the Kann player, not aptX HD. I ran into similar—and worse—problems while testing aptX Adaptive on Bowers & Wilkins' PI7 true wireless headphone.
To get peak performance from the Beoplay EQ during each listening session, I needed to pay special care to how I placed the earbuds in my ears. If I got the seal just right, I was rewarded with a warm, rich, and clean midrange; dynamic and powerful bass lines; a crisp top end; and a detailed, textured presentation overall. If the seal wasn't perfect, it was kryptonite for bass performance, the midrange thinned out, and the soundstage shrunk and recessed.
If you buy this headphone, learn how to twist and lock the buds into your ears. The trick to obtaining solid fit, I discovered, is to perform a little twist and lock, so the B&O logo ends up roughly upright and the protruding edge of each bud sits over each ear's tragus, that thick bit of cartilage on the front side of your outer ear that partially blocks your ear canal.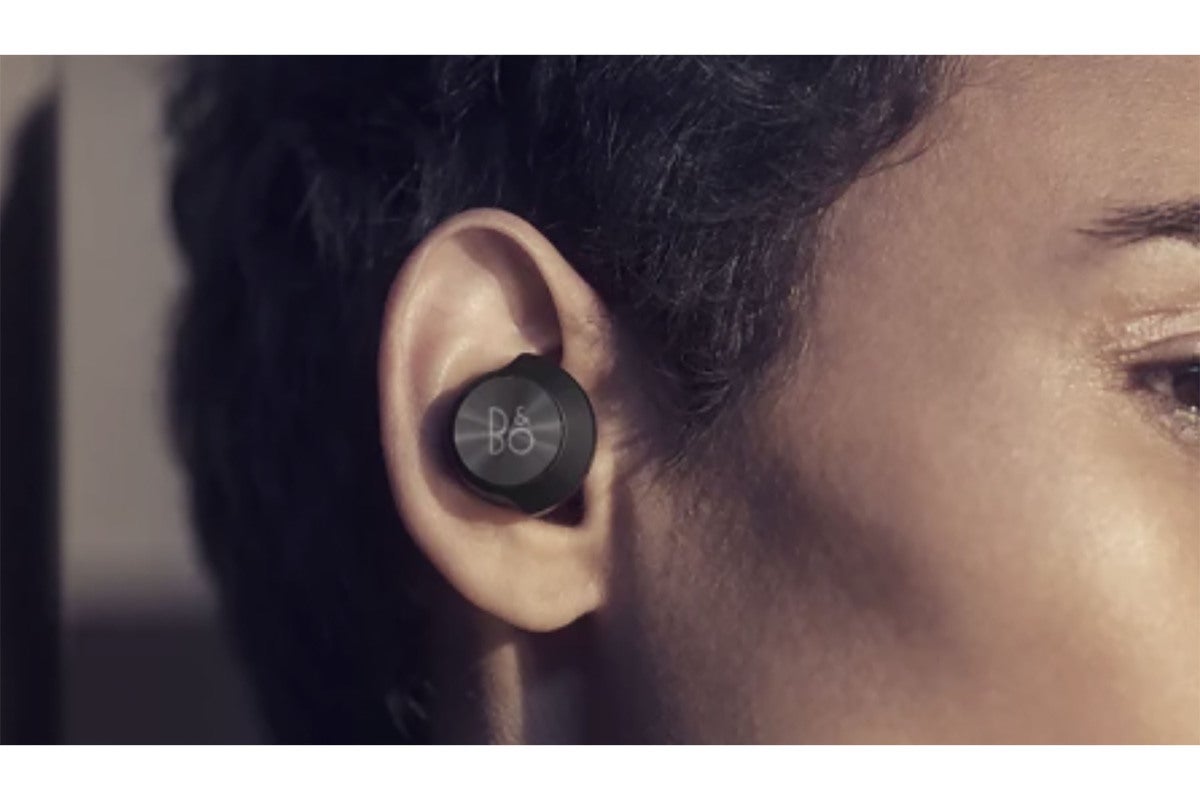 That perfect seal translated into a solid but far from perfect fit that held the earbuds in place. If I forcefully jerked my head side to side I could eventually get at least one of the earbuds to fall out. Human anatomy is not uniform, so just how well any pair of in-ear headphones fit my ears versus your ears will vary. In my experience with the Beoplay EQ, B&O has made tremendous strides in the fit, comfort, and stability, but there's room for B&O's design team to improve their game in this respect.
The Beoplay EQ did a fine job with timbral accuracy. Adele's vocals on "Send my Love to Your New Lover" from 25 and Elaine Paige's on "Memory" from Encore were on target.
The Beoplay EQ did a wonderful job rendering a lush, intimate presentation of Patricia Barber's classic, "A Taste of Honey." The sense of space was palatable.
Bass lines were solid on every test track I used—though I did note a hint of bloat that isn't typical of the tight bass I'm accustomed to on B&O's over-the-ear headphones.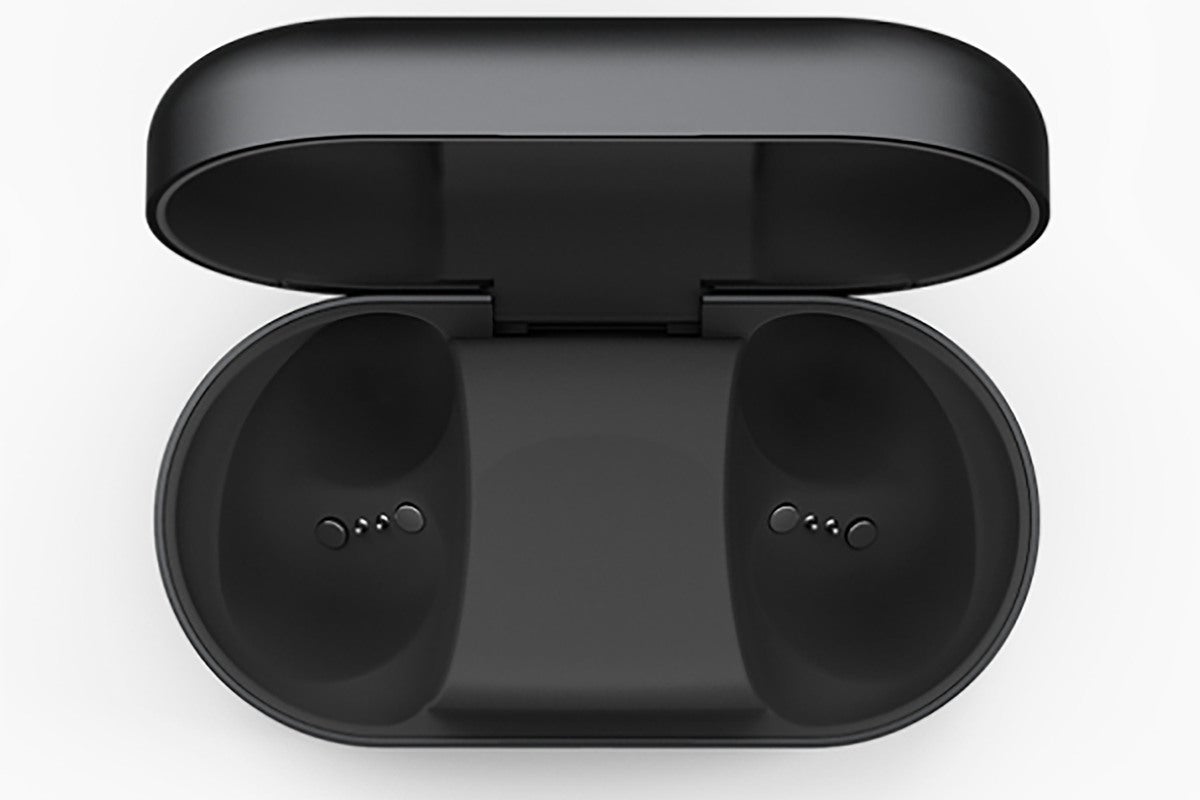 Conclusion
For me, the Beoplay EQ is Bang & Olufsen's finest true wireless headphone yet. Its signature sound, luxurious design, solid specs, adaptive noise-cancelling performance, and excellent battery life make for an exciting all-around package. It might not be the absolute best in every category, but the sum of its parts renders it worthy of serious consideration.
Best Prices Today: Bang & Olufsen Beoplay EQ